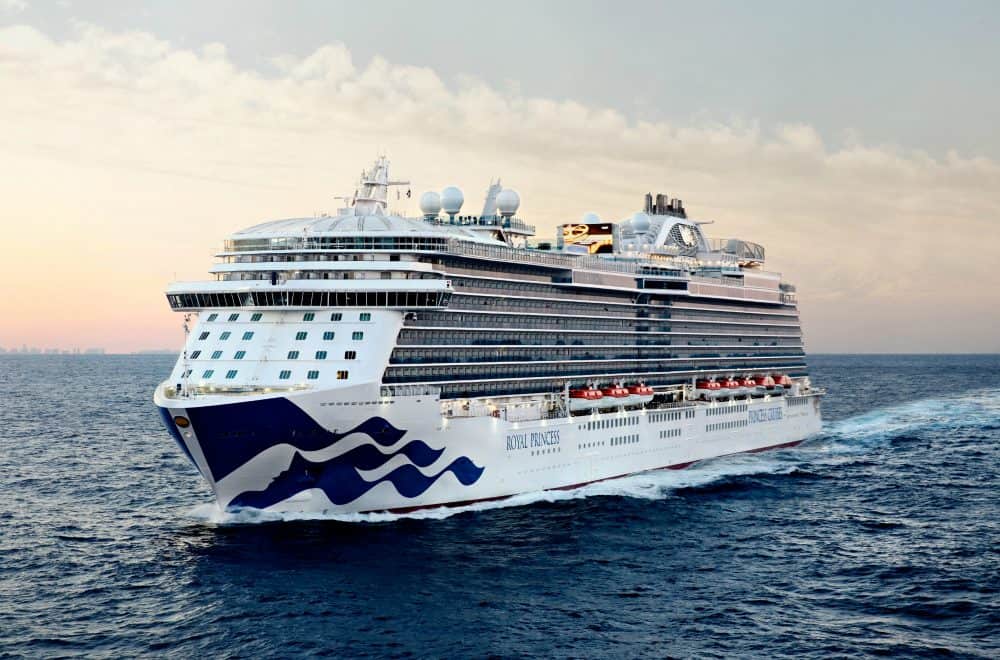 9 photos to make you want to book a Royal Princess cruise with kids
The thought of stepping onboard a cruise ship for just one day is almost unbearable but when I got an invite to meet Princess Cruises' Royal Princess on a turnaround day in Southampton my curiosity got the better of me. In recent years I've had the chance to nosy around and sail with a number of cruise lines but so far Princess has eluded me…how could I say no?
I knew before I even got onboard I was in for a treat. When Royal Princess was christened in by the Duchess of Cambridge five years ago it got international media coverage – a very special showcase for Princess Cruises. Even so, I don't think I was fully prepared to be wowed like I was. If you saw my social media posts on the day you'll know I 'blinking loved it'.
I think my face says it all: 'Don't make me leave!'
My day onboard the Royal Princess cruise ship
So, what can I tell you about the Royal Princess cruise ship after spending just five hours exploring her luxurious decks, taking a peek into several cabins, and dining in one of her many restaurants? Well, to start with, I'd love to book a Royal Princess cruise with my kids! Check out more about what families need to know about Royal Princess in my post on Cruising With Kids.
Here's an overview of my day including a tour of several Royal Princess cabins, the Camp Discover children's clubs, dining and onboard facilities for families.
Royal Princess is a ship with a wow factor but is lady enough not to rub it in your face. As you move though the marbled Atrium and into the dining rooms and bars you're welcomed with impressive yet stylish decors that don't feel the need to slap you in the face to make an impact.
Opulent surroundings are one thing but what's onboard the Royal Princess cruise ship for children? Read on for some of my highlights from Princess Cruises' Royal Princess that I think kids and parents will love.
I'll let the pictures do the majority of the talking. Here's nine of my favourite photos from my day onboard:
Princess Cruises' kids clubs
Check out this cool hang out. Do you fancy settling down here with a book? I know I do. Well, if, like me, you're over the age of 18 you can jog on! This is the Lodge Club reserved for teens in Camp Discovery onboard Royal Princess. There's banks of computers, books, video games and a TV. During your cruise teens also have a party night with their own disco and mocktails. Who says cruising is just for us old folks?!
It wasn't just the teen's area that impressed me during my day onboard. The soft play area in The Treehouse for three to seven-year-olds has a better sea view than most cabins and they have an outdoors play area with ride on toys and the chance to enjoy the fresh sea air. There's also a separate area for eight to 12-year-olds with sports activities, arcade games and hang out areas.
Adults only time in the Retreat Pool
So what do parents to while their children are having a ball in the kids clubs? Head to the Retreat Pool! This luxurious sun deck has more seating than any other adult-only pool area on a Princess Cruises ship, plus it has private cabanas. Just next door there's The Sanctuary with two Lotus Spa cabanas where you can have a range of treatments. You can hire the Retreat Pool cabanas from $50 for half a day. Take me there now!
Movies Under the Stars
Could there be a more perfect location to watch the latest flick? Grab a blanket, complimentary popcorn (or cookies and milk), and enjoy!
The Fountain Pool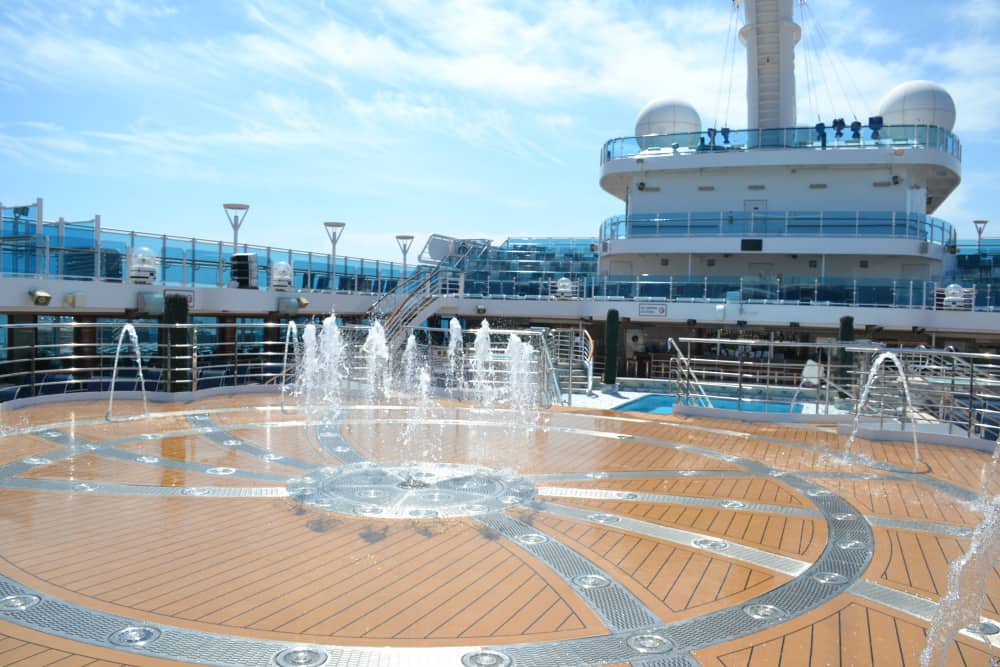 This is a real child pleaser by day when they can run through the cooling water jets. Then by night it turns in to an amazing water, light and music show. What's not to love?!
The Secret Silk family show on Royal Princess
How cute is Ronaldo?! He stars in the new family show on Royal Princess, The Secret Silk, and I met him during a back stage tour of the Princess Theatre. The show has been created in partnership with Oscar-winning composer, Stephen Schwartz and tells the story of a young woman who possesses the gift of creating brilliant silk fabrics. It features life-size puppetry by Jim Henson's Creature Shop. I think my girls would have been entranced!
Dining onboard Royal Princess
It's impossible to experience all of Royal Princesses' dining options in a week let alone a day but from what I saw in the Horizon Bistro buffet, Pastry Shop and International Cafe, the Princess Cruises food looks fabulous. I had lunch in the Concerto Dining Room where you can eat breakfast and a family-friendly 5.30pm early dinner inclusive with your cruise. Lunch is available here on turnaround and sea days, plus some port days. I'd have happily devoured another plate of the Chateaubriand of Beef Tenderloin I was served as part of a delicious three-course set menu. Yum!
The range of cabins
I had the rare treat of stepping inside six cabins on Deck 14 before their occupants arrived onboard. Oh my, it was tempting to claim squatters' rights. Each cabin from the 166 sq ft interior accommodation to the 440 sq ft accessible penthouse suite came with extraordinary amounts of storage for your essential cruising wardrobe. The penthouse suite bed looked incredible (see above).
My personal favourite cabin was the Mini Suite which had a separate lounge area with sofa bed for kids and 50 sq ft more space than a standard balcony cabin. If you're cruising with teens this would be essential! The standard balcony cabin also has bunk beds which come down from the ceiling at night. I've cruised with a similar lay out in a Royal Caribbean sea view cabin, which worked well when I was travelling solo with my two girls, aged five and three, but I think would have been cramped with two adults and older kids.
Sports and fitness
Cruises are notoriously bad for your waistline. But there really is no excuse to pile on the pounds onboard Royal Princess. Deck 18 is dedicated to sport and fitness with a sports court, jogging track, golf driving range and games lounge. If you're feeling particularly virtuous there's also a extremely well-equipped gym on Deck 17 with an exercise class studio.
The epic SeaWalk
Even though the Royal Princess was firmly tethered to Ocean Terminal in Southampton it was still a thrill to step out onto the 28mm thick glass walkway of SeaWalk. I know heights aren't everyone's cup of tea (and I do wobble a bit myself when thinking about it too much) but I enjoy freaking myself out by lingering on this sort of thing.
Plus when you know the glass is actually more than four times thicker than the average car windshield glass you've got to put on your big girl pants and give it a go! The 60ft glass-enclosed walkway that extends 28ft beyond the edge of the ship will give you breathtaking ocean views at sea.
An incredible day onboard Royal Princess
Ok, so there may be a few more than nine photos in this post, but it was an absolute pleasure to spend a day on Royal Princess for a taster of what it's like to holiday with Princess Cruises. I was onboard with 20+ other cruise loving bloggers, YouTubers and social influencers. If you'd like to check out some different perspectives on the day take a look at the following brilliant posts and videos:
Disclosure: I was invited onboard Royal Princess by Princess Cruises and treated to a complimentary tour of the ship. Featured image courtesy of Princess Cruises. All other photos and options by Tin Box Traveller.
Pin for later