Review: Kidunk summer playsuit – kids clothing for outdoor play
We love Kidunk's kids clothing for outdoor play. Last autumn we reviewed their play suits for the first time and were impressed with their innovative design and cosiness. Since then they've lasted extremely well and were only set aside when the girls had out grown them. So when the team at Kidunk got in touch to say they'd just lunched a new summer playsuit we had to take a look. Read on for our review of the Kidunk summer playsuit for pre-school adventurers.
Kids clothing for outdoor play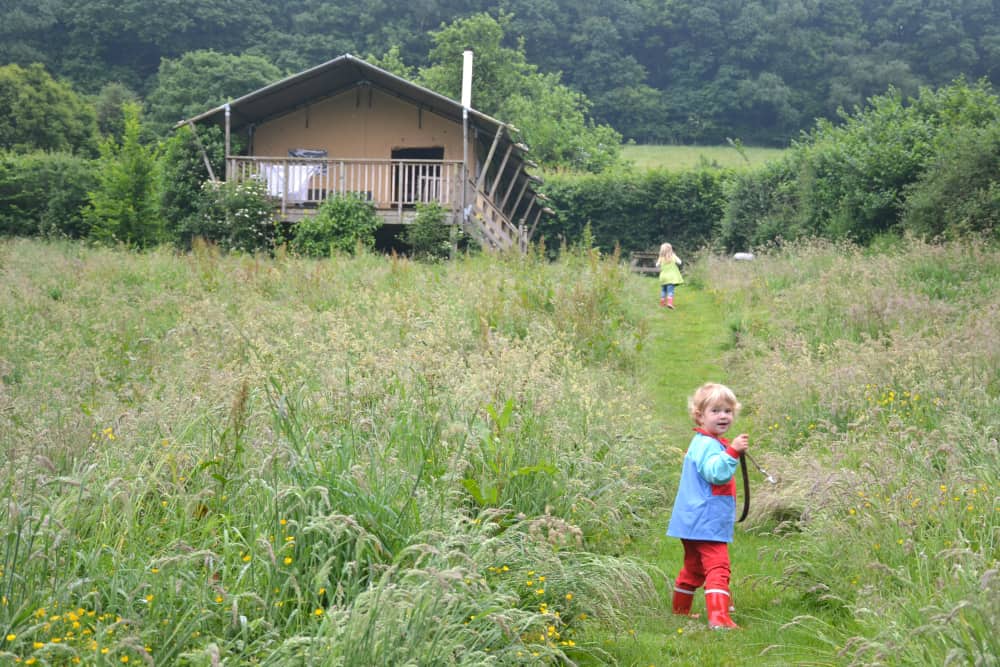 The low down on the Kidunk summer playsuit
Sized for kids aged two to five
Light-weight, water and stain resistant material
Removable arms and legs to go from long trousers and sleeves to shorts and t-shirt
UPF rating 50+ providing UVB + UVA protection
Reenforced knees to prevent scuff damage
Unique waist zip to make the suit one piece
Available in sizes: Ages 2-3yr/3-4yr/4-5yr
Price: £24.99 for a top and £19.99 for the bottoms.
Our review
We put Kidunk's newest products to the test during our recent glamping break in Cornwall where the kids had free roam of the camping field. The weather shifted from wet to dry to blisteringly hot in the space of an hour – perfect conditions for trying out our new kids clothing for outdoor play.
Colourful and stylish kids summer playsuits
I immediately loved the colourful new, light-weight material used in the Kidunk summer playsuits which is wipe clean and cool for wearing in warm weather. Plus its UPF rating of 50+ means that play does't have to stop quite so often to reapply sun screen. The removable arms and legs are a great addition to the design and demonstrate that Kidunk really 'get' outdoor and messy play. My girls certainly don't want to feel bundled up or restricted on days at the beach or when hunting for bears in the woods.
You can read more about Kidunk's other innovative design features, like the waist zip, in my review of the all-weather play suits.
The new summer range has three different coloured tops to choose from; TuttiFrutti, Seaside and Coast. The trousers are available in Watermelon and Pebble. Baby is wearing a combination of the TuttiFruitti top and Watermelon trousers, which I love on her. All the summer playsuits are uni-sex and would look equally great on boys.
Something that I prefer about the summer collection than the all-weather playsuits is that their design only incorporates colours and geometric shapes. The all-weather suits have neutral patterns on them too, which I think might be over-fussy for boys. However, that's the opinion of a mum to two girls!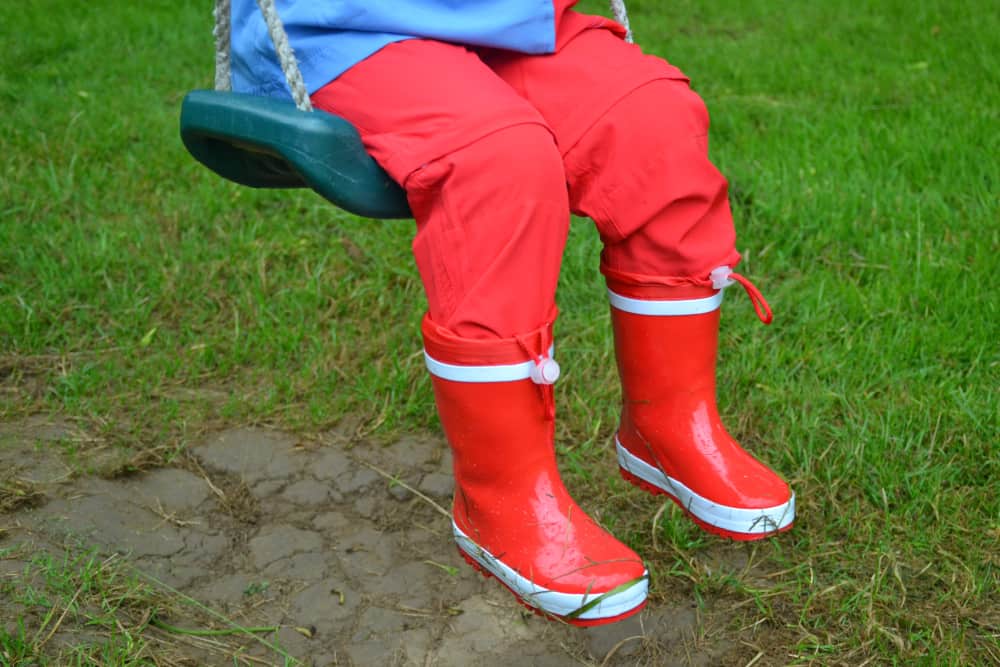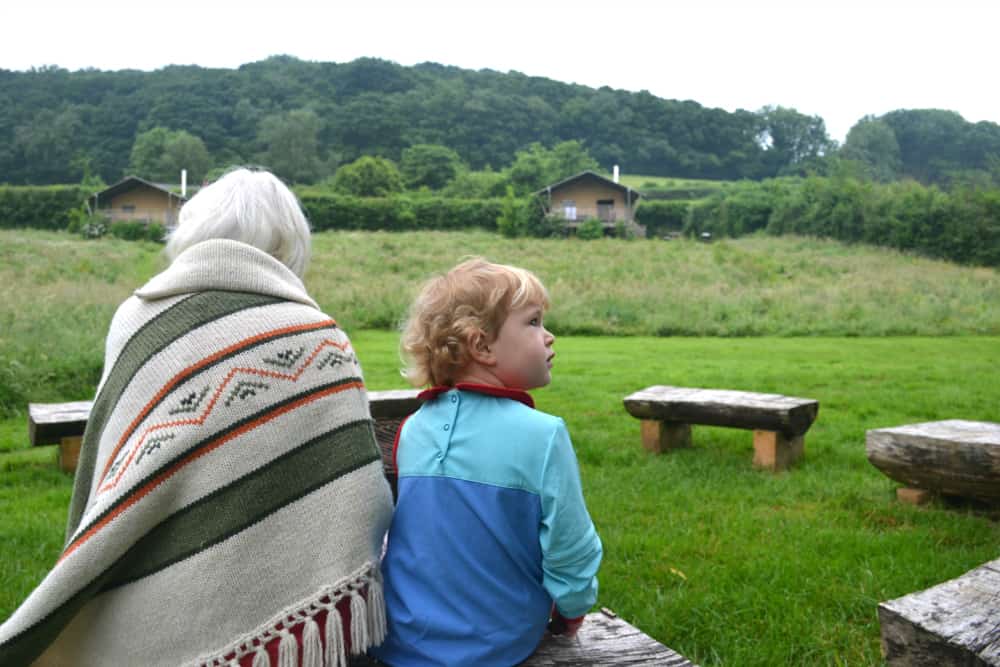 Play suits for kids up to five-years-old
I decided not to review a summer play suit with five-year-old Tot as she had grown out of the largest size of the all-weather play suit. However, I wished I'd ordered her a summer play suit too as comes in an extra size up for four to five-year-olds. This is what I ordered for Baby and there's plenty of growing room in it that would have also accommodated Tot. I did however order her some of the bright Post Box Red Playshoes wellies, which she loves. These come in kids' sizes from 4/5 to 12.5/13.5 and have a waterproof cuff at the top which you can adjust to keep out water should your little one engage in serious splashing.
Our verdict on the new Kidunk summer playsuit
We love this variation on what was already a winning kids outdoor clothing product. See the full range on the Kidunk website.
Win a Kidunk summer playsuit including wellies – CLOSED
We've teamed up with the lovely people at Kidunk to offer one reader a top and bottoms set, plus a pair wellie boots, for their toddler. All-in-all it's a prize worth £63.97. The closing date for entries is 23:55 on Monday 9 July, 2018. Simply read the T&Cs below and log into the Rafflecopter using your email address or Facebook account. Good luck!
Terms and conditions
UK entrants only.
The winner will be sent an outfit and pair of wellie boots of their choice from the Kidunk website.
All entries must be received by the advertised closing time at 23:55 on Monday 9 July, 2018.
The prize is non-transferable and there is no cash alternative.
The winner will be chosen at random through Rafflecopter and will be notified as soon as possible after the draw.
The winner will be contacted by e-mail. If they do not reply within seven days another winner will be chosen.
Events may occur that render the competition itself or the awarding of the prizes impossible due to reasons beyond my control, and accordingly I may vary or amend the promotion and the entrant agrees that no liability shall attach to me.
English law applies and the exclusive jurisdiction of the English Courts shall prevail.
By submitting an entry through Rafflecopter, all entrants are acknowledging and accept the terms and conditions for the giveaway.
The winning entry will be validated and if the instructions for entry have not been followed for that Rafflecopter entry a new winner will be chosen.
Each Rafflecopter entry is a single entry into the giveaway and stands alone as such. Any incorrect entries from the winner only make these entry methods invalid, not all the winner's entries. The winning entry method from them will still be valid as long as it complies with our other terms and conditions.
Entries using any software or automated process to make bulk entries will be disqualified.
The competition may be added to a number of sites for the purposes of promotion.
Disclosure: this giveaway and blog post are a collaboration with Kidunk. We were given outfits for both our girls in exchange for a review.
Pin for later