London shows for kids: get free theatre tickets during Kids Week in the West End
I'm ashamed to say that for a long time I didn't believe that theatre and young kids could mix. My misconception was that the shows were too highbrow and the little wrigglers were just too…er, wriggly. All that has changed for me in the past 12 months or so as we've gradually introduced the girls to local and outdoor theatre of all shapes and sizes. So when we were invited to see the preview of Kids Week at The Apollo Theatre in London I couldn't wait to give the girls a taster of the very best London shows for kids.
What is Kids Week, London?
Kids Week is run by Society of London Theatre (SOLT) to offer free theatre tickets for children throughout the month of August. This year free tickets are available for more than 40 shows for young people aged 16 or under. They just need to be accompanying an adult paying full price.
Half price tickets can be purchased for an additional two children joining them.
The idea is to encourage more young people and their families to experience the magic of live theatre. As well as seeing some top West End shows, kids can get involved in a wide range of free events, workshops and activities. There's storytelling, backstage tours, cast meet-and-greets and choreography lessons too.
Kids Week shows
Kids Week incorporates some of the best London shows. Performances range from light-hearted comedies for the whole family like David Walliams' Gangsta Granny to classic productions such as 42nd Street and darker dramas like The Woman in Black. Check out the full list of Kids Week shows.
During the preview performance we saw an enchanting showcase of songs, dances and back stage snippets. The girls' faces were a picture when the Bear from We're Going On A Bear Hunt wandered around the stalls. And they enthusiastically took part in aerobics with the Tiger from The Tiger Who Came to Tea.
Tot's highlight was seeing When I grow up from Matilda performed by one of the four actors who play the role on the West End. 
We also got plenty of behind the scenes insights, like being shown how the seemingly simple set of Everyone's Taking About Jamie transforms with the story and seeing a Q&A with the young actors who play Simba and Nala in The Lion King.
Kids Week tickets are available for shows between 1 and 31 August. All booking, postage or transaction fees have been waived too. For more information on London shows for kids, summer activities and Leicester Square deals visit the Kids Week website.
Other free things to do in London this summer
Leicester Square is also home to the largest LEGO Store on the planet, with an awesome 200,000 brick model of Big Ben, a looping Chinese dragon, a Tube train complete with Shakespeare and a Beefeater, and an iconic red phone box. We (Ok, I) couldn't resist the photo opportunity.
Opposite the LEGO store is Europe's biggest sweet shop, M&M's World. As soon as you walk in the door the sweet smell of sugar coated chocolate hits you. There are an incredible four floors of M&M goodies ranging from toys to branded clothing and, of course, a mind-blowing number of sweets.
Just don't let the kids get too heavy-handed dispensing their M&Ms from the tubes of the giant chocolate wall! I'd never let that happen – cough!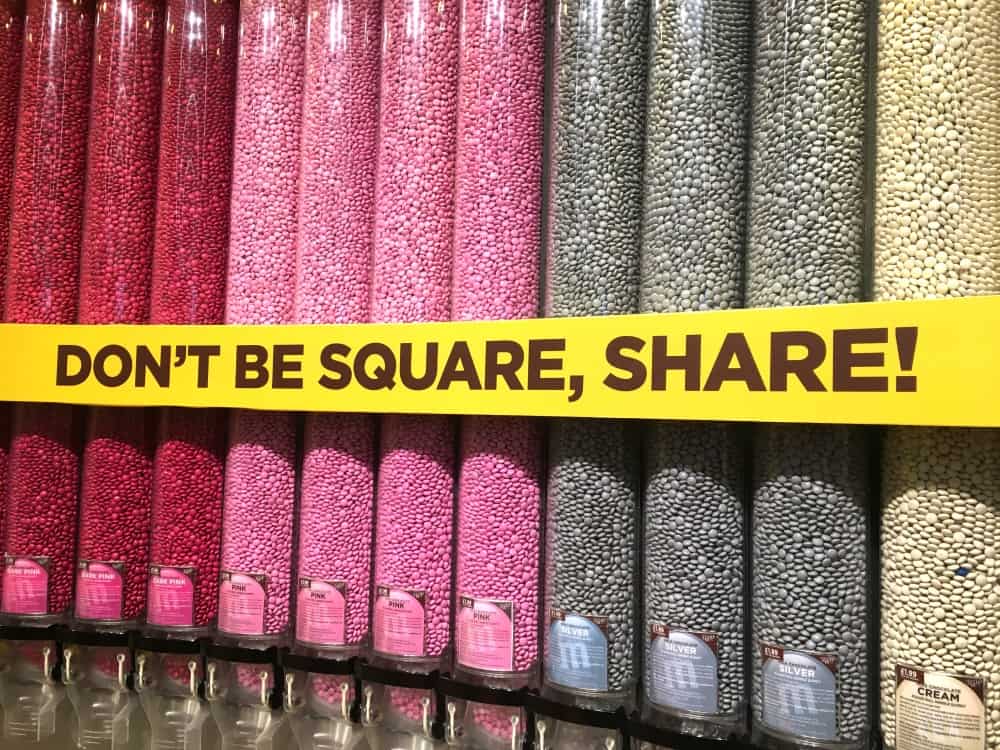 Where to eat after a West End show
Following on from our tantalising Kids Week preview at The Apollo Theatre the girls and I headed to Planet Hollywood for an early dinner before our train home to Devon.
Did you know that they offer show-goers 20% off their bill? They also have a partnership with Shrek's Adventure. If you dine with them, kids go free to the attraction with a paying adult!
We really enjoyed our meals off of a packed menu with everything from steaks to noodles and pizza. The Chocolate Comet Super Nova Milkshake was a particular hit. I lost most of mine to the girls!
Planet Hollywood not only serves up great meals, it's heaving with curiosities to keep kids of all ages (and their folks) entertained. TV screens showing movie clips, music videos and live footage from inside the restaurant caught my flagging girls' attention.
They also had colouring sheets to keep them amused while we ordered our meals. No wonder Planet Hollywood has been named by BookATable as London's most child-friendly restaurant four years in a row.
Meanwhile I was astonished by all the memorabilia splashed over the walls. We ate in the shadow of The Joker's long pistol that was brandished by Jack Nicholson in Batman.
And just next to us was one of 007's suits from The Spy Who Loved Me. One star studded area that the girls did appreciate was the wall of back-lit, multi-coloured hand prints.
A full day in Leicester Square
Before we knew it we'd spent an full-on seven hours in Leicester Square and it was time to catch our train home from Paddington. The girls have been chattering about Tigers, Bears and Matilda ever since. The rest of our summer holidays have a lot to live up to!
Disclosure: we were invited to experience the Kids Week preview and dine at Planet Hollywood. Our travel to London was covered by the Kids Week team. In exchange for this I have provided coverage on the blog. All opinions are my own.