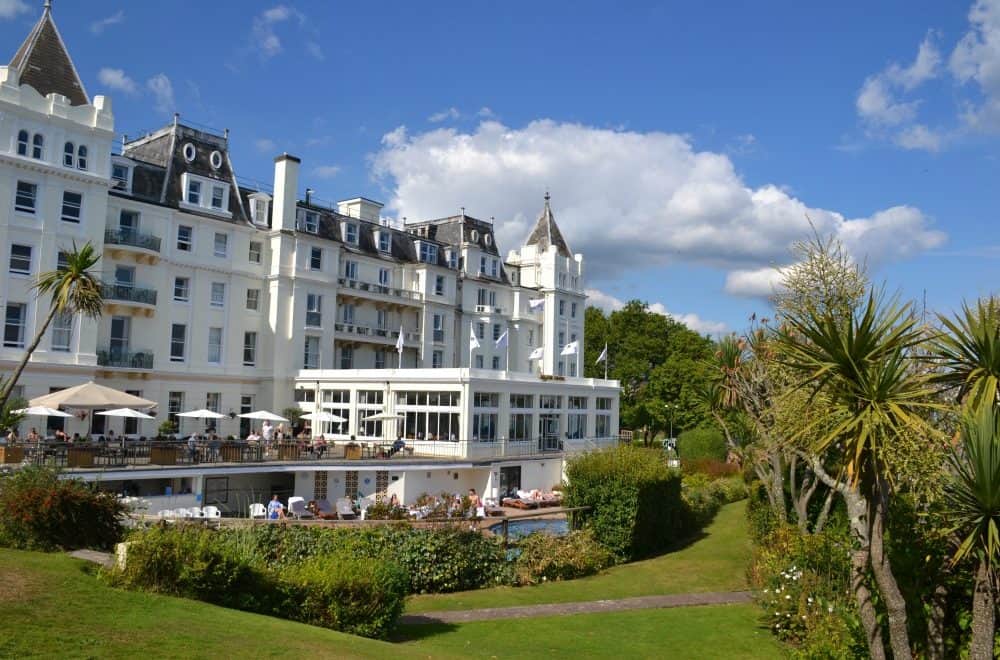 The Grand Hotel, Torquay review – a Devon hotel for couples and families
If you are looking for a South Devon hotel with plenty of character, that's right on the seafront and welcomes pets, read our review of the Grand Hotel in Torquay.
*Advertisement feature*
Baby sitters booked? Check! Dog sitters lined up? Check! Luxury seafront hotel reservation? Check! It's time for a child-free weekend for two!
There's no question organising a weekend away from the kids takes a lot of planning. Is it worth it? Absolutely! Mr Tin Box and I get the opportunity about once a year. Last time we took a trip to Jersey.
In 2017 we did something a bit more local and had a night at The Grand Hotel in Torquay, Devon.
Was it any less indulgent? Nope! Here's a sneak peek at our stay at this historic west country hotel.
About The Grand Hotel Torquay
Torquay is at the heart of what's known as the English Riviera. On a sunny afternoon, like the day we checked into The Grand Hotel, it's not hard to understand why.
The tiers of shiny white apartments gazing cooly out over the water and the private yachts bobbing gently in the marina wouldn't look out of place in Monaco.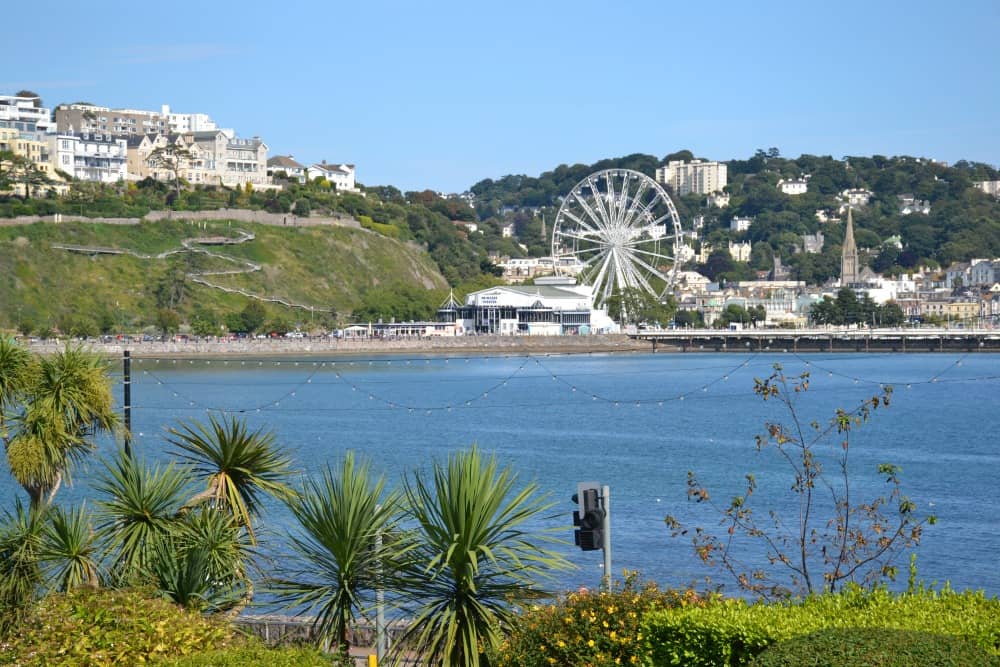 The Grand sits in a commanding position overlooking the bay and has been an important landmark for this seaside town for more than 130 years.
 It was first built with just 12 rooms to service the passengers arriving in Torquay on the new Great Western Railway in the late 1800s.
In its distinguished past it's hosted crime writer Agatha Christie on her honeymoon and was one of the UK's first hotels to install central heating. That's not to mention the addition of a Second World War gas and bomb shelter in its basement.
Believe it or not it was a compelling selling point to war-time visitors to the south west of England! Today The Grand is a 4 star, 132-room hotel with spa and a AA Rosette restaurant.
Arriving in art deco style
As soon as you walk through the doors of The Grand Hotel you can understand why the Richardson Hotels group added it to its portfolio of traditional British hotels. The Grand's public areas have the feel of a lavish country house with an art deco twist. Modern it is not, but impressive it most certainly is.
We arrived at reception ahead of check-in and were directed to free parking at the nearby rugby club. While we were waiting for our room to become available we were given complementary coffee on the terrace overlooking the heated outdoor pool.
It was the perfect way to relax into our weekend sans kids, with live music by local musician Chris Thomas, the warm sun on our faces and no-one threatening to spoil the peace with a terrible twos tantrum.
A family and dog-friendly hotel in Torbay
At this point I will mention that The Grand Hotel is a family and dog-friendly hotel. We saw plenty of children enjoying the pool and dining with their parents in the 1881 Restaurant, which has kids dishes to complement an à la carte menu.
There was even the odd well behaved pooch on a lead. We could have easily brought along the whole Tin Box clan and having seen the hotel's facilities would recommend it to other families. However, the purpose of this stay was to enjoy some precious time together as a couple.
Find more dog-friendly accommodation and holidays in the UK
On the terrace, coffees were quickly replaced with a cheeky afternoon gin and tonic while we continued to listen to the live music and admire the Great British Bake Off worthy afternoon teas being served up on neighbouring tables. Note to self: we must go back for one of those soon!
All too soon it was well past check-in. We picked up our key and took the lift up to our third floor seaview family room – again reminding us that we could have brought the kids!
Find out prices and availability at The Grand Hotel*
Standard sea view room at The Grand Hotel Torquay
I was very excited about the prospect of a sea view room and was not disappointed. We had panoramic views of Torbay from Torquay Marina to Brixham and Berry Head.
The room itself was ginormous with a king-sized and a single bed, and plenty of floor space for a cot or folding bed.
There was a table and bucket chairs at the half bay window from which we could admire the view and a desk with a rather antique looking hair dryer hidden inside. Just like the rest of the hotel, I could not call the furnishings modern but they were in keeping with its traditional style.
One of the best practical features of the room was the large vestibule between our room door and the main living and sleeping space.
This was where we found a large wardrobe, a safe, tea-making facilities and a fridge. There was also ample space for several holdalls or suitcases leaving our room uncluttered.
Best of all there was a extra door between us and the corridor so if there had been any nose from outside we wouldn't have known.
Our bathroom followed the traditional theme and came with low level bath and shower head, and a large shower cubicle.
On the side we found complementary shampoo, conditioner and shower gel. There was no body moisturiser, which was a bit of a pain as I'd forgotten to pack mine.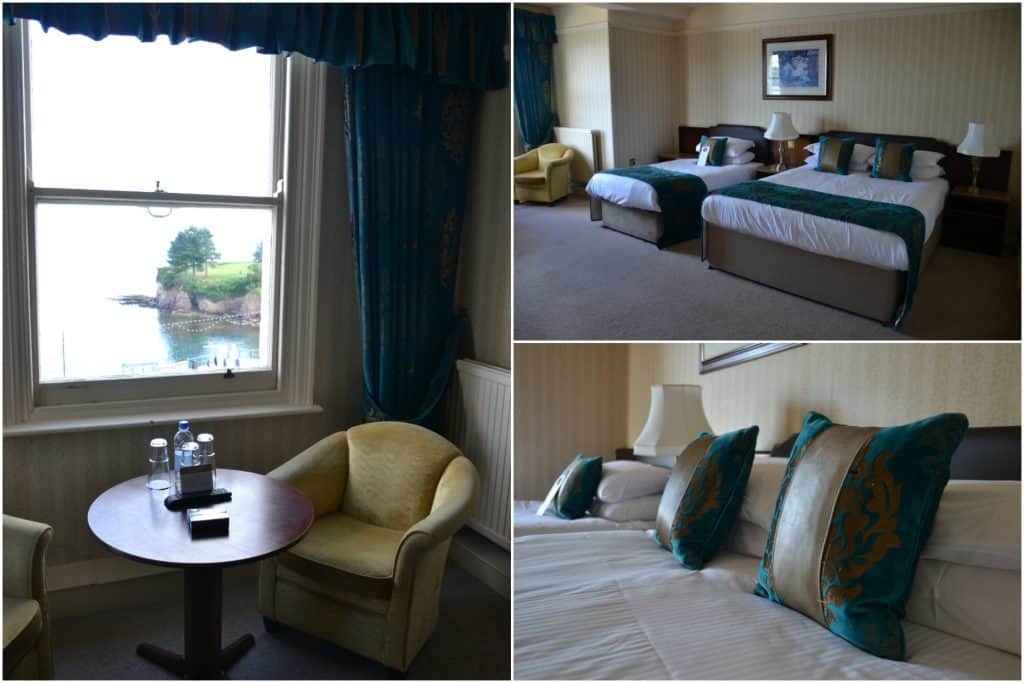 AA rosette dining
Mr Tin Box and I love eating out but rarely get to sit down and savour our food thanks to our regular company in the form of two energetic and ravenous under fives.
The thought of enjoying a three course meal in The Grand Hotel's AA rosette 1881 restaurant had me a bit giddy.
The waiting staff were attentive and friendly from the off, giving us exactly the right amount of time we needed to look over the menu and make our selections.
I chose scallops to start, which came with braised pigs cheek and chargrilled sweetcorn, while Mr TB had mackerel accompanied by a gooseberry and chilli compote.
For our main course I went for the Feather Blade of Devon Beef, which practically melted on my plate, and Mr TB had the Pan Fried Grouse Breasts.
The flavours were outstanding and we felt super virtuous knowing we were eating local produce with a selection of tender seasonal vegetables.
Before I move onto what we had for dessert I have to mention the bread that accompanied our meal. The Grand Hotel has its own micro bakery and the bread it produces is delicious, as are the croissants which we sampled at breakfast the next morning.
For me dessert had to be something light after two well proportioned and flavoursome courses. The Popcorn and Salted Caramel Sundae caught my eye, while Mr Tin Box found enough room to squeeze in the cheese board, which came with a generous helping of biscuits.
All in all the food was excellent and despite embarrassing Mr Tin Box by doing the 'blogger thing' and photographing all our food, we had a great dining experience.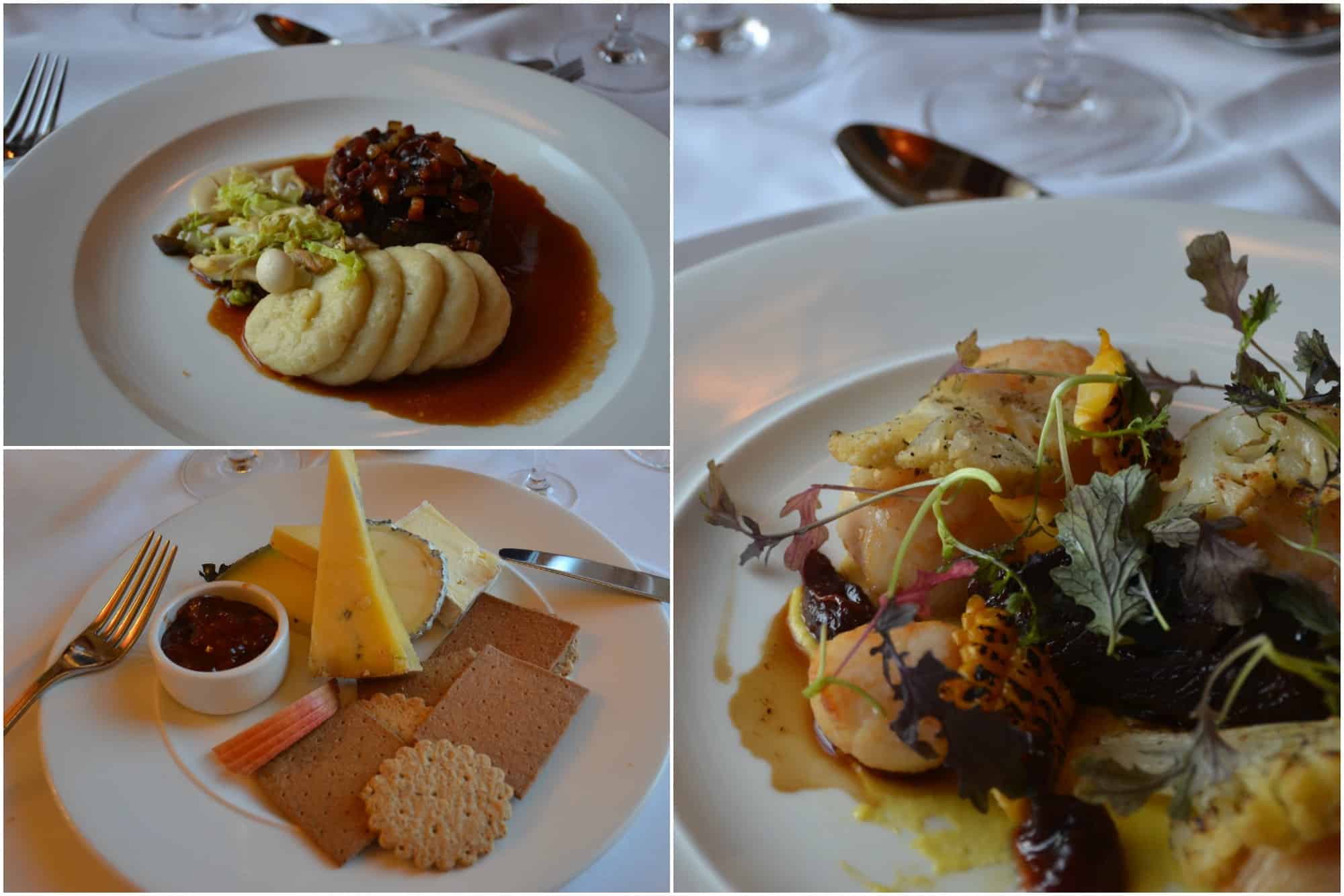 The next morning I hardly had room for breakfast, which is also served in the 1881 restaurant.
We had the choice of a hot and cold buffet or al a carte dishes for a £5 supplement.
I spooned a bit of fresh fruit into my bowl but Mr TB filled his plate with a cooked breakfast.
Not to be totally out done I did find space for one of the home-baked croissants with the most amazing raspberry jam – also homemade and highly recommended!
Book a stay at The Grand Hotel*
Family stays at The Grand Hotel Torquay
I feel totally neglectful in my duty as a mum and family travel blogger if I didn't mentioned a few of the things that make The Grand Hotel a family-friendly Torquay hotel.
Our room really was a great size for a family with plenty of space for kids to play on the floor and not feel cooped up.
I know the outdoor and indoor pools would have been a hit with our girls, as would the large bookcase of children's books in the library off reception. The kids menu in the 1881 restaurant was a great touch, as I'm sure young kids would have appreciated something a little less refined on their plates.
In terms of family activities in the area, there is a small beach just across the road from the hotel and Torquay's main beach which is a few minutes walk away.
Also within walking distance are the historic Torre Abbey, the Riviera International Centre with a wave pool, the Living Coasts zoo and aquarium, and Torquay's Dinosaur World. 
And there's plenty more things to do in Torquay.
Planning a family holiday in Devon? Take a look at my complete Devon holiday guide including things to do, where to stay and places to eat across the county.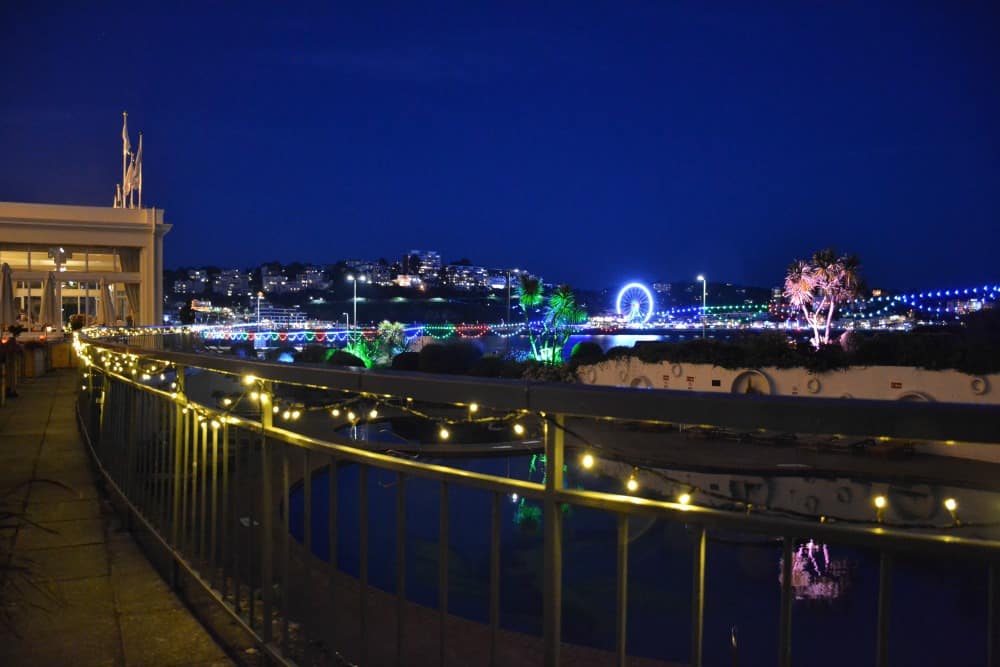 Final thoughts on our luxury night for two
It may have been the heady experience of an uninterrupted nights' sleep; or it could have been the great service and delicious food that left us feeling utterly relaxed as we left The Grand Hotel.
Either way we had a great stay and will definitely be back to sample one of those afternoon teas.
Did I mention they also do a gin afternoon tea? Amazing!
Find out prices and availability at The Grand Hotel*
Disclosure: we were invited guests of Richardson Hotels. Our room and dinner were complementary in exchange for an honest review. All opinions and photos are my own. This post contains affiliate links marked with a *. If you click on one of these and make a purchase I may make some commission. This is at no additional cost to you.
Pin for later
SaveSave
SaveSave