48 hours in Salisbury with kids – a short break in October half term
If you are looking for places to visit within easy reach of London then Salisbury must be on your destination list. But rather than do the standard day trip why not put down roots for a few days and really get to know the city? This is what we did in Salisbury with kids over the October half term.
Salisbury and surrounding area are steeped in history. In 2019 the medieval city turned 800 years old. Plus, the outlaying Areas of Outstanding Natural Beauty are littered with walks and plenty of things to do with kids.
*This advertisement feature contains affiliate links*
We had a packed two days of exploring with the Tin Box grandparents roped in for a multi-generational holiday. Thanks to VisitWiltshire for inviting us to experience some of what Salisbury and Wiltshire's countryside have to offer.
A multi-generational autumn break in Wiltshire
We arrived in Wiltshire mid-way through our half term break – the girls and myself bundled up in our car and the grandparents in their motorhome. This was the third stop on our school holiday road trip and not an altogether unknown part of the world.
For many years we all lived an hour down the road in Hampshire. However, I do love rediscovering places that we think we know, as I was reminded during the first part of our half term adventure.
Here's what we got up to, some places we think would be great to stay – particularly if you're looking for accommodation near Stonehenge – and where we enjoyed dining in Wiltshire:
Things to do in Salisbury with kids
Whether your children are history buffs, enjoy meeting animals or going on outdoor adventures there are lots of options in Salisbury and Wiltshire to keep them entertained. Here's the activities we experienced:
Guided tours of Salisbury
We went on two tours of Salisbury: one with Salisbury City Guides around the historic city centre and ghostly hot spots; and a second around the magnificent 13th Century Cathedral.
Salisbury ghosts
Our first Salisbury guided tour was with Margaret who gave us a overview of some of Salisbury's most haunted places. This was the perfect entertainment for a chilly day just before Halloween.
We started at the Red Lion pub which was one of the first stage coach inns in the city. Playful ghosts are said to hang out here and have given staff the wobbles in the past.
There are multiple reports of a similar kind of haunting in the store room at Debenhams. What a strange place for a ghost to linger you might think. But this is no ordinary spirit. The department store stands on the site where the Duke of Buckingham was executed for treason against Richard III in 1483. He is now Salisbury's most infamous ghost.
Onwards on our spooky tour we arrived in front of the Haunch of Venison. It claims to be the most haunted pub in Salisbury and I'd not question it after the tale our guide told us. A severed, mummified hand was uncovered in the chimney stack above a fireplace here. In its knurled fingers were a pair of playing cards. The owner was probably a card cheat and got his ghastly comeuppance. You can still see the hand on display. Eek!
There are many more Salisbury ghost tales and fascinating landmarks; from half timbered merchants houses to the historic market square and incredible 15th Century gothic Tudor Odeon Cinema.
Religion and symbology
Our girls were getting a bit twitchy towards the end of our guided tour but Salisbury is one of these cities with plenty of symbology in its old buildings. We kept them amused by looking for lions, unicorns and 'Big Bad Barry' from one of their favourite TV shows Ben and Holly's Little Kingdom.
The aforementioned 'Barry' was found in St Thomas's Church in the Doom Painting depicting the Last Judgement. There he is at the bottom of the picture above to the right of the arch. The devilish fish represents the mouth of hell into which the sinners are being marched in chains.
This incredible mural was commissioned in the 15th Century. It was covered about 100 years later during the Reformation of the church. After this, the artwork was all but forgotten until the 19th Century when the colours started to show through the whitewash. Interestingly the prudish Victorians who found it and restored the mural added clothing to some of the figures to save their modesty.
Also in the church we saw Queen Elizabeth I's coat of arms. This bears a lion and dragon, symbolising her place as a queen of England and Wales.
If your kids are into history, ghost stories and interesting architecture then they will love a guided tour of Salisbury. These can be booked through the Tourist Information Centre.
Guided tour of Salisbury Cathedral
Our next tour was around Salisbury Cathedral, which I loved. The girls were most definitely restless by now so Tin Box Grandma stepped in to amuse them while Grandpa and I looked around the Cathedral's many incredible features.
Our guide, Stephen, was full of brilliant facts and took us on a journey though the history of Salisbury from it's original cathedral at Old Sarum to the building of Salisbury Cathedral and monuments to important people within its walls.
You can explore Salisbury Cathedral on your own. However, to make the most of your visit we would recommend a tour with one of the volunteer guides. If you are visiting with children there is also an activity sheet. We had barely an hour to visit which was nowhere near enough for myself and the Tin Box Grandparents but probably more than enough for five-year-old Tot and three-year-old Baby.
Had we had the luxury to explore longer we could have gone to see the Magna Carta – one of four surviving copies and the best preserved original – and gone on a tour of the tower, which supports Britain's tallest spire. Children must be over the age of seven to climb the tower.
While Tot and Baby were not the biggest fans of Salisbury Cathedral, Tin Box Dog loved being able to accompany us on this excursion. She was welcome to tour Cathedral Close, the Cathedral floor and arcaded cloisters.
Aside from the Cathedral there's so much to see just outside in Cathedral Close including former Prime Minister Edward Heath's House, Mompesson House which featured in the film Sense and Sensibility, and the Rifles Berkshire and Wiltshire military museum.
You can tour Salisbury Cathedral and Cathedral Close for free or pay to go up the tower.
Cholderton Charlies rare breeds farm
From Salisbury we travelled 20 minutes outside the city centre to Cholderton Charlies rare breeds farm. This was much more up the girls' street with animals, indoor soft play, outdoor adventure play and tractor rides. We could have easily spent all day here.
Halloween was a great time to visit Cholderton Charlies. As well as the usual farm fun there was a Halloween scavenger hunt, a spooky climb through the tree top trail and fairy spotting in the Water Gardens. The whole farm was covered in decorations and there was a discount on entry for anyone who arrived in fancy dress.
Cholderton Charlies is a great value day out for families with young children. Under two-year-olds go free. We'd love to go back to walk an alpaca, which is a new experience at the farm this autumn!
Stonehenge
We visited Stonehenge on the most auspicious of days: the centenary of the ancient monument being gifted to the nation. As well as taking bus ride out to the 4,500 year old stone circle and stepping inside a 360 degree audio/visual recreation of the structure in the visitor centre, we got to have a bounce on a life-sized inflatable version by artist Jeremy Deller. Sadly this was only on-site for the weekend of celebrations but does go on tour from time to time.
The girls proclaimed that the bouncy henge was their favourite. It was a forgone conclusion really! However, I think the whole Stonehenge visitor experience really captured their imaginations by putting the story of a ruin into context for them and me.
It's important to book your visit to Stonehenge even if you are a English Heritage or National Trust member (both get free entry). If you are visiting in the autumn or winter months dress appropriately – the stone circle is very exposed on Salisbury Plain. Both of our girls got very cold walking around and had to be warmed up with a hot chocolate back at the visitors centre cafe.
Non-English Heritage and National Trust member entry prices include a bus ride to the stone circle and entry to the visitor centre exhibition. Book your Stonehenge tickets*.
Where to stay
Camping and glamping near Stonehenge
My parents were travelling in their motorhome over October half term. So a super easy accommodation solution to keep our multi-generational family group together was a campsite with self-catering accommodation. VisitWiltshire found us Stonehenge Campsite – the closest campsite to Stonehenge.
Tin Box Grandma and Grandpa had a deluxe motorhome pitch with their own water tap and waste water point, while the girls and I stayed in one of the luxury camping pods.
Fox Pod is the cutest glamping accommodation we have tried and was perfect to share with two small children. We even had the option of having a continental breakfast delivered to our pod door each morning.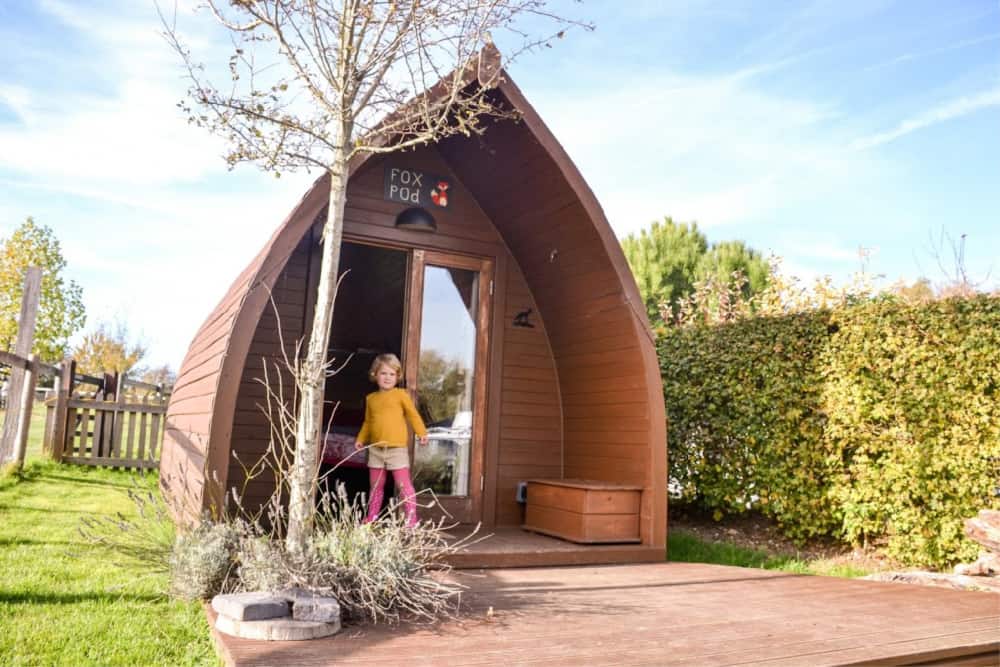 Stonehenge Campsite is really well maintained and comes with lots of features to make your stay enjoyable. Our glamping pod came with its own garden and picnic table for al fresco dining. The toilet blocks were modern and warm inside.
This is definitely somewhere we'd come back to. We'd recommend it to anyone looking for a caravan, motorhome or glamping site within a few minutes drive of Stonehenge.
Have a read of our full review if you'd like to find out more about this campsite close to Stonehenge.
Deluxe motorhome pitches cost between £12 and £26 a night for small motorhomes like my parents' one, while the luxury glamping pod costs between £50 and £100 a night. The price variation is dependant on the time of year you stay. Prices correct at time of publication.
B&B near Stonehenge
If you prefer B&B accommodation then just down the road is Rollestone Manor. There has been a manor house here since the 13th Century. Over the years it has be remodelled several times as a family home and in more recent years as a B&B and guesthouse run by the Portier family.
The B&B has two family rooms accommodating up to two adults and two children. We dined here one evening. And if their breakfasts are anything like their dinners then you're in for a treat. Read more about our dinner below.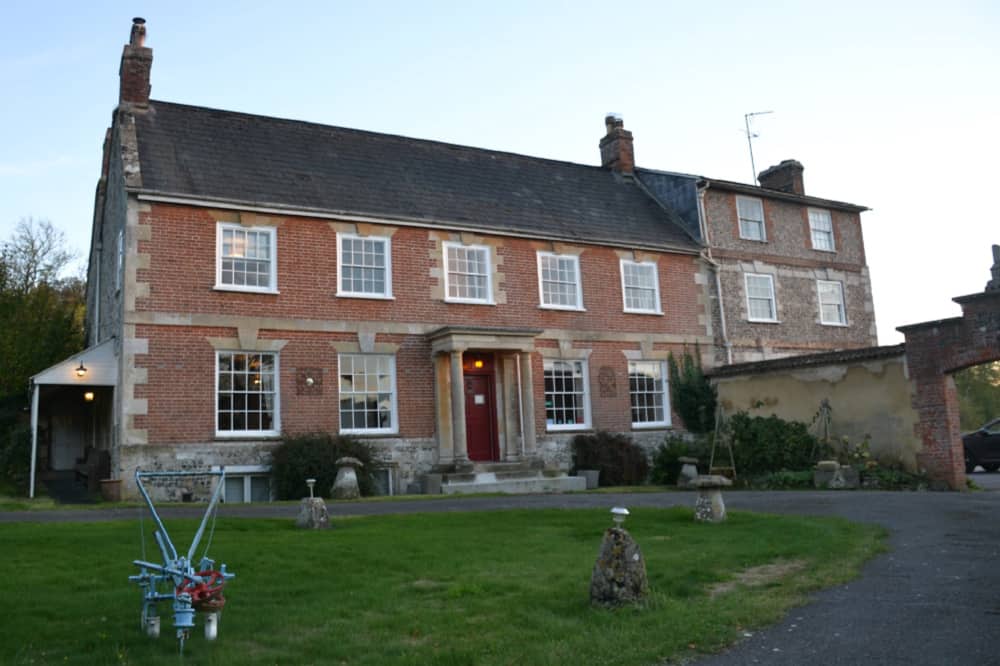 Champing in Wiltshire
A short walk from Rollestone Manor is Rollestone Church which is a venue for Champing – camping in an ancient church. It's not something I'd heard of until we stumbled upon this place during a walk. Your accommodation comes with a bed, lighting, tea-making facilities and a loo as standard. Dogs are welcome too.
Anyone champing at Rollestone Church is welcome to book in at Rollestone Manor for breakfast.
Family-friendly youth hostel
Right next-door to Cholderton Charlies rare breeds farm is YHA Cholderton Hostel – a four star youth hotel with 70 beds. It has family rooms, ensuite rooms and dormitories. The hostel is open 365 days a year and has its own cafe which is open daily from 10am until 4pm. Guests can visit the farm free of charge.
Where to eat
Usually when camping or glamping we love to barbecue. But in the cooler weather of October half term eating out is the warmer alternative. We dined at some great Wiltshire eateries, each with their own style and great menus. Here's where we'd recommend eating in Wiltshire with kids:
Neston Farm – British farm food at its best
We stopped here for lunch on our journey from North Wiltshire towards Salisbury. The farm is a destination in itself as well as somewhere great to eat. The girls loved the large open playground and Tin Box Dog appreciated stretching her legs along the nature walk.
The cafe has a modern yet rustic feel with country cottage tables, chairs and benches, as well as sofas for less formal dining. There's plastic cutlery for kids and a little farmers' menu with dishes to appeal to smaller appetites.
Neston sells a taste of British farm food at its best: delicious, freshly cooked meals made with locally sourced farm produce. I can highly recommend the Smoked Beef Brisket Flatbread. They also have a wide selection of cakes and bakes. We were too full to indulge but these looked incredible.
Our one course lunch with drinks for three adults and two children cost about £10 a head.
Sophisticated dining at Rollestone Manor Restaurant
Just a five minute drive from where we stayed at Stonehenge Campsite is Rollestone Manor. Dinner is served from 6.30pm. Non-residents are welcome to enjoy dining in this country house with a hunting lodge feel.
You can have three courses but we opted for two. There's no children's menu but our host Paula was happy to adapt some of the main meals to suit our girls. I had lamb shank with crushed potatoes, mum had sea bass and dad had Thai prawns. Everyone agreed the food was excellent.
Dessert did not disappoint either. The girls shared a plate of six mini desserts while we opted for old favourites: apple crumble and sticky toffee pudding.
Our two course meal followed by coffee for three adults and two children cost about £20 a head.
The perfect sightseeing pitstop at The Old Ale and Coffee House
Not far from Cathedral Close in Salisbury is The Old Ale and Coffee House. This independent pub was a great place to warm up and fuel up after our tour of the city and Cathedral. Indoors it has sofas, tables and booths for dining or just grabbing a coffee. Outside you can book a hut and order a drink at the garden bar.
We enjoyed a filling lunch of delicious fishy chowder, eggs royal and good sized kids meals. Everything is cooked fresh and many of the ingredients are locally sourced – expect no chain pub ping cuisine here!
The lovely team also made a real fuss of Tin Box Dog. She left waddling a little after plenty of treats from the bar staff.
Our one course lunch with drinks and coffee for three adults and two children cost about £10 a head.
The Royal Oak – traditional country pub with a spicy twist
This traditional country pub is situated in the small village of Wishford and serves delicious home cooked meals. The menu ranges from pub classics to cajan curries – spicy but not too hot. However, if you do like to have your head blown off then they cater for the more adventurous curry fans too.
The girls enjoyed typical children's meals beautifully presented – mini fish and chips and a cheese burger – while Tin Box Grandpa and I had curries and Grandma tucked into a seasonal beetroot tartlet.
If you visit on a Sunday there are also roast dinners with a choice of five meats. Or you can mix things up and pick a few. Extra large portions are available!
Our two course meal followed by coffee for three adults and two children cost about £20 a head.
Short breaks in Wiltshire
We really enjoyed our short break in Wiltshire. As well as all the historic attractions of Salisbury there are some great family events throughout the year, like the Christmas Market and lantern parade. There's still time to book a last minute winter getaway to Wiltshire in 2!
Have you visited Salisbury with kids or taken a short break in Wiltshire? I'd love to hear about what you did and where you stayed. Leave me a comment below.
Disclosure: we were invited on a press trip by VisitWiltshire. Our accommodation, meals, activities and travel expenses were paid but I did not receive a fee for this coverage. All opinions are my own. This post also contains affiliate links marked with *. This means if you click through and make a purchase I may earn some commission. This does not affect the price you pay.
If you're planning a short break in Wiltshire then pin this for later.