Norwegian Breakaway ship tour: where to eat, drink and have fun on an NCL family cruise
Back in September NCL's Breakaway visited Southampton and we were invited onboard to see what the ship has to offer families cruising with kids. With Mr Tin Box off on his own Royal Navy 'cruise' and me stranded in Devon with the kids I tasked my friend Lorraine from My Secret Mum Blog with tackling the Norwegian Breakaway ship tour.
Now, mum of two Lorraine is no stranger to cruising with dozens under her belt with and without children. So what did she make of Breakaway and the NCL family cruise offer?
Read on to see what she got up to during a whistle-stop ship visit. You can also read more about Norwegian Breakaway on Cruising With Kids.
If you'd like to find out more about cruising with kids then have read of my cruise holiday and cruise tip posts.
*Advertisement feature*
NCL ship tour
Recently I was lucky enough to go for a nosey around Norwegian Breakaway while it was docked in Southampton. The ship was visiting so as guests were pouring off into a foggy city centre I was skipping up the gangway.
The first thing that struck me about Breakaway was its sheer size. The ship carries 3,963 passengers, making it the biggest ship I have ever been on.
Cue massive excitement from me!
Norwegian Breakaway stats
Launched in 2013
145,655 gross tonnage
1,024 state rooms
238 suites
14 passenger decks
8 inclusive restaurants and 12 speciality fee restaurants.
Norwegian Breakaway had just had a refit and was about to reposition to the Western Caribbean for winter 2019. So what better time to visit?
The Haven
Our first port of call was to the 'The Haven' which is the special area on board for suite guests. There is a reception with super smiley crew waiting to book dining, entertainment and shore excursions.
There is also a bar and restaurant for those who want to live the elite lifestyle. The décor is beautiful with amazing attention to detail – gorgeous lighting as well as sea views! I could happily spend an evening (or two) dining here.
Norwegian Breakaway activities up on deck
The outside deck areas are totally geared for families and those wanting to have fun! I would struggle to get Miss A out of the aqua park with a selection of slides and a kids splash pool area.
For the fitness bunnies there is a running track (complete with easy to follow instructions!) and a climbing wall!
There is also a gym kitted out better then any land based facility I have ever seen (please note I haven't been to many gyms!).
The pool areas for those who don't want to throw themselves down a plastic tube are far more sedate with lots of loungers and hot tubs. The aft outside area even comes complete with a giant screen for evening al fresco parties!
Feed me – dining options on Norwegian Breakaway
As with any cruise ship there is no chance you will go hungry! During my visit we went on one of the main dining room called Savor and it was delicious. I opted for salad, chicken and risotto followed by chocolate eclairs.
With food as good as that in the main dining room it is a wonder that there is a need for additional dining venues but Breakaway has loads of them: sushi, trusty buffet, Argentinean grill, French bistro, casual bar dining open 24 hours a day, noodle bar, steak house, ice cream parlour…
As I said, there is no chance you will go hungry!
Cocktails and cruise dreams: make mine a double
The bars – cruise ships are full of bars. You will find one at every turn and Breakaway does not disappoint.
There are poolside bars serving ice cold beers and cocktails day and night. The bar at the back is turned into an outdoor club style venue in the evening for dancing under the stars.
Inside you can get every type of drink you can imagine from beers to Belinis and coffees to Cosmos.
We were lucky enough to be treated to a cocktail making masterclass in the new Syd Norman's Pour House bar during our visit.
The fantastic bartender made a selection of martinis for us including the classic Cosmopolitan made famous by Madonna and my favourite, a dirty martini.
Each cocktail was delicious, but you could not drink more than a couple. They would blow your socks off – good thing you have all the food to soak up the alcohol!
Norwegian Breakaway is home to an ice bar inspired by the ice hotel in Scandinavia. We didn't get the chance to take a peek inside but it has to be a must-visit when on a cruise.
Norwegian Breakaway for kids
So I thought I would highlight just a few things I saw during my visit that I know my kids (girls age 3 and 6) would go nuts for during an NCL family cruise:
Pool, slides and cute sea creature water features.
Self serve Mr Whippy style ice cream in the buffet!
The kids clubs. There is something for all children of all ages with a full programme of activities. There is also a room full of arcade machines which would potentially be more of a hit with Mr C than the girls.
The Theatre (showing Rock of Ages and Burn the Floor) – my kids love a show. Although heads up that you need to book your seat in advance at the box office onboard NCL ships.
Dance floors – in the middle of Manhattan dining room is the most beautiful dance floor for music and dancing during dinner. I have visions of my girls twirling around this dance floor – and obviously doing the customary slide across the floor that all kids love!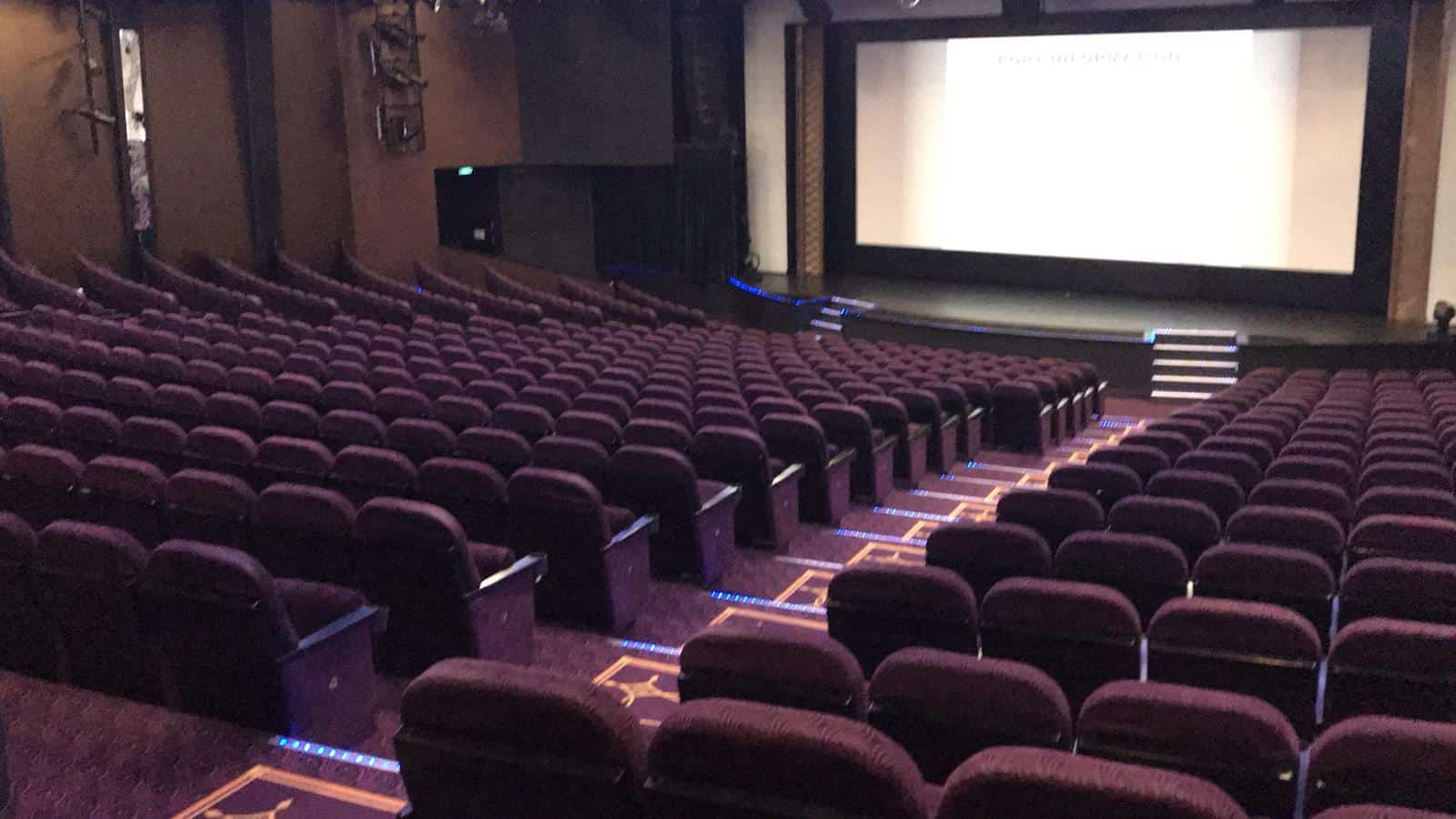 Have you sailed with Norwegian Cruise Line or onboard Norwegian Breakaway? I'd love to hear your first impressions and favourite experiences.
Find out more about Norwegian Breakaway's kid-friendly features on Cruising With Kids.
Disclosure: Lorraine was invited onboard Norwegian Breakaway for a blogger visit. All opinions are her own.
If you'd like to save this Norwegian Breakaway ship tour post for another day pin it!