Hatchbag boot liner review: car boot protectors for messy families
How often do you need to clean your car boot? If you have kids and a dog like us then you'll know that grit, mud and unidentifiable goop quickly builds up. A car boot liner can help to keep things in order and minimise the time it takes to get things looking tidy and smelling fresh again. Here's our Hatchbag boot liner review – a bespoke, UK made car boot protector with some handy features for dog-owners.
*Advertisement feature*
At Tin Box Towers we have a number of different cars. The VW Transporter is the star of the show when it comes to all things campervanning and paddle boarding related. Mr Tin Box has an MX5 that he likes to play with in the garage but rarely actually uses. And the latest addition to our family is an all-electric Nissan Leaf that we have named Eva.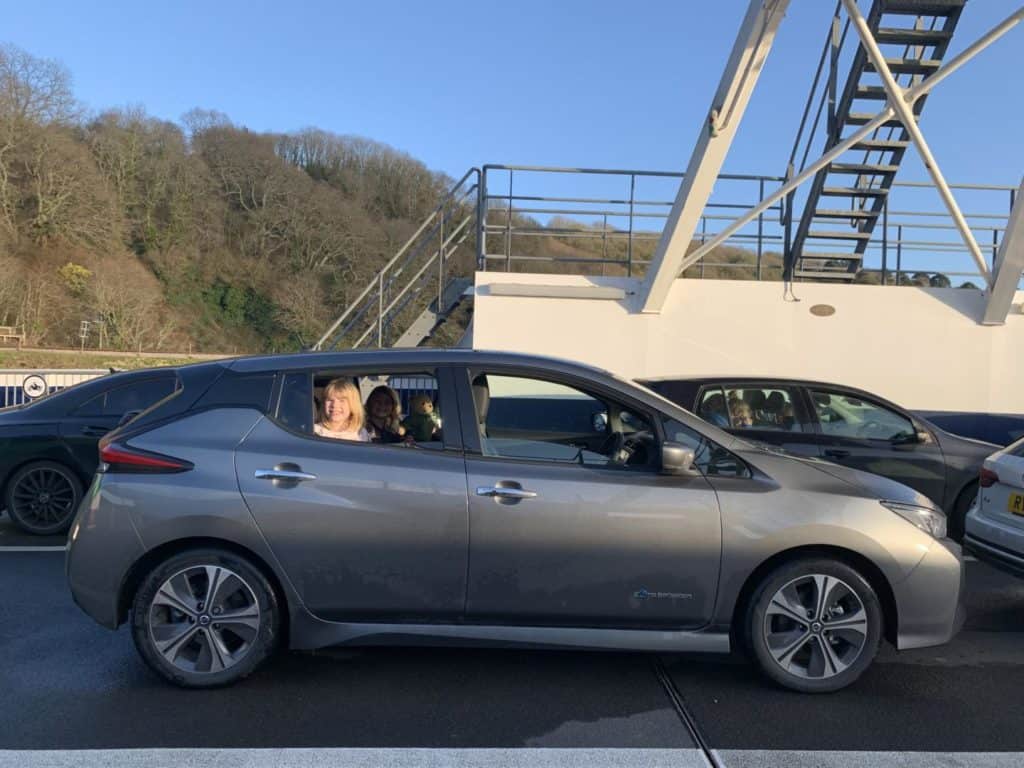 Eva is Mr Tin Box's commuting car and my preferred vehicle for driving around the narrow Devon country lanes, popping into town or taking the dog for interesting walks. It's not a glamorous life for our poor little Leaf – it takes some abuse.
However, as it's a leased vehicle that we have to give back in a few years, we wanted to make sure our Nissan Leaf gets as little wear, tear and damage as possible. Luckily in stepped The Hatchbag Company to offer us one of their boot liners to test.
Hatchbag boot liners
The Hatchbag Company manufacture car boot protectors that are customised to perfectly suit your car and lifestyle.
Made in the UK from high quality materials, these waterproof liners protect the car's upholstery and help to keep the boot clean and tidy. That's not to mention helping you get rid of wet dog whiffs.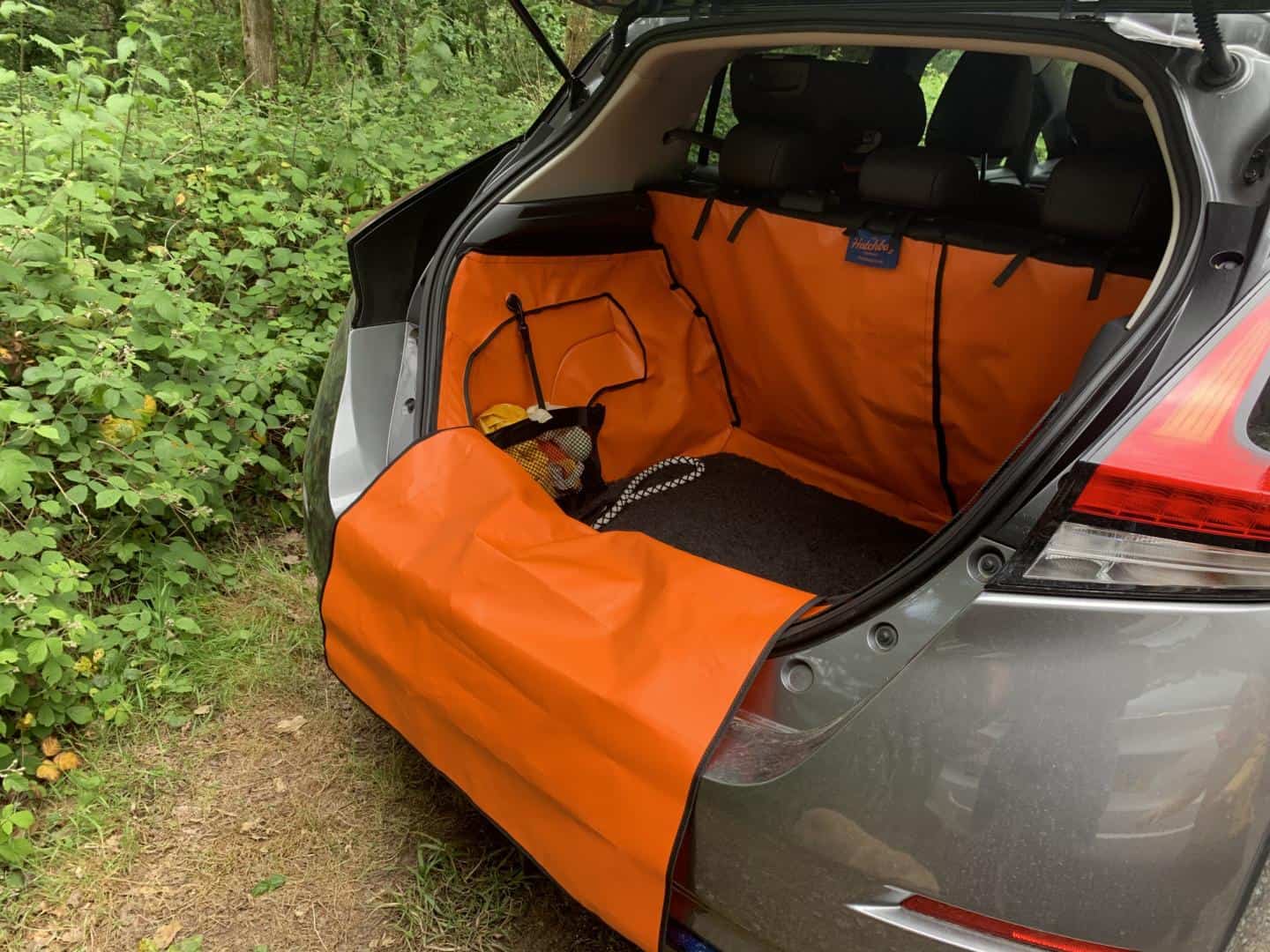 Which cars is the boot liner available for?
It's very easy to find out whether The Hatchbag Company can make you a bespoke boot liner for your car.
Simply visit their website and put in your car's make and model, then select your exact model from the list. If you can't see your vehicle give them a call or complete the online contact form.
They make boot liners for almost any vehicle, customising them so you can still use features built into your car boot. Our Nissan Leaf has webbed pockets on both sides and our boot liner has been designed so these are still accessible.
You can go for a standard bootliner or choose one of the 'rear plus' options which fold with the rear seats.
After that decide if you need:
a bootliner extension, ideal for those runs to the tip or trips to the builders yard
a bumper flap to stop dog paw scratch marks ruining your paint
or a tailgate cover for complete boot protection.
Boot liner for dogs
As we have Tin Box Dog we opted for a rear plus boot liner with split seat function, tailgate cover and bumper flap to stop her clawing the car as she jumps in and out.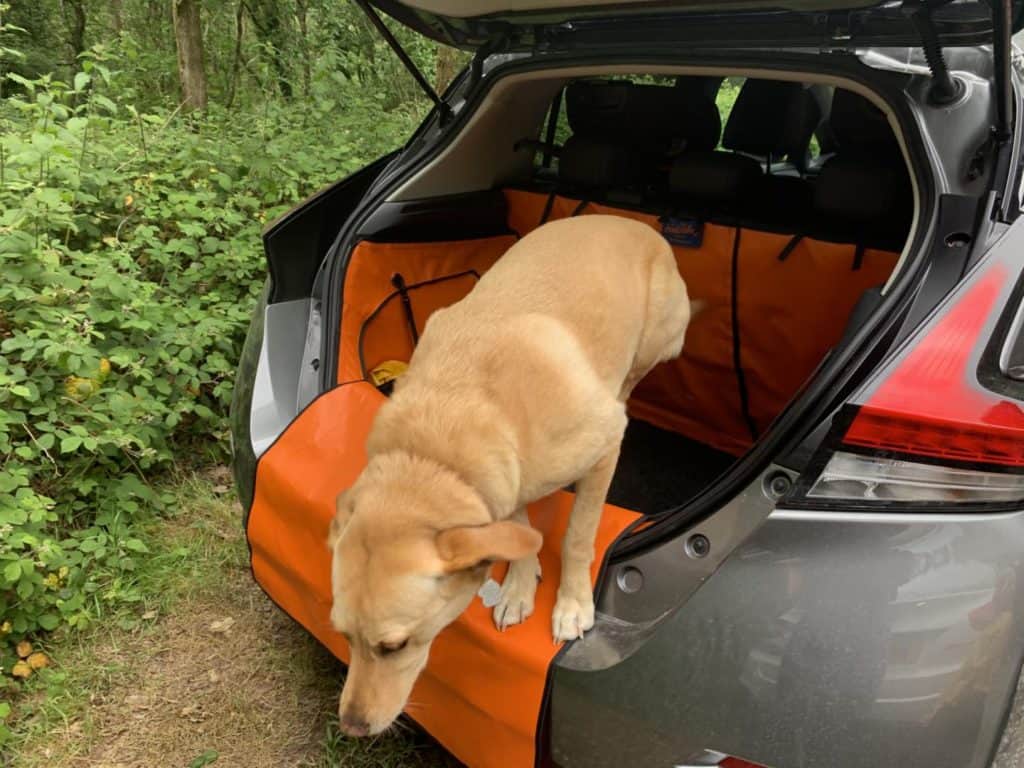 Finally, to add a bit of luxury to this dog boot liner, we got the Hatchbed car boot mat. Odour control and strong rubber mats are also available.
The Hatchbed finishes off the liner perfectly for dog owners. It can be machine-washed and tumbled dried. Plus you get two mats allowing you to rotate the mats through the wash after particularly muddy walks.
Tin Box Dog loves the 25mm deep pile so much she has sneaked the spare mat away to use as a bed in the house!
Personalising your bootliner
Liners are available in seven colours. Mr Tin Box said no to the pink, which our girls would have preferred. We settled on funky orange but there are more subtle colours.
Fitting the boot liner
Installation was simple. You get a comprehensive set of instructions with pictures specific to your car making it really easy to understand what to do.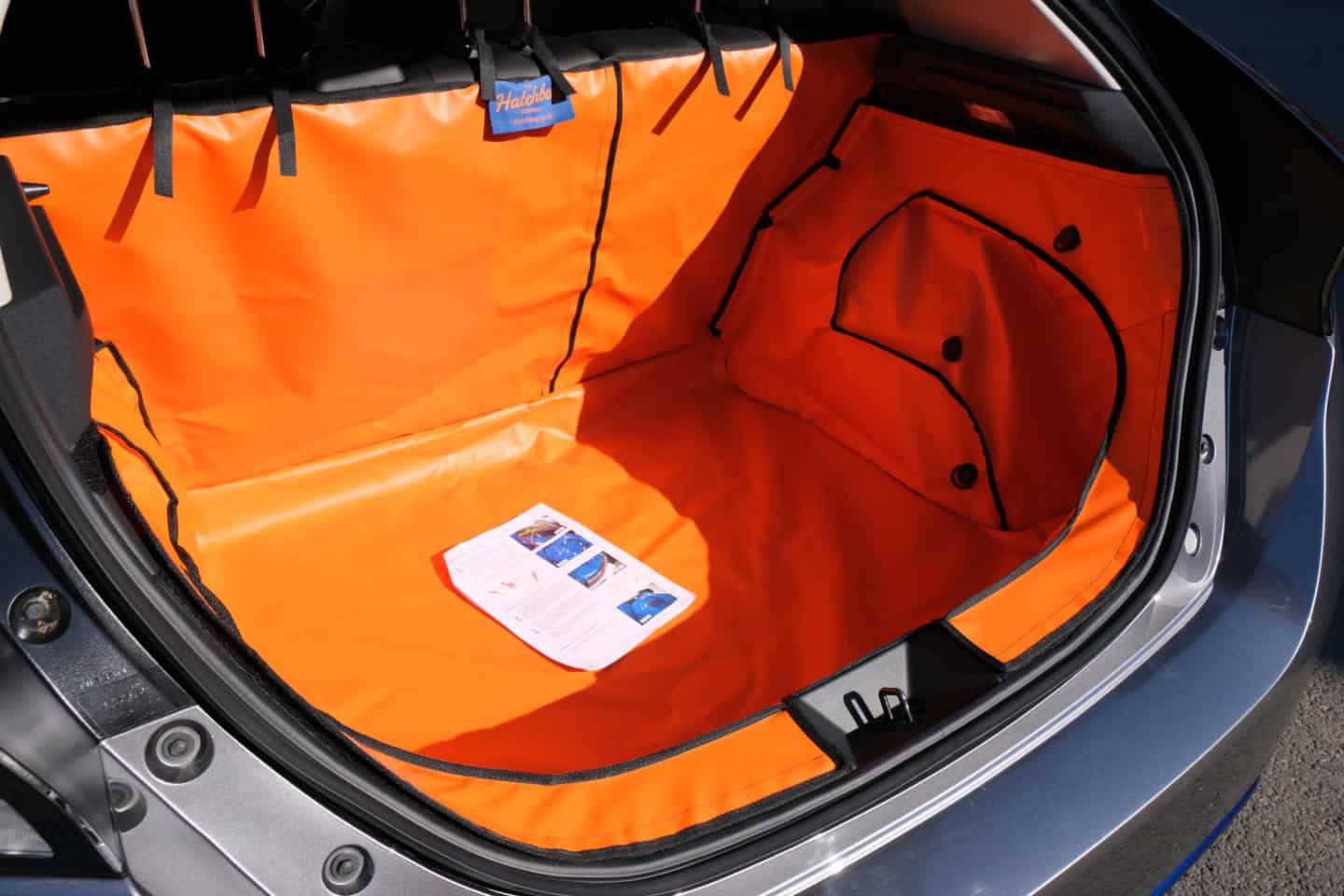 One word of caution: the liner uses adhesive hook and loop tape to keep it securely in place. So it's important to clean all surfaces really well to ensure the tape holds. We used Auto-Glym Intensive Tar Remover, but any silicon remover will work.
Once installed the bootliner looks very neat. You can see the attention to detail in the manufacturing process, which makes sure it fits the contours of the boot perfectly.
Testing our boot liner on a dog walk
We fitted our Hatchbag boot liner ahead of a walk at Hembury Woods on Dartmoor. This involved a walk along muddy tracks and beside the beautiful River Dart. Obviously, Tin Box Dog couldn't resist a dip and finding lots of puddles to run through. She's worse than the kids!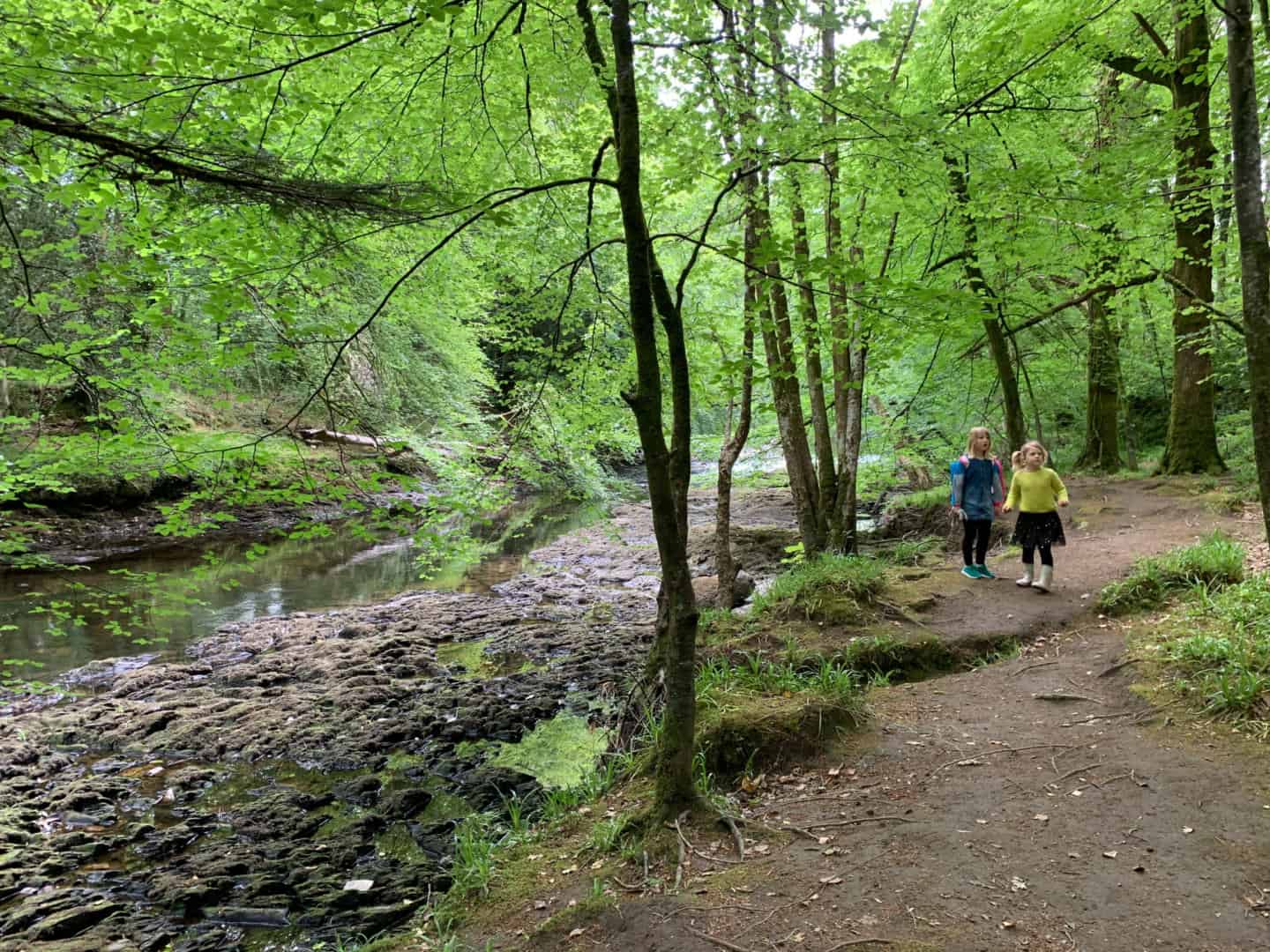 We wandered up through the woods to the Iron Age hill fort and then back to the car for a picnic.
Our decision to add a bumper flap was justified when Tin Box Dog jumped in and out of the car. Our Nissan Leaf's rear end had already been saved from scratches.
And, when we got home, the removable Hatchmat made it really easy to shake off the foliage Dog had brought back with her from Dartmoor and wash out mud splats without valeting the whole boot.
Hatchbag boot liner review
We are really pleased with our new bootliner. It makes cleaning up after muddy walks so much easier and will protect our car boot from everything our family can throw at it.
Plus, The Hatchbag Company's attention to detail means it fits perfectly, so we don't have to worry about slack material moving around making the ride less comfortable for Tin Box Dog.
Our Nissan Leaf rear plus boot liner with split seat function, tailgate cover and bumper flap costs £286.02. Prices vary for each car model. Check yours here.
For more advice and products check out my top tips for family travel.
Disclosure: we were sent a Hatchbag car boot liner in exchange for an honest review. All images and options are my own and my family's.