Our recent short break in Bath in the South West of England was full of firsts. It was my first city break with the kids on my own; we travelled by coach; and we stayed in a youth hostel. It was a fun few days and I was really impressed with YHA Bath as an option for cheap accommodation in Bath. If you've not considered staying at a youth hostel with kids or you're looking for cheap places to stay in Bath I hope you'll find this post helpful.
*Advertisement feature*
Our stay at YHA Bath was provided as part of a press trip organised by National Express to try out coach travel as a family.
Staying in Bath on a budget – YHA Bath with kids
The girls and I checked into YHA Bath as the base for a two night short break in this historic city. It's located outside the city centre but is just a short, five minute journey from Bath Bus Station. This is where we were dropped off by our National Express coach which we'd caught from Devon to Somerset. Read more about our journey and Bath city break.
The approach to the youth hostel was impressive. This converted listed building is a former manor house and still has plenty of curb appeal with Italianate features. Out front there were picnic benches to allow guests to make the most of the gardens in the summer.
Even before we set foot through the door, it had a family feel. Throughout our stay we saw other families in the dining room and bar, and the only noise from the hall and other rooms was of kids chattering.
YHA Bath was refurbished in 2018 and the communal spaces felt modern and light with wall art inspired by the cityscape and original mouldings depicting Roman characters – quintessentially Bath. Pretty stylish for cheap accommodation in Bath. There is also a modern annex with more family rooms and dormitories.
Our private family room
If you are travelling with children you will never be put into a dormitory with people you don't know. YHA Bath has several private rooms for families or small groups. We were allocated a private room on the first floor with two sets of bunks. We accessed this with an electronic key card which we also used to get onto the first floor, making the accommodation area double secure.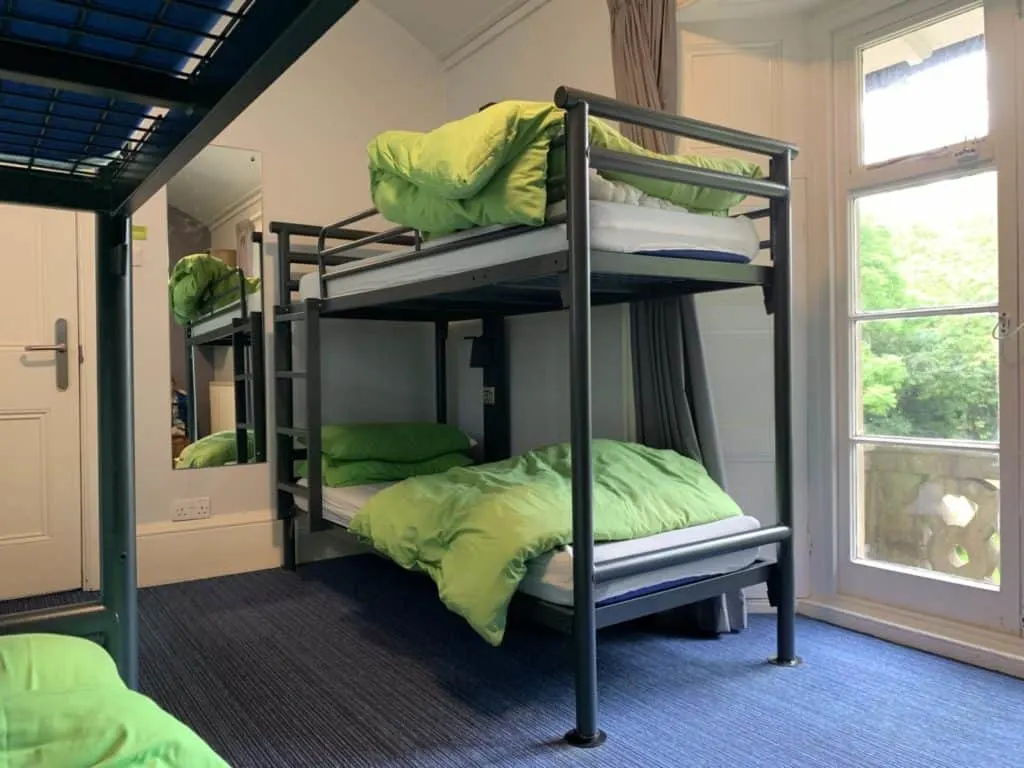 Each bunk had a built-in light with a three pin plug socket and two USB ports. Bedding comes included with your stay but you do need to remember your own towel and toiletries. These can also be hired or bought from reception.
Our room had a sink with a mirror and hand wash, four small lockable cupboards, a hanging rail and other power points. We had an original fire place in our room and shuttered windows overlooking the lawn at the front of the building. Just around the corner from our room there were three shower rooms and two toilets. More bathroom facilities were available on the other side of the stairwell.
The room, furnishings and bathroom facilities were modern and clean – all you really need when your main purpose for being there is to explore the city. And for £79 a night for up to four people, it was a bit of a bargain.
If I was staying at a youth hostel on my own with the kids again I'd splash out and book an en-suite room to save leaving them alone when I went for a shower. This obviously isn't an issue for families with older kids but I did catch Baby wandering the halls trying to find me on the first morning.
Dining and self-catering options for families at YHA Bath
You can eat in the restaurant or use the self-catering kitchen at YHA Bath. When we checked in at tea time on our first night the receptionist warned us that there was a large school group staying in the annex so it might be quicker to find somewhere else to eat. Luckily the city centre was close so we dropped our bags in our room and headed back out to catch a bus. Within a few minutes we were back in the city centre with plentiful options for dinner.
We could have also walked 10 minutes down the road to a Tesco Express to grab something to prepare in the self-catering kitchen. But I didn't much fancy the idea after an afternoon of travel. However, the kitchen looked well equipped for simple cooking and was a lovely light space for gathering.
On the second evening of our stay we ate in the bar. The menu had plenty of family-friendly options and kids eat free with every adult ordering a meal. The food took a while to arrive but one of the helpful members of staff brought out board games and Jenga to entertain the kids while we waited. Tot and I shared a pizza (£9.95) and Baby tucked into fish goujons, chips and beans (£4.95). The food portions were a good size and tasted good. Take a look at the full menu available here and at other YHA hostels.
We had breakfast in the restaurant both mornings. This cost £13.75 each day for myself and two children, which compares really favourably with hotels unless breakfast is included in your rate. If you book breakfast in advance on the YHA website you can even get a discount. There was a choice of breakfast cereals, small pastries, toast, yogurts, cheese, fruit and cooked English breakfast. There was also tea, coffee and orange juice. It was just right for setting us up for a day of sightseeing.
Things to do in Bath with kids
I was keen to find free and cost effective things to do in Bath during our short break. This included a trip to the American Museum and exploring the city centre. Read more about things to do in Bath including what we did during our city break, how to find multi-attraction deals, and where there are free things to do in Bath.
Getting to YHA Bath
You can travel to Bath YHA by car but I'd recommend using public transport if you can as it was so easy to get around form here. Plus there's no onsite parking, so you have to park on the main road.
We travelled to Bath with National Express who can also offer cost effective travel options for family city breaks.
When it comes to sightseeing, buses stop right outside the youth hostel's driveway and, if you don't mind the hill, the city centre is a 25 minute walk away. Older kids will find this much easier than my young ones would.
We used the U1 bus service which ran past the youth hostel every 10 minutes or so. Once the University breaks up for the summer this becomes less frequent but still regular. A day travel ticket (Bath Rider) costs £4.50 for adults and £2.50 for kids. Baby rode free because she is under five.
Our YHA Bath review – cheap accommodation in Bath
I was really impressed by my first stay at a youth hostel with kids and think YHA Bath is in a great location for exploring the city, particularly when you are on a budget and using public transport. We were within a mile of the major attractions, the accommodation was family-friendly and welcoming, and it was good to have both catered and self-catering meal options. I love finding new types of places to stay and broadening our options for family getaways. I'd not hesitate to stay in a youth hostel with kids again, and have already been wondering where we can fit such a stay into our future travel plans.
If you are looking for other options for accommodation in Bath here's some more reading:
Luxury lodges at Bath Mill Lodge Retreat
Self-catering houses at the University of Bath
Have you stayed in a youth hostel with kids or even YHA Bath? How did you rate it as cheap accommodation in Bath? Find out more about booking a stay on the YHA website.
Disclosure: we were given a complimentary stay at YHA Bath as part of a review of our city break using National Express coach travel. All opinions are my own.
If you are looking for places to stay in Bath then why not pin this post about YHA Bath and cheap accommodation in Bath for later.