An escape from the city: Bath Mill Lodge Retreat review
We were invited to review Bath Mill Lodge Retreat, a short drive from the historic spa town of Bath in Somerset. The location, less than three miles from the city centre and its famous Roman Baths, is the ideal spot for a city break with kids, with all the benefits of a country hideaway.
*Advertorial feature*
About Bath Mill Lodge Retreat
Bath Mill Lodge Retreat is a self-catering holiday park situated in a valley with a stream running through it. At its centre is a 350-year-old mill house which now houses a stunning bar and bistro, reception area and function room. To one side there is also a small modern gym.
There are 64 luxury holiday homes dotted along the valley, each with their own decking and parking for one or two cars. The lodge accommodation ranges from one to four bedrooms, making it an ideal holiday spot for couples or families. Dogs are even welcome in some of the lodges too.
We arrived just after the 4pm check in time having done a quick shop for groceries at the Sainsbury's 10 minutes up the road. The cheery receptionist quickly took me through the arrival process and offered us a welcome drink in the bar.
It was a tempting offer and had it been just Mr Tin Box and I we would have jumped at the free glass of bubbly. However, with two ravenous pre-schoolers in the car we decided to head straight for our lodge and cook dinner.
Our luxury lodge near Bath
We were given the keys to lodge number 36 just behind the Mill House and overlooking the stream. This was the first time we'd stayed in a lodge-style holiday home and we were impressed as soon as we walked through the door.
The rooms were spacious and the furnishings luxurious. Anything less really wouldn't have fitted with the park's 'retreat' title.
Our lodge slept four people with a twin room for the girls and a double bedroom with a super comfy king-sized bed for Mr Tin Box and I.
It was only on our final morning that I realised quite how good the bed was as it's something I usually comment on early in our trips. However this hadn't even crossed my mind because I'd slept like it was my own bed. Also in our room was a dressing table and a walk in wardrobe that was the size of some of the smaller rooms we've seen in other less glamorous holiday homes.
The luxury continued into the bathrooms – yes, there were two – with Aromatherapy Associates toiletries, crisp white towels and a rainfall shower in the master ensuite.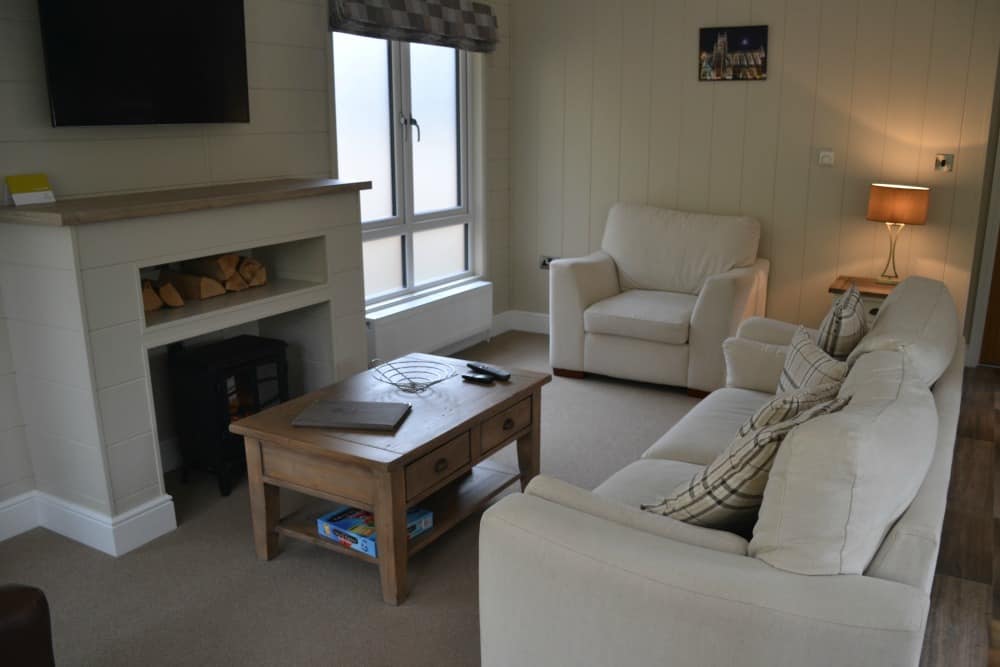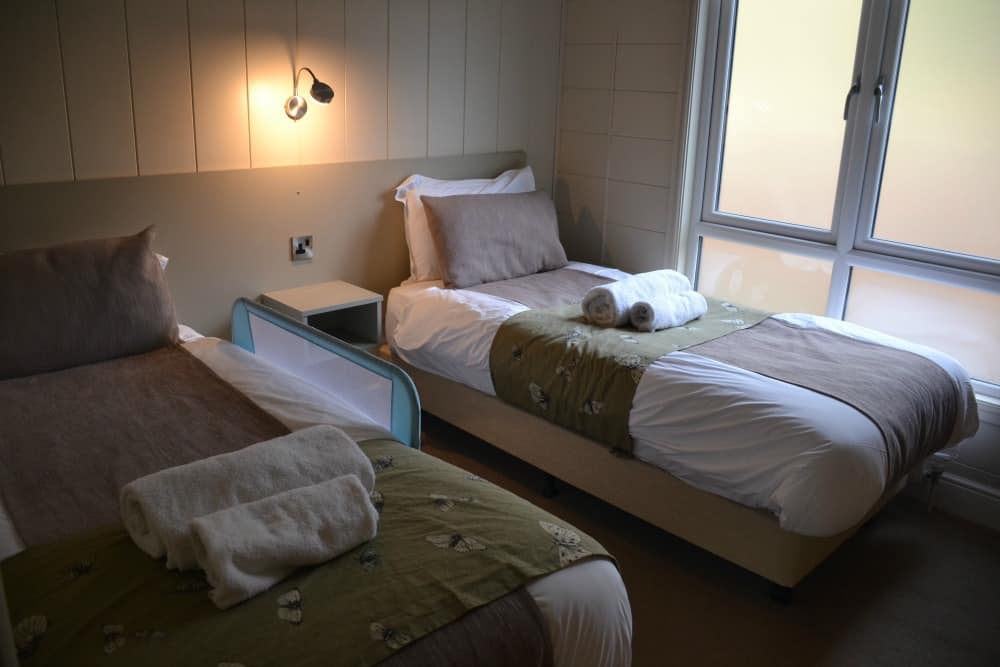 Our girls couldn't believe their luck when I pointed out there was a flat screen TV in their bedroom (one of three in the lodge) and they had a kitchen island to play chase around.
The kitchen itself had everything we needed for a self-catering holiday. There was a full sized dish washer, five ring gas hob and a wine fridge. Who doesn't need one of those on vacation?
There was also a small supply of tea, coffee and hot chocolate, as well as a welcome pack of washing up liquid, a sponge, cleaning cloth, and tea towel.
Outside on the huge deck we had a rattan table and chairs which I'm sure would have made a perfect place for breakfast in warmer weather.
Mr Tin Box put the deck to good use during our first evening by firing up our Lotus Grill to cook a barbecue dinner followed by toasting marshmallows with the girls.
Check rates for Bath Mill Lodge Retreat*
What to do while staying at Bath Mill Lodge Retreat
After a good night's sleep (albeit with the usual nocturnal awakenings by the girls), we ate breakfast and decided to take a walk along the stream that runs through the park.
If you walk down the side of the mill house there's a bridge that takes you on to the other side of the water. This looked like the dog walking area with evidence of a few thoroughly chased balls laying around. This piece of land is joined to the site by another bridge further up stream.
Our girls had fun playing Pooh Sticks from the bridges and were delighted when we found a play park at the top of a public footpath that runs through the park.
Things to do in Bath with kids
Away from the site, Bath is a playground for history lovers. We had a great afternoon looking around The Roman Baths and have earmarked a number of places to return to another time. This list includes No 1. Royal Crescent, Sally Lunn's Museum and Bath Postal Museum.
Read my review of the American Museum & Gardens which I visited with the girls during a subsequent trip to Bath. Mr TB and I can also recommend a tour of Bath Abbey having taken a roof top tour and enjoyed spectacular views of the city several years ago.
A few minutes down the road there's Avon Valley Adventure & Wildlife Park, which we visited for on our final morning, and further afield there's the Fleet Air Arm Museum, Avon Valley Railway, Wookey Hole and Cheddar Gorge, which are all popular with families.
Bath Mill Lodge Retreat* really is a great base for exploring Somerset.
Final thoughts on Bath Mill Lodge Retreat
When travelling with children it's a bit of a gift to be able to step back from the city at the end of the day. Bath Mill Lodge Retreat allows you to do just that. It's close enough to Bath that you can be exploring within 15 minutes of leaving your lodge.
Or, when you have tiny tots like us, a short drive back to somewhere they can have a quality nap in-between sightseeing. The accommodation we tried out was great for families.
Check rates and book your stay at Bath Mill Lodge Retreat*
And if you read this review by Jen at Jenography you'll see it's also a fab location for a child-free weekend.
If you are looking for more places to stay in Bath then take a look at our Bath YHA review and this post about family accommodation at Bath University.
Have you visited Bath with children? Or have you stayed at Bath Mill? I'd love to hear your experience.
Disclosure: our stay at Bath Mill Lodge Retreat was arranged by Visit Bath. All views are my own and those of my family. Picture of the Brook Bistro courtesy of Darwin Escapes. All other pictures are my own. Links market with * are affiliate links. If you click on one of these and make a purchase I may earn some commission. This does not affect the price you pay.
Interested in luxury lodges near Bath? Why not pin this Bath Mill Lodge Retreat review for later?