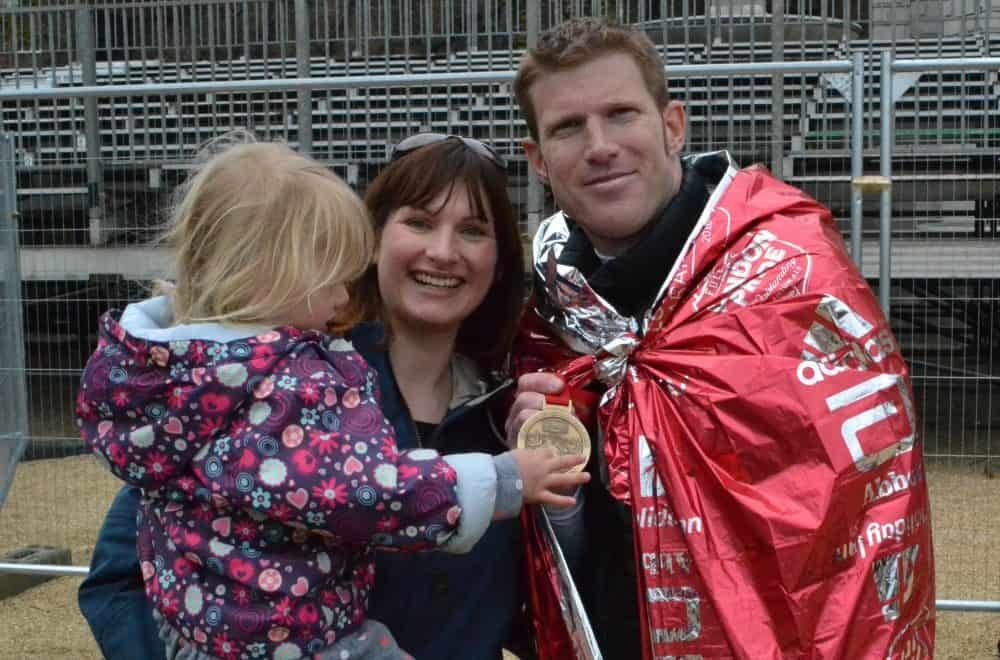 7 happy memories: our first family trip to London
For me, visiting the capital has always seemed like a special thing to do. I think it comes from being a bit of a country bumpkin. Over the years I've been to training courses and meetings in London but it's been more than a decade since I was a tourist there.
Last month we had the chance to visit as a family. The excuse was Mr Tin Box running the London Marathon after drawing a place in the public ballot. A fun fact is that there's more chance of winning a decent sized prize in the Lottery than a chance to run the Marathon (unless you grab one of the spots offered by a charity). So Mr Tin Box was over the moon.
After months of training, Marathon week finally came round at the end of April. Rather than stay in a hotel, we decided to hitch up our caravan and park at the Crystal Palace Caravan Club site – roughly an hour from the city centre by public transport (although this varied a lot). The idea was that as well as cheering on Mr Tin Box, we would turn it into a holiday and spend a few days sightseeing in the capital. We were also joined by Tin Box Grandma and Grandpa in their motorhome.
The seven days of our first family trip to London were wonderful, exhausting and memorable for so many reasons. I'll be sharing some of the more stressful parts of being in London with a baby and toddler another time, but let's start with the great memories we brought back with us:
The pre-Marathon buzz
The day before the 2016 London Marathon we all went to the Excel London so that Mr Tin Box could register and pick up his Marathon number. There was a buzzing exhibition featuring the event sponsors and a lot of charities, all egging on the runners ahead of the big day. Tin Box Tot was very excited about posing with her Daddy in front of one of the many walls adorned with images of famous runners or good luck messages.
A very proud moment
On the day of the London Marathon Tin Box Tot, Grandpa and I went to cheer on Mr Tin Box. London was heaving with people and on more than one occasion I thanked our lucky stars that we'd decided to leave Tin Box Baby with Grandma back at the caravan. While the atmosphere was amazing, there was a lot of jostling for the best spectator spots.
Mr Tin Box ran the Marathon in a healthy four hours and 10 minutes. We managed to see him at two points during the run, first near Shadwell at the half way mark and then again at St James' Park before The Mall and finish line. I can honestly say that seeing him still going strong (although later he admitted he was fighting terrible cramp) in the last few hundred meters was a proud moment. We were reunited with Mr Tin Box in Horse Guards Parade where Grandpa took this picture for us.
Hunting dinosaurs at the Natural History Museum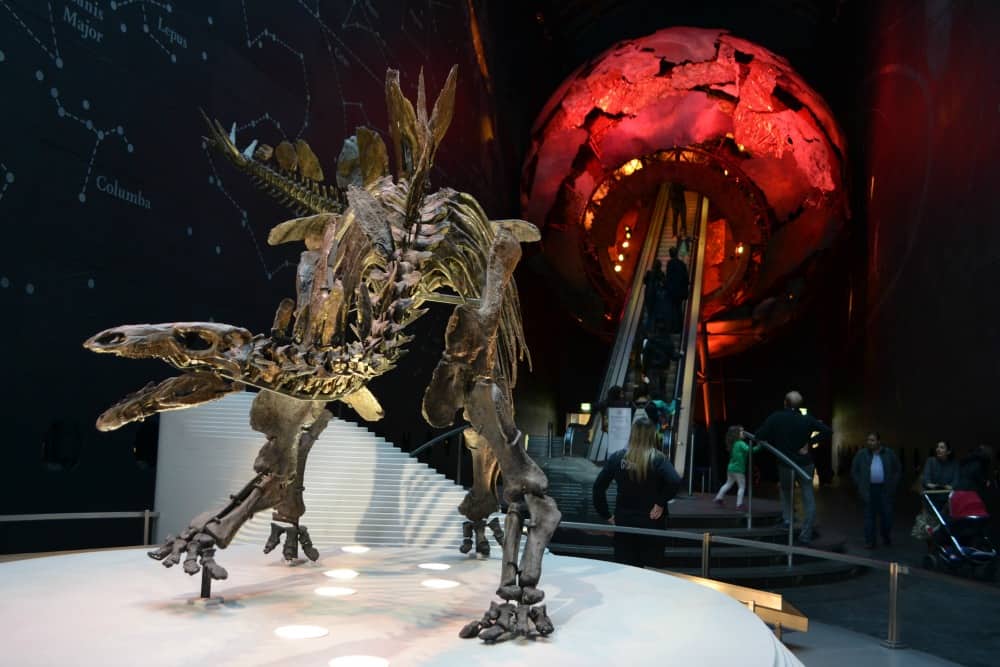 The next morning Mr Tin Box was feeling a little delicate so we had some quiet time at the caravan. However, by the afternoon he felt recuperated enough to venture back into the city centre. We decided that the Natural History Museum would be a good place to spend a few hours. It's somewhere I haven't been since I was a kid so was excited about visiting. Tin Box Tot was sold on the idea as soon as we mentioned dinosaurs. She particularly enjoyed the animatronic T-Rex once we had convinced her it wasn't as hungry as it looked.
Unfortunately we didn't leave ourselves nearly enough time and, after I forgot to bring any food or drinks, had two very ratty little people to handle when we were still out at dinner time. But on to happier memories again…
Dining high on the London Eye
Having learned my lesson from the day before, I made sure we had plenty of food for our next outing – the London Eye. While the rest of us enjoyed excellent views across the city, the Tin Box girls decided it was lunchtime and chomped through several ham and cheese wraps during our 30 minute flight.
Play time at the Science Museum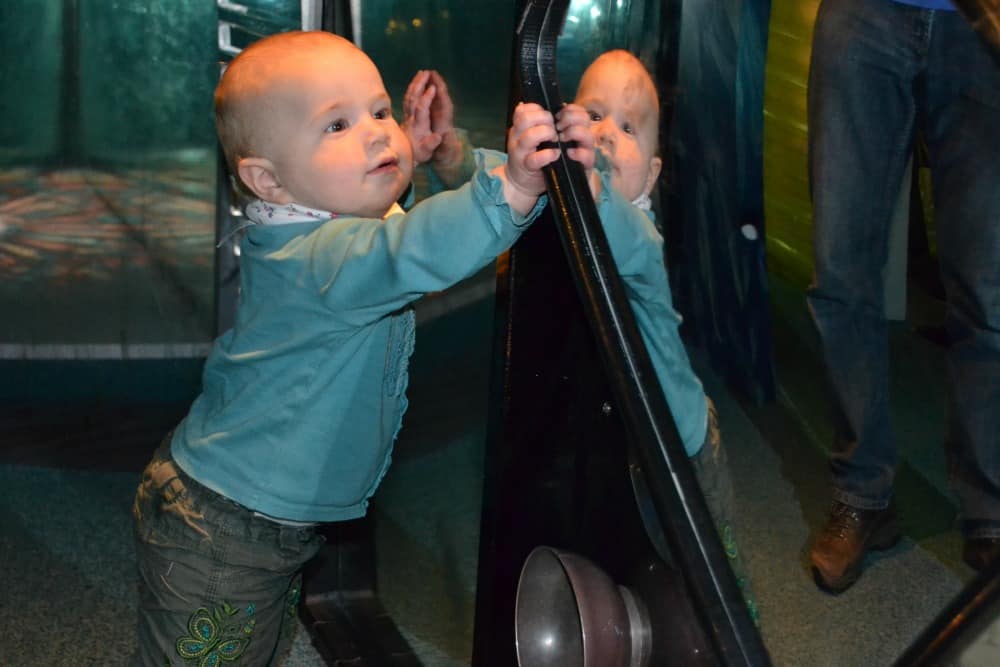 From the Eye we took the tube back to Exhibition Road and the Science Museum for the rest of the afternoon. The Garden and the Pattern Pod zones were a particular hit with the Tin Box girls. After getting their fill of interactive exhibits we were able to look around the Making the Modern World and Exploring Space exhibitions before it was time to head back to the campsite.
Chilling out at the Cutty Sark and Greenwich
A London attraction that I was particularly keen to see was the Cutty Sark at Greenwich. I'd read some helpful reviews by MummyTravels and Suitcase and Sandcastles, so knew it was family-friendly.
This was the most chilled out day of our holiday. Maybe it was the delicious piece of cake from the cafe when we arrived or the interactive displays and kids trail to occupy Tin Box Tot – who knows? Whatever it was, we felt we'd finally gotten into our London stride. After finding out lots of fascinating facts about this famous merchant ship we walked through the Royal Naval College and then Greenwich Village and market. The atmosphere here is very different to other areas of London I've visited. It certainly earns it's 'village' title.
Spotting pre-historic beasts at Crystal Palace
On our final morning in London we had just enough time to wander from the campsite into nearby Crystal Palace Park. We'd walked across the tiered lawns at the top end several times, as this was the best route to the train station, but we hadn't ventured further down the hill. This is where you can find the fun and fantastical Victorian dinosaurs of Crystal Palace.
These prehistoric beasts and lizards were created for the Great Exhibition in the 19th Century. The science behind the models may be slightly outdated but they are still a sight to behold. Spotting the sculptures around the lakes was a great way to end our week in London and allow Tin Box Tot to work off some steam before our journey back to Devon.
Have you been to London with your family? I'd love to hear your favourite memories.
I love hearing what people think about my blog so feel free to leave a comment below or browse around. You can also find me on Bloglovin', Twitter, Facebook, Instagram, Pinterest, Youtube, Google+ and LinkedIn.