Camping during COVID-19 – our experiences in England
For a family that usually has dozens of weekends away and a few long breaks in the school holidays, 2020 was starting to feel a little adventure-less. So when lockdown was eased in July we couldn't wait for a few camping adventures. Our first experience of camping during COVID-19 was on the first full weekend after travel restrictions eased in England.
I thought I'd share what we found out for ourselves and what we've learnt from talking to other people who went camping during COVID-19 too. It's likely that COVID measures are going to be in place for well into 2021.
This post includes a round-up of our camping trips in the summer of 2020. I started writing this post in July and updated it as we rolled along.
If you want to read more about camping in 2021 take a look at my posts about what to expect at campsites when they reopen this year and how to camp safely during COVID-19.
Below is what I can tell you about our experience of camping during COVID-19, but first…
Are all campsites following the same COVID-19 procedures?
It's important to say that the examples below are our personal experiences of these campsites. You have to expect things to be a bit different wherever you go camping during COVID-19.
All campsites have to follow the Government's guidelines on increased cleaning and social distancing. However, they will not all have the same procedures in place as every campsite is different.
I have also spoken to people who camped at different sites since travel restrictions easing and they had different experiences.
Some had their temperature taken on arrival at their campsite. Some had to wear face masks in communal facilities (before it became a requirement). Others had to book times for the shower block.
Sadly, some didn't feel cleaning was carried out as effectively as they would have liked and they were worried that large groups of people had been allowed to camp together.
These are all experiences of camping in England in 2020.
It was up to each campsite to manage how they followed the Government guidelines, taking into consideration the size and layout of their site, their facilities and staffing.
If you are planning on taking a camping trip in 2021 please check with each campsite before you book or visit, and pay particular attention to the information you are given when you book and when you arrive.
If you feel that guidelines aren't being followed speak to the campsite owners direct.
Sitting on the fence about booking your next holiday? Here's what the experts are saying about planning holidays in 2021.
Our first camping trip after lockdown eased
On the weekend of 10 July 2020 we hit the road from Devon to Cornwall for a weekend on the North coast. We'd decided to stay within a few hours of home to avoid hours in traffic if lots of people had the same idea.
As things turned out, the traffic was fine and we arrived bang on time to check in at Haven's Perran Sands Holiday Park near Perranporth.
Check in was managed through emails and online forms before we arrived and the team were at the entrance to guide us in. We didn't need to leave our van until we got to our pitch.
We were camping for two nights in our VW T5 day van with awning and a porta potty for nighttime use. The campsite's shower blocks were open 24 hours a day for us to use too.
There were staff outside the site's two blocks throughout the day to control the number of people going in. Every toilet, shower and sink is sanitised after each person. There was signage everywhere to remind you to wash and sanitise your hands, keep your distance and catch coughs.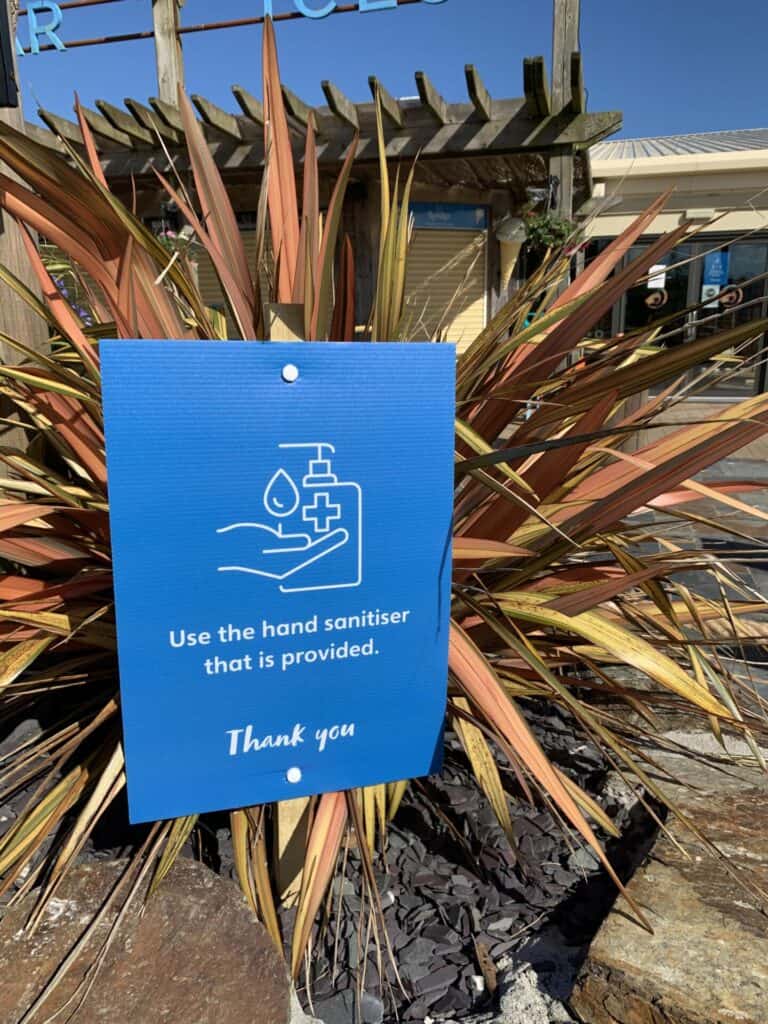 The staff couldn't have done more to make campers feel welcome and safe.
The onsite shop allowed five people at a time and had a one way system. Staff were at the door offering hand sanitiser and directions.
A couple of the park's restaurants were open for takeaway only and there were a few socially-distanced activities available like segways.
The site's usual programme of entertainment is suspended during 2020 and the swimming pools are currently closed but the playgrounds are open. There is also lots of place to play on the edge of the campsite area, which is surrounded by sand dunes.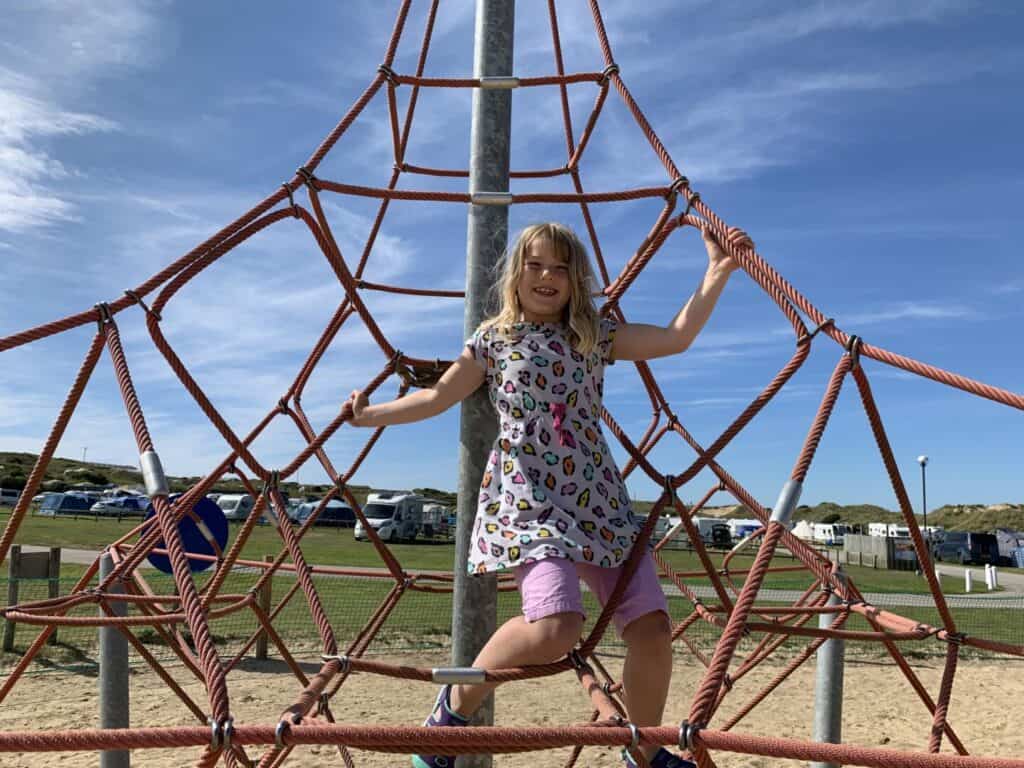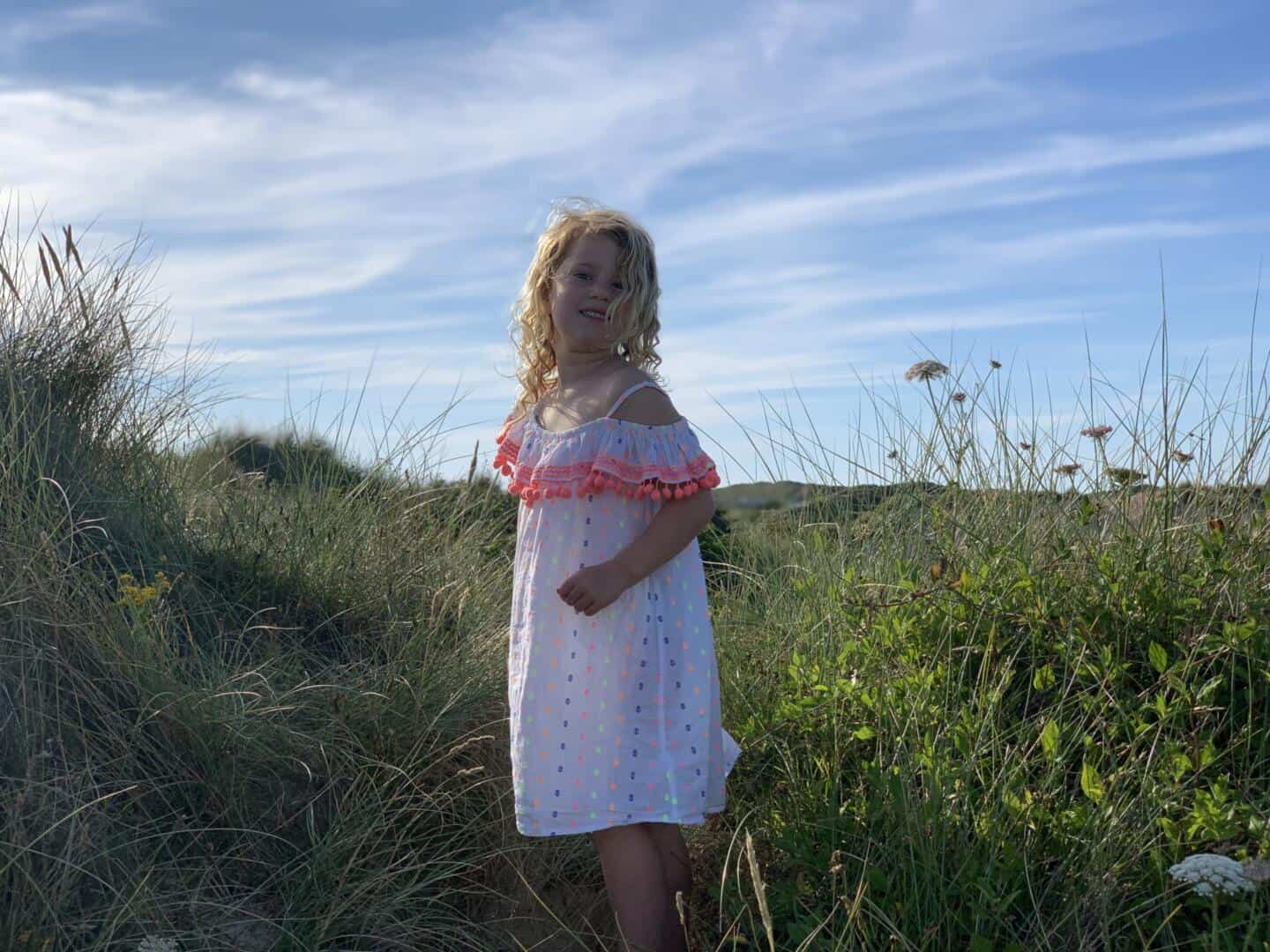 One of the very best things about this site is that it has direct access to Perran Sands beach where we spent most of Saturday playing in the water.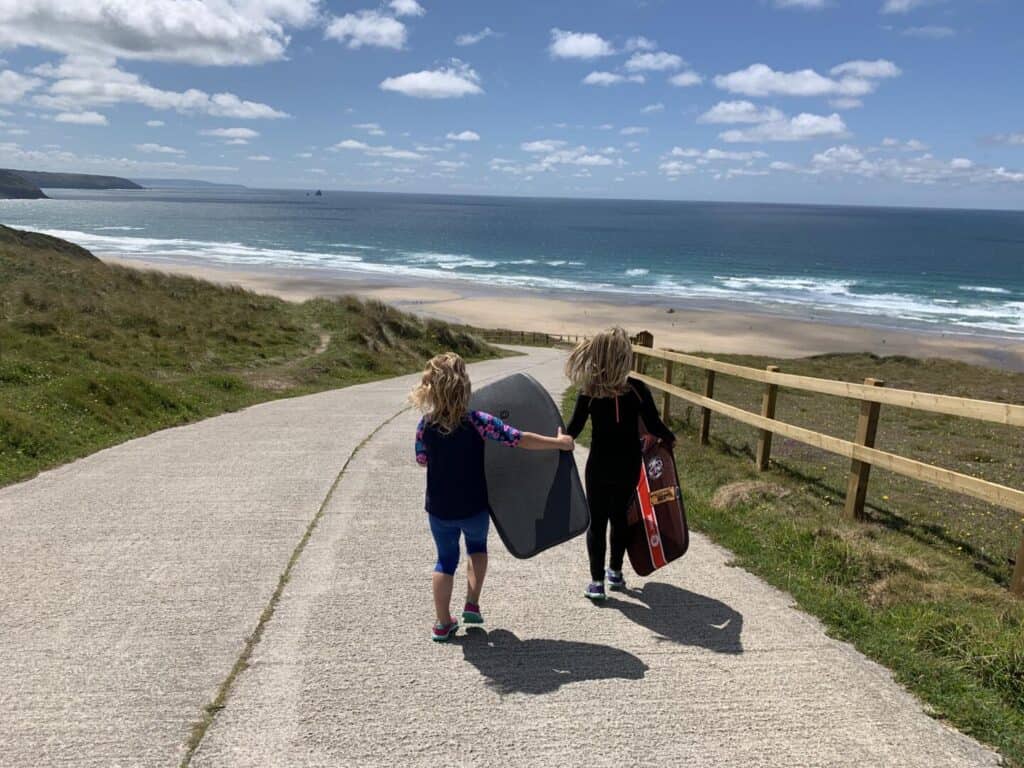 We had a brilliant first camping weekend. I've written a full review of Perran Sands Holiday Park with more about this great family site.
Our second camping trip during COVID-19
In July we stayed at a big name holiday company's site in Cornwall and all the COVID measures were being carried out impeccably. Our second trip at the beginning of August was to somewhere at the other extreme of commercialism.
Wilton Farm is an eco-camping site overlooking Salcombe in South Devon. All their bathroom and washing up facilities are in huts dotted around the two main camping fields and the loos are compost toilets.
Before we arrived we received an email about the measures in place. These included:
Check in is contactless – there's a sign at the gate with details of how to pay in cash or by bank transfer
The site is operating at 1/3 capacity and all campers are requested to leave 5m between tents 
There's hand gel outside all camper facilities 
The toilets, showers and pot wash are being deep cleaned and there are signs up reminding you to social distance, use the hand gel and disinfectant sprays
The honesty farm shop is open and has hand gel outside. Customers are asked to bring the exact change for their purchases 
In 2020 campers could only dispose of food waste, recyclable plastic, nappies and dog waste on site. 
We saw the toilets and showers being cleaned at least three times a day. There was anti-bacterial hand wash by the sinks and the hand sanitiser dispensers were always well topped up.
This is the type of site where you have to rely on your fellow campers being considerate. Some left empty toiletry bottles in the showers and washing up gear by the pot wash, but these were usually dealt with by the campsite team within 24 hours.
One notable thing that I thought the site might have been doing is taking camper's addresses should track and trace need to come into play. However, they were taking car registration numbers and had email addresses, so these could be used in the same way.
Aside from that, this is a green field campsite where facilities are low key and people are asked to use the back to basics facilities with common sense. We thought it worked well as long as everyone followed the instructions given.
Here's my full review of Wilton Farm Campsite on my other blog, Devon with Kids.
Camping at Roadford Lake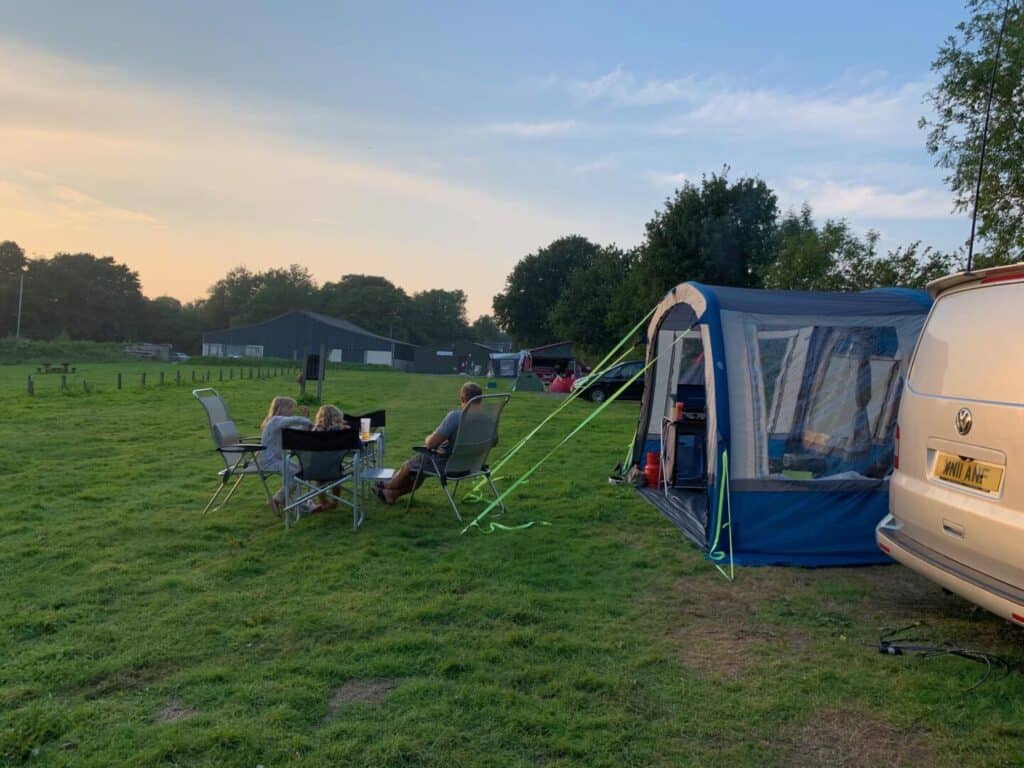 Our third camping trip of the summer was to Roadford Lake in West Devon. It's a campsite next to a South West Lakes activity centre.
We picked this site for a four night stop off on our way to North Devon mainly because we wanted to paddle board on the reservoir. It was absolutely ideal for this. The lake was just a short walk away from our pitch.
When we booked online we received an email with check in information and the measures that would be in place when we arrived including what facilities would be open.
We paid for everything and reserved our pitch online. It looked like the site was nearly fully booked when we picked our pitch on the online site plan but there were plenty of empty spaces during our stay so it didn't feel busy.
When we arrived we just needed to put our head through the door at reception and give our names.
The campsite shower block was closed and campers were being asked to use the activity centre changing rooms. These were ideal for social distancing with plenty of room inside. There was hand gel at the entrance.
Some of the sinks, toilets and showers had been closed to reduce the numbers in the block at any one time. The only hiccough with the system was you didn't know how many people were inside until you walked through the door.
However, there were quite a few motorhomes on site so people are using their own facilities. We didn't have to queue to use the activity centre block, there was rarely anyone else in there and it was always spotless.
You could see a cleaning sheet which showed the block was checked and cleaned by staff three times a day. In-between, campers were asked to use a pool of blue paper and disinfectant spray to clean any surfaced they'd touched.
The only other difference staying this summer was that the laundry room was closed. We had access to waste bins, glass recycling and a communal barbecue area (social distancing was advised) as well as a washing up area.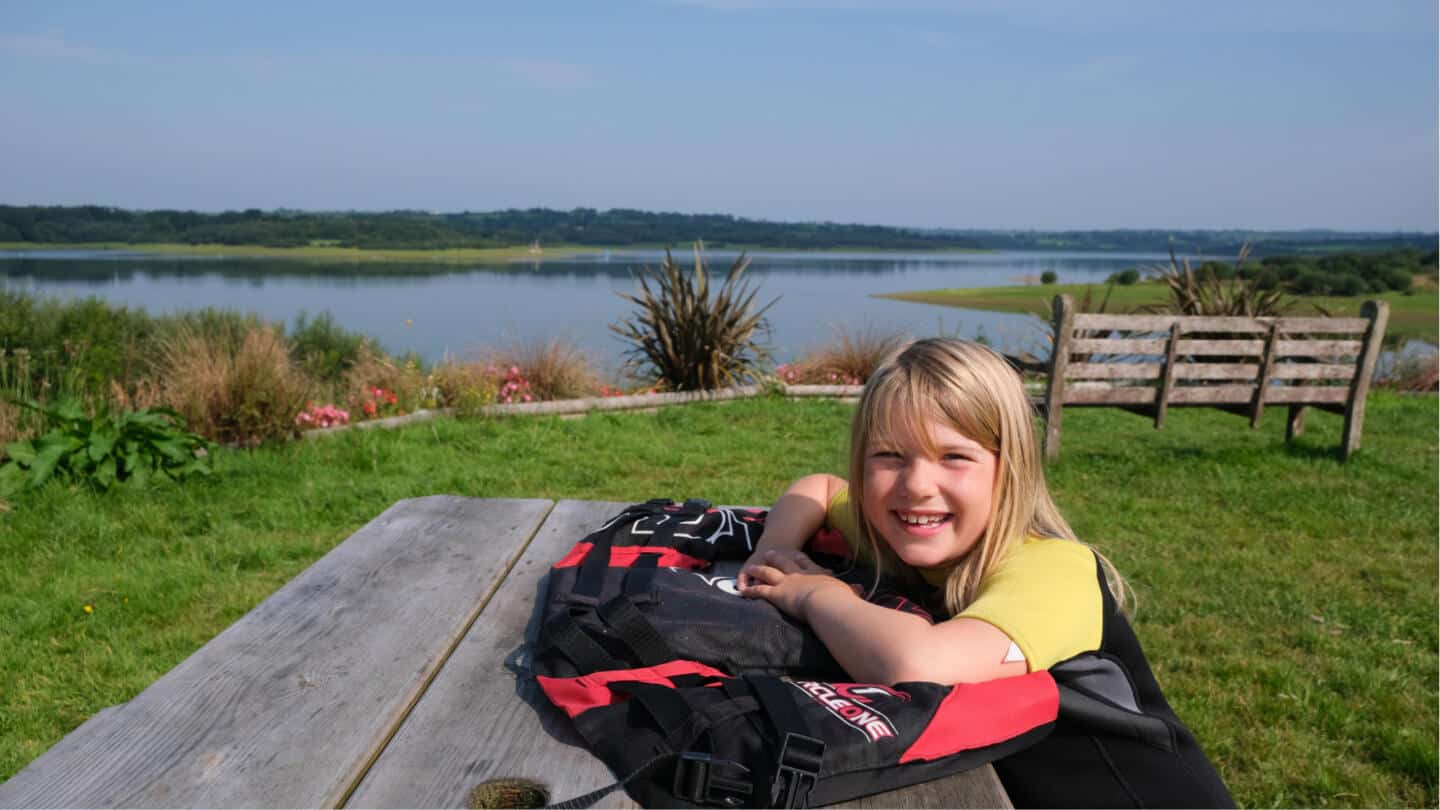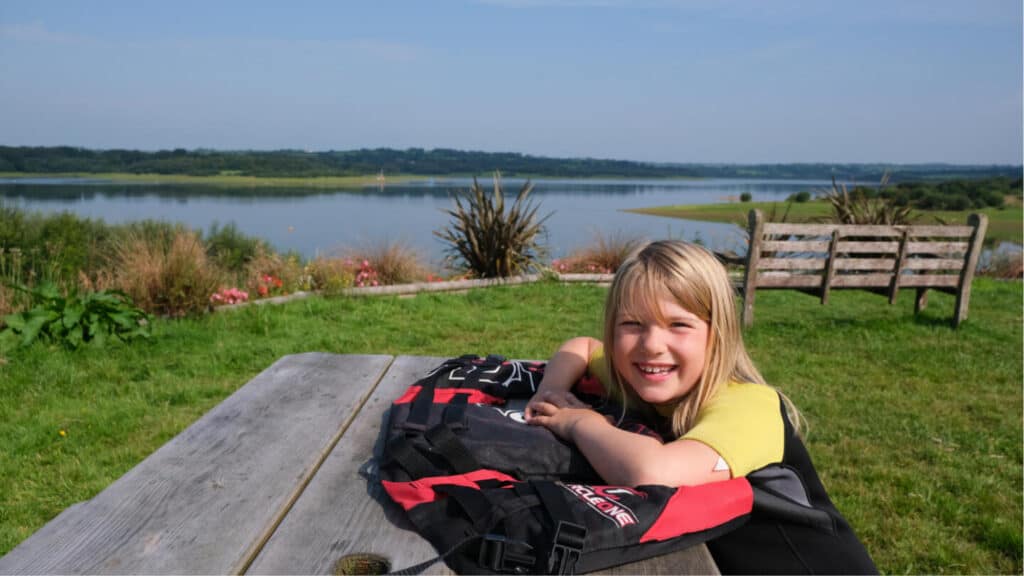 Our stay felt really relaxed. It was also great to get out on the lake with our paddle boards and see other people enjoying socially distanced activities like kayaking and sailing.
Here's my full review of camping at Roadford Lake on Devon with Kids.
Not our best experience
The fourth stop in our 2020 summer road trip around the South West was a bit of a disappointment.
I'm not going to write about our stay at Hartland Caravan and Camping Park in detail because it's operating in unprecedented circumstances beyond its control.
But I wanted to use this post to share all our experiences of how different campsites are operating – the good and not so good.
Briefly, the problem was that the small toilet block and relatively full campsite made it difficult to social distance in the mornings. The male and female blocks each had two showers, two toilets and two sinks. There was also an accessible toilet and shower, and a washing up area right beside the entrance.
Campers without their own shower, toilet or washing up facilities had very little space to queue safely to use the facilities at busier times during the day.
There was no guidance on where or how to stand and some people were grouping around the entrance or using the facilities at the same time as other families, despite signs asking them to only go in with others in their bubble.
A few temporary porta loos might have relieved the pressure. Equally, the site could have kept the shower block closed this season and only accepted campers with their own facilities.
As I've already mentioned, every campsite is handling the COVID-19 measures in different ways as their facilities and lay out are different. We don't think this is a bad campsite – it is clean, the pitches are a good size and it is in a brilliant location. It's just not somewhere I can recommend staying this year.
Camping at Little Winnack
Our last stop of the summer holidays was Little Winnick near St Austell in Cornwall.
It's a great site for families with a playground and lots of space to run around. They also have a large, modern toilet block and there is a different takeaway food or drink van on site each day selling everything from fish and chips to barista coffees and waffles.
We had emails from the Little Winnack team when we booked online and in the week before we arrived to update us on their latest measures during COVID-19.
They also suggested things you might like to bring such as your face mask, gloves, toilet rolls (so you didn't have to touch the roll in the shower blocks) and indoor games in case the weather was bad. It was a good shout as two storms blew through in the week were staying and on the last day we had torrential rain.
Check in and check out times were fixed and the site's shop and reception were open at specific times. The play park and dish washing area were open but the laundry, accessible bathroom and family bathrooms were closed.
Every pitch at Little Winnack is marked out so there was no need to leave extra space as this comes as standard. It appeared that the site was close to capacity the whole week but it didn't felt crowded.
The shower block and the way it was being maintained was ideal for camping during COVID-19.
Here's why:
it was easy to stay distanced from other people because there was plenty of space inside
there were lots of showers, toilet cubicles and sinks, so we never had to queue
there was hand gel at the entrance
the block was being cleaned at least three times a day with a three hour deep clean in the afternoons.
Hats off to Little Winnick for their cleaning routine.
Our stay here felt totally stress-free despite the pandemic and adverse weather. We had some great days out close by too.
Wow! That summer flew by. We visited a broad range of sites in the South West of England and the majority were doing a super job to meet the government guidelines with the facilities they had.
2020 was clearly a challenge for everyone in the tourism industry. But as a camper I really appreciated all the effort site owners and teams went to. The summer could have been very different for us if we'd not been able to travel and a lot less fun.
Did you go camping during COVID-19? What was you experience?