Adventure books for kids – bed time stories to share
Do your little travellers enjoy snuggling up for a story before bedtime? I love the idea that the last thing they read with you could send them off to sleep with a head full of adventures. Here's six adventure books for kids to inspire those wanderlust dreams, including some of our favourites and others that are new on our book shelf.
*AD/This post contains affiliate links*
For more travel advice and reviews take a look at my tips for smashing travel with kids and sign up to my newsletter.
6 books for adventurous kids
Some of these adventure books for kids have been around a while and others are brand new. We have also been sent some to review.
Scroll to the bottom of this post and you can enter my giveaway to win a bundle of some of these books for the young adventures in your family.
If you have older children you might also like to check out these books for 8-year-olds with wanderlust.
The Snail and the Whale by Julia Donaldson
We just love Julia Donaldson and Axel Scheffler books and this one comes with a great adventure.
The tiny snail is fearless as it sets off across the seas with its friend the whale. And when they return they inspire their other snails to join them exploring the world.
---
I Saw It First…in Salcombe by Julia Craig
This book is inspired by one of our favourite South Devon towns, Salcombe, and the gorgeous little ferry that takes people between the harbour and beautiful South Sands Beach.
The plot is set around a family holiday and gives you lovely insights into what there is to see from the busy little South Sands Ferry as well as a heartwarming ending.
---
The Traveling Toddler: The Day Beary Went Missing by R.N Boumah
Any family with a special teddy will relate to this tale. I've lost count of the number of times I've been left with sweaty palms and the fear that we have misplaced our own VIP bunny on our travels.
Young adventurer Justyn loses his teddy on a trip to Hungary, but will he find his favoured toy again? Find out while taking a trip around Simontornya.
This is the latest book in the Traveling Toddler series about the real life adventures of Justyn and his Momma around the world. My girls love it and even more so that it's based on a a real life adventure.
---
The Flying Adventures of Two Penguins by Peter Hayward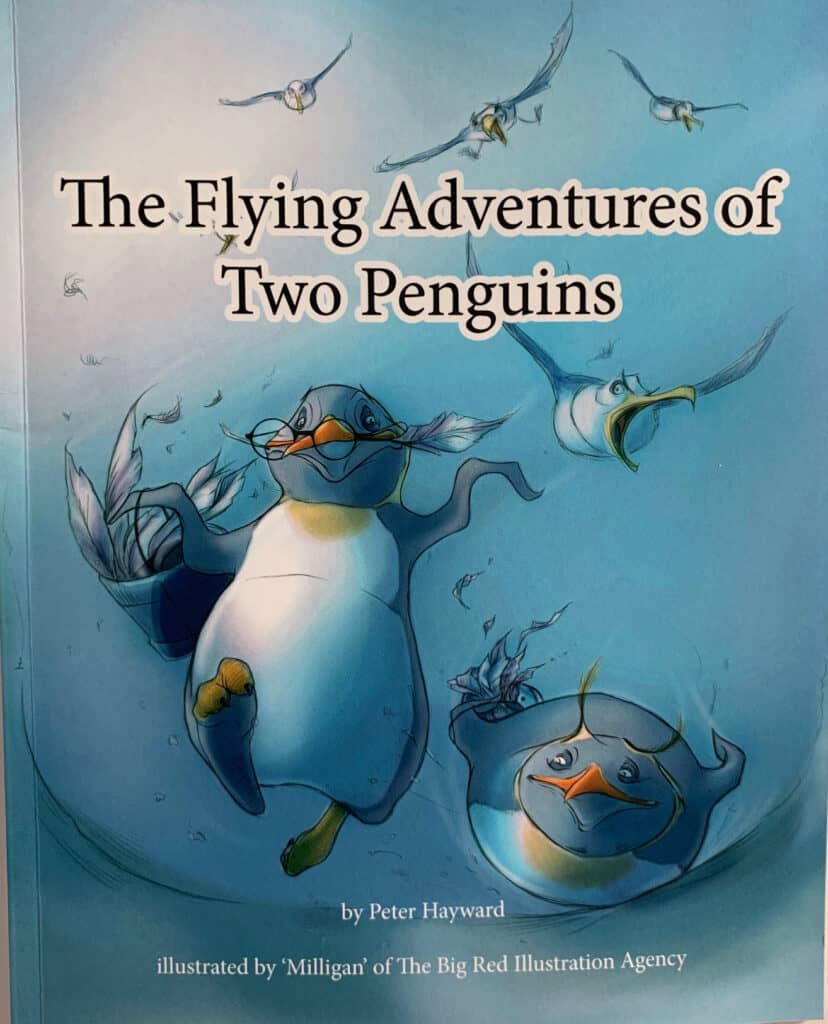 This beautifully illustrated story is about a pair of plucky Antarctic birds who won't let evolution stand in the way of a great adventure.
They are inventive, fearless and, incredibly, not flightless.
The author has left the story wide open for a sequel. And with a donation from each book sale going to the Parkinson's UK we can wait to find out what Pen and Gwyn have planned next.
---
A Walk in Paris by Salvatore Rubbino
This has to be one of my favourite adventure books for kids when it comes to fun facts. A Walk in Paris is a charming account of a grandfather and granddaughter's day in Paris is beautifully put together with plenty of facts to intrigue young travellers and leave them itching to travel to Paris.
---
Paddington and the Grand Tour by Michael Bond
Every time I pass through Paddington Station in London I pick up a book at the Paddington Bear gift shop. This plucky bear is a legend in our house.
Anyone with an ambition to explore London or a passion for the English capital will love reading Paddington and the Grand Tour with their kids. In this characteristically tall tale, Paddington unexpectedly finds himself acting as a tour guide and takes a group of tourists on a sightseeing trip like no other.
---
Giveaway CLOSED: win a bundle of adventure books for kids worth £40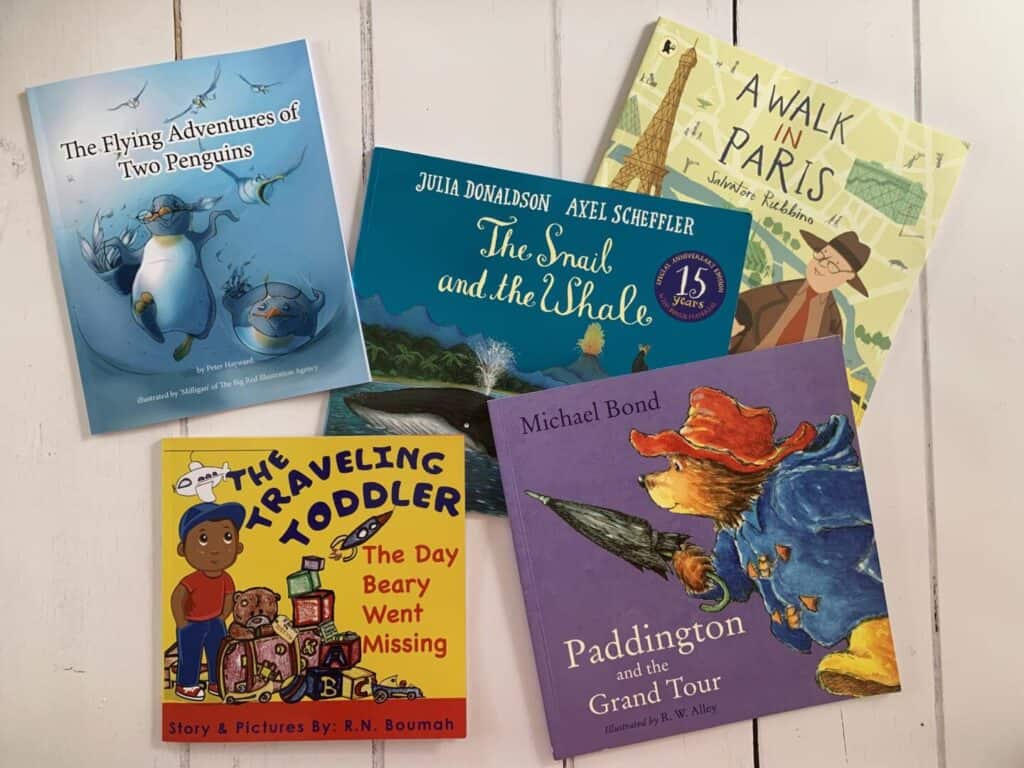 Would you like to win a bundle of books including five of these fab tales? I'm giving away new paperback copies of the following stories:
The Snail and the Whale (Winter edition)
Paddington and the Grand Tour
A Walk in Paris
The Traveling Toddler: The Day Beary Went Missing
The Flying Adventures of Two Penguins
The combined RRP is £40. The closing date for this giveaway is midnight (23.59pm) on Wednesday 4 November, 2020.
Follow the instructions in the Rafflecopter below. Some of the entry options involve checking out my other blog, Devon with Kids. Devon is a brilliant destination for family holidays, so take a look for inspiration for days out and places to stay.
Please read the terms and conditions below. If you haven't entered a Rafflecopter giveaway before here's a handy guide. Good luck!
*Disclosure: some authors have provided the prizes for this giveaway. This post also contains Amazon affiliate links. If you click on one of these and make a purchase I may earn some commission. This does not affect the price you pay.
a Rafflecopter giveaway
Terms & conditions:
UK entrants aged 18 or over only.
There is no cash alternative.
The prize is non-transferable and cannot be split.
The closing date for this giveaway is midnight (23.59pm) on Wednesday 4 November 2020.
The winner will be chosen at random through Rafflecopter and will be notified as soon as possible after the draw.
The winner will be emailed to ask for their telephone number and delivery address. If they do not reply within seven days another winner will be chosen.
Events may occur that render the competition itself or the awarding of the prizes impossible due to reasons beyond my control, and accordingly I may vary or amend the promotion and the entrant agrees that no liability shall attach to me.
English law applies and the exclusive jurisdiction of the English Courts shall prevail.
By submitting an entry through Rafflecopter, all entrants are acknowledging and accept the terms and conditions for the giveaway.
The winning entry will be validated and if the instructions for entry have not been followed for that Rafflecopter entry a new winner will be chosen.
Each Rafflecopter entry is a single entry into the giveaway and stands alone as such. Any incorrect entries from the winner only make these entry methods invalid, not all the winner's entries. The winning entry method from them will still be valid as long as it complies with our other terms and conditions.
Entries using any software or automated process to make bulk entries will be disqualified.
The giveaway may be added to a number of sites for the purposes of promotion.
Looking for new adventure books to kids to share with your family? Why not save this post on Pinterest.