Santa's Carvery & Grotto at China Fleet Country Club, Cornwall
If you're looking for a way to celebrate Christmas with family or friends before the big day we can recommend Santa's Carvery & Grotto at China Fleet Country Club. We were invited to this Christmas party lunch for families in Cornwall and I wanted to share our experience because we had such a good time.
*Advertisement feature*
You might also like to read our review of a family spa break at China Fleet Country Club in Cornwall and enter our giveaway to win a child-friendly afternoon tea at China Fleet Country Club.
A Christmas party for families
2018 was the second year that China Fleet Country Club had offered a daytime Christmas party with Santa's Grotto. We also went in 2017 and enjoyed it so much that we snapped up the second invite. The girls and I were joined by Tin Box Grandma and Grandpa.
The event got underway at 12pm when we entered the Atlantic Suite function room decked with twinkling lights, drapes and garlands. We were the first in and were met by cheery staff dressed in elf costumes who offered us mulled wine or orange squash as a welcome drink.
We were shown to our table which was prepared with Christmas crackers, lights and festive napkins. The girls immediately spotted the separate craft table with pencils, stickers, glue and tissue paper for them to do colouring or make Christmas cards. We headed there while Tin Box Grandpa ordered drinks from our lovely waiting elf.
Soon were were invited to approach the carvery and fill what looked like platters rather than plates. Having eaten at China Fleet Country Club several times before we knew we'd not be disappointed – we've been invited to review a family spa break at the Club as well as retuning ourselves for a stay and lunch when we've been in the Saltash area.
There was a choice of turkey, beef and gammon (or a little of all three if you'd like) with all the traditional trimmings. Everything was piping hot and really good quality.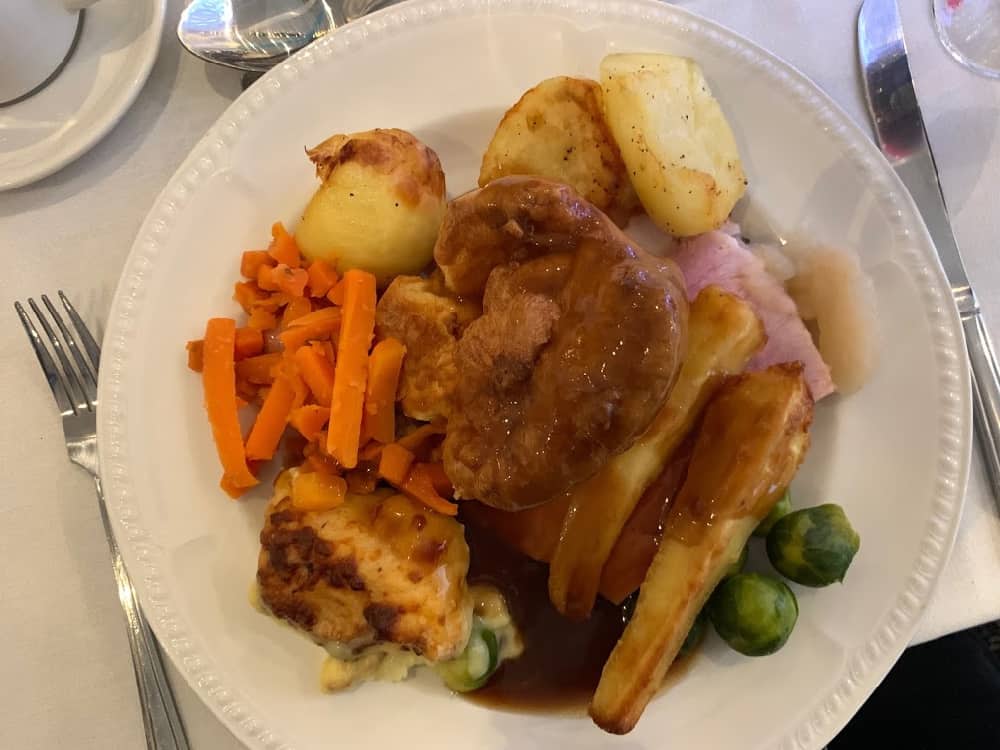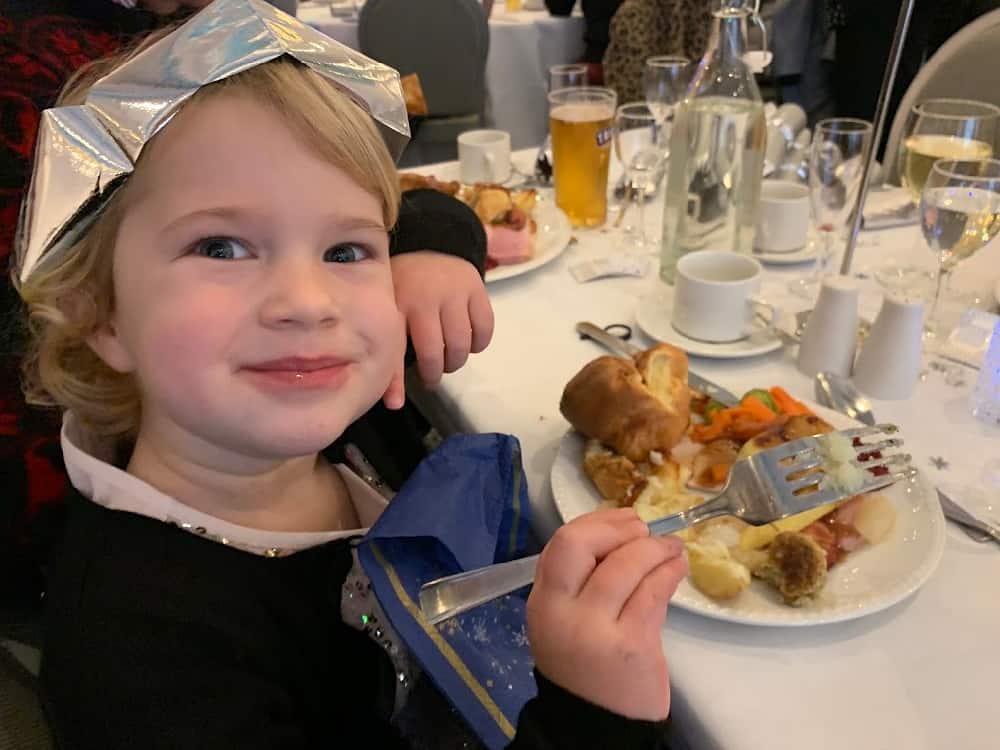 After we'd done our best to clear our plates – Baby even wolfed down all her sprouts – we headed back to the craft table where a face painter was now decorating kids' faces and arms with glitter snowflakes and cute snowmen.
For dessert there was a choice of four sweets – Christmas pudding, fruit salad, cheese cake or ice cream – followed by coffee and warm mince pies. Orders for these were taken at the table and delivered by our elvish hosts soon after. The cheese cake was amazing!
Considering there were at least 100 people sitting down for a carvery in the space of an hour we thought the service was well organised and the standard of food was great. There was one queue at the carvery counter when a large table guests went up for their food but everyone appeared to be served quickly.
Christmas party entertainment
As well as the crafts and face painting, which children could do at any point during the three hour event, there was entertainment from the Mayflower A Cappella Chorus. This Plymouth-based chorus were nothing short of brilliant and added a huge slice of festive cheer to the lunch. There were carols, classic Christmas tunes and audience participation during each course of our lunch and after we'd visited Santa.
Santa's Grotto at China Fleet Country Club in Cornwall
When we could eat no more we decided to stretch our legs and visit Santa in his grotto which was in an adjoining function room. The big man had been wandering between the tables throughout lunch, speaking with young diners and encouraging lots of excited waving. The location of the grotto was given away by large snowy footprints leading to a small log cabin.
In the grotto a very jolly Santa chatted to the girls about what they'd like for Christmas and asked whether they had been good. They're of an age where they're used to the standard Grotto banter so were quick with their answers. Once they'd satisfied Santa that they'd put in an extra special effort to be good they received a Christmas Eve box and a chocolate selection pack from Santa's elf helper.
I had a sneak peek inside the Christmas Eve boxes and they contained a letter from Santa, some reindeer food, hot chocolate and plenty of sweet treats for the girls.
Christmas carvery and grotto value for money
The carvery, entertainment and meeting Santa in his grotto cost £15.50 per person with under twos going free. We think the overall value is excellent. This is a great pre-Christmas experience for families and groups of friends who want to celebrate together before the big day. There are plenty of activities to make it a magical experience for the kids, ensuring adults can enjoy their party too!
To find out more about events at China Fleet Country Club visit its website.
Disclosure: we were guests of the China Fleet Country Club. I wasn't asked to write a review but we enjoyed our afternoon so much I thought I'd share it on the blog.
Looking for a Christmas lunch to share with family or friends? Pin this post about Santa's Carvery & Grotto at China Fleet Country Club, Cornwall: