What I'm packing for our summer staycation – UK holiday wardrobe tips
Does anyone else go into a bit of a flap about packing for a UK summer staycation? Will it rain? Will it be sweltering? Will it blinking snow?! All of these are valid questions to ask while trying to minimise the number of all weather outfits you cram into your bag.
This summer we are holidaying in England and will be towing extensive storage space behind us in the form of Tin Box. However, I'd still like to rationalise my UK holiday wardrobe and Mr Tin Box would be grateful of a bit of room for his clothes too. This was front of my mind when the fashion pros at JD Williams contacted me to ask if I'd like to pick a new holiday wardrobe from their summer collection.
Choices, choices! Here's what I picked and why. Plus a few wardrobe extras that will see you through a week's summer staycation in the UK.
Packing a UK holiday wardrobe
Comfortable, versatile denim
This is not the type of thing I'd pack for a holiday abroad as denim would be too hot in destinations where warm weather is guaranteed. But in the UK, jeans are a wardrobe staple all year round. These Simply Be high-waisted, skinny jeans caught my eye as they looked super comfy. Gone are the days when I could get away with low risers! I also love this JD Williams pencil skirt as it will work with all kinds of tops, from vests to something a bit more glam with open-toed wedges.
Bright, floaty tops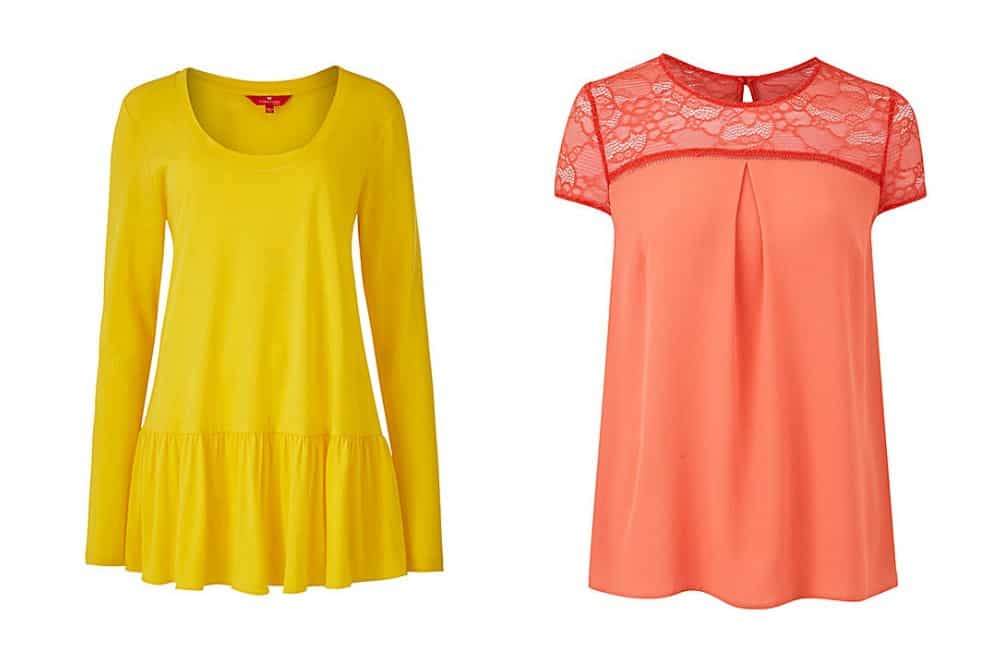 Even if the UK weather is grey, you're on holiday so bright clothes are essential. Roll out sunshine colours like this yellow Together jersey top or orange Anthology lace-detail blouse. Both will look great with neutral shorts on a good day or dark jeans on a damp one. The longer arms on the jersey top will also help keep you warm if things chill off. For a week's holiday I'd suggest adding at least one more top to your packing to mix and match with denim items.
Go-to holiday footwear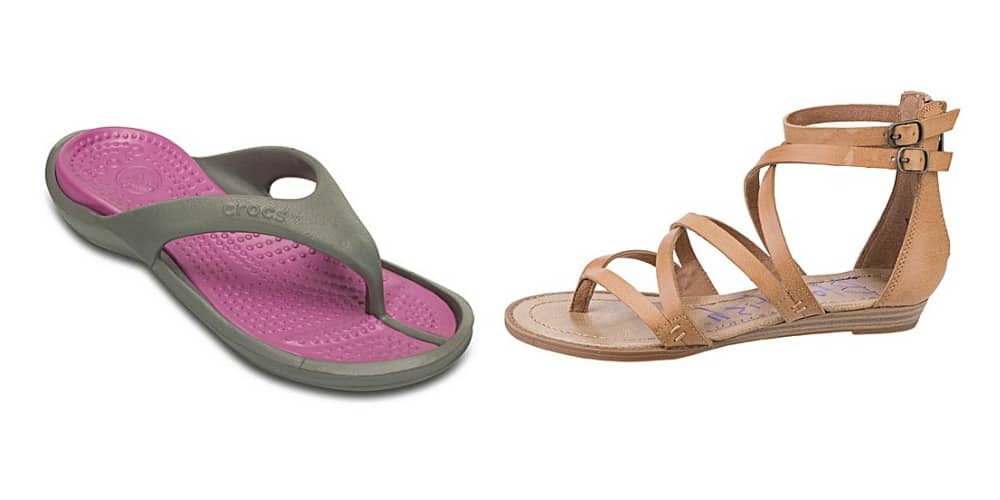 I know Brits who insist on wearing flip-flops from Easter onwards. Brrrr! I might start baring my toes around June. However, whatever the weather, if you're visiting the beach a sturdy pair of flip-flops, like these Crocs, will fare better in sand than trainers or loafers.
I love gladiator sandals and these ones from Blowfish caught my eye. They're a little more refined than flip-flops but will go with almost any outfit. Aside from trips to the beach, these are my staple footwear for the summer…unless there's a proper downpour.
Multi-purpose summer dresses
As a mummy of two busy pre-schoolers I rarely get to change outfits before dinner or evening drinks. So this white and blue floral Joe Browns Santorini Dress is the perfect outfit for day time exploring and, grandparents willing, a kid-free drink at a local pub or bar. It's also super-flattering.
I wouldn't feel like I was on holiday without a maxi dress in my wardrobe. I love this khaki lace-detail number by Anthology, especially the A-line cut which suits my hourglass figure. Plus, you can wear a maxi dress with flip-flips on a hot day or pair it with boots if things turn chiller.
What I'd add as essential UK staycation clobber
Here's a few extras that I recommend you pack if you're going on a UK summer staycation:
Wellies – sad but true, it will rain at least one day, even in August. Walking around with wet toes is a sure fire way to dampen your holiday spirits.
A rain coat – as above. But you can minimise the space these big in your suitcase by buying a pac-a-mac.
Swimwear – OK, let's try to be optimistic. You may actually get a good day at the beach. And if not, you're never far from an indoor fun pool, which is high on our list of child-pleasing holiday entertainment.
A thick jumper – those lighter evenings are already drawing during the summer holidays. But if you want to make the most of every last second of those 'al fresco, after kiddie bedtime' drinks then be prepared to layer up.
Cardigans – even the word 'cardigan' makes me feel old but they can be seriously handy on UK summer days that turn from skin tingly warm to baltic cold in a flash.
What's your UK holiday wardrobe staple? And what do you think of my choices from the JD Williams summer collection?
Disclosure: I've been sent my selection of summer staycation clothes in exchange for talking about them on the blog. All choices and opinions are my own.
Pin for later

SaveSave
SaveSave
SaveSave
SaveSave
SaveSave