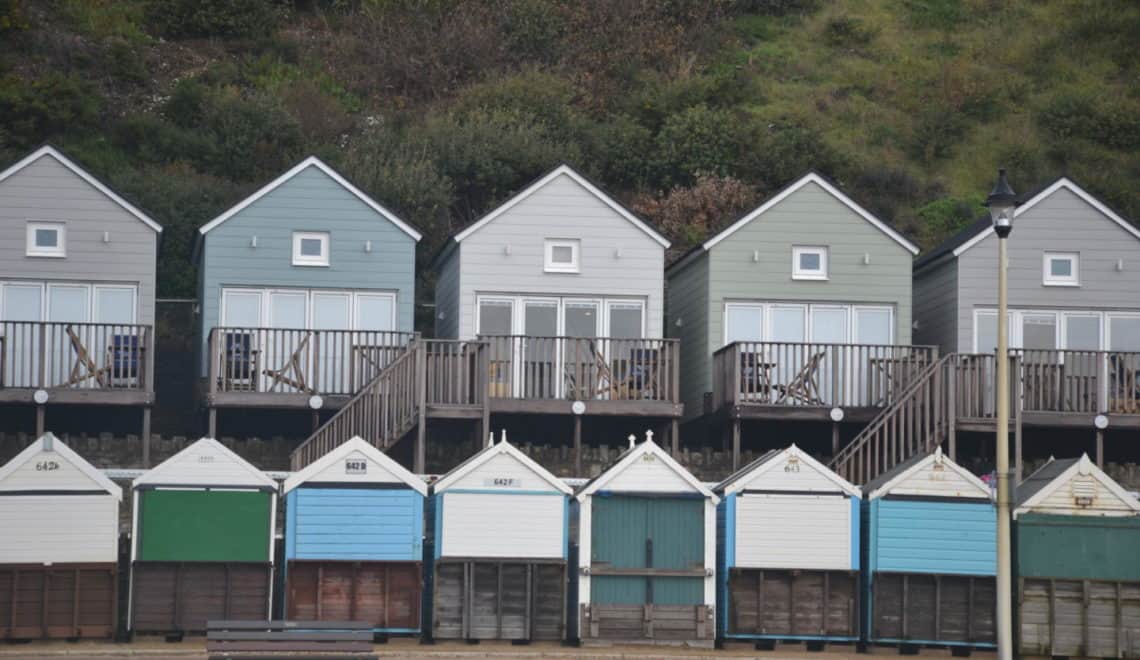 Bournemouth Beach Lodges review
If you are looking for somewhere to stay on Bournemouth beach with unbeatable access to the seafront and plenty of character then we have a top recommendation for you. We were invited to Bournemouth for a winter break and booked into Bournemouth Beach Lodges at Boscombe. Here's our review of these family and dog-friendly self-catering lodges.
*Advertisement feature*
About Bournemouth Beach Lodges
These luxury lodges have been on the seafront at Boscombe since 2017. The best way to describe them is to think of a cross between the most stylish beach huts you can imagine and bijou lodges with everything you could need for a seaside break on the South Coast of England.
Each open plan lodge has space for up to four adults, two children and in some cases, two dogs. There are 24 beach lodges positioned together on a private raised deck just above the promenade at Boscombe.
Find out more about these quirky beach front abodes.
Where are Bournemouth Beach Lodges
The location is outstanding for families. You are right on the beach – there's seven miles worth of it – Boscombe Pier is 800 meters away and beyond that are all the attractions of Bournemouth beach itself.
Booking into a Bournemouth Beach Lodge
We stayed in lodge 21. We didn't need a dog-friendly lodge this time as we'd left Tin Box Dog with the grandparents for the weekend. There were however, two dog-friendly lodges to our left where we could see water bowls on the deck outside. More dog-friendly accommodation is available.
You get a great personal service when you book into Bournemouth Beach Lodges. The team called to confirm all our details and sent follow up emails and messages in the 24 hours before we arrived.
As we were travelling on Friday after school, and knew we wouldn't get there until after reception had closed at 6.30pm, the team left a key for us in a safe box and text me the access code.
What are the lodges like inside
When we arrived the lights and heating were on and there was a welcome pack with tea, coffee, biscuits and a pint of milk in the kitchen.
The lodges are beautifully finished with light wood and blue soft furnishings to complete the coastal theme.
Facilities in your lodge
There's a smart TV downstairs and free WiFi so you can login to your internet TV service, if you have one, or just scroll through freeview.
There's plenty of storage under the stairs, in a tall cupboard and under the seats downstairs, and in a cupboard with shelves upstairs. We had plenty of space to put away clothes, shoes, welly boots and big coats for a winter weekend.
In the kitchen there's a sink, fridge, hob and microwave. There was even a washing up sponge and liquid, tea towels, a few bin bags and a split bin for recyclables. The only thing you don't have is an oven, but out on the shared terrace there's large barbecue grills that would be ideal for the summer.
The bathroom is also downstairs and is a good size. It's worth bearing in mind that this is your only toilet if there are six of you staying. The bathroom was stocked with plenty of toilet rolls and hand wash. Towels are also supplied.
Outside your beach lodge
Each lodge is detached and comes with its own decking that looks over the top of the traditional huts in front to the sandy beach. There are two deck chairs and a small table here.
The bi-fold lodge windows can be opened completely, giving you the feeling of being right on the beach while seated in the comfort of your lodge.
We stayed on a particularly blustery winter weekend and could hear the sea crashing against the beach during our first night. It was a soothing sound for us as we live near the sea.
The lodge has a large towel rail in the kitchen which did a great job of keeping the whole place warm. We felt snug all weekend. If you do get cold you can borrow a portable radiator from reception.
Bedrooms in the lodges
Upstairs there's a gallery with a low single bed and double bed. This is where the girls slept as it gave us a space to chill out downstairs after they were asleep. You are in the roof of the lodge up here, so if you're tall you would have to stoop when stood up.
Downstairs there's another single bed and a bench that turns into a double.
Kid-friendly lodge features
The stairs are very steep and I would have been worried about the girls falling down them in the night if it hadn't been for the fitted stair gate at the top. There's also a stair gate at the bottom to stop little ones climbing unaided.
Soon after we arrived the girls spotted a deck of cards and Jenga blocks in our lodge. There's even more books, games and beach toys to borrow from the laundry hut near reception.
You can also request a travel cot for your lodge.
Lodges for dogs
While Tin Box Dog couldn't join us for this particular trip, we all agreed that this is a getaway that would be a hit with her. She loves the beach and there are plenty of great walks in the area including Moors Valley Country Park and the New Forest.
There's a £20 charge for up to two dogs to stay in your lodge. You also need to be aware that there's a dog ban on the beach in front of the lodges from 1 May to 30 September.
Free parking
for Bournemouth Beach Lodges

Parking for Bournemouth Beach Lodges is free but there isn't a dedicated car park. The recommended parking is a free lay-by on Boscombe Overcliff Drive, which is above the beach.

This was the only minor downside to the lodges. The parking is a five minute up hill walk away; maybe more if you are less mobile or have very young children.

There were plenty of spaces when we visited in the winter but this might be more of an issue in the summer.

You can get vehicle access to the promenade at certain times of day to unload closer to your lodge but it's not possible to drive right up to it.
How much are Bournemouth Beach Lodges?
When we stayed at the end of November 2019 the price for a three night weekend stay was £350. This is what you can expect to pay in the autumn/spring seasons.
See the website for the most up to date prices.
Things to do near Bournemouth Beach Lodges
If you are staying at the lodges you can get a range of discounts from local businesses and free travel on the land train that runs along the promenade in front of the lodges and beach huts. This takes you to Bournemouth Town.
The train's running times are weather dependant. It didn't run the weekend we stayed. The Lodge staff are updated on running times daily.
Our stay coincided with Bournemouth's Christmas Tree Wonderland, which is a full on festive event with more than 100 trees and illuminations, an ice rink and Christmas market.
Read all about the 2019 Christmas Tree Wonderland.
If you are staying in Dorset for longer there are plenty more things to do with kids close by.
Final thoughts on Bournemouth Beach Lodges
Bournemouth Beach Lodges are a real gem and great fun to stay in.
Despite a chilly and wet weekend in November we were toasty warm inside, so the elements are certainly not something you need to worry about. But you do feel connected to the seafront with the large glass doors giving you an amazing view.
The lodge worked well for us with young kids but I think it would have been equally good for a romantic couples getaway. If there are more than two adults staying it might have become a bit snug in the winter.
But throw open the bifold doors and you have a load of extra living space for a break with extended family in the summer.
More places to stay in Dorset
Take a look at our reviews of these other family-friendly places to stay in Dorset:
Disclosure: we were invited to stay at Bournemouth Beach Lodges as part of a press trip to see the Christmas Tree Wonderland. I was not asked to review the lodges but lots of people asked about them, so I thought I'd share some more on the blog. All opinions are my own.
Looking for somewhere quirky or fun to stay on a Dorset beach? Why not save this Bournemouth Beach Lodges review for future reference.