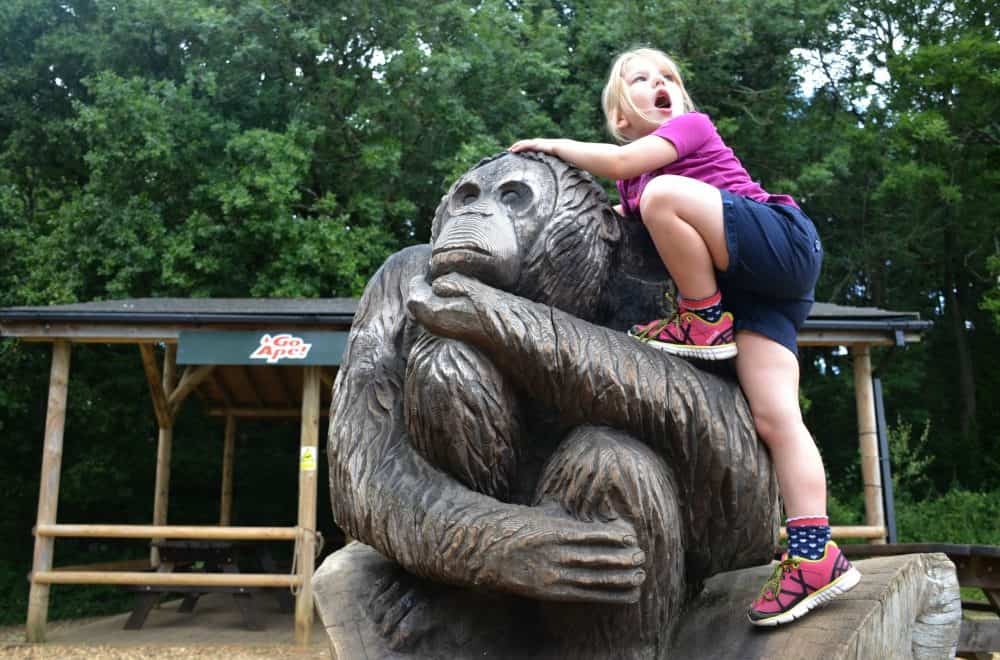 Go Ape with kids at Itchen Valley Country Park, Southampton
I'm shocking with heights to the point where I look like Elvis when standing on anything higher than a chair. Thankfully my crazy legs haven't passed on to Tin Box Tot. She was an absolute star during our recent trip to Go Ape at Itchen Valley Country Park in Southampton.
*Advertisement feature*
We were invited here at the beginning of our summer holiday to tackle the Tree Top Junior course.
Go Ape and Itchen Valley Country Park are two of our top family activities near Southampton. For more days out take a look at my round up of things to do in Southampton with kids.
Tot has done a low ropes course before and impressed me then. She picked up what she needed to do with the ropes and clips quickly, and was even instructing me by the end.
Mr Tin Box wasn't with us for that holiday, so he was much more apprehensive about how four-year-old Tot would fare at Go Ape. But when she started to tell him it was easy he could see she was a natural.
It was wonderful to watch her totally absorbed and fearless as she confidently strode out from the platforms onto swinging logs and zip wires.
She had an absolute blast. Here's a bit more about our tree top adventure and what you can expect if you do Go Ape with kids.
Tree Top Junior at Go Ape in Southampton
When we arrived at Go Ape at Itchen Valley Country Park we were given some safety information to read before being directed to the Tree Top Junior course. This was where Tot and Mr TB were fitted with their harnesses.
The first thing they had to do was to prove they understood how to use their safety lines by zipping over a low level crossing.
Reassuringly once you clip onto the course you can't unattached yourself without an member of staff until the end. So there's absolutely no fear of anyone accidentally unclipping themselves.
Tot couldn't wait to get going and was across the test section in no time. Next up was the Tree Top Junior course itself. This has three loops of crossings and obstacles all ending with a 104.9m zip wire.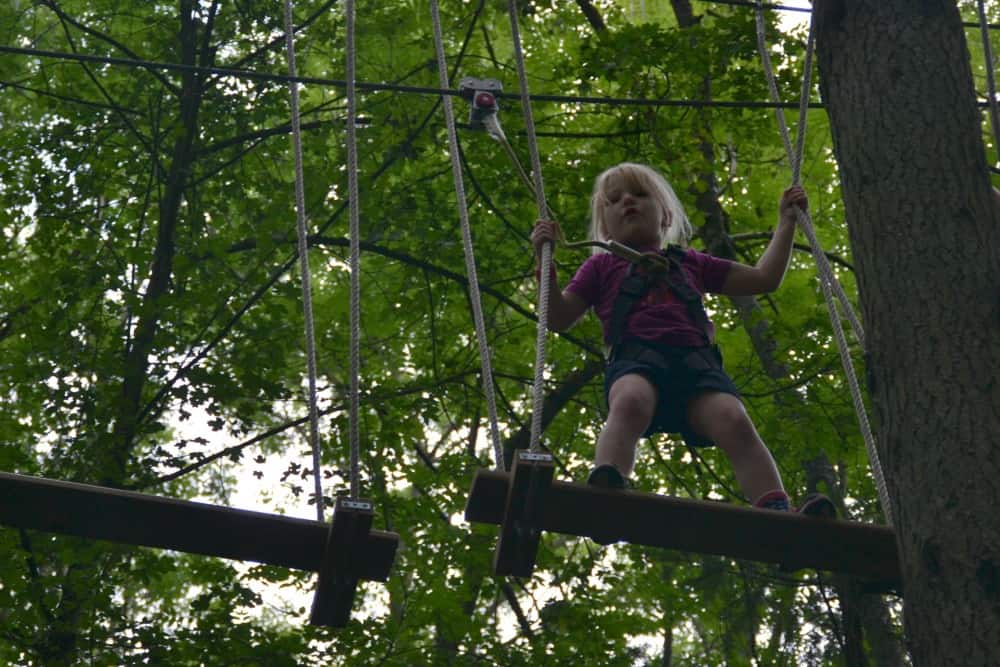 We soon noticed how many staff there were both on the ground and in the air, guiding the mini-swingers 7m up in the trees. They were very friendly and made sure Tot and Mr TB got extra time on the course when they had to back up for a family that decided they didn't want to do one of the trickier obstacles.
Tot and Mr TB made it round the shorter of the Tree Top Junior loops twice and the longest one once before doing the zip wire four times for fun. This took just over an hour and was plenty of time for a great tree top adventure.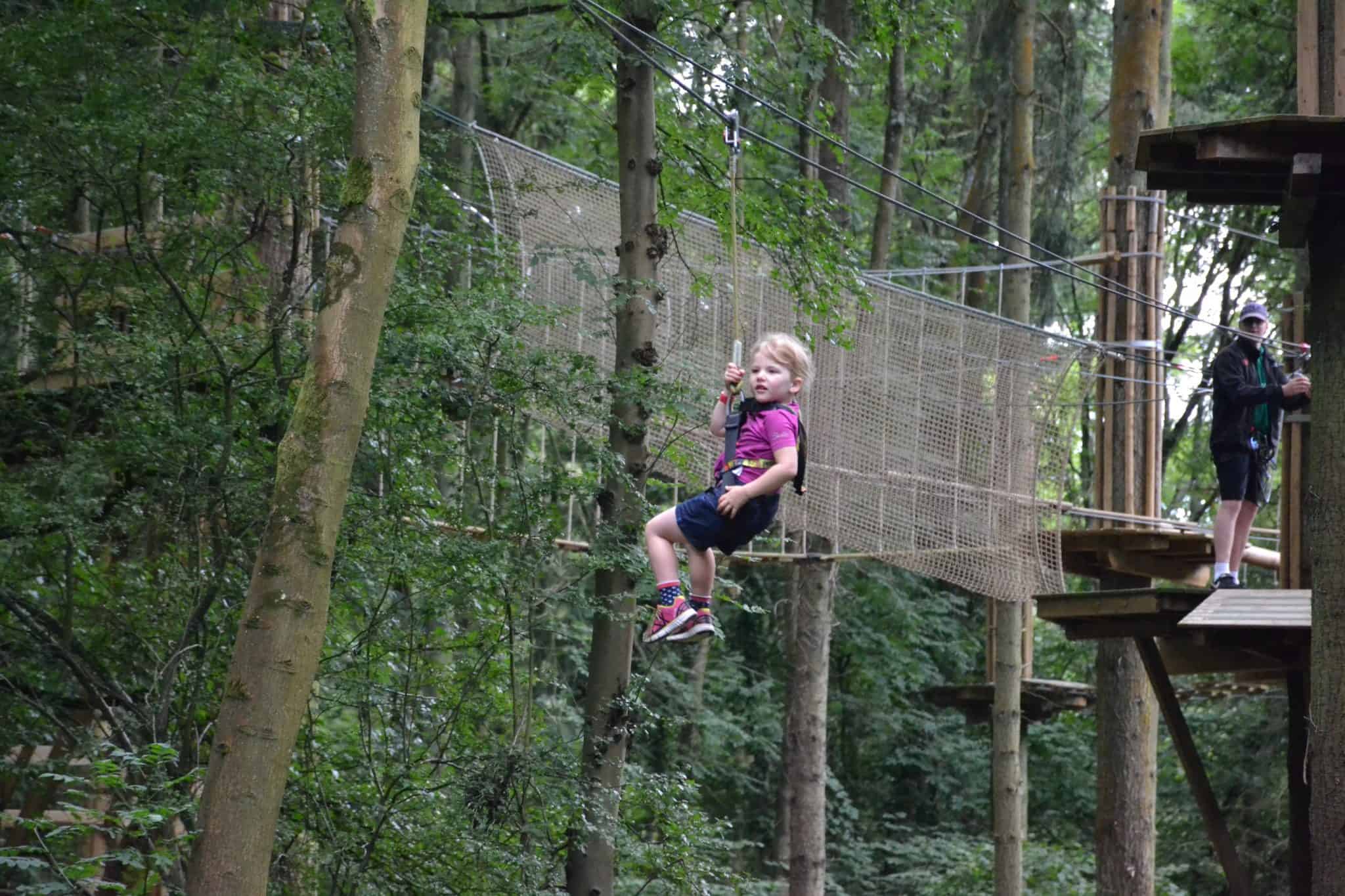 We can highly recommend a trip to Go Ape for outdoor family fun that will thrill, excite and bring you together in a shared sense of achievement. I now can't wait for Tin Box Baby to grow a few more centimetres so we can all tackle a high ropes course together.
Tips for visiting Go Ape with kids
Your kids have to be 1m or over to take part in the Tree Top Junior course. Children over 1m and under the age of six must be supervised by an adult. One adult can take up to eight children aged six to 15 around the Tree Top Junior course.
Wear clothes and shoes suitable for outdoor activities and prepare to get a bit muddy.
Book your session early or late in the day to avoid the crowds. When we showed up at 2pm on a Sunday in the school holidays things we're just starting to go quiet.
If you have children who don't make the height but are up for watching you can walk under the course. Alternatively there's likely to be a play park close by. At Southampton there's a small obstacle course at the bottom of the Tree Top Junior course and a larger play area just a few meters away.
The bark pathway under the Southampton Tree Top Junior Course was suitable for robust pushchairs.
Take a picnic to have in the country park. There's 440 acres of woodland at Itchen Valley Country Park with playgrounds, nature trails and a visitor centre.
You may have to pay for parking so check before you leave home. We paid £2.50 for up to four hours parking at Itchen Valley.
If you fancy Go Ape with kids you can find out more about the Tree Top Junior course or Tree Top Adventure for participants aged 10 and over at Itchen Valley Country Park on the website.
Find more things to do with kids in Southampton.
Disclosure: we were invited to try out the Tree Top Junior course at Itchen Valley Country Park in exchange for a honest review of our experience. All views are my own and those of my family.
Pin for later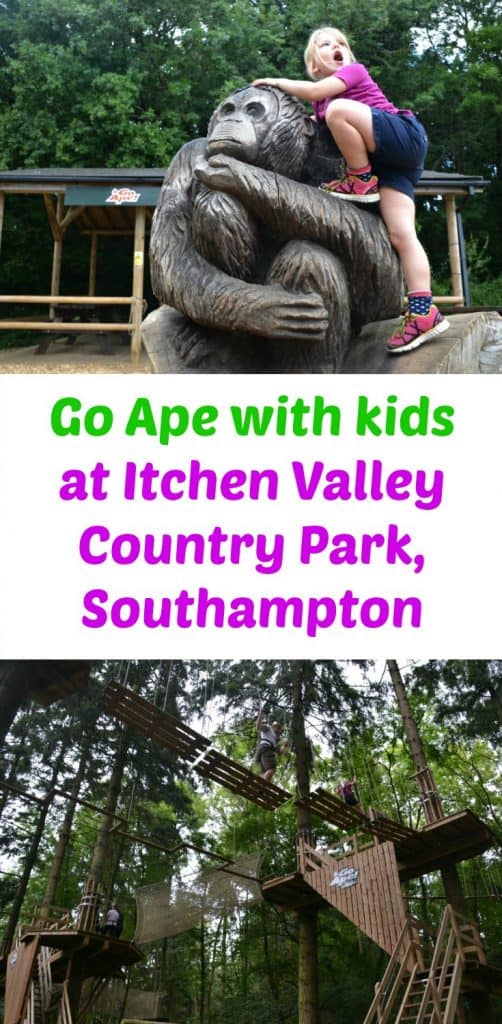 SaveSave