Cycling with toddlers: an essential guide for adventurous families
Cycling is rapidly becoming one of our favourite family pastimes. Getting out in the fresh air and exploring on two wheels is brilliant fun and ideal for combining with a holiday or day out. As we build our confidence in cycling with toddlers, the team at Halfords have asked us to share our tips for making bike outings a success. You can also read some sound cycling advice, and recommendations on great routes and places to stay in their Camping Guide.
Now, on to our essential guide…
Cycling with toddlers: how to prepare and what to take
Wear suitable clothing
Layers are the key. Think about having a good base layer, a mid-layer that's easy to pull on and off, and a warm layer such as a fleece for when you stop. Padded cycling shorts can make things much more pleasant and closed toe shoes are a must, no flip flops! A light waterproof is also advisable. Have a rucksack or pannier rack for storing the layers as they come off.  Consider long sleeves, cycling gloves and glasses to protect little ones from the inevitable scrapes and knocks. Mr Tin Box always says 'start cold' meaning don't start out wearing all your layers, you will soon warm up as you get going and find yourself over-heating and needing to stop to strip off.
Be prepared for repair
We always have a repair kit with us consisting of a pump, puncture repair kit and multi-tool. Mr Tin Box is pretty handy with these things but if you are not sure do some research before you go. Halfords have some helpful hints and advice on their website. Carrying a spare inner tube is also a good idea as you can get going again quickly without having to search for that elusive puncture!
Plan your route
Plan your route in advance. Cycle centres will give you a map but it's always useful to have an Ordnance Survey map or the mobile app to back this up. Always consider the abilities of those in the group. Smaller legs on bikes with no gears can go for miles on flat paths but lots of hills are a different matter. It's also a good idea to build in extra time to stop and explore as you go along. Cycling with toddlers should be about the journey; not going from A to B. Make sure you have time to admire the view or even practice some off road cycling skills.
Snacks on the go
Regardless of our activity, we always have snacks with us for the kids. The easiest things to pack for a cycling adventure are cereal bars, raisins, squeezy yoghurts and maybe a chocolate bar for an energy burst. Make sure you pack water for everyone too.
Picking the right bikes and cycling accessories
Not all toddlers will be at the stage were they can cycle themselves, particularly on uneven country paths. This is where a trailer is a great family cycling accessory. If you prefer to try one out before investing then you can borrow one from most cycle hire centres. For children who can cycle but are less confident on trails there's tag-alongs. However, we've found these are designed for primary school-aged kids with longer legs to reach the peddles. Tot wasn't tall enough the last time we tried her on one aged nearly four. She now has her own peddle bike which we take out on trails advertised as being family-friendly. Otherwise she's still light enough to join her sister in the trailer.
Check your kit
Whether you are using your own bikes and equipment or hiring from a cycle centre it's always a good idea to inspect and test before starting down the trail. Take a test ride around the car park checking brakes, gears and steering. It's far easier to put a problem right at the start than a mile into the journey.
Setting off on your ride
Once you're on the trail position any independent mini-cyclists in between two adult riders. If you are riding solo with kids then position yourself where you feel you have the best control of the situation. For example, if you are cycling down a steep hill go in front. This is so you can check your child's progress, offer encouragement and monitor the safety of the trail. Don't forget to take regular breaks and most of all, have fun!
Have you been cycling with toddlers? I'd love to hear about your biking adventures and any recommended routes. Comment below.
Disclosure: this post has been written in collaboration with Halfords. 
Pin for later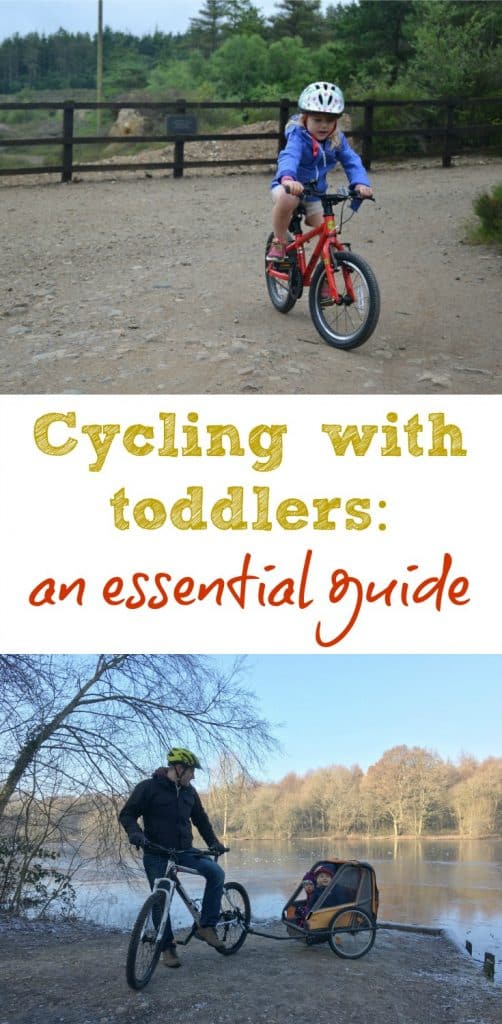 SaveSave
SaveSave