5 great outdoor family attractions in Cornwall
Do you know that warm, achy feeling you get when you're totally pooped but have had the most wonderful time? We had that in buckets and spades as we drove home from our recent trip to Cornwall. This post includes some of the outdoor family attractions in Cornwall that we visited over an autumn weekend.
*Advertisement feature*
We were invited to review Trevella Holiday Park near Newquay and try out some of the great family attractions in the area. You can read my review of Trevella here.
During our stay managed to fit a lot into our long weekend thanks to there being so much to do within an hour of the holiday park. We were blessed with crisp sunny spells for most of our three days so we gravitated towards the outdoor family activities on offer.
However, as it was the beginning of autumn, we didn't escape the Great British weather altogether.
Here's some outdoor family attractions visited during our Cornwall weekend.
Outdoor family attractions in Cornwall
Here's where to head for plenty of fresh air fun in Cornwall
Newquay Zoo
This small but perfectly formed zoo is a bit of a gem and entertained our little animals for a good few hours. Walk though the entrance into the sub tropical gardens and you'd hardly know you were on the edge of an industrial estate.
There's 130 different species to see at Newquay Zoo including ferocious lions, adorable penguins, inquisitive meerkats, and farm yard favourites.
The Village Farm, with goats, chickens and rabbits, is great for little ones who like closer encounters than the usual zoo enclosures allow.
Throughout the day there are talks and feeding times with zoo keepers. We caught what we had heard was the highlight of the day – lion feeding time. The roars of the three big cats as they chomped on their lunch sent shivers down my spine.
Tin Box Tot enjoyed the Tarzan Trail and Dragon Maze which can be found in-between the habitats. Meanwhile, Tin Box Baby's highlight was the perfect view of Lemur Island from the baby changing table in a hut overlooking the lake. She couldn't quite believe her eyes, while I struggled to keep her focussed on the task in hand!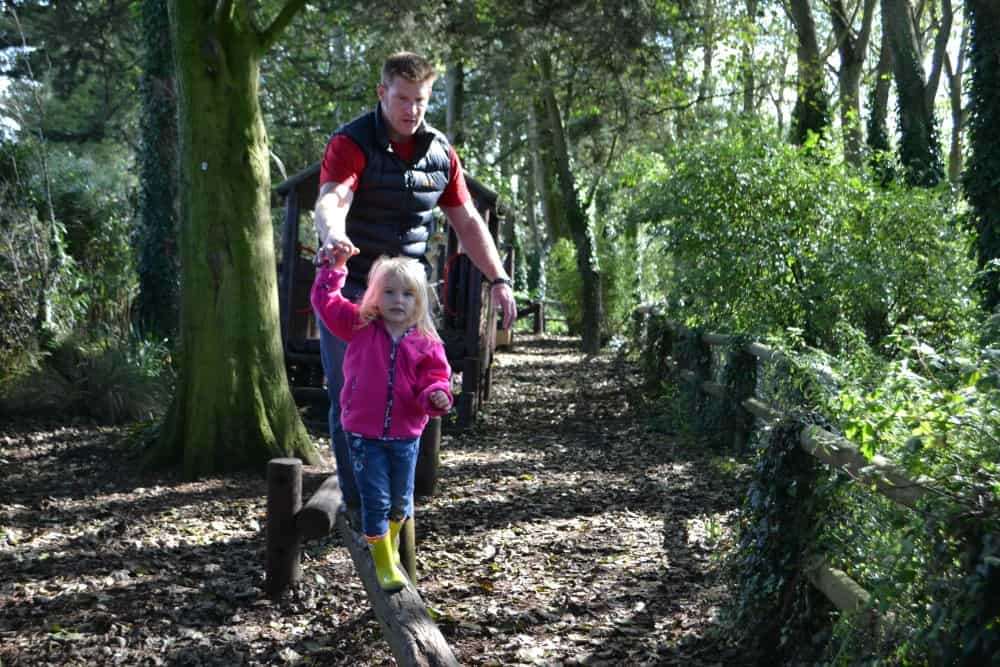 Newquay Zoo, Newquay. Open every day except Christmas Day. No dogs allowed.
After an afternoon at the zoo we found our way to Trevella Park, just a few minutes down the road.
St Michael's Mount
The next morning we got up early for the 45 minute drive south to the Cornish town of Marazion which overlooks St Michael's Mount.
This was a National Trust attraction that Mr Tin Box was keen to check out as he's seen it many times from the water – he's in the Royal Navy – but never set foot there. I remember visiting during childhood holidays in Cornwall.
I also went to the French equivalent, Mont St Michel, as a kid. Memories of both have stuck with me so I loved the idea of taking my own children.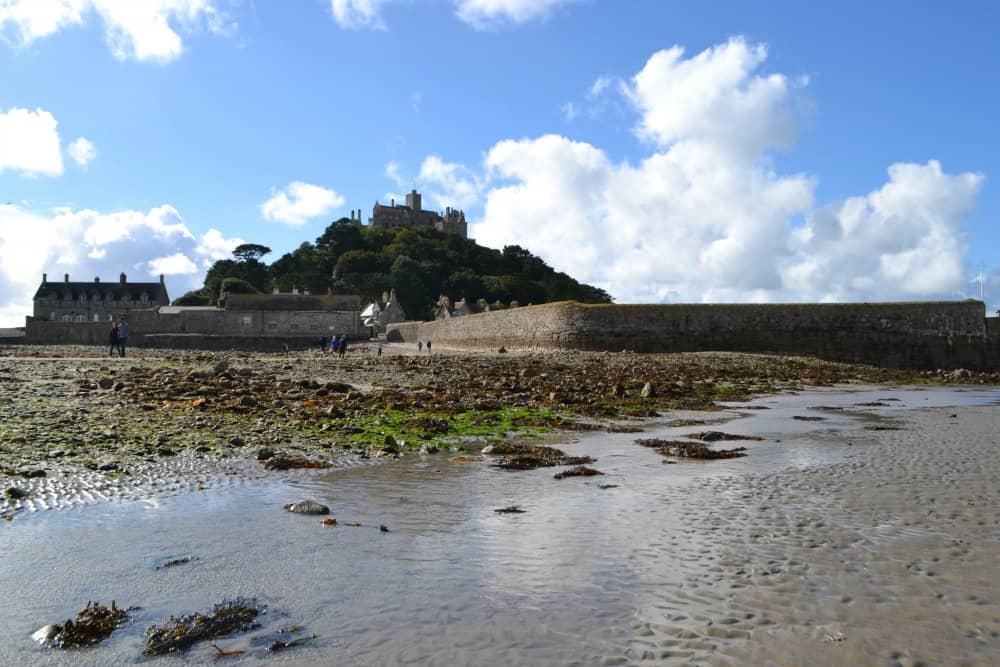 St Michael's Mount is an amazing sight even on a windy autumn day with rain on the horizon. The island is home to 30 people who live in buildings dating back to the 12th Century. Perched on top is castle which is still occupied today.
We were able to walk out to the harbour and back along the causeway before the waves submerged it again. The Mount and Marazion beach made for a great backdrop for a few photos.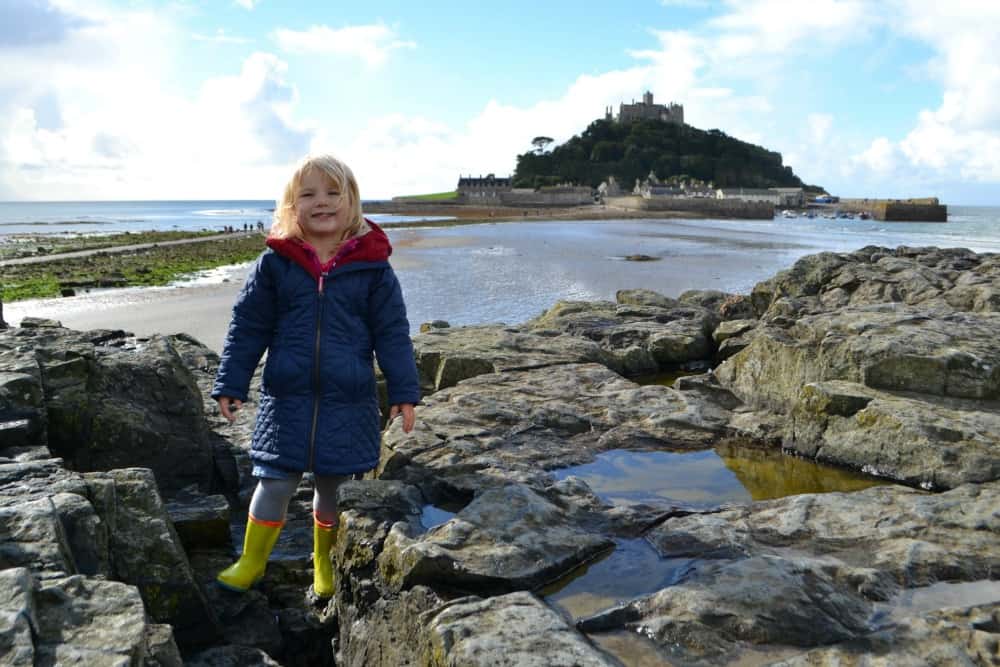 However, we had made a bit of a miscalculation when it came to exploring everything St Michael's Mount has to offer. We rocked up on a Saturday – the day the castle and gardens are closed to the public.
Still, we arrived on the first day dogs were allowed on the beach after the summer season, so at least Tin Box Dog had a good run around. If you'd like to read more about a full visit to the Mount check out this blog post by Just Go Places.
After being blown around on the causeway and Marazion beach we made a beeline for land and lunch at Chapel Rock Cafe. We can highly recommend anything off its specials board to warm you up after a breezy stomp to the Mount.
St Michael's Mount, Marazion. Opening times vary during the year and the castle and gardens are not open on Saturdays. Tide times are available in the National Trust car park at Marazion, where members park free. There's a charge for other visitors. Dogs are not allowed in the castle or gardens and only on Marazion beach in the winter months.
Healey's Cornish Cyder Farm
Our next stop was somewhere we'd spotted on the road south – Healey's Cornish Cyder Farm in-between Truro and St Agnes. It was set up in the 1980s to revive the ancient tradition of cider-making in Cornwall. It now makes award-winning ciders, spirits, juices and jams.
There are several options for touring the farm and experiencing how it makes its produce. We opted for the full guided tour which included a fascinating walk through the history of cider-making in Cornwall, a tractor ride in the orchards, and a look around the modern factory.
Oh, and who could forget a very comprehensive cider and juice tasting session in the shop. We couldn't help but come away with a bottle for later.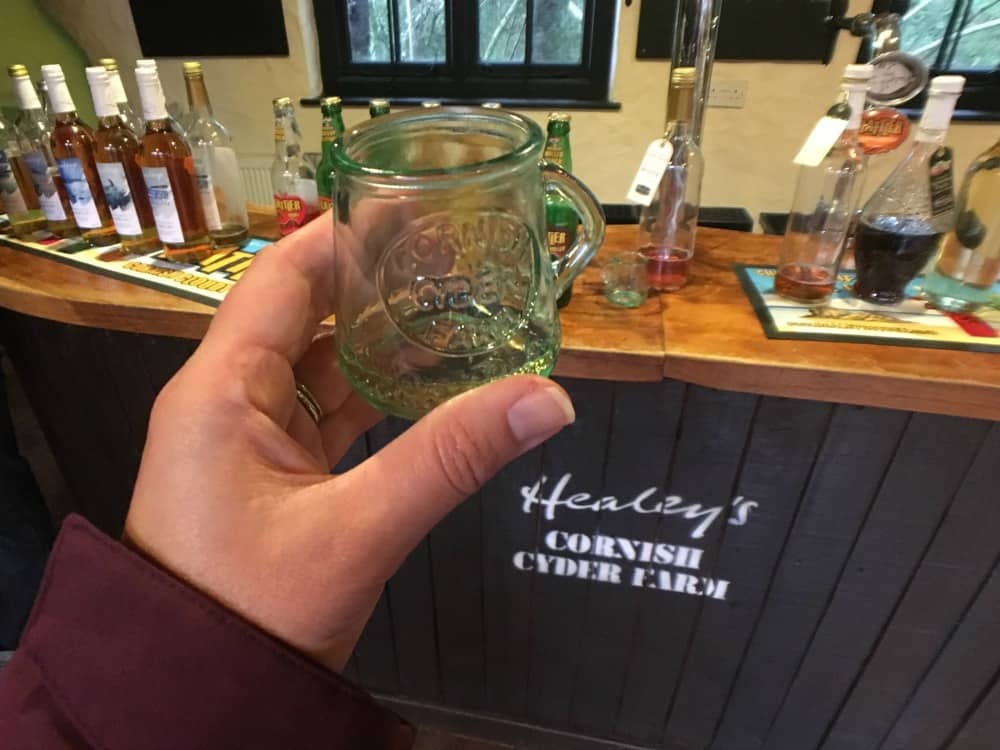 The Tin Box girls enjoyed meeting the farm animals and the tractor ride but were probably a bit too young for the full tour.
I'd suggest going for the 'classic' tour if you're visiting with young kids as you still get to look around the museum and go on the tractor but there's a little less of background about the modern day processes. The girls got a bit fidgety at that stage.
Healey's Cornish Cyder Farm, Truro. Open all year except Christmas and Boxing Day. Dogs on leads welcome.
Crantock Beach
The following morning we packed up our gear and set off for a bit more sightseeing before it was time to go home. A short drive away was Crantock. This National Trust beach embodies everything I remember from my childhood holidays in Cornwall: soft sand, dunes and a shoreline that seems to roll on forever.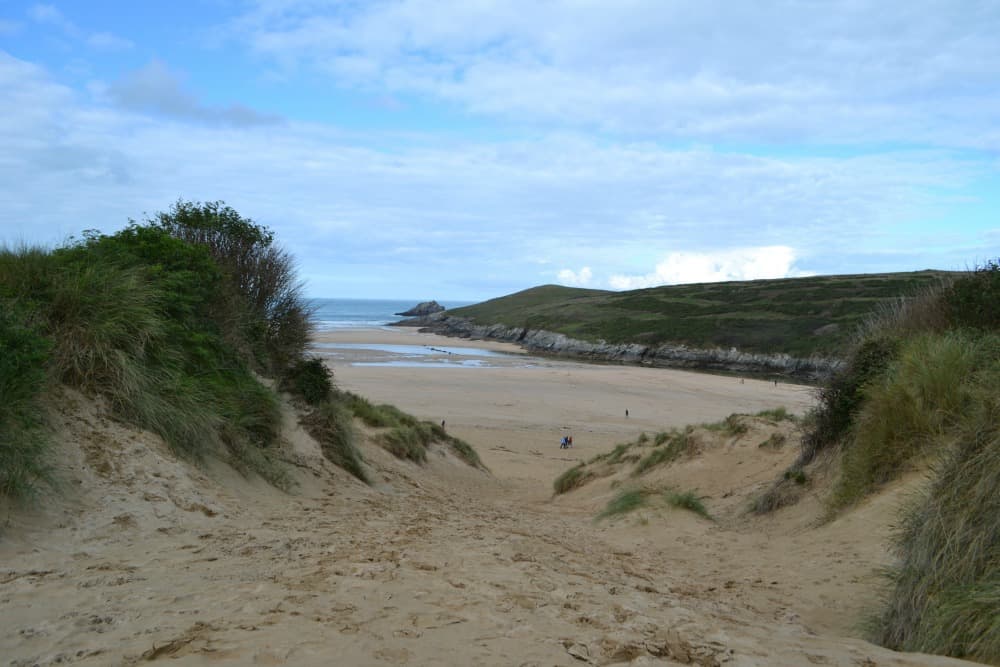 It was at this point that I gave myself a virtual pat on the back for bringing the girls' buckets and spades despite it being October. They played around while Mr Tin Box threw the ball for Tin Box Dog.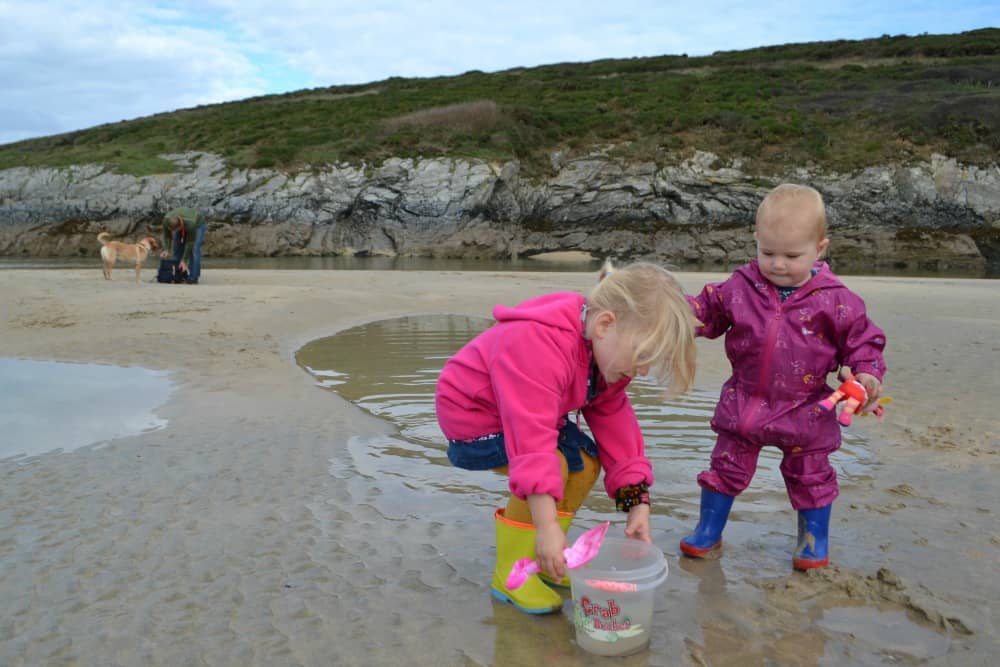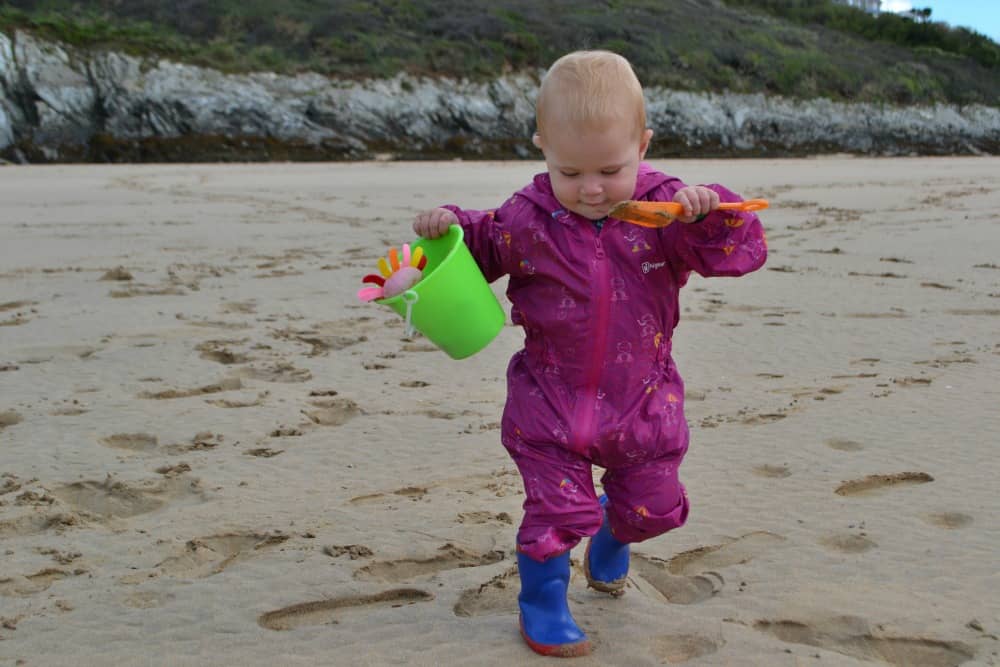 The girls would have stayed all day, digging holes and moving around buckets of water, but after an hour we were starting to feel hungry and decided to move on for lunch.
Compton Beach, Newquay. National Trust members park for free, a fee applies to other visitors. Dogs welcome all year round.
The Lost Gardens of Heligan
This place is nothing short of magical. It wasn't our original destination for the afternoon (that was closed – we really should plan ahead more), but it's somewhere I've wanted to visit since reading about My Travel Monkey's trip there a couple of years ago.
The gardens are part of a 400-year-old estate that was once a thriving community created by the Tremayne family. After the First World War, during which many of the garden's staff were killed, Heligan House was rented out and the surrounding gardens became 'lost'.
In the 1990s they were found again and Europe's largest garden restoration project began.
Today the 200 acre estate has been revived as a garden and farm using methods from a century ago.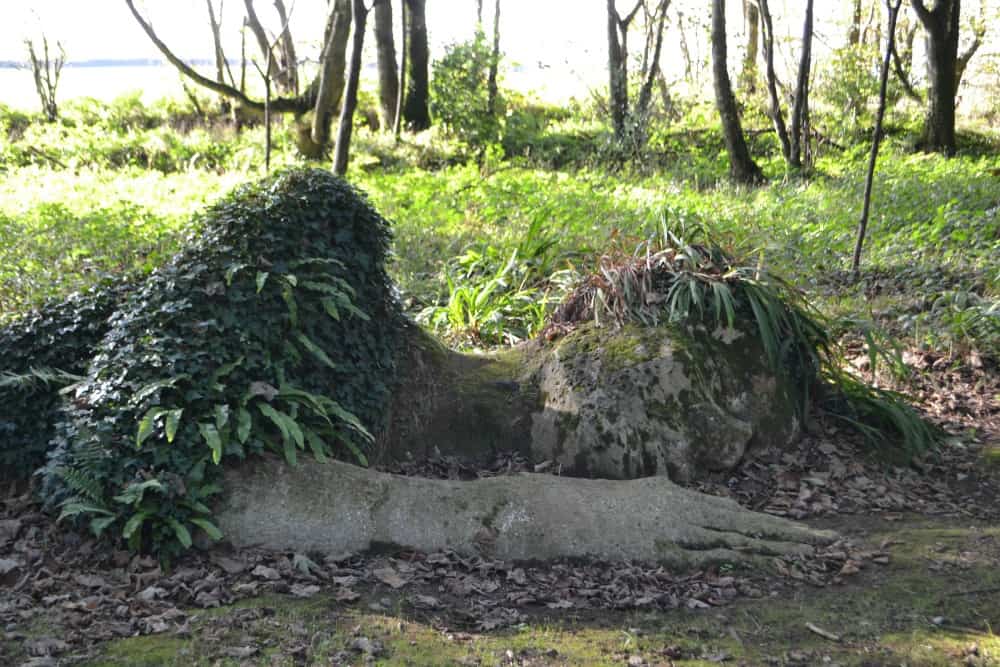 We lucked in with our timing as we were there for the first weekend of Heligan's harvest event programme. Throughout the gardens we found enormous displays of pumpkins, seasonal food tasting and crafts using all natural materials.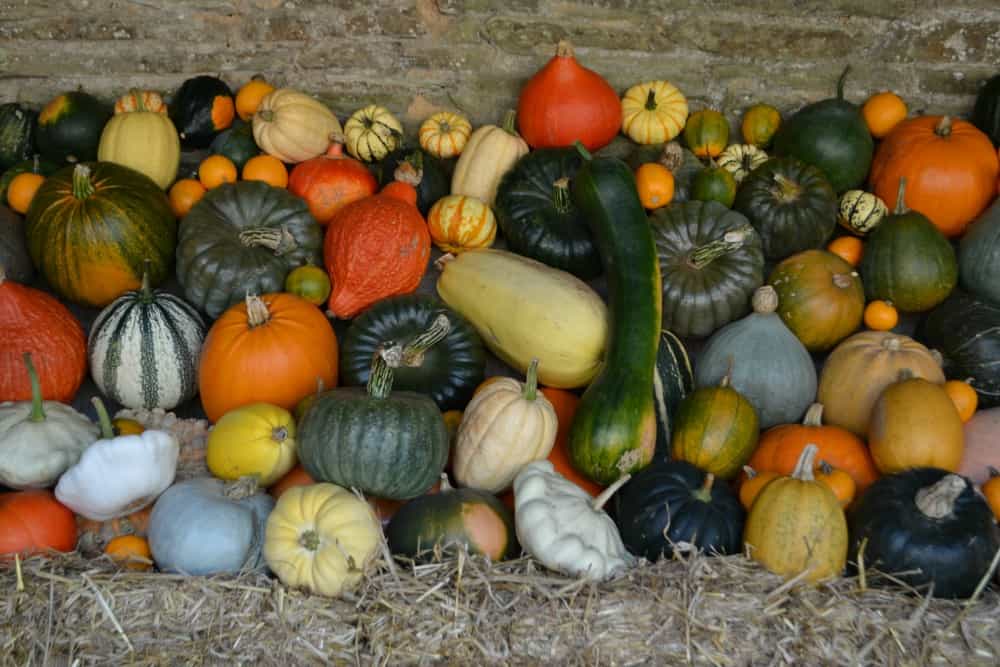 There was so much to do that I was disappointed we hadn't set aside a whole day for Heligan. We still managed to see a lot in four hours. Here's a full review of our visit to Heligan with children.
Our visit wouldn't have been complete without crossing the Burma Rope Bridge in the Jungle. This is an area of sub-tropical gardens beyond Heligan House and the perfect place for the bridge across the valley.
It was quite a walk to get there but towards the end of the day we had the bridge pretty much to ourselves. It was the perfect end to our Cornish outdoor adventures.
The Lost Gardens of Heligan, St Austell. Open all year round except Christmas Day, times vary with the season. Dogs on leads allowed.
Disclosure: We were given free entry to some of these attractions for the purposes of a review. Go Outdoors sent us the outdoor clothing featured in this post in exchange for a mention on my blog. All opinions are my own and those of my family.
Looking for outdoor family attractions in Cornwall? Why not use Pinterest to save this post for later.