The best campervan gifts for van owners and their ride
If you have a camper van fan in your life you may be wondering what to buy them for Christmas. Van lifers can be difficult, especially when they seem to have everything already! However, I think you will find some inspiration in the fun and practical campervan gifts below.
Eek! Have you left your Christmas shopping until the last minute? Don't panic! Check out my last minute Christmas gift ideas that you can deliver in time for the big day.
*This post contains affiliate links*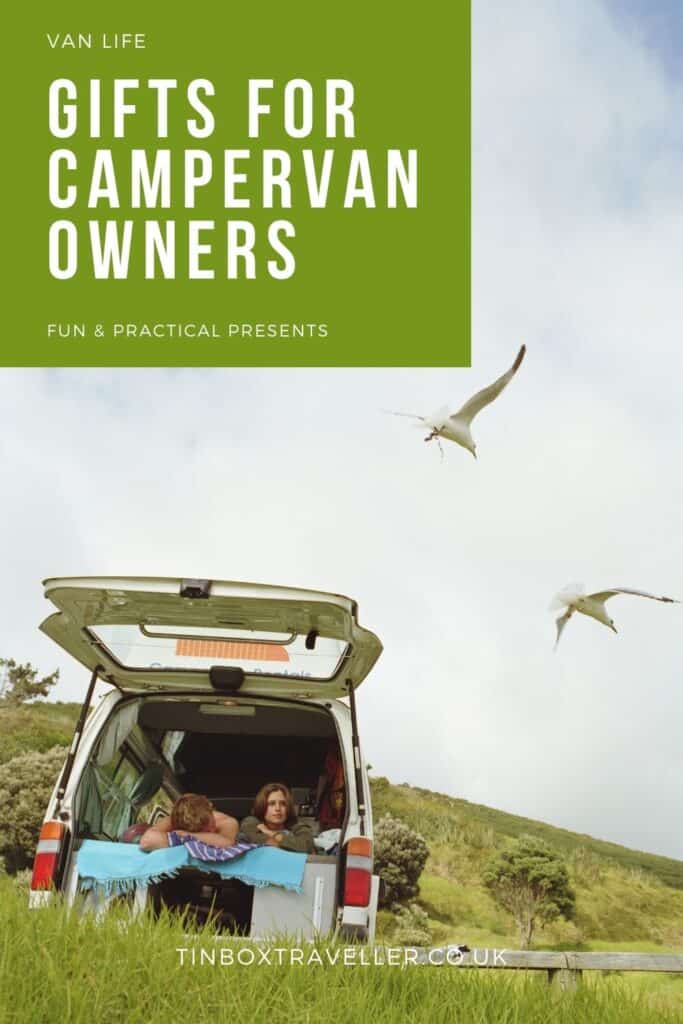 Practical and fun campervan gifts
We've had our VW T5 for a year now and many of our camper van accessories have came over from our caravanning days. However there's still plenty of new bits of kit that we bought for our new van.
Find out about everything we pack in my camper van equipment checklist.
This list of campervan gifts is made up of practical products we have bought ourselves and fun presents that we think new and established camper van owners will enjoy.
Detailing products
Most camper van owners like to keep their vehicle looking at its best. This kit from Autoglymm* has everything they could need and gets great results.
Mr Tin Box uses Autoglymm on all our vehicles.
Cooking tips
If the campers in your life could do with spicing up their menu then cook books make great campervan gifts. This camper van cook book* by Martin Dorey is the bible when it comes to recipes to try in the great outdoors.
It's packed full of delicious and easy to whip up on a two ring gas cooker or barbecue.
Here's some more camping food that we love when we are away in our camper van.
Car kit
It's always good to be prepared, so this Breakdown Safety Kit* from the AA is a must have. It's also a gift that shows you care.
VW mug
Not all campervan gifts need to be used when you're on the road. A nostalgic VW mug* is the perfect stocking filler for van-lifers to use at home or work.
Buy an enamel mug* and it's one that can be added to the camping kit too.
Cool box
Even if you already have a camping fridge, chilled storage space is always at a premium. A decent cool box is great for keeping all those essential non-essentials, like beer and wine, nice and chilled.
This Coleman cool box* has lots of space and can hold one hundred 330ml cans – the perfect campervan gift for those planning longer trips.
Thermos drink flask
Reusable drink bottles and flasks are super handy for campers when they are on the road. This Thermos flask* is easy to take a quick swig from when you're on the go and keeps tea and coffee hot all day.
Van heater
Keep camping comfortably into the winter months by adding heating to your van. If you have a built in system then great, but many vans don't – ours included!
This small, low wattage heater* is ideal for safely keeping a camper van nice and toasty. Just remember electric hook up is required. We also have a oil heater on our camper van packing list for times when we go off grid.
Packing cubes
These are my go-to packing aid for any kind of travel. But when you are camping and space is limited packing cubes* are an absolute must!
Windscreen cover
A thermal windscreen cover is essential when camping, keeping the warm air in or the hot sun out.
Rainbow screens do a range of funky designs and will even customise using your own images. Have fun designing a personalised campervan gift!
Mini projector and bluetooth speaker
Your van lifers can enjoy a movie night anywhere with this portable speaker* and projector*. The interior rear door, side of the van or even inside of a pop top roof can be put into service as a widescreen TV – ideal if the winter weather calls for a day inside.
Here's another bluetooth speaker that's ideal for campers.
More gifts for campers and outdoor fans
I've got even more gifts ideas for you in these posts:
I hope this post has given you some inspiration for campervan gifts to buy the van life fan you know, or maybe even yourself, this Christmas!
Disclosure: this post contains affiliate links marked with *. If you click on one of these and make a purchase I may earn some commission. This does not affect the price you pay.
Making note of ideas for campervan gifts? Why not use Pinterest to save this post about gifts for camper van owners.