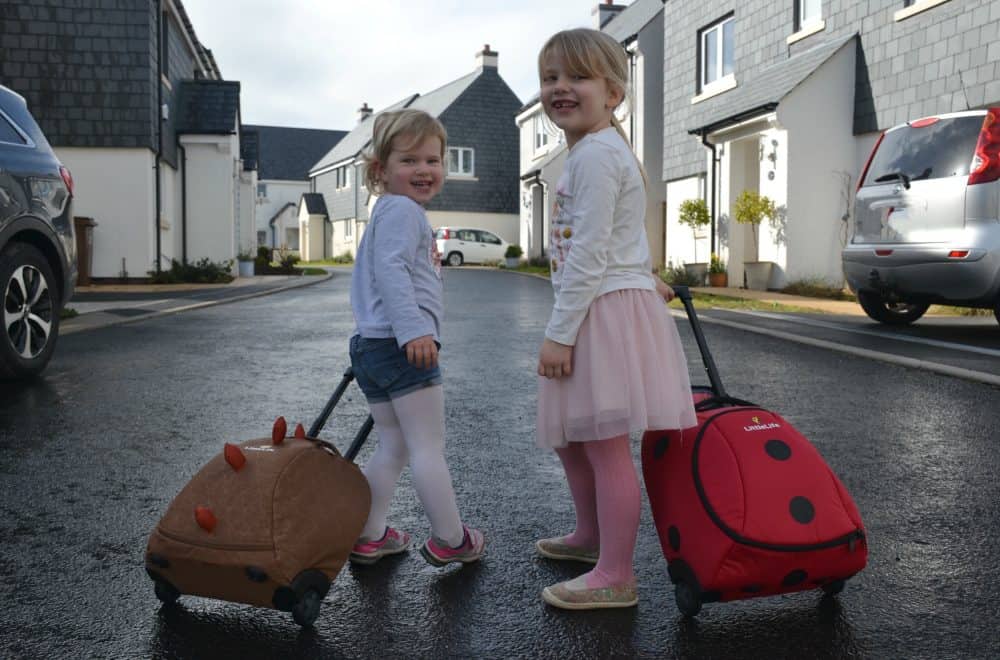 Best luggage for kids: LittleLife Wheelie Suitcase review
The girls and I had a few great foreign trips in 2018 including a European cruise and week in the Italian Lakes with Al Fresco Holidays. I've been keen that, at the age of five and three, the kids start packing and carrying some of their own belongings, especially as Mr Tin Box couldn't join us for these two trips. My hands were already well and truly full! So what's the best luggage for kids to unburden travelling parents?
*Advertisement feature and affiliate links*
We were sent a pair of LittleLife wheelie suitcases to review. Read on to find out what we thought of these cute kids duffle bags on wheels.
If you'd like read more product reviews subscribe to my newsletter for regular insights from our adventures with two children and a dog in the UK and Europe. You can also check out a round up of our top travel tips for families.
LittleLife wheelie bag review: the packing challenge
In order to put our Ladybird and Dinosaur* design LittleLife wheelie suitcases through their paces prior to going on holiday I thought I'd challenge the Tin Box girls to pack them for a five night trip. I chose five nights as that's the average time we're usually away from home.
I supervised Baby while Tot filled her own bag with five jumpers, three pairs of trousers, a swim suit, one pair of shoes, one t-shirt and two pairs of knickers – the ideal holiday wardrobe, ahem! She also popped in a story book and her favourite, well-loved cuddly toy.
Here's the slightly more trip appropriate packing list for Baby's suitcase:
Five pairs of knickers and socks
Three vests
Two pairs of PJs
One skirt
One pair of trousers
A pair of shorts
Five t-shirts
One jumper
A swim suit
Sandals
Trainers
Two books
A toy
If you're interested in packing lists take a look at my self-catering holiday packing list or my essentials for travelling with a baby and toddler.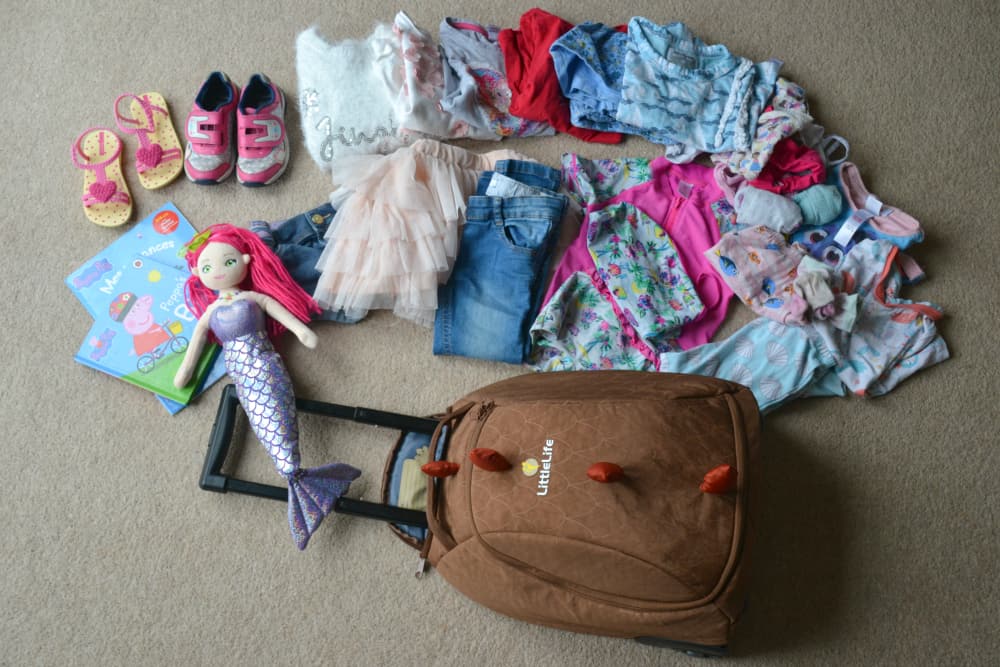 So how did the LittleLife Wheelie Suitcase stand up to our five night challenge?
We managed to get everything we needed for each of the girls into the 20 litre bag and had space for an extra couple of nights with some tight rolling and clever packing.
I'd definitely use these suitcases for a summer holiday. If we needed wellington boots, extra jumpers and spare waterproofs then the girls would have to borrow some luggage space from me.
Kids cabin luggage suitcases
I had intended to put Tot's wheelie suitcase into the aeroplane's hold during our flight to Italy in the summer. But some unplanned repacking meant we brought it into the cabin instead.
This was no problem on our flight with Flybe, which restricts cabin bags to 55 x 35 x 20cm. The suitcase fitted perfectly under the seat in front of ours.
To be honest the bag is deeper than 20cm, but because we had other luggage going into the hold I don't think the check in staff were too worried either on the UK or Italian sides. Other airlines may not be so accommodating!
How does the LittleLife wheelie suitcase compare to other luggage for kids?
We also have Trunkis and the girls love them too. However, as someone interested in how useful the luggage is rather than just its entertainment value, I much prefer the LittleLife wheelie bags. You can pack them and re-open the bags without everything falling out, which means you can use them more for longer breaks.
It's not just a novelty – however useful that is when you are trying to keep kids amused at the airport. The prices are similar if you buy them through the official brand websites. But it is possible to pick up Trunkis for cheaper*. My vote for the best kids luggage still goes to LittleLife.
Product features
Here's some more product facts for you:
Each bag comes with a two-stage telescopic handle
There's a handy name label inside the handle zipper
It has an internal accessory pocket
The main compartment holds 20 litres

Weight:

1.4kg (3lbs.1oz)

Dimensions (packed):

35 x 25 x 45cm

Suitable for ages

3+ years
Retail price: £49.99 (but keep an eye out for deals)
Our verdict on the LittleLife Wheelie Suitcase
The girls think these animal-themed suitcases are great fun and were keen to give them a road test. They had no trouble dashing around with the bags fully loaded with their well chosen (and not so well chosen) holiday essentials.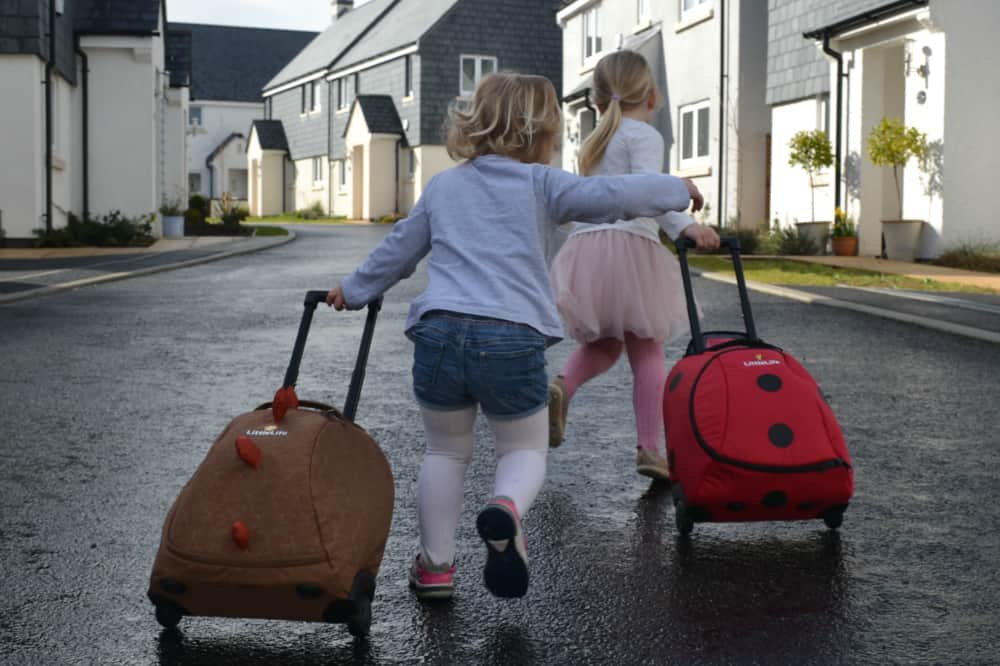 I rate the LittleLife Wheelie Suitcases because they are practical with an element of fun and we can pack them like proper luggage with clothes and a few items to keep the kids entertained while we're on holiday. I might actually win back some of my suitcase space!
In terms of the bags' price (RRP £49.99), the LittleLife Wheelie Suitcase* is a bit more expensive than other luggage for kids on the market but I would argue it is more practical and comparable with good quality adult hand luggage.
Do you have special luggage for your kids?
Disclosure: we received our own LittleLife wheelie suitcases for free in exchange for an honest review. All opinions are my own. This post also contains affiliate links. This means if you click on a link marked with a * and make a purchase then I may earn some commission. This does not affect the price you pay.
Looking for luggage for your kids? Why not save this post on Pinterest.