Last summer I experienced travel like never before. Did I venture to some far flung destination? Nope. Did I have a eureka moment while taking in the most epic sunset I'd ever seen. Nah! My new experience was travelling alone with kids.
I'm not going to lie…it was tough and I may have crossed the line into 'shouty mummy' territory on more than one occasion during our mobile home holiday in France.
So it was with a little bit of angst that I begun the year knowing if I want to travel I was going to have to make some solo trips. The good news was that Mr Tin Box is still very much on the scene – I can't get rid of him that easily. But his job in the Royal Navy has been taking him away a lot more.
I could sit at home an pine, but frankly, that would be dull. So instead I went travelling alone with our girls (the aged five and three). In an effort to prepare myself I asked some solo travel experts for tips on how they travel with kids.
*This post contains affiliate links*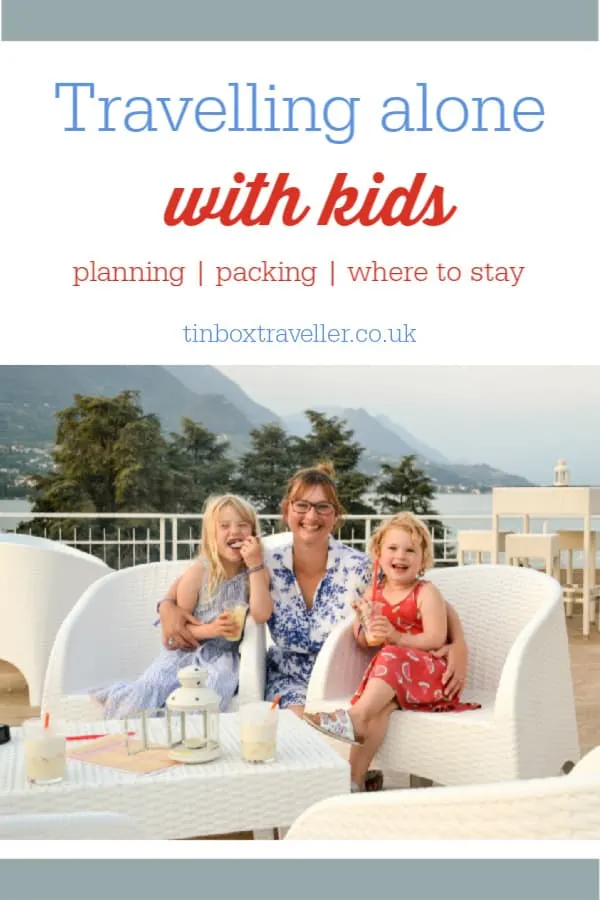 "It's intense. There will be moments when you feel frazzled, when your patience is shorter than with someone else alongside but there are far more moments when you're creating these wonderful bonds and having this fabulous time together." – Cathy, Mummytravels.
Gulp! Thanks Cathy – terror and pressure in two sentences. Here's some more excellent advice on travelling alone with kids:
Contents - jump to what you'd like to know
Solo travel experts on travelling alone with a child
For more handy advice look at my tips for travelling with kids.
Talk to your kids about your trip
Penny from Parentshaped:
"Talk through each stage of the journey/holiday with them as it unfolds and clarify your expectations. I learnt this as a teacher on school trips but I forget it all the time when travelling as a whole family. It really comes into its own when outnumbered!
"Also masses of praise and giving lots of little responsibilities to keep them busy and involved. When all else fails tablet and earplugs!".
Read more of Penny's tips about making family car travel easier.
Wisterian from Wisterian Travels with Kids in Asia:
"It all depends on the age of your kids and how much you can talk to them. If they understand that you will be stressed and they have to behave if they want to go on more vacations, then it is not very difficult.
"The hardest part is when there is a long hiatus that they think they can use to play, like at the rental car agency. It is best if there is someone who comes and meets you."
Zena from Zena's Suitcase
"When we are on a trip, we call ourselves 'Team Mum', and it helps no end when things aren't going quite as we expected.
"Take our visit to Hackfall Woods, if I hadn't of had 'Team Mum' up my sleeve for keeping my daughter going on our unexpected hike, I'm pretty sure there would have been a meltdown along the way."
Read more of Zena's tips for solo travel with kids.
Make life easy on yourself
Cathy from Mummytravels:
"If you can think of ways to make life easier, do – meet and greet parking at airports, transfers at the other end, checking e.g. assistance on board planes, choosing family carriages on Eurostar etc. There's often a lot set up if you enquire.
"Alternatively, taking your own car can removes a lot of hassle if it's practical (though a good sat nav and audio cds are my saviour as my daughter always wants an in-depth chat as I'm navigating dark country roads or merging onto the motorway).
"If possible, go for accommodation with more space – once they sleep, it's your only real free time so even a balcony is good if you're in a hotel. AirBNB and villas are even better, as it makes evening meals easier especially when kids are little and you don't want two tired/sleepy ones to take back after."
Cathy has also vlogged about travelling solo with kids.
Plan your flights carefully
Carrie from Flying with a Baby:
"Aim for a night flight; preferably just before their bedtime and try to keep to a bedtime routine as much as possible. With older children, make a canopy over their seat to help them sleep.
"Order child meals and see what entertainment is available on board – it will help you plan your packing. Lighter is obviously easier for you. See if there is an airport meet and greet which will help any transit or with arrival. Some airports provide courtesy strollers too.'
Read more of Carrie's tips for flying solo with children.
Suzy from Our Bucketlist Lives
"I've flown and travelled alone with Jamie a few times now. For me I found that travelling in the middle of the day was a great help as he was a lot happier then. I also planned the journey well including where we could stop for refreshments and toilet breaks.
"Sometimes the hard part is trying to carry everything by yourself. I have found in the past that strangers have seen me struggling and kindly offered to help. If that doesn't happen then have bags that you know you can carry by yourself. Such as a big back pack and a pull along."
Sally from Our3KidsVtheWorld:
"Plan your flights well so you aren't trying to get tired cranky kids off flights early in the morning or late at night. I prefer arriving in the afternoon an settling into a similar routine as home helps."
Travel light
Leona from Wandermust Family:
"Use carriers and things that fold up. You need those free hands!"
Find out what other essentials Leona carries with her when travelling with a toddler.
Here's some of our favourite baby and child carriers on Amazon:
[amazon_link asins='B0000AQVG5,B06WGX9BNN' template='ProductCarousel' store='tinboxtra03-21-20′ marketplace='UK' link_id='a156710f-a97a-4516-ac86-13b1b2ebe4d9′]
Pack food, and bribes!
Keri from Our Globetrotters:
"Plan and prepare! Carry loads of snacks/easy meals in case you're in a bind for getting meals sorted especially on arrival to a new destination.
"I try to adjust back to normal routine as quick as possible and keep the days structured. We might let this lapse a little if we were travelling all together on a holiday. This should help with making sure you still get your evening 'me time'.
"And when all else fails, bribery! Tic-Tacs work wonders for little steps like getting them to carry their own bag, and standing still while you buy tickets."
Fellow travellers will help
Lisa from Travel Loving Family:
"I have flown solo several times, the first time when my eldest was just four months old. I was amazed at how many fellow flyers offered to help me out, particularly older ladies.
"My advice is don't be afraid to ask for help. People were quite happy to hold my son whilst I sorted out my baggage and ate my inflight food etc. Also do your research, find out what facilities are available to you. Assistance at the airport for example."
Have the right paperwork
Jules from Shades of Courage:
"In order to be allowed to leave most EU countries with a minor you should have a written confirmation of your partner that he/she allows you to travel internationally.
"In the Netherlands, where we currently live, they require you to have a written form. They say it is not mandatory, but I know more than one story of how the form was requested and phone calls had to be made before the parent was allowed to get past border control."
Plan kid-friendly itinerary and accommodation
Marta Learning Escapes:
"I travel often alone with my two kids: they are now 5 and 7 and our favourite type of travel, without 'daddy', is city breaks. I have always loved exploring new cities and, with kids, I find they offer the best options in terms of entertainment and you can enjoy them pretty much whatever the weather.
"I usually create a detailed plan about what to do and how to get around and I always make sure we include a stop in a museum, a playground or any enclosed space where they can be safe and I can relax a little bit, sometimes even sit down while they run!
"The one thing I spend time and possibly money on is finding the right accommodation. I find dragging the kids out for dinner alone exceptionally stressful so a hotel with a family friendly restaurant onsite is very important to me and makes the break immediately more relaxing."
Here's a solo trip with kids Marta took to Geneva.
Other good places to stay when travelling alone with kids are self-catering holiday accommodation. Here's some places we can recommend: Self-catering accommodation in Cornwall.
It may not be as difficult as you think
Eileen from Families Go!:
"In some ways traveling on your own can be easier in that you can just do what is convenient/easiest for you and you don't have to balance the preferences/needs of another adult.
"If your kids are old enough to handle their own luggage get backpacks and roller bags they can handle. If not, do one big suitcase but still give them their own backpacks."
Check out our review of LittleLife wheelie suitcases which are ideal kids' luggage.
You'll be a pro before you know it!
Nisbah from Five Adventurers:
"Practise makes perfect. Do it with smaller trips first. If you can, keep your hands free. I had Zayn in a backpack carrier for years so could carry on without worrying about him running off.
"Plan, so have clothes separated, I tend to pack full day outfits together and the kids know that is their bag of clothes. Have treats to hand, so get you out of tricky tantrum situations."
Packing cubes are ideal for separating and organising everyone's clothes.
If you've got any tips for travelling alone with kids I'd love to hear your advice. Send me your thoughts on email or comment below.
More tips on travel with kids
If you're looking for more tried and tested tips then I've got plenty in my guide to travel with kids. You might also like to check out my family holiday checklist and packing lists.
Disclosure: this post contains affiliate links. If you click on one of these links and make a purchase I may receive some commission. This does not affect the price you pay.
Planning travelling alone with kids? Pin these tips on solo family travel for later: