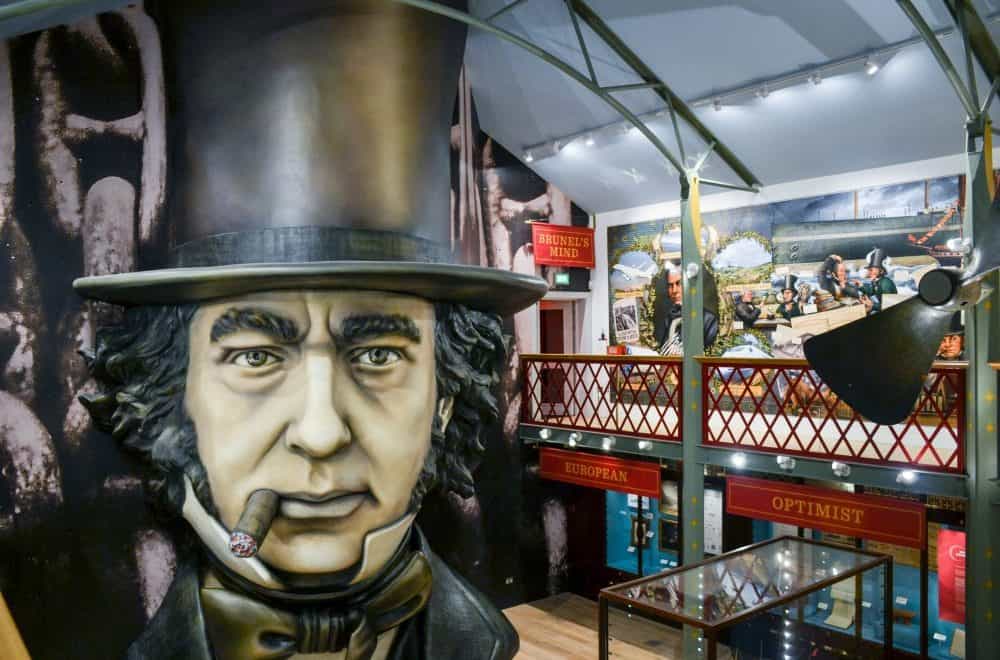 Being Brunel, Bristol: 11 things kids will love about SS Great Britain's new exhibition
If you're looking for places to visit in Bristol, England, then SS Great Britain should be high on your to do list, not least because of its new Being Brunel exhibition which opened this Spring. We were invited to review the exhibition of Isambard Kingdom Brunel's life and legacy as one of the world's most pioneering engineers and think it's a brilliant Bristol tourist attraction for families.
Who was Brunel?
"Brunel was one of the greatest engineers of the 1800s. He built bridges, tunnels, ships and railways that were longer, faster and bigger than anything seen before. Brunel was also an innovator, a leader, a dreamer and an artist. He was extraordinary, but he was also human. He had many faults and failures, but he never gave up. This is the Brunel you will meet when visiting Being Brunel." – SS Great Britain website.
The exhibition is a celebration of everything Brunel; from a top hat wearing, cigar smoking work obsessive to a thoughtful genius determined to push the boundary with every projecty. Being Brunel has been built on to the side of the engineer's original drawing office on Bristol Harbour next to the restored ship and just a few miles from the Clifton Suspension Bridge that made him a household name in the city. Brunel's SS Great Britain took four years to build and was launched here in 1843. At the time it was the world's largest ship and was the first ever vessel to use a screw propeller.
Brunel was responsible for an extraordinary number of engineering projects that changed the way people travelled in the 19th Century and beyond. You can read about them all on the SS Great Britain website.
Take a look at our full family day out at SS Great Britain in our video:
What kids will love about Being Brunel
Being Brunel is a great addition to what is already a packed Bristol attraction that I've visited a number of times before. The interactive displays, great staging for the various aspect's of Brunel's work and character, and careful consideration about how to make it accessible for all ages got a big thumbs up from us.
Here's some of our exhibition highlights and things kids will love about their visit to Being Brunel and the ship that changed the world:
1. Donning the trademark top hat
One of the very first things kids can do when they enter the Being Brunel building is don a top hat like the man himself. It makes for a great photo opportunity (if your kids stay still longer than mine!). Strike a pose in front of the enormous chains to recreate a classic shot of Brunel.
2. Listening to the tales of the talking portraits
The first room you step into is a recreation of Brunel's dining room – The Shakespeare Room –  adorned with paintings from the play write's works. In here you meet three characters from Brunel's life sharing anecdotes about him.
3. Deciding who is coming to dinner
Another interactive display in The Shakespeare Room is a game where you decide who should attend Brunel's next dinner party. Dining with company wasn't just for entertainment purposes – Brunel needed to enlist investors for his projects.
4. Testing their drawing skills in motion
This juddering simulation of a 1830s railway carriage includes a challenge to draw a perfect circle while in motion. Brunel thought that if he was able to work while traveling by rail then he had created a comfortable passenger experience.
5. Sounding the Great Eastern steam horn
If your kids love making noise then they'll get plenty of entertainment from sounding the steam horn of Brunel's Great Eastern passenger ship.
6. Marveling at the enormous 3D Brunel
Dominating the main exhibition space is a eight metre high head complete with hat and cigar, which kids can't help but gaze up at in awe. I was pretty taken aback myself. Even better, you can step inside Brunel's head for an audio, visual and smellable show giving you his perspective on all his projects. This might be a little overwhelming for young children but Tot and Baby, aged five and nearly three, sat rooted to their seats.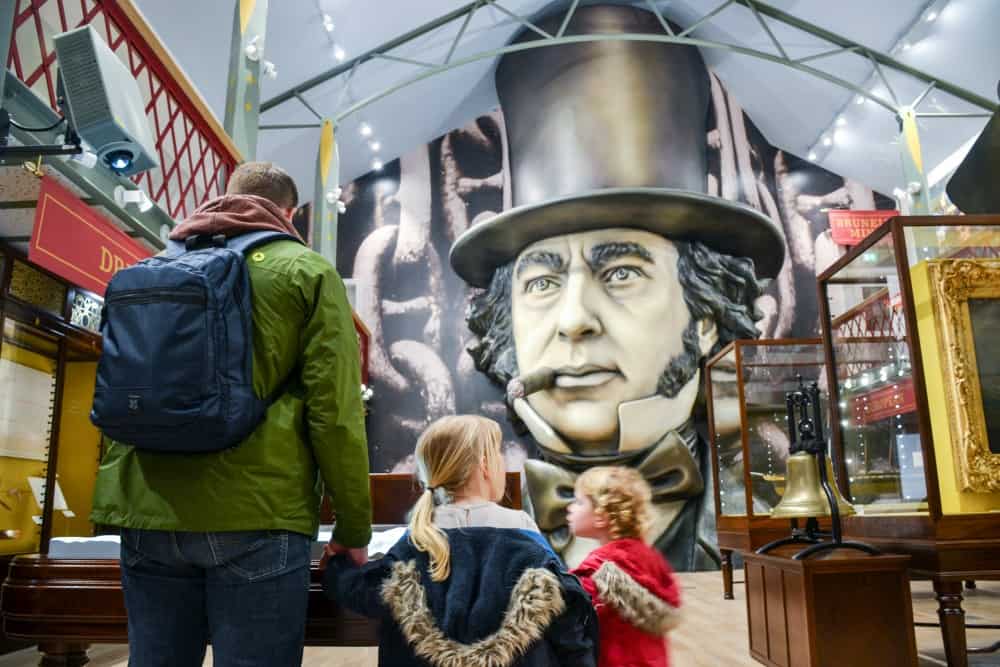 7. Learning about Brunel's top trumps
Play the 'Great Trumps' game to find out top facts about Brunel's railways, bridges, tunnels and ships.
8. Getting hands on with artefact draws
All around the exhibtion's six galleries there are artefacts from Brunel's life in draws. My girls enjoyed being allowed to pull these out for closer inspection.
9. Viewing landmark moments in 3D
On the upper deck of the exhibition you'll find sets of vintage stereoscope glasses which allow you to view postcards of great moments in 19th Century engineering in 3D.
10. Seeing Brunel's world in pictures
One whole wall of the exhibition's upper deck is covered in a mural depicting Brunel's life and times. There's plenty of fun facts to be picked out.
11. Stepping inside Brunel's drawing office
This original office where Brunel designed SS Great Britain has been restored and opened to visitors. You'll find fewer interactive exhibits here but everything has been arranged to be as authentic as possible to Brunel's time. It's a great history lesson for older kids and my girls were quite taken with the life-like dog curled up under Brunel's drawing desk.
Final thoughts on Being Brunel at SS Great Britain, Bristol
I was already a big fan of SS Great Britain as a Bristol tourist attraction. Having returned with our girls to see Being Brunel I can say we were seriously impressed with this addition. The exhibition is great for families with plenty of hands on things to do. It also puts the whole experience of visiting SS Great Britain into context. After being inside Brunel's mind and learning what it was that drove him as an innovator and engineer, walking around one of his greatest creations is even more enthralling.
Entry to Being Brunel is included in tickets for SS Great Britain. A family ticket for two adults and up to three children costs £45. You can use your ticket to revisit the Bristol attraction as many times as you like within 12 months. Book online for a discount.
Where to stay in Bristol
We booked into the SACO Apartments Broad Quay for a two night city break. It's just 15 minutes and a short harbour ferry ride from SS Great Britain. Read my full review of this luxury serviced apartment in Bristol City Centre.
Disclosure: we were invited to visit Being Brunel and SS Great Britain for free in return for a review on the blog. All opinions are my own and those of my family.
Pin for later