BuyaGift Family Fun Experience Box review
If, like me, you panic a bit about buying gifts for other people, then giving a present that they can pick themselves could be the answer. This is exactly how Buyagift experience boxes work. Buyagift sent us a Family Fun Experience Box so we could see for ourselves.
*Advertisement feature – contains affiliate links*
Why give an experience as a gift?
I've talked before about why we prefer to give experiences, like days out and foodie treats, rather than 'stuff'. Thoughtful trinkets tend to turn into clutter after that initial joyful unwrapping.
Buying a voucher or gift experience* means the recipient can pick how and when they want to use it, rather than finding somewhere to hide it.
Experiences are also a top gift idea for people who never 'need' anything, because as soon as they do they buy it for themselves. Mr Tin Box is one of these awkward types!
And the icing on the cake is that if you use Buyagift.com* it is a climate conscious company.
It's been working with the rainforest conservation organisation Cool Earth for the past decade and supports climate action projects like reforestation in the UK and other parts of the world.
When you buy an experience from them you can also send it to the recipient as a e-voucher rather than a physical object, cutting back on unnecessary waste. This option is also instant – perfect for last minute gift ideas for Father's Day* *wink wink*.
Types of experience box
Buyagift have a wide choice of experience boxes*, from the Happy Birthday Experience Box to indulgent boxes for couples, special treats for individuals and dining experiences.
Each gives the recipient hundreds, if not thousands, of options to use their Buyagift voucher all over England, Scotland and Wales.
There's also up to two years to book the ideal experience, so there's no rush to use it.
We were sent the Family Fun Experience Box* which costs £49.99.
What's in the box?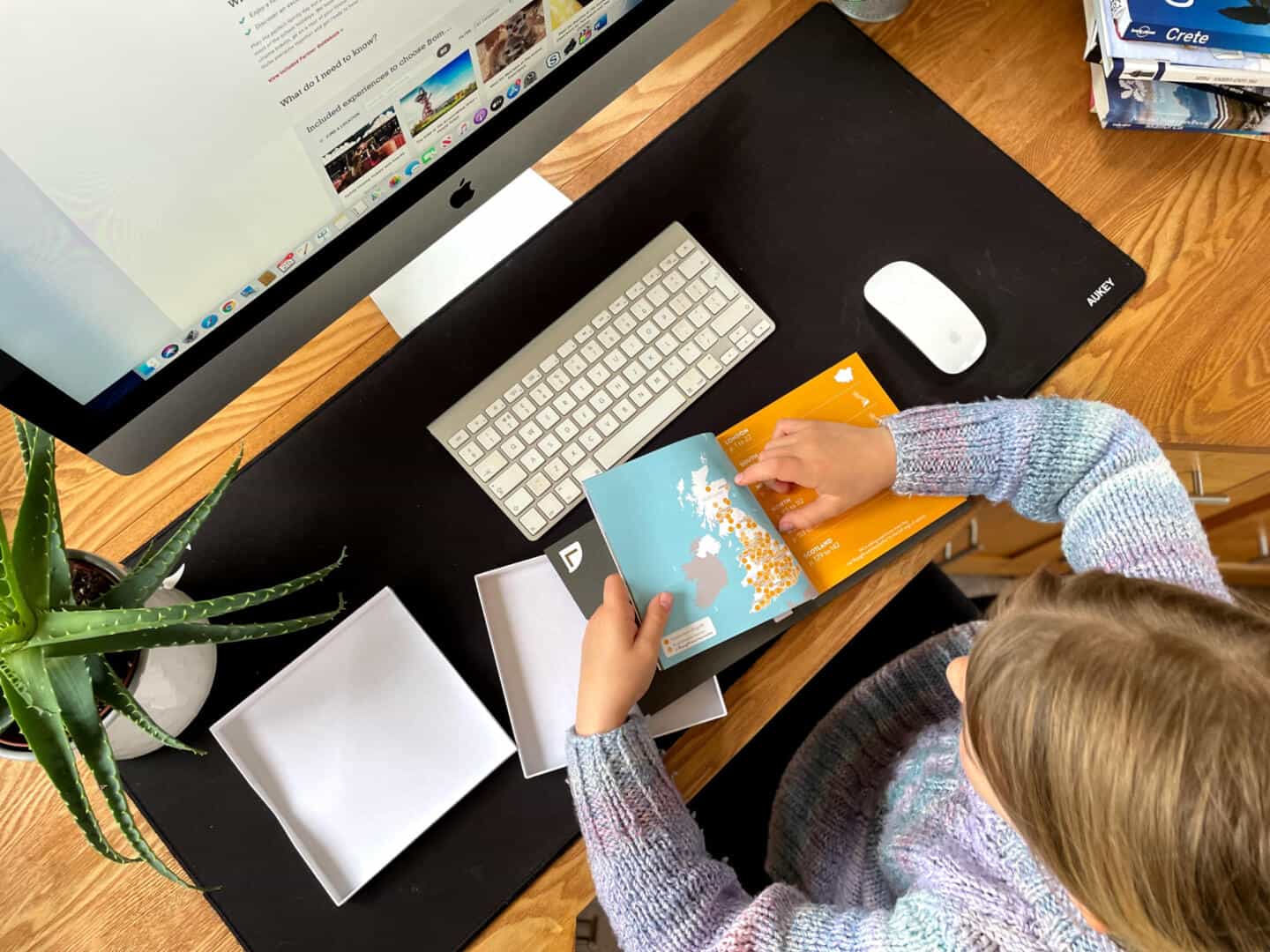 The Family Fun box gives a family of two to five people (depending on the experience you choose) the choice of 490 days out.
Experiences range from entry to the Enigma Escape Rooms in Middlesbrough for two adults and two children to a birds of prey day in Warwickshire, or a three course meal for two adults and two children at Cabana in Covent Garden.
If you send a physical Buyagift box it arrives in a cardboard box with a laminated sleeve, a book containing all the experiences available split up y region, and a square of card printed with the unique voucher code and pin code with instructions on how to use them.
All of the information is also available online, so I'd recommend getting the voucher sent by email to save on paper and delivery.
How does it work?
Once our Family Fun Experience Box* had arrived we had to take a few steps to use it:
Register our voucher on Buyagift.com*
Pick our experience
Download our experience code
And book direct with the company offering the experience!
We chose to visit our local Vue cinema, so got two voucher codes: one for our film tickets and another for snacks to enjoy while we were there.
Our vouchers covered tickets for four people, one medium drink and popcorn, and two Vue Kids Combos, which include popcorn or Monster Munch, a drink and a small bag sweets or a Milky Way.
Buying Vue tickets with a Buyagift code
When I went to use our cinema tickets voucher code, it took me a while to work out where to type it in on the Vue website.
So if you receive a Family Fun Experience Box and decide to use it for a visit to the cinema here's what to do:
Select one seat for the film you want to see
Click on 'Add a promo code' to the right of the screen (on a desktop computer)
A pop up will appear on the right
Leave Buyagift at '0', select '1' Family Package and '0' Ticket, then press Done.
You should then be able to confirm your booking and will receive an email confirmation once you've added in all your contact details.
Buyagift send you a separate voucher code for your snacks. Make sure you have this on you to use when you get to the cinema.
If you have questions about booking any experience with your Buyagift voucher, take a look at the Help section on the website.
Our experience
We booked to see Peter Rabbit 2 at our local Vue cinema at Torbay, Devon. The kids were so excited to see a film on the big screen after more than a year of movie nights at home.
The snacks made it an extra special treat as I'd probably usually say no to popcorn, a chocolate bar AND a drink. But that was an extra expense that we didn't need to worry about as it was already covered as part of the experience box.
NB. I paid for all the sugar on the drive home!!
However, it felt so good to be back in a cinema.
If you are visiting Vue while COVID restrictions are in place, they have got their protocols down to a tee. They even send you out an email on the day of your booking to reassure and remind you of what your visit will be like.
Something worth mentioning was that we had a slight hitch with our Buyagift snack code when we arrived. The Vue till wouldn't process it.
However, the duty manager was aware if the Buyagift package and arranged our snacks in no time. Top marks to the team at Vue Torbay for being on the ball.
Handy things to know
If you are buying a Buyagift experience box or gift voucher for someone else, be aware that the price you pay may be more than the value of the experience they choose, depending on current offers.
As Vue were offering reduced price cinema tickets when we went, the cost of our visit, including the snacks, was less than £49.99.
However, if you have a Buyagift discount code, you could pay less than the RRP of the experience box!
Buyagift 25% discount code
Speaking of which, I have a Buyagift discount code to offer my readers. You can use it to buy a Family Fun Experience Box* or any other voucher or experience on Buyagift.com*.
The code is valid up until 30 June 2021 but you can use it now to buy a voucher or experience box that will be valid for up to two years.
Simply choose your voucher or experience and use TINBOXT25 at the checkout before 23:59 GMT on 30 June 2021.
Here's where to find and buy experiences*.
I'd love to hear what experience you book! Let me now in the comments below.
If you're looking for more practical and fun present ideas, check out my post about gifts for the whole family.
Disclosure: we were given a Family Fun Experience Box for the purposes of an honest review. This post also contains affiliate links. This means if you click on one and make a purchase I may earn some commission. This does not affect the price you pay.
Looking for a unique gift? Why not use Pinterest to save this post about the BuyaGift Family Fun Experience Box.