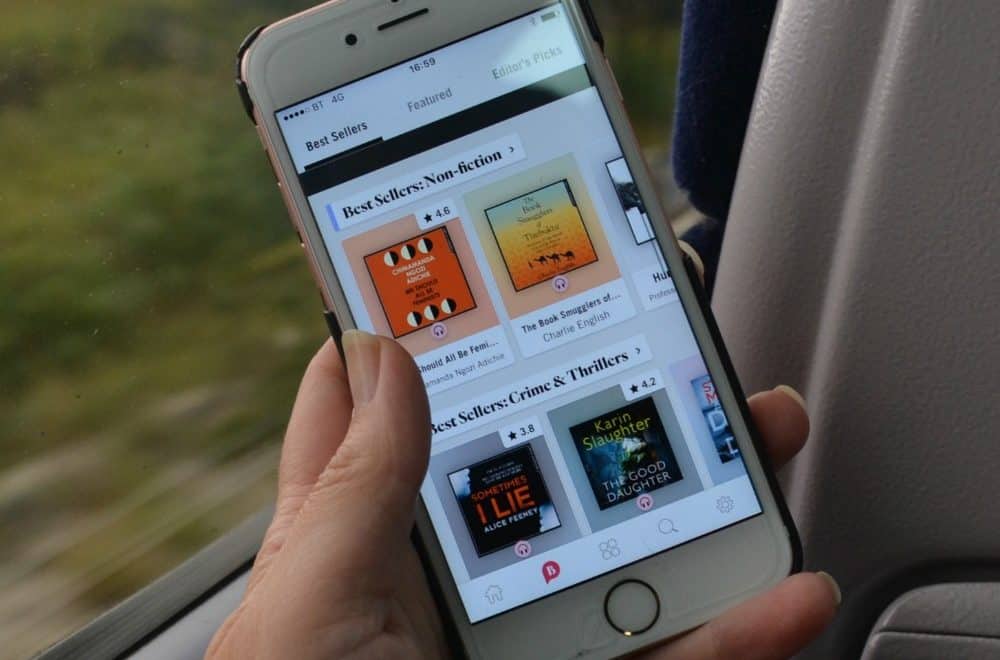 BookBeat audiobook app review: the book lover's travel companion
Confession item: I can't remember the last time I read a book for myself. For someone who spent their entire teenage years with their head buried in a novel this is huge. If I told my pre-mum self that I no longer had time to live and breathe the adventures of my favourite fictional heroines I think I would have cried. Time has become my enemy and reading anything other than Topsy and Tim seems like a luxury a mum cannot afford.
In the past few weeks I have rediscovered a love of stories thanks to an introduction to BookBeat – an audiobook app for smartphones or tablets – which I have been asked to review here on the blog.
Finding time for stories on the move
I still have very little free time; switching between work, the kids, housework and a sleep. But a few solo trips away in the past fortnight have given me the perfect opportunity to put BookBeat to the test.
Signing up and installing the app was simple enough. You can do a two week free trial (or scroll down for a month long free trial using my special link) and the interface is super simple to use.
If you do hit any snags the Q&A section has plenty of pointers. I found it pleasingly easy to scroll through the different genres, best sellers, featured reads and editor's picks to select titles that appealed to me.
I'd love to say I went straight for the classics available like War and Peace or Emma by Jane Austen. However, I do love the Tudors and couldn't help but download The Boleyn Inheritance by Philippa Gregory.
This became the sound track to a train ride to London and a car drive to Hampshire in what was a busy few weeks of UK travel for me. The miles melted away while I listened to the twists and turns of this historical fiction by an author who I last read a decade ago.
It's worth mentioning there's also a children's reading list with audiobooks including stories by David Walliams, Judith Kerr and Michael Bond. However, my four and two-year-old girls are still very much into visual books, even during car journeys. So, happily, BookBeat is an app I don't have to share…yet!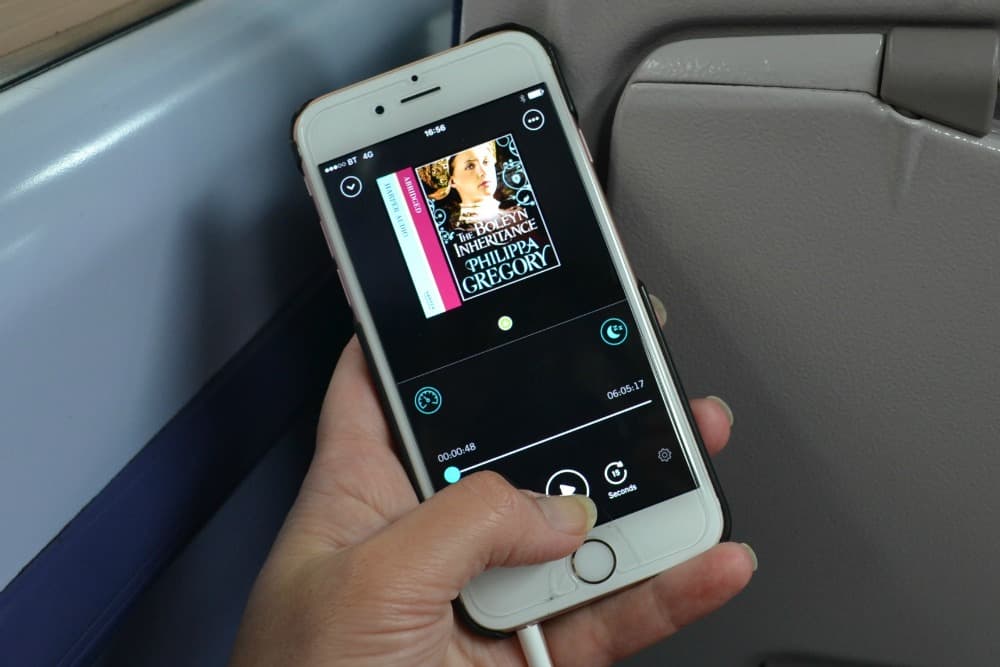 BookBeat audiobook app features I love
You can download as many audiobooks as your phone can handle and listen wherever you want, even when you are offline
You can also connect up-to five devices, so everyone in the family can share the account (just note that you can only listen to one audiobook on one device at a time)
There's a lot of choice – more audiobooks jumped out to me than I have trips during which to listen to them
You can skip backwards (or forwards) just like you would with a paperback, making it easy to catch up between story sittings
At the end of listening to an audiobook you can rate it to guide other app users
There are no hidden costs and no cancellation fees. It costs £12.90 per month.
I have considered audiobooks before. Mr Tin Box recalls listening to them on long car journeys when he was a kid. I knew they were a good idea, but I hadn't realised how good until I tried BookBeat. The convenience and usability of the app have helped me do something special I haven't done in years: indulge a love of stories. And at less than the price of five large takeaway lattes a month, that's great value.
When was the last time you enjoyed a story? Are you an audiobook fan? Maybe you've already tried the BookBeat audiobook app? Let me know what you think.
A special reader offer
If you like the sound of the BookBeat audiobook app and fancy trying it, you can get a free trial. Sign up with BookBeat using this link and get a one month free trial instead of the standard two weeks.
Disclosure: I was given a free trial of the BookBeat app and compensated for my time in writing this review. All opinions are my own and the four hour car journey between Hampshire and Devon has never passed so quickly!
Pin for later