Pentewan Sands Holiday Park review – a campsite in Cornwall on the beach 
If you are searching for a campsite in Cornwall on the beach with mobile homes, touring pitches and facilities for tents then here's a top recommendation for you from one of our regular contributors, Katie de Pelete. She's written this Pentewan Sands Holiday Park review, which is super handy for anyone looking for Cornwall holidays on the beach.
Over to Katie for the low down on Pentewan Sands in Cornwall:
*Advertisement feature*
Given how much coastline there is in Devon and Cornwall, it is actually quite hard to find a campsite right on the beach. By that I mean that the sand is just a few steps away from your tent or caravan. With young kids even a 'gentle one mile stroll to the beach' can feel like an expedition when piled high with buckets, spades, wind breakers, rugs and cool boxes. So, the closer the beach the better!
Pentewan Sands, near St Austell in Cornwall, actually has its own private beach with some of the pitches literally touching the sand. This 5 star holiday park also boasts a host of other top facilities, so we were all very excited as we set off on our Tin Box adventure. 
Where is Pentewan Sands, Cornwall?
Pentewan Sands is five miles south of St Austell. If you are towing your own caravan it's best not to follow your Sat Nav and stick to the instructions on the holiday park's website as these will help you avoid narrow lanes.
Things to do come rain or shine
We arrived at Pentewan Sands on a very soggy Friday afternoon in early June and were surprised by just how many people were braving the elements in tents and camper vans. After unpacking into our very clean and well kitted out holiday home we headed off to explore. 
We went straight to The Seahorse which is the restaurant in the main complex. Once inside it's easy to see why people visit Pentewan Sands come rain or shine. There are two swimming pools (one for lane swimming and the other with two water slides), an arcade, soft play area and restaurant complete with mini disco. It's all fresh and modern with the first floor restaurant offering views out over the bay. Food is reasonably priced and tasty. 
There is an adults only area which is a great idea as there are lots of families with young children at Pentewan Sands, which is ideal for us, but I can see how others might want to escape the euphoria of kids karaoke and circus skills! 
There are posters around the restaurant advertising the different activities on offer during the week for both adults and children, of which there are plenty. My two were keen to try out the kids club arts and crafts in the morning. 
So, with our heads full of plans for the next day, we headed to bed. Rain thundering on the roof of our holiday home making us feel cosy and just a little bit smug that we weren't in a tent!
Pentewan Sands Holiday park swimming pool
After brekkie the kids were desperate to try out the pool so we were one of the first through the doors at 9am when it opened. The kids absolutely loved the water slides and I was impressed by the changing rooms complete with underfloor heating. 
The pool is open to non-holiday park residents during the off season but reserved just for guests during peak school holiday times. You get a wrist band to prove you are staying on site.
Prices for non-residents are £12 for a family of three, £15.50 for a family of four, and £18 for a family of five. If you are staying at Pentewan Sands or its sister site, Heligan Caravan and Camping Park, then it's free to use the pools. Check the website for the latest rates and opening times.
After a swim we headed upstairs to The Seahorse restaurant for kids club which was arts and crafts. The theme was 'Underwater' and the kids helped to create a lovely mural (although I'm not sure they fully adopted the theme as I definitely spotted a helicopter!). 
We didn't leave the kids but were able to enjoy a coffee in peace which was lovely. The restaurants, swimming pools, arcade, tennis court and shop are all together near the reception. 
Pentewan Sands beach
The sun came out after lunch, so we headed to the beach. The beauty of being so close to the sand is that you can make the most of any breaks in the cloud with minimal faff. The boys got drawn into a game of beach football so my little girl and I headed off to explore. 
The private beach is huge and, when we were there in early June, very quiet. There is a playground on the beach and also a water sports centre. We spent a few happy hours collecting shells, exploring caves and digging holes. 
The evening turned out to be bright and sunny so we made a beeline for the beach bar (which happens to also be a Hubbox) to enjoy a few scenic drinks before grabbing a fish and chip supper at Pentewan Plaice (see what they did there?!).
Pentewan Sands nearby attractions
There is so much to do at Pentewan Sands that it's actually very easy to stay on site without getting bored. 
However, if you did venture off site The Eden Project, The Lost Gardens of Heligan, the Shipwreck & Heritage Centre at Charleston, The Cornish Seal Sanctuary, Cardinham Woods and the pretty fishing village of Mevagissey are all close by.
Here's my guide to more things to do in and around St Austell.
The holiday park is right next to the small harbour village of Pentewan which has a few shops and a nice pub. There is also a coastal path that leads you from the harbour and up over the cliffs towards Trenarren. 
On our last day I decided to go for a morning run to explore the coastal path. Apart from the odd dog walker, I had the path to myself and was able to stop and take in the stunning views back over the clear waters of Mevagissey Bay where Pentewan Sands is located.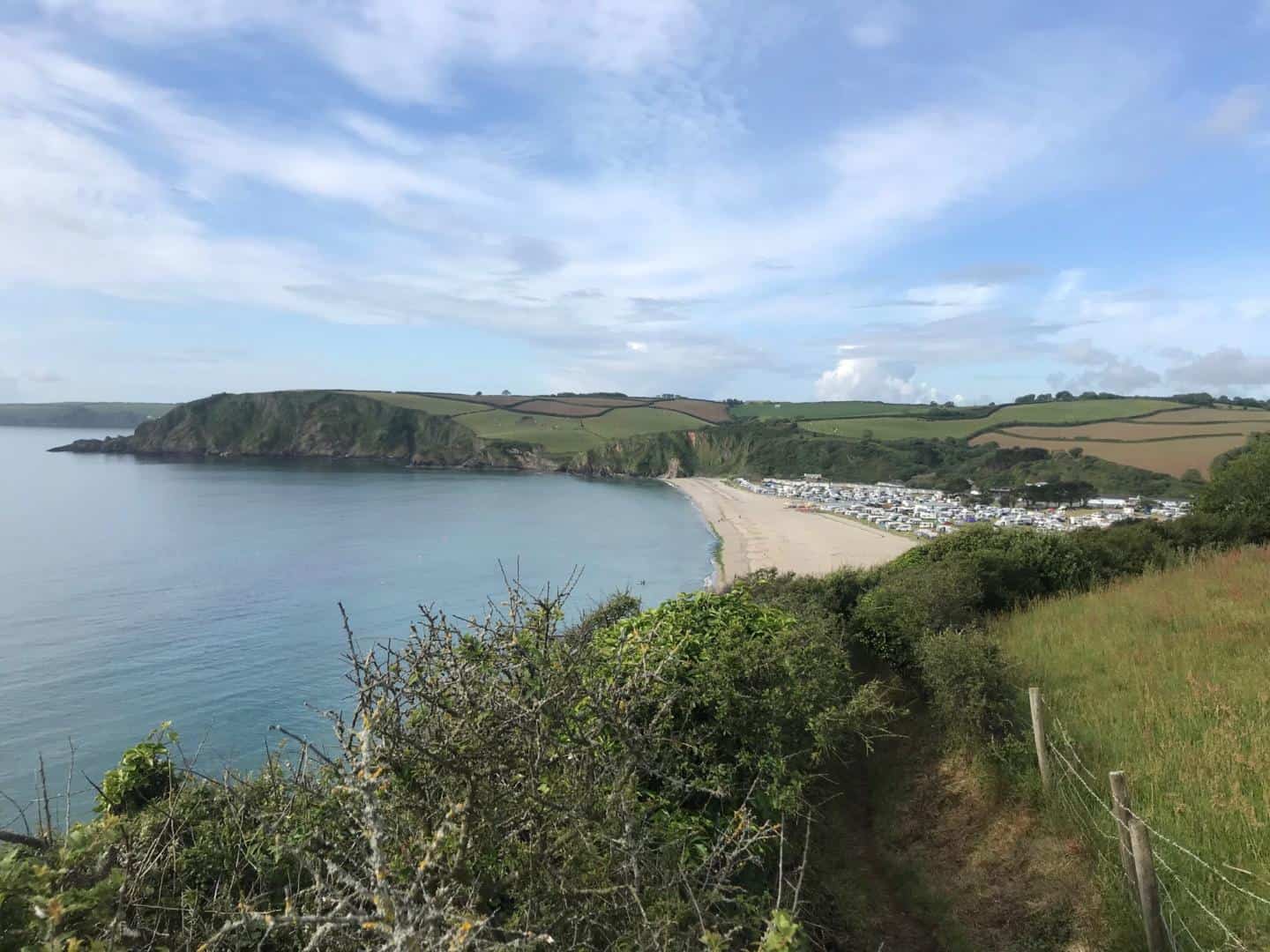 After my run I grabbed our SUP and headed out into the sheltered bay which is perfect for swimming and water sports. Standing on my board, I felt a million miles away from the craziness of kids club and arcades in The Seahorse and it made me reflect on just what a great holiday this is. 
Whatever you are looking for, be it high octane activities or gentle clifftop strolls, Pentewan Sands has something for everyone. Suddenly my peace was shattered by the sounds of my two wanting their turn on the paddleboard. A reminder that this campsite in Cornwall on the beach is as ideal for adults as it is for families with children. 
Pentewan Sands accommodation
The site is large but divided into clearly designated areas. The Petewan Sands touring and camping pitches, mostly electric, are closest to the beach (no more than a three minute walk) and are generous in size (13m2 on average). You have access to free showers and toilet facilities, dish washing areas, waste disposal and water points. There's also a coin operated launderette.
The holiday homes are set back from the beach but still only a maximum of about a six minute walk. There are two and three bedroom options and all come with bed linen provided. If you're wondering what else is included there's an inventory list.
You might also want to pack some extras. Take a look at this self-catering packing list which is ideal for static holiday home breaks.
We stayed in a Gold Plus holiday home. A three night stay at the end of June 2019 would cost £507. Check the website for the most up-to-date prices.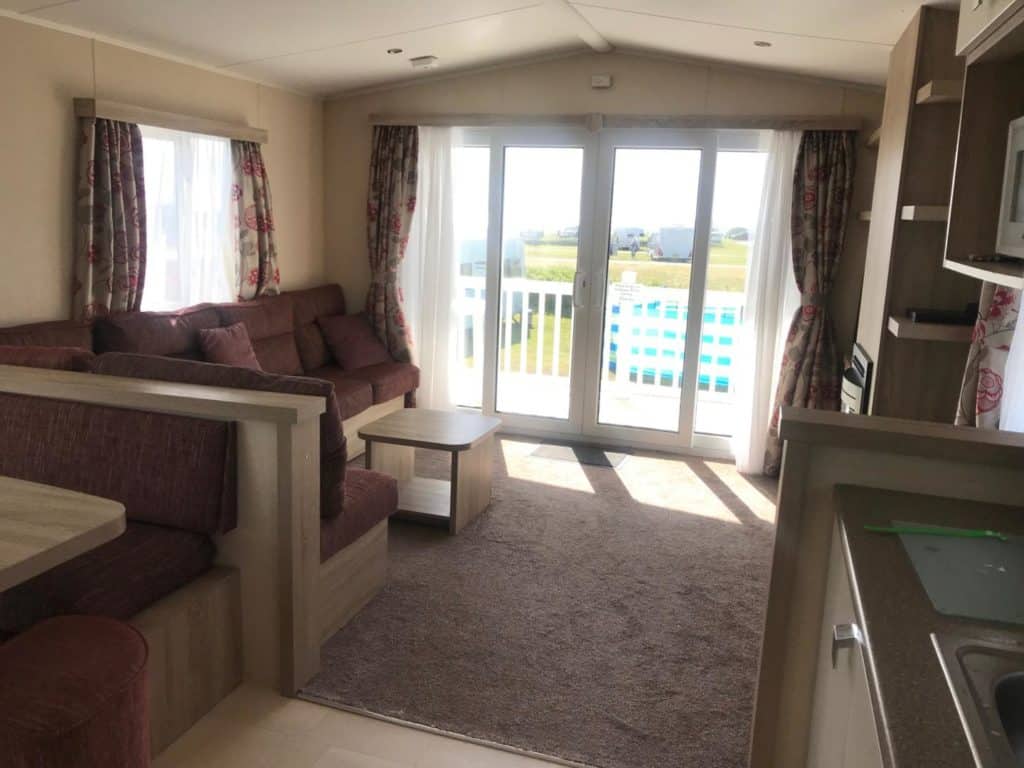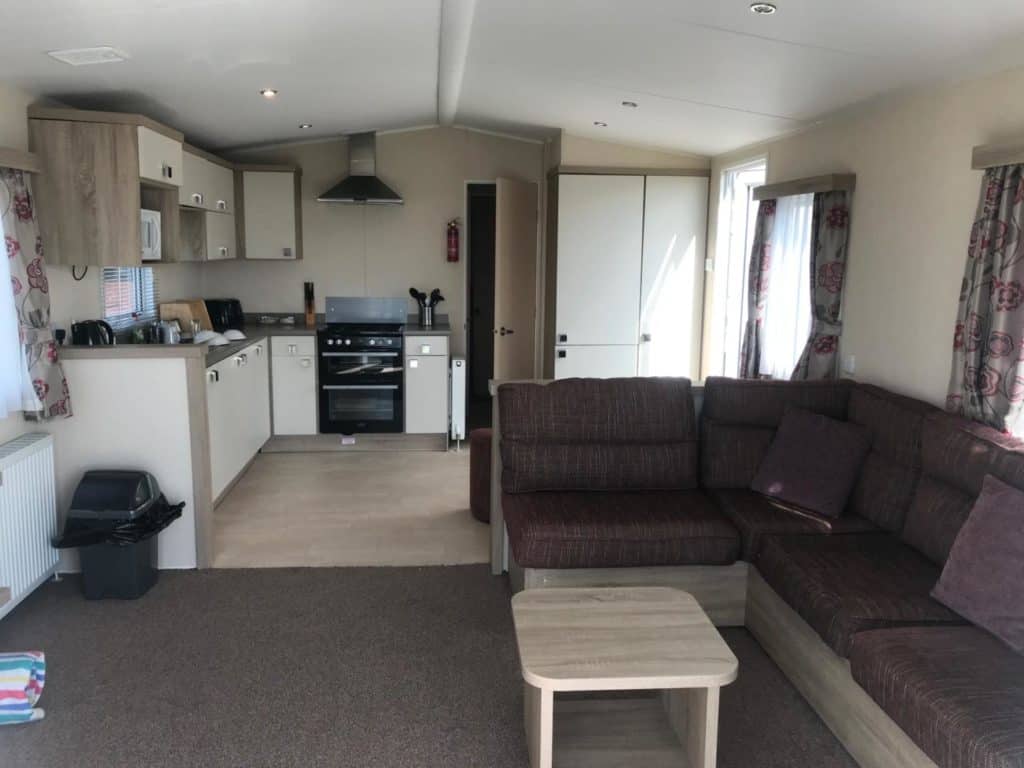 What else do you need to know about Cornwall holidays on the beach at Pentewan Sands?
Is Pentewan Sands dog-friendly?
No, sadly your four-legged friend can't come with you to Pentewan Sands but dogs are welcome at its sister site Heligan Caravan and Camping Park not far down the road.
Does Pentewan Sands have WiFi?
Yes, there's free wifi in The Seahorse and Hubbox. If you'd like wifi on your pitch you can pay extra for this. You get 15 minutes free to check the signal is strong enough wherever you are located and can then purchase access at a rate of £3 per day, £7 for three days, or seven days for £12. Pentewan Sands do suggest testing the signal strength before purchasing a package.
Thank you to Katie and her family for reviewing Pentewan Sands for us. Have you got any other recommendations for Cornwall holidays on the beach? We'd love to hear about them. 
Check out more holiday parks in Cornwall that we rate and these touring caravan sites in Cornwall for families.
Disclosure: Katie and her family received a stay at Penetwan Sands in exchange for writing about their experience on Tin Box Traveller. All opinions and images are her own with the exception of the swimming pool slide photo which is courtesy of Pentewan Sands.
If you are looking for a campsite in Cornwall on the beach then why not pin this post for future reference.