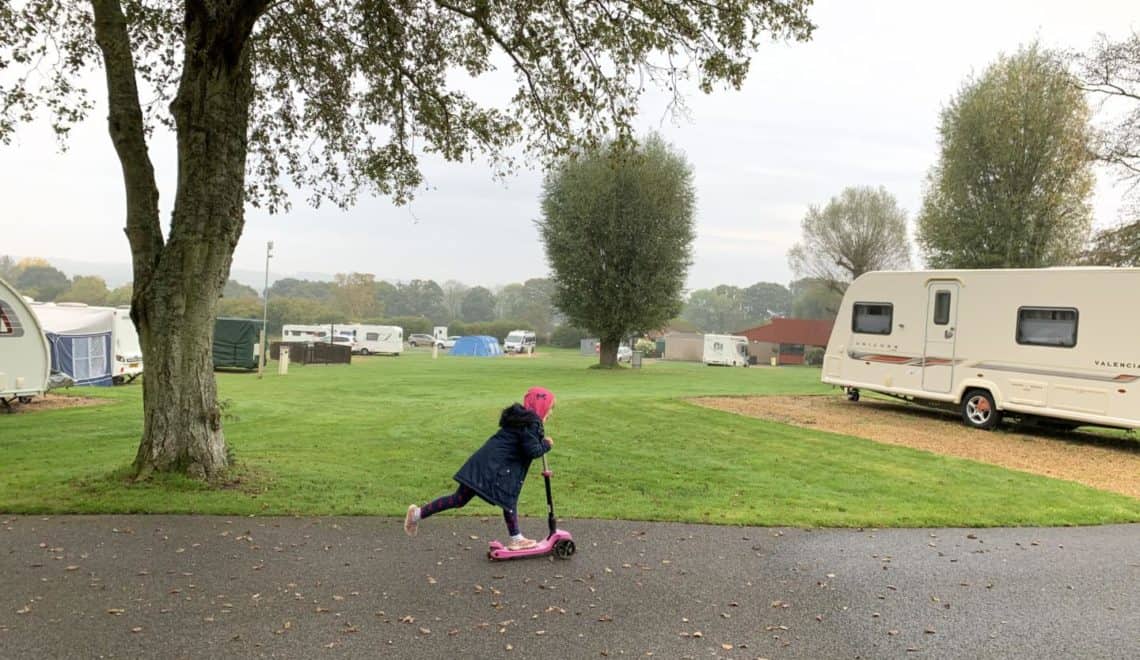 Reviewed: Verwood Camping and Caravanning Club Site in Dorset
We're often on the road between Devon and Hampshire to visit family on the South Coast of England. It's a four to five hour journey depending on the traffic, so we always make at least one stop along the way. The the arrival of our new day van in October half term gave us the perfect excuse to add in an overnight stop at a campsite in Dorset. We chose Verwood Camping and Caravanning Club Site.
*Advertisement feature*
The Camping and Caravanning Club gave us a two night stay at their Verwood club site in exchange for this review.
When we arrived onsite an autumnal mist hung around the trees and it was easy to imagine deer hiding in the woods surrounding the site. The rural location would be perfect for wildlife spotters.
The wardens were expecting us and talked me through the site and facilities. We were staying the week before Dorset's school holidays, so the site was quiet and we had a choice of pitches. The following week, when Dorset schoolchildren were on holiday, it was due to be much busier as this is a popular site with families.
Pitches at Verwood
We opted to park our VW T5 close to the toilet bock at the centre of the site as our van doesn't have its own kitchen or bathroom.
However, in the summer months my girls would have liked to be closer to the playground at the bottom of the lower field. In October, with the weather starting to turn chilly, we decided being closer to the facilities at night was much more important.
Saying that, this isn't a huge site. There are two fields with hard standing and grass pitches, with electric hook up available for both if needed.
If you fancy a camping holiday without the effort of pitching your own tent or towing your own caravan you can also glamp at Verwood. The Camping and Caravanning Club has Ready Camp glamping tents here so that you can turn up and start relaxing straight away.
It's worth mentioning that the B3081 runs long the length of the site and the noise of traffic is audible during the day. However, this isn't the busiest of roads and it fell quiet after 9pm. We didn't find it a nuisance.
Read our review of California Cross campsite in Devon – it's another Ready Camp campsite.
Facilities
Verwood is a really well maintained site. From the clean toilet block to the well ordered toys and books in the games room, it was obvious that the wardens take great care over the presentation of the facilities for campers.
The central toilet block has a family wash room, dishwashing area, laundry, and pay phone. It's obvious that the facilities are checked regularly as well as being thoroughly cleaned each day. The showers are free use as is the hair dryer.
For families there's a kids playground with with slide, climbing wall, swings and picnic benches. The games room was a great space for rainy days and for older kids to hang out with air hockey, table football and a pool table, as well as sofas.
There's a small onsite shop in the main reception selling basic groceries, ice creams and Calor Gas, and during the peak season takeaway vans visit the site.
Wifi
Top marks to the Camping and Caravanning Club for making wifi free for campers in 2019. We used this during our stay and had a good signal. We also had a decent 4G signal considering we were in a rural location.
Location
Verwood Camping and Caravanning Club Site is located in a glade on the edge of Verwood.
It's easy to get to from the A31 between Ringwood and St Leonards. Verwood is a five minute drive away. This is where there's a Tesco Express and Morrisons supermarket for topping up supplies.
Ringwood is a 20 minute drive, Bournemouth and Poole are half and hour to 40 minutes away.
A dog-friendly Dorset campsite
Tin Box Dog was very pleased to find a good dog walk running along the side of the lower field. This is a public footpath with a dog poo bin by the entrance into the campsite.
Dogs must be kept on leads on this walk because of the local wildlife, so if your dog needs a run you need to take them off site.
Things to do near Verwood
Verwood Camping and Caravanning Club Site has Bournemouth and Poole, the New Forest and Salisbury all within an hour's drive, so there are plenty of things to do in the area.
Read about some of the things to do with kids in Salisbury that we found during our autumn break there last year.
Family attractions
Our stay at in Dorset coincided with some dull and wet days. Undeterred we opted to embrace the weather and head to Moors Valley Country Park for outdoor fun.
This is a must if you are staying at Verwood Verwood Camping and Caravanning Club Site as it is just a short drive down the road and is great fun whatever the weather.
We took the kids around the extraordinarily good play trail, walked through the trees and had a lovely lunch at the Seasons Restaurant. If you visit with more time there's Go Ape, Segways, cycle trails and a model railway.
Other attractions close by include the Dorset Heavy Horse Centre and Liberty's Owl, Raptor and Reptile Centre.
Local markets
If you enjoy looking around markets there's one held at nearby Ringwood every Wednesday and, further into the New Forest, Lymington Market takes place every Saturday. Lymington is also an excellent place to go crabbing.
Beaches nearby
Drive less than an hour and you'll reach the beautiful beaches of Bournemouth and Poole. Bournemouth has plenty of seaside town charm and Poole is where you'll find the sea front homes of the rich and famous. Sandbanks and Studland, which you access via the Sandbanks Ferry are stunning.
We visited here before the summer and had fun paddle boarding at Knoll Beach on Studland.
Take a look at my blog post about even more things to do in Dorset with kids.
Verwood Camping and Caravanning Club Site review
Verwood Camping and Caravanning Club Site is a really well looked after campsite in Dorset. There's just enough to do on site to keep kids entertained at the start and end of a day exploring the local area.
And if you prefer a chilled out day using the playground, playing board games and relaxing with a book then it's ideal for that too. The New Forest and Dorset coast, as well as a variety of family attraction, are all within an hour of the site so there's plenty of options for days out to fill a weekend or longer holiday.
Find out more about staying at Verwood on the Camping and Caravanning Club website.
More places to stay in Dorset
Take a look at our reviews of these other family-friendly places to stay in Dorset:
Disclosure: we were invited to stay at Verwood Camping and Caravanning Club Site in exchange for a review on the blog. All opinions and images are my own.
Researching campsites in Dorset? Why not save this Verwood Camping and Caravanning Club Site review for later.