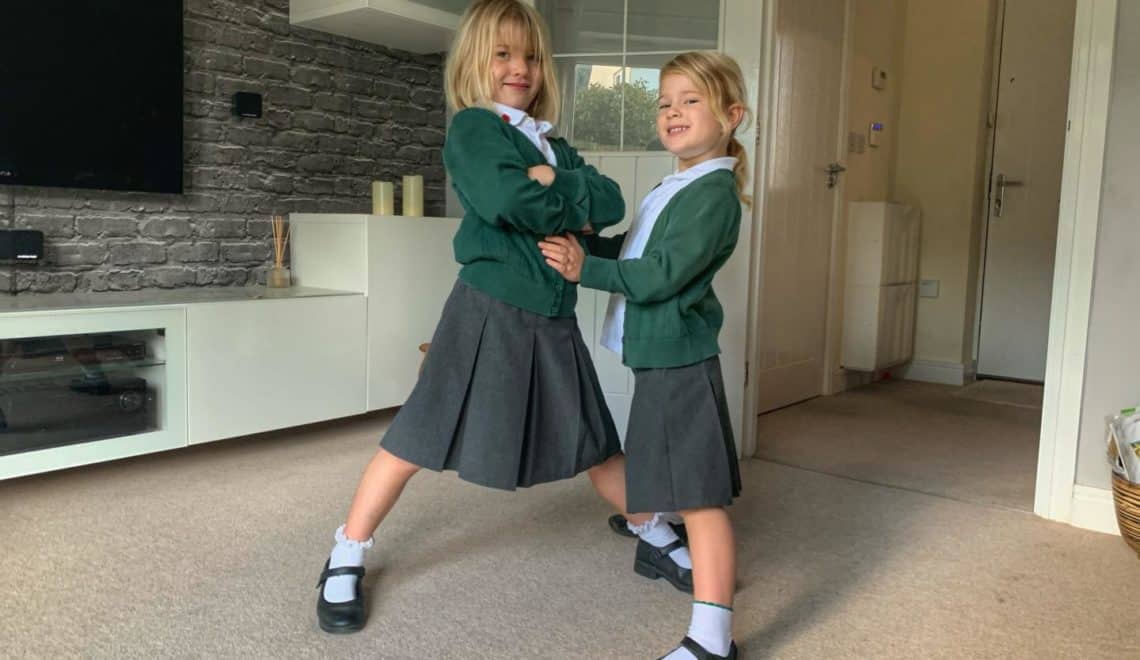 Treads school shoes review: Treads vs supermarket shoes
Is anyone else in mild disbelief that Christmas is just around the corner? It feels like only a few days ago that I was packing snacks into new school bags and helping the girls on with their pristine uniforms. They looked super smart…but for how long? Two months on from the start of the autumn term I thought it was a good time to share an update on how the kids' school uniforms are faring. Particularly the Tread school shoes that we were sent to review in August. Here's our Treads school shoes review and how we think they compare to cheaper supermarket footwear.
*Advertisement feature*
Read on for a Treads giveaway!
Treads vs supermarket shoes
Back in September the girls skipped off to join Year 2 (Tot) and Year R (Baby). 
I'm not ashamed to admit that Baby's uniform included hand-me-downs that her sister had warn in the previous two years. Apart from a little fading from twenty thousand spins in the washing machine, there wasn't anything wrong with the half dozen cardigans, gingham dresses and pleated skirts we already had in the wardrobe. Tot had just outgrown them.
One thing that both girls wore new on their first day was a pair of shiny black school shoes. There was no way that the tatty, worn pumps Tot had worn in Year R could ever be passed on to her little sister.
So on day one Tot wore a pair of Treads that we were sent to review and Baby, whose feet were too tiny for the smallest size offered by Treads, had a pair supermarket shoes.
I hadn't thought about it at the time but it was an interesting experiment to see whether the Treads were as indestructible as claimed, and how the cheaper shoes fared in comparison.
Treads have done their own research about the true cost of school shoes and why buying cheap may cost you more in the long run.
Treads school shoes review
Tot's Mary Jane style Treads shoes cost £45 and Baby's supermarket brand shoes cost £15. 
Both pairs of shoes were subject to the same rigorous test conditions: dashing around the school playground, muddy lunchtimes on the field, daily carpet time, and being thrown off, wily nilly in all kinds of environments.
The difference in how they have fared in the first half term of the academic year is remarkable. Take a look for yourself (and please excuse the fact that neither pair are very clean!):
The supermarket shoes look scuffed, the hook and loop straps flap around, and they no longer look very smart at all.
In contrast the Tread school shoes look like they were new on yesterday. There's just a few minor scuffs on the leather upper and the sole still has plenty of grip.
Treads' research found that its school shoes last more than twice as long as other popular brands, and three times as long as chain store and supermarket school shoes. As someone who has tested both simultaneously I am not at all shocked by this.
Here's a bit more about what I think of the two pairs of school shoes and how they've lasted:
Treads' are so confident in the quality of their footwear that they offer a 12 month guarantee on their school shoes. Read more about this and their home measuring kit.
There's no doubt in my mind that the cheaper shoes have not been value for money. They have worn out long before Baby has grown out of them. Whereas Tot's Treads will keep on going as long as her feet fit them. 
Win a pair of Treads indestructible school shoes
I hope you've found this Tread school shoes review handy. If so, I've got a giveaway that's right up your street.
Love this school uniform #giveaway! Win a pair of Treads school shoes worth up to £45
Click To Tweet
The lovely folks at Treads have agreed to send one Tin Box Traveller reader a pair of Treads indestructible school shoes of their choice. For a chance of winning this prize simply follow the instructions in the Rafflecopter widget below. The giveaway closes at 11.59pm on Wednesday 4 December 2019. See the T&Cs below. Good luck! 
Disclosure: we were sent Treads school shoes for both the girls in exchange for coverage on the blog and Treads are supplying the giveaway prize. I was given a fee for my time spent creating this content.
Terms & conditions:
NO PURCHASE NECESSARY TO ENTER OR WIN. A PURCHASE DOES NOT IMPROVE YOUR CHANCES OF WINNING.
*By joining the Treads Club, you'll be entered into the free prize draw to win a pair of Treads School Shoes. Treads Club members receive a free newsletter containing offers, competitions and deals.*
We will not share your details with any third parties or store them for any longer than necessary.
You have the right to opt-out of the Treads Club at any point.
For further information and to see how we store your data, please check out the full Treads Privacy Policy – https://www.treads-shoes.com/privacy-policy
The prize draw opens at 11am on Wednesday 13th November and closes at 11.59pm on Wednesday 4 December 2019. Sorry, but any entries submitted after this time will not be valid.
We will email the lucky winner within 30 days of the prize draw close date. If the prize is not claimed after within 48 hours of us notifying them about the win, or we feel that the entrant has not entered honestly, we will pick another winner.
Competition is closed to employees and relatives of Treads and Claire Hall (Tin Box Traveller)
The winner will receive one pair of Treads School Shoes, subject to availability.
These cannot be exchanged for prizes of similar value – unless products are out of stock. These prizes cannot be exchanged for a gift card, credit note or have their account debited of the values of these prizes, and the prize is non returnable or refundable.
You must be at least 18 years of age to enter.
Open to UK entrants only.