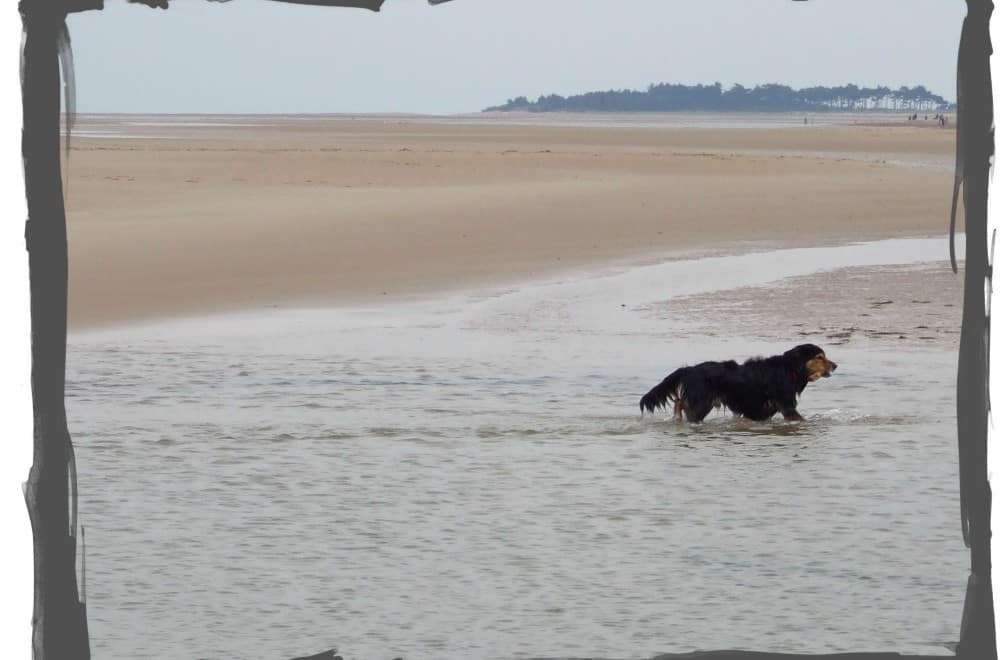 #TravelTimehop series edition #13 – The Writing Greyhound
Welcome to another Travel Timehop where I share moments from memorable trips. Throughout 2016 I'm inviting fellow bloggers to tell me about their favourite adventures. This week it's the turn of Lorna from The Writing Greyhound.
She's sharing an adorable moment from her travels with her dog Max. Tin Box Dog would love to go chasing sticks on the beach with him!
When are we time-hopping to?
July 2014.
Where in the world?
Wells-Next-The Sea beach, North Norfolk, UK
The Writing Greyhound's timehop moment
We always used to have family holidays at Wells-Next-The-Sea when I was little. My grandparents had a static caravan in the Pinewoods holiday park which we'd stay in when I was a kid, then we graduated to big family gatherings in our own touring caravans when I was older.
We still like to visit Wells every year if we can, and this photo was taken during our day trip there in July 2014. As you can see, it wasn't the nicest weather, but we persevered and took our dog Max (pictured) for a run on the beach. At this point the tide was out, but there were still a few deceptively deep channels running down to the sea.
While running to fetch a stick we'd thrown for him, Max unwittingly found himself caught in the middle of one of these channels. He's not exactly the most water-friendly dog, so I think he was as surprised as we were to see him suddenly having to doggy-paddle to retrieve the stick! The funniest thing was that instead of just swimming to the side to get out, for some reason he decided to paddle all the way down the length of this channel to where it finally petered out to get out – all while clamping the stick in his jaws for dear life!
Thanks so much to Lorna for sharing this moment from her travels – as a second generation caravanner it all sounds wonderfully familiar. If you'd like to read more about Lorna's adventures visit her blog, or follow The Writing Greyhound on Twitter, Facebook and Instagram.
If this has inspired you to pull out your old holiday photo albums I'd love it if you'd share a snap with me. Here's how you can be a part of Travel Timehop.
Pin for later
I love hearing what people think about my blog so feel free to leave a comment below or browse around. You can also find me on Bloglovin', Twitter, Facebook, Instagram, Pinterest, Youtube, Google+ and LinkedIn.