10 reasons why toddlers love Bosinver Farm Cottages
It's a well known fact that happy kids make for happy parents. During our family holiday at Bosinver Farm Cottages in Cornwall our two toddlers couldn't have been happier. And it made for a wonderfully relaxed getaway. So what was it about Bosinver and its luxury cottage holidays that our toddlers loved so much? Let me explain:
10 reasons why toddlers love Bosinver Farm Cottages
Quality family time
Holidays are a great time to reconnect as a family and Bosinver is geared to making sure its guests have time to do this. There are some organised activities but you are also free to explore the grounds, visit the plethora of local attractions and use the wonderful facilities. You can even drop some of the chores of home life and buy homemade ready meals from reception.
The play barn
This is a fantastic space to occupy toddlers when the weather isn't the best. There's soft play, ride on toys and dressing up. It was a great place for us to take the girls after a swim while one of us went off to sort out dinner. The only thing it's missing is a coffee machine.
Baby and toddler toys
Each cottage comes equipped with a box of baby and toddler toys. These were great entertainment for our girls while we prepared meals or got ready to go out and explore.
The warm pool
Bosinver's indoor swimming pool is only a couple of years old and is a top-notch facility. It feel more like a private pool than something you're sharing with 20 other families. The water temperature is ideal for toddlers and there is a baby-friendly changing room with changing tables and large family cubicles.
Meeting the animals
Each day Farmer Dave takes the children on a tour of the farm yard to feed the animals. Tin Box Tot and Baby soon got into the routine of offering seed to the ducks, goats, and sheep before collecting a fresh egg from the chickens to take back to our cottage. There was also the chance to ride the farm's ponies during our holiday. Tin Box Baby fearlessly took up the challenge and loved her first ride on an 'orsey'.
Activity trails
There are several activity trails in the grounds of Bosinver. Tin Box Tot's favourite was the Wellie Hunt. She had to track down green boots dotted around the site to reveal an answer and win a prize. We also wandered the Gruffalo trail with a copy of the Julia Donaldson story book and the hidden animals trail with an activity sheet – both found at reception.
Outdoor play
We discovered two playgrounds at Bosinver. One was perfect for babies and toddlers, situated among the cottages with a sand pit, tractor climbing frame and slide. Then there was the adventure playground on the edge of the woods. This has been revamped in the past year. It has a tunnel slide, zip line and climbing walls to give kids lots of options for burning off energy. This is probably more suited to older kids but our two were still keen to give the different activities a go.
Wild Kids Club
What toddler doesn't love playing with mud? Bosinver's Wild Kids Club is all about connecting with nature and having fun in the great outdoors. If you're familiar with the concept of forest schools that is exactly what the club is. Our girls created natural decorations for our cottage, sipped hot chocolate and toasted marshmallows by the camp fire.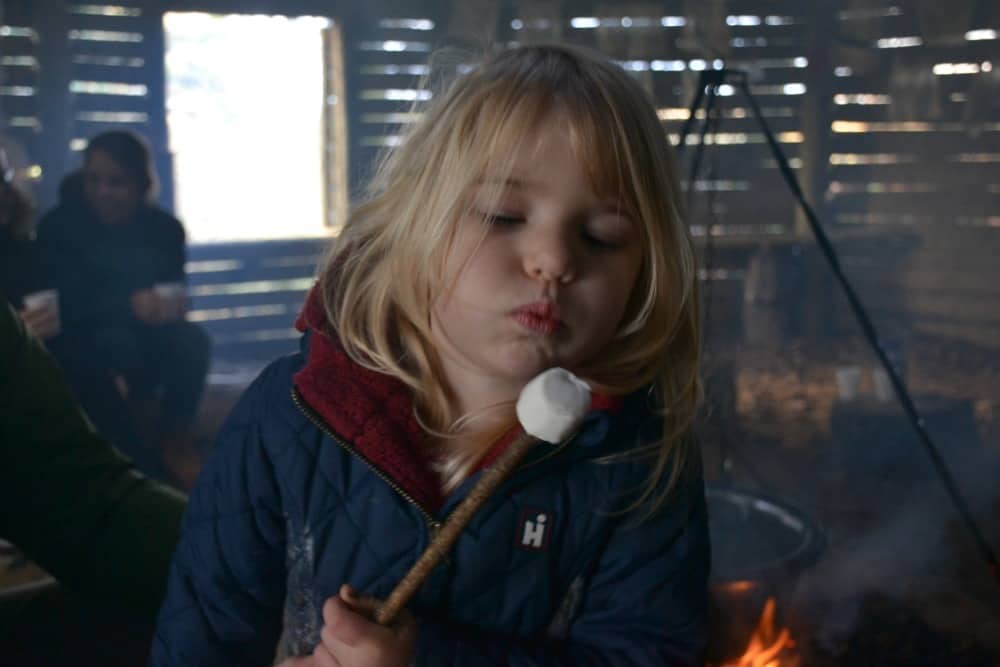 Local family attractions
We could have easily filled all of our holiday without leaving Bosinver, but on a coupe of days we chose to venture out. Days out we loved include walking on the edge of Bodmin Moor, the Eden Project and exploring Trelissick National Trust. We can also recommend visiting Lanhydrock, the outdoor family attractions and St Michael's Mount. Take a look at our top outdoor family attractions in Cornwall for more ideas. You might also be inspired by some of Nanny Pat's own adventures.
Fun things to borrow
If you've forgotten to pack some of your holiday essentials there's no need to worry – Bosinver have it covered. From wellington boots to buckets and spades, you'll find it all available to borrow from reception. There's also board games, DVDs and a baking box with everything you need to make some delicious homemade treats back in your cottage.
You can read more about our stay at Bosinver with our two toddlers in our review. Find out more about Bosinver Farm Cottages in St Austell, Cornwall on its website.
Disclosure: we were invited to stay Bosinver Farm Cottages in exchange for an honest review of our holiday. All opinions are my own or those of my family.
Pin for later