Characterful accommodation in Hebden Bridge, Yorkshire – Beech House self-catering cottage review
Within moments of waking through the door of Beech House it was clear we'd stepped into a much loved home inspired by a passion for rock and roll. This was our accommodation in Hebden Bridge for a weekend in West Yorkshire with Visit Calderdale and proved to be a relaxing base for exploring.
*Advertisement feature*
Self-catering accommodation in Hebden Bridge
Beech House is located less than 10 minutes walk from the centre of Hebden Bridge with its independent shops and bohemian vibe. The spacious two-bedroom house has been beautifully renovated with modern ensuite bathrooms to each bedroom, super comfy beds and plenty of character in the living room. And the views of the valley were pretty special too.
The property sleeps up to six people but pets are not allowed. So Tin Box Dog crashed with my parents who were staying up the road in their motorhome.
You can arrive by car or train as the station is easily accessed at the end of the road. I drove to Yorkshire so took advantage of the off road parking up a steep driveway. John, the owner, gives you good directions to Beech House and its driveway, but popping the postcode into your SatNav will get you there too. The final approach to the driveway takes a few goes to master as you have to turn around and come from the opposite direction due to the tight angle.
John was there to greet us when we arrived mid-afternoon. But if you do happen to rock up when he's out then there's a personalised door code for you. No keys are necessary!
The cottage
Beech Cottage is attached to John's house but it very much feels like stand alone accommodation. Although the large terraced garden at the back is shared. Here there is a large patio with garden furniture and steps up on to a sloped grass area.
Deer have been known to pop in here to pluck fruit from the apple tree. My girls enjoyed looking at the photographic evidence in the cottage and eagerly pressed their noses against the windows hoping to spot one for themselves.
Decoratively the accommodation has plenty of quirks to make it interesting including the juke box in the lounge and plenty of music memorabilia adorning the walls. However, it doesn't go too far. It feels modern and comfortable in its own skin – loved but not in a tatty way – far from it, as the place is immaculate.
The cottage comprises of: a entrance hall with toilet; a large kitchen with table and all the appliances you could need including a dish washer and washing machine; a lounge with lots of seating, a juke box, TV and access onto the terraced garden; and upstairs there are two large ensuite bedrooms that can be made into double or twin rooms. Plus each bedroom comes with plenty of storage and a TV, and the beds were incredibly comfy.
In the lounge there is a bookshelf full of magazines, books, jigsaw puzzles and games. The girls found some balloons and a balloon pump here which kept them well entertained.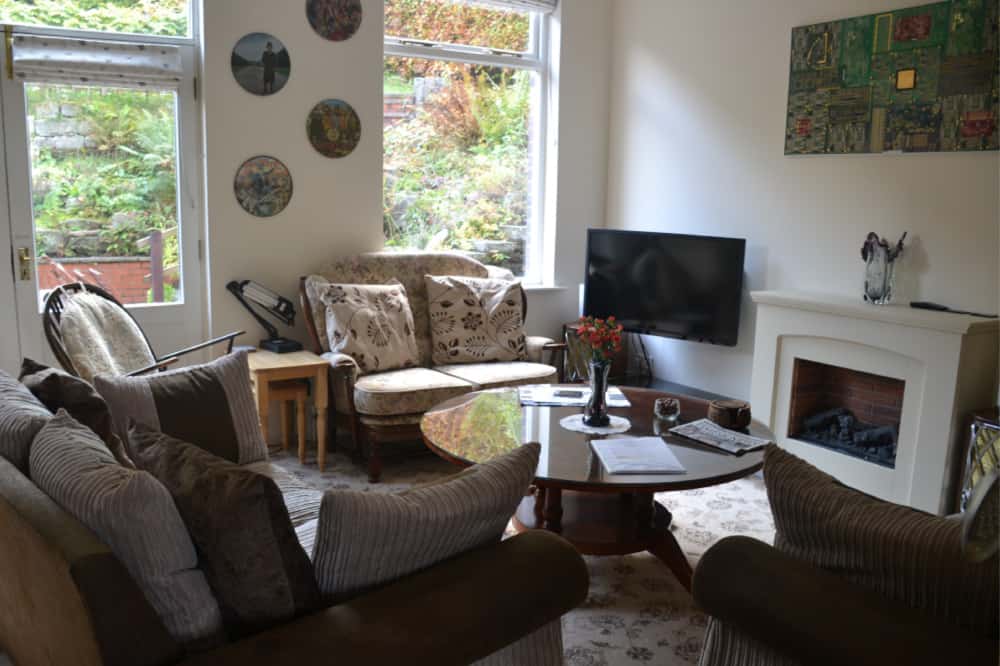 Family-friendly accommodation features
If you are visiting with young children there's a high chair, kids' drink bottles in a kitchen cupboard and wall mounts for a stair gate. Access to the cottage entrance from the off road parking space is flat. If you choose to park on the road there are steps up to the house.
Delightful extras
John had left the cottage kitted out with everything we could need, which was wonderful after a long drive. There were essential groceries including breakfast (cereals, eggs, bread, milk and juice), a barrel brimming with chocolate digestives and a bowl full of fruit, plus cleaning products and toilet rolls for at least a few days. One of the kitchen cupboards was packed with pasta, condiments, ground coffee and various teas. There was even a new tooth brush and paste in the bathroom cabinets.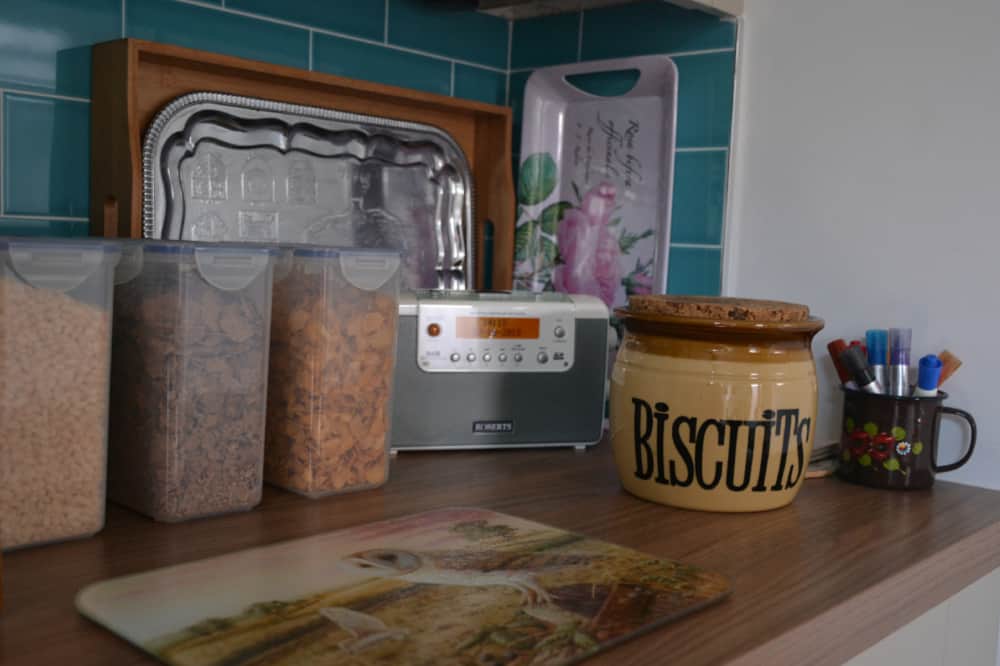 If we had needed more supplies there's a reasonable sized Coop Food store in Hebden Bridge and plenty of independent grocery shops.
There's no need to bring towels, hairdryers or even an umbrella as these are all provided.
Prices for staying at Beech House in Hebden Bridge
Staying at Beech House costs between £105 and £140 per night depending on the time of year. The cottage comfortably sleeps four people but up to six can be accommodated for an additional charge. There's no minimum number of nights you can stay. Find out more and book on their website.
Things to do in Hebden Bridge and West Yorkshire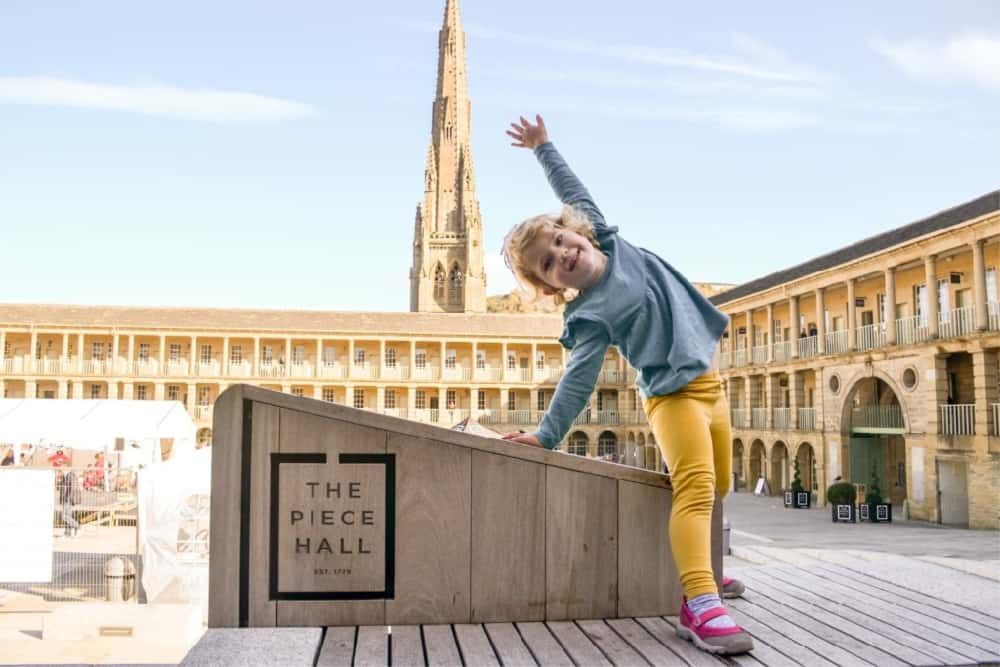 I've written more about what we got up to during our weekend in Hebden Bridge and further field in West Yorkshire. But a few things you must try to fit in while here are:
There's plenty more inspiration for things to do on the Visit Calderdale website.
Final thoughts on Beech House self catering accommodation in Hebden Bridge
There really were no downsides to Beech House. I think it's in a great location and would make for the perfect place for a relaxing break or exploring. The nightly rate is also very reasonable considering all the extra attention to detail by the owner. The girls loved the Juke Box. My only regret was not having my music loving husband with me to make good use of it in the evenings. We really enjoyed our stay and wouldn't hesitate to book again.
Disclosure: thanks to Visit Calderdale who covered our travel expenses and arranged our accommodation and activities while visiting Hebden Bridge and Halifax. I was not paid for this press trip. All opinions are my own.
Pin for later