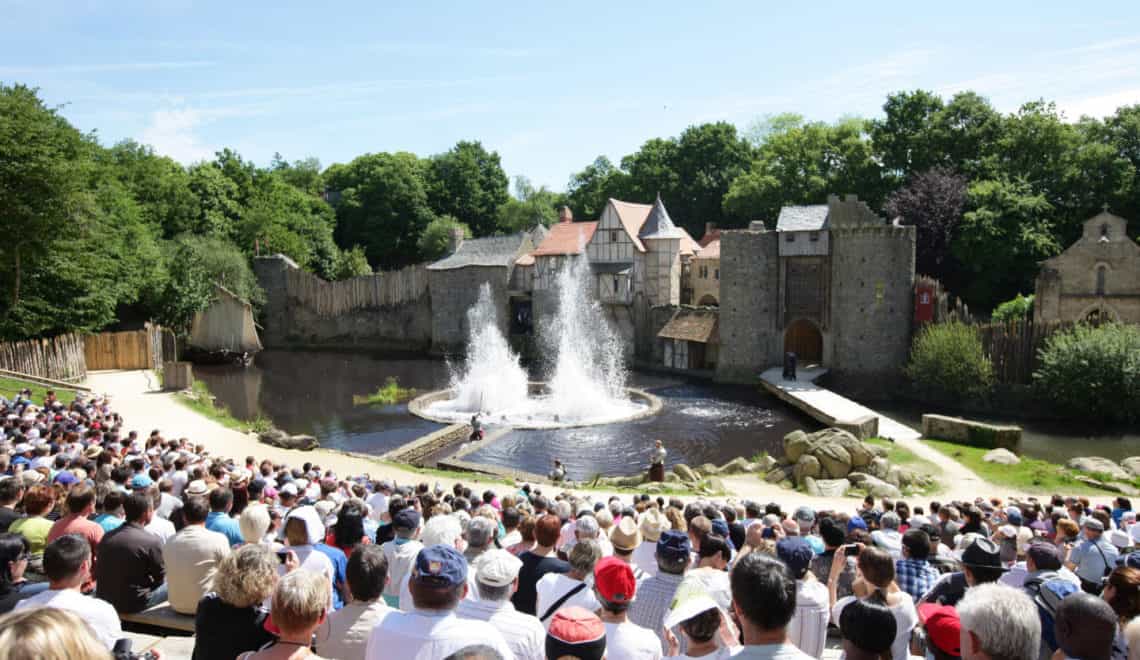 Essential Puy du Fou tips for families visiting in 2020
Puy du Fou is a must if you are staying in The Vendée in France. It's the type of place that will change the way you think about French history, theatre and theme parks. If you are visiting Puy du Fou with kids in 2020, here are my top tips for making the most of your experience.
*Advertisement feature*
Puy du Fou reopened to visitors on Thursday 11 June, 2020 after having to delay the start of its season due to COVID-19. Read on to find out what social distancing measures are in place at Puy du Fou and how it is welcoming visitors back.
I visited Puy du Fou in June 2019 as part of a press trip. Read more about my visit and what I think are Puy du Fou's best shows for families.
Here are my top tips for visiting Puy du Fou with kids as well as prices and a link for booking Puy du Fou tickets in 2020:
How is Puy du Fou reopening after COVID-19?
Puy du Fou has implemented a range of robust government-approved safety initiatives:
Wearing of masks is strongly recommended at all times, and compulsory in certain areas.
Pre-allocated spacious parking places have been re-designed to reduce contact with others.
Within the Park's perimeter, visitor flow is controlled at all times by the presence of 350 staff, supported by a surveillance video covering the entire park.
Every area of the Park accessible to visitors is continually disinfected throughout the day.
Over 250 disinfection points are available, and signs and information screens remind visitors of social distancing and other safety procedures throughout their stay.
All Puy du Fou staff in contact with visitors are equipped with personal protective equipment (masks, gloves, visors), and
fully trained in security and hygiene practices. A doctor and medical team trained in the detection and management of Covid 19 are on site every day.
Entrances and exits to shows have been widened and increased in number to allow for social distancing and regular visitor flow. In addition, the audience size for each show has been drastically reduced, to enable visitors to socially distance within their
own family groups.

Restaurants are operating in the open-air or at a reduced capacity – 50% – in order to maintain distance between each table. Visitors also have the option of a new take-away set menu which allows them 

to enjoy a meal in one of the many designated open air areas.
For more information on safety measures and what to do if you had tickets booked during lockdown, please visit the Puy du Fou website.
How many days should you allow for Puy du Fou?
I visited for two full days and was able to see all of the main shows, plus the three walk-through experiences and pop into each of the period villages. Read more about the shows and things to do at Puy du Fou.
The days were long and busy, and there were still some areas we didn't explore. I also had the benefit of a Emotion Pass which gives you fast track entry to the main shows. 
I'd recommend no less than two days at Puy du Fou otherwise you will leave without seeing the best of it.
Download the Puy du Fou app
Before you visit Puy du Fou download the app. You can plan your day using the app, which is updated with show times a day in advance. Show times do vary each day, so it is worth setting aside some time to plan before you arrive. 
Puy du Fou: where to stay
There are plenty of Puy du Fou accommodation options, whether you want to stay onsite or within the Vendée region.
I stayed in the amazing Les Îles de Clovis in Puy du Fou's La Cité Nocturne. This is a Middle Ages-style village with huts on stilts in a purpose built lake. Everything from the accommodation to the costumes the staff wore transported you back in time.
Check out my Puy du Fou accommodation round up of hotels, places to stay close by and campsites near to Puy du Fou. 
Puy du Fou – what's the minimum age for visiting with kids
Your kids definitely need to be above a certain age to appreciate all of Puy du Fou's shows. I'd say five is a good minimum age to get the most out of your visit but there are shows that are great for the whole family.
Take a look at my guide to the best Puy du Fou shows for families.
Other things to consider when visiting Puy du Fou with kids is that the queues for some shows can get very busy. Take a look at my reasons for investing in Emotion Passes below.
The Grand Parc is also very big – you are going to do a lot of walking. If you are visiting with a toddler bring a pushchair or child carrier for when they get tired.
However, be aware that pushchairs cannot be brought into the shows and experiences, but you can get around all the period villages with them.
There are a few excellent play parks around Puy du Fou. If you are visiting with toddlers and young children you may want to hang out at these and take turns with other adults in your group to see some of the shows less suitable for young kids.
There are also rare breeds animals to see in some of the period villages.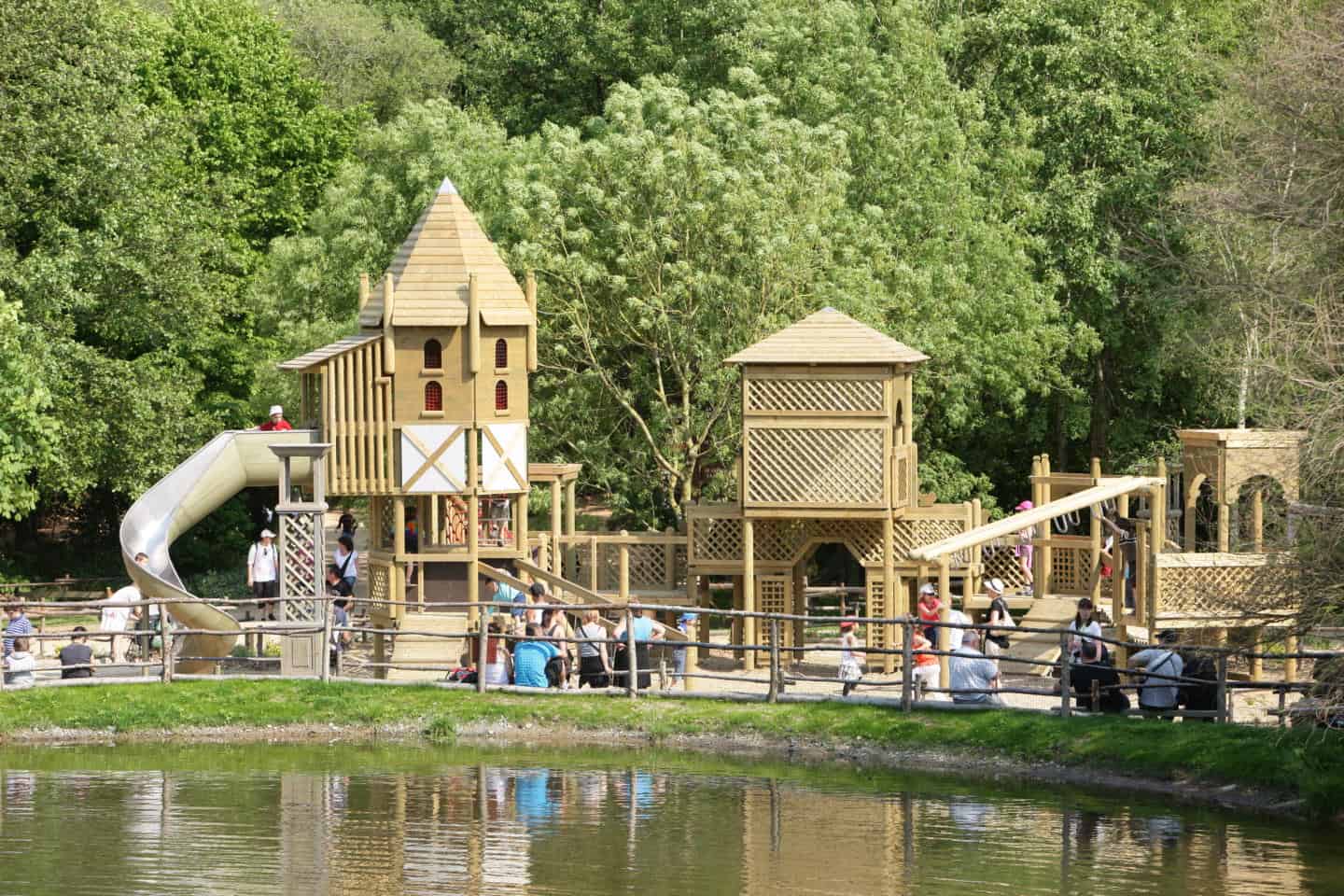 Is the Puy du Fou Emotion Pass worth it?
If you are limited on time at Puy du Fou and even if you're not, I'd recommend paying a bit extra for the Emotion Pass. This allows you to skip the lines and get the best seats for each of the Grand Shows. 
This is essential if you want to see more than two or three shows in a day. Some queues also get very busy with lots of people grouping at the entrances. Do yourselves a favour and avoid this as it may be uncomfortable for kids. 
You can also plan your day easier around meal times, especially if you have booked a restaurant for lunch or dinner.
Fast track works once per show but you can return and see each show as many times as you want in the normal queue. 
In 2019 Emotion Passes cost €15 per person per day on top of your park ticket. See more on ticket prices below.
Can you get an English translation?
You can get an English translation for all the main shows and some of the walk-through experiences through the Puy du Fou app.
WiFi is available across the park. Remember to bring headphones for each mobile device or splitters so more than one person can listen.
Tips for visiting Puy du Fou in wet weather
Most of the entertainment at Puy du Fou is outdoors so if you are unlucky to visit on a wet day then make sure you come prepared. Rain coats, water-proof trousers and shoes or boots are a must.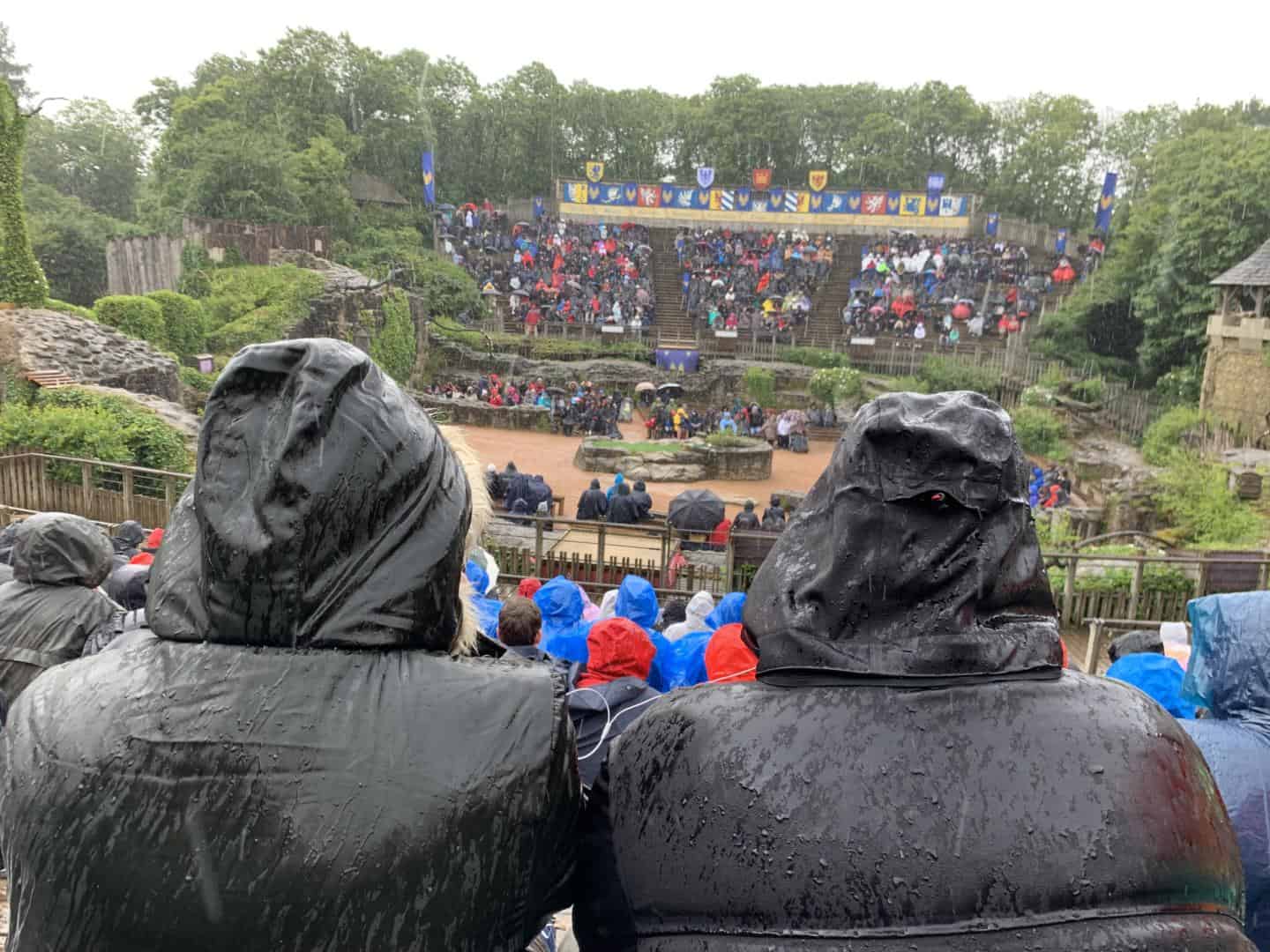 You can also buy Puy du Fou ponchos in adult and children's sizes. These are great as they are long enough to tuck under your legs when you are sitting on benches during the outdoor shows.
If you are visiting Puy du Fou on a day when showers are forecast you might want to plan to see the shows Mousquetaire De Richelieu and Le Dernier Panache when the rain is predicted. The walk-through experiences are also undercover.
Where to eat
If you want to use the onsite restaurants then you need to book these online in advance. You are less likely to get a table somewhere you'd like to eat if you just walk up.
If you are booked into a Puy du Fou hotel you will be able to find space for breakfast and dinner in one of the accommodation restaurants regardless of whether you have a booking.
Breakfast is included in the price of your stay. You can get a discount on dinner if you reserve a table in advance. You can also secure your restaurant of choice this way.
I ate in the buffets at Les Îles de Clovis and La Citadelle, and both were excellent.
In the Grand Parc you have even more choice of places and time periods in which to eat. I ate at and can recommend:
Le Bistrot
Le Bistrot brasserie is in the 19th Century French town Bourg 1900. This serves traditional French cuisine. You can also get the most delicious hot chocolates here.
Prices started at €21 for adults and €10.90 for children for the set three course menu when booked in advance.
La Mijoterie du Roy Henry
La Mijoterie du Roy Henry is a Renaissance-themed self-service restaurant where you pick up pre-preprepared dishes of your choice from the counter.
Prices start at €15.50 for adults and €8.90 for children for a three course buffet lunch when booked in advance.
Le Café de la Madelon
Le Café de la Madelon is no ordinary restaurant. It is a wedding venue and you are invited to the nuptials. In between and during each course there is a performance that even the waiting staff are involved in.
It's brilliant entertainment but maybe not the most family-friendly of experiences as it does start quite late for young kids. Mine would have been well past dinner time by the time the show started at gone 8.30pm. It is greta fun though. Here's a taster:
Prices start at €26.90 for adults and €11.90 for children if booked in advance.
Takeaways
There are also takeaway options around the park but you won't find anything that looks like theme park fast food. Instead there are wooden chalets in the woods serving crêpes, salads, gourmet burgers and sandwiches.
When is Puy du Fou open?
Puy du Fou reopened on 11 June and is open until 1 November 2020. 
Tickets for Puy du Fou 2020
– Per family:  2 nights' B&B and 2-day park passes, from €442 per family (2
adults, 2 children).
In 2020, day passes for Puy du Fou in France start at €37 for adults and €27 for children aged five to 13. Under fives go free.
In 2020 overnight stays start from €62pp for one night and park entrance. Family stay packages for two nights B&B and two day park passes start at €442 per family (two adults, two children).
Pre-booking is essential in 2020.
Disclosure: I was invited on a press trip to experience Puy du Fou and had my travel, accommodation and park entrance covered in exchange for coverage on my blog and social media. All opinions are my own. Some images are courtesy of Puy du Fou. If you are looking at wet weather or food photos these are mine.
Planning to visit Puy du Fou with kids? Why not save this post of Puy du Fou tips for later.