Moorland Garden Hotel review – a family and dog-friendly hotel in Dartmoor
Please be aware that Moorland Garden Hotel was sold in 2020 and is no longer operating in the hospitality sector.
If you are looking for a family and dog-friendly hotel in Dartmoor National Park, then read this review of Moorland Garden Hotel.
*Advertisement feature*
If I was the type of person who checked the weather forecast I might have thought twice about heading to Dartmoor National Park the same weekend as Storm Brian. This rugged landscape at the heart of Devon can be stunning in the sunshine but brutal in foul weather, and Brian certainly brought that.
Our accommodation for the weekend was Moorland Garden Hotel, which we had been invited to review. So at least we knew we'd have somewhere warm and cosy to hide away from the gale-force winds if we had to abandon our plans for exploring.
Luckily, this Dartmoor hotel proved a great base for visiting some of the National Park's family attractions suitable for wet day fun. More on those later.
Family and dog-friendly hotel rooms
The 4-star Moorland Garden Hotel has 44 bedrooms, five of which are dog-friendly and located on the ground floor overlooking the gardens. We were allocated a dog-friendly double with a connecting twin room for the girls.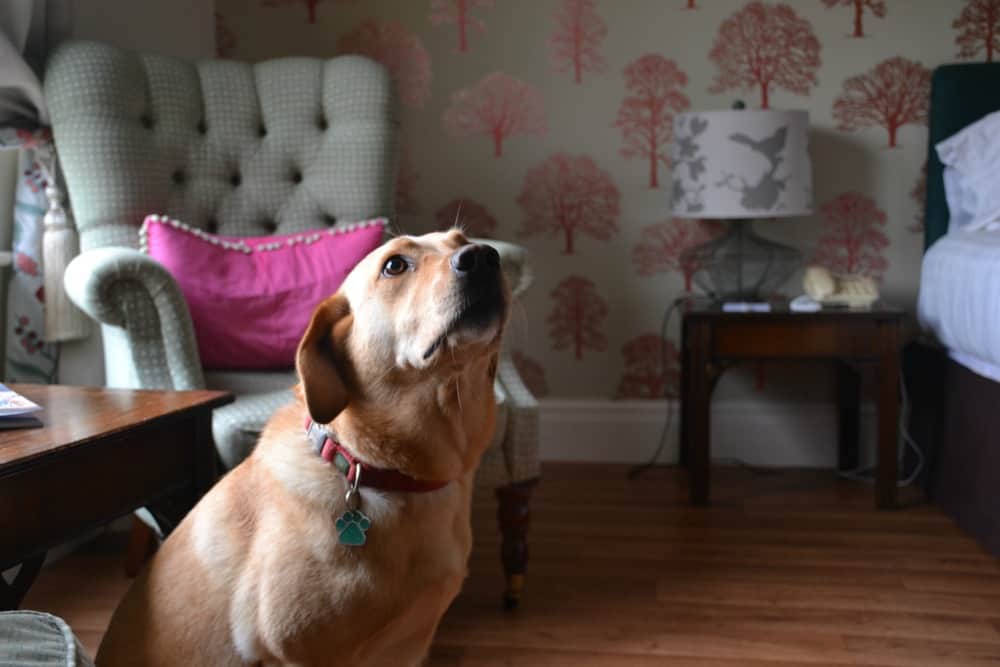 Tin Box Dog was greeted with her own bed, bowls and towel, and the girls were thrilled to have an enormous room all to themselves.
Then they noticed a plater of cakes, cookies and fruit that had been left for us. They were over the moon and set about making tea.
In both rooms we had very comfy beds, free standing wardrobes, two wing-back chairs and a coffee table holding a selection of local magazines. There was also a dressing table, flat screen TV with freeview and a well stocked basket of teas, coffee and biscuits.
In terms of decor, there didn't appear to be a theme in our room with a miss-match of furnishings and wall hangings, but everything fitted together better in the girls' room. Some furnishings were clearly quite old while other newer pieces had been added around them.
The bathrooms were dated with a couple of patches of mould and water damaged bath fronts. However, the space was excellent and having adjoining rooms meant we could put the girls to bed and catch up with some weekend TV next-door.
There's also free wifi for hotel guests which we found was intermittent in our room but worked well in the girls' room.
Find more dog-friendly accommodation and holidays in the UK
Family-friendly features of this Dartmoor hotel
One of the first things we wanted to do when we arrived at the hotel was get out and explore the extensive gardens. Tin Box Dog was able to roam free in an adjacent field with mowed paths and in the formal hotel gardens.
There are dozens of points of interest around the gardens from a huge aboriginal mask to a metallic spiders' web and more traditional sculptures, like this striking iron reindeer.
The girls had a ball spotting, climbing on and running around this eclectic mix of larger than life art.
Looking for inspiration for holidays and days out inDevon? Take a look at our Devon family holiday guide.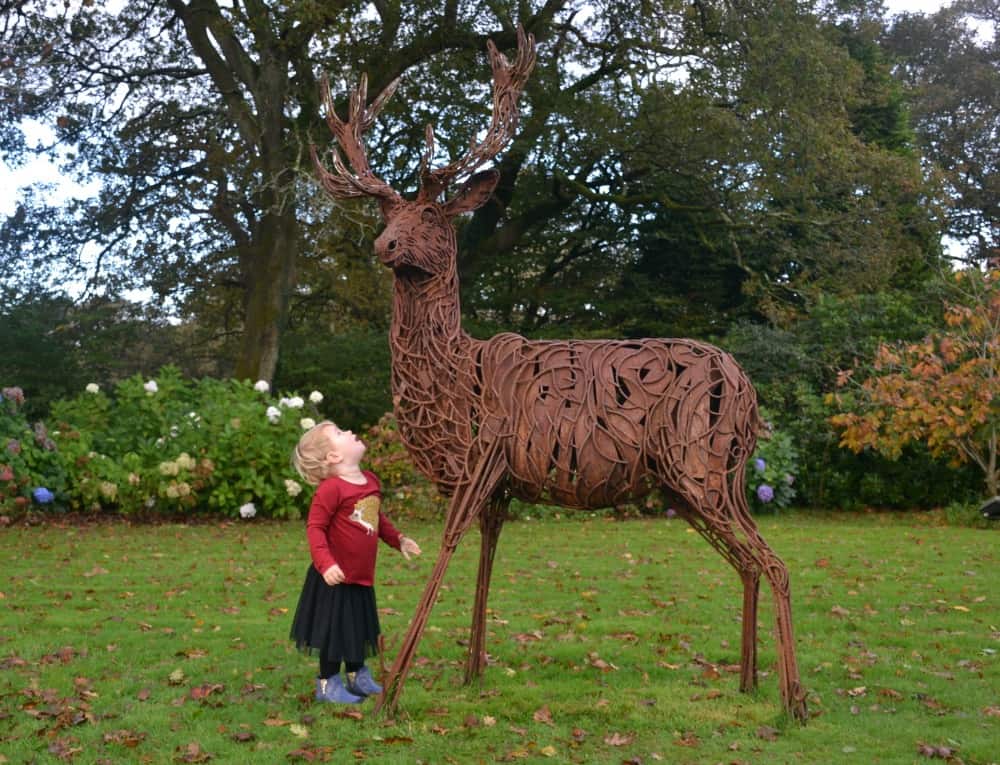 Other family-friendly features at the hotel were board games and children's books in the bar lounge. Cots and high chairs are available on request.
Dining at Moorland Garden Hotel
We had a mixed experience of dining during our stay at Moorland Garden Hotel. To sum it up, the food was great but the service was lacklustre.
We ate in the Dartmoor Bar on our first night. This is a cosy area off the main hall with lounge seating and about 10 tables.
Dogs are welcome here, as they are throughout the hotel with the exception of the AA Rosette restaurant. The owners' love of interesting art extends from the garden into this space, with a menagerie of creatures catching my eye, as well as landscapes inspired by the National Park.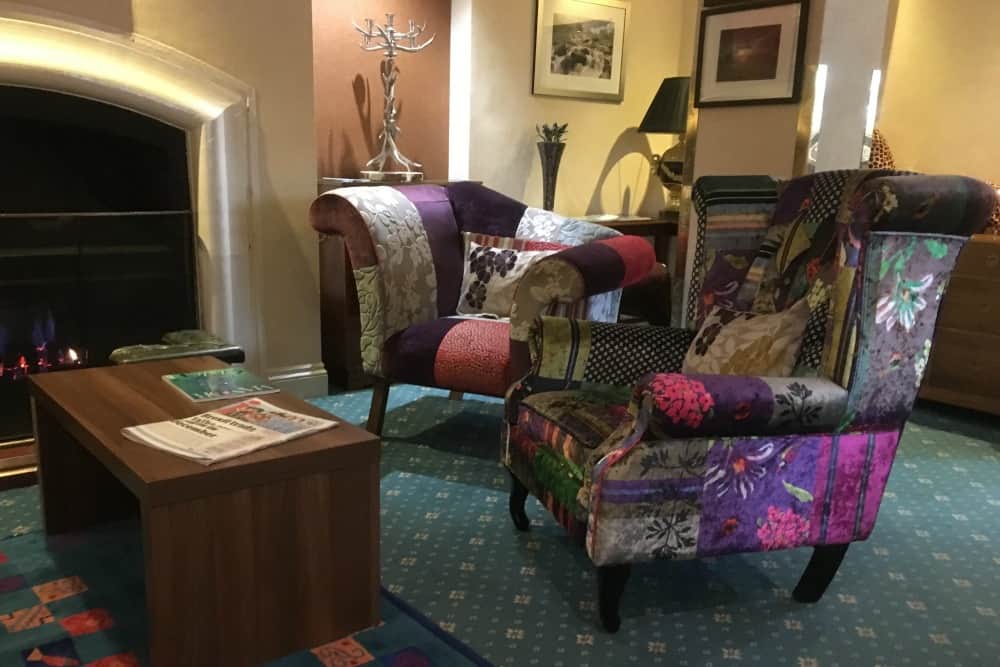 Evening meals are served from 6pm in the bar, which made it the best option for feeding our girls aged two and four. Dinner starts at 6.30pm in the hotel's Wildflower Restaurant across the hall.
Our meals were all very tasty, although I did think the girls' pasta and meat balls from the children's menu looked a little bit uninspiring.
I would also recommend ordering from the adults' menu if you have children over the age of five with larger appetites. The pulled ham hock terrine, south west lamb, catch of the day, and millionaire moose were mouthwatering.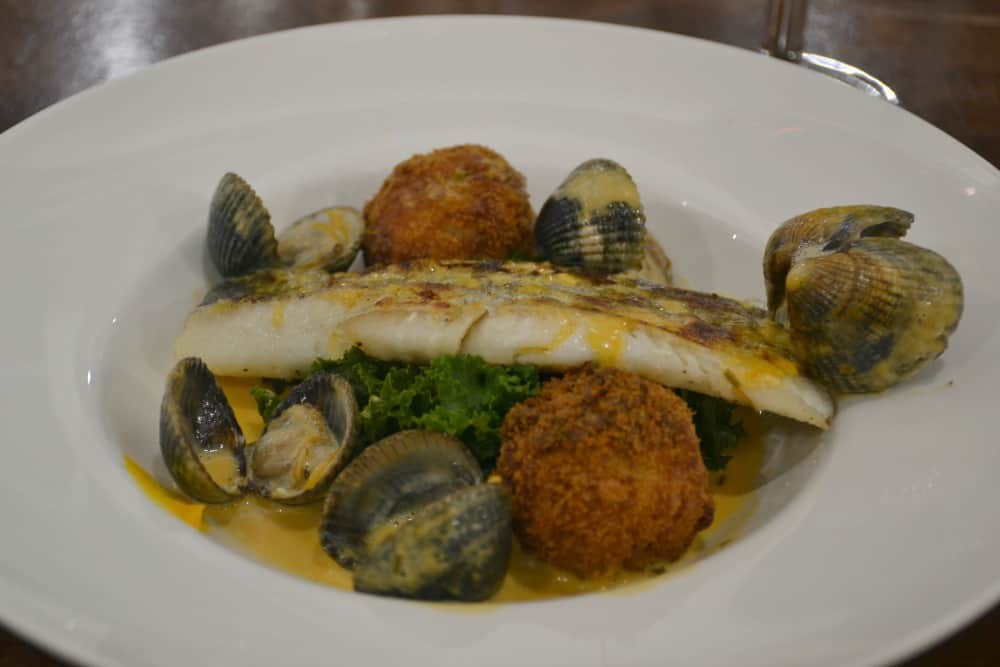 Breakfast was self-service in the Wildflower Restaurant with a good selection of cereals, pastries, toast, teas and coffee, juices and standard English breakfast.
On the first morning of our stay we were told we could also have porridge and eggs cooked to order. However, the opportunities to request this were few and far between as the staff seemed busy in the kitchen or elsewhere.
Sadly this was a bit of a theme. The thing that let down the dining experience at the Moorland Garden Hotel was the service.
While the staff were friendly and polite, they seemed unsure of what they were doing. Drinks had to be asked for twice on two occasions, meals were brought out and introduced as dishes they weren't, and finished plates sat on tables for lengthy periods of time.
It was a real shame, as the food was good and we enjoyed the country pub ambiance of the bar and the more lavish decor of the restaurant.
Things to do in the local area
Despite Storm Brian threatening to wash out our entire weekend there were plenty of breaks in the cloud. So we pulled on our boots and set off to one of Moorland Garden Hotel's nearest attractions; Buckland Abbey.
It was the home to Elizabethan explorer Sir Francis Drake – the first Englishman to circumnavigate the globe and known to the Spanish as 'The Dragon' for his plundering skills.
Read more about a day out at Buckland Abbey with kids.
Other family attractions close to the Moorland Garden Hotel include:
Here's our full guide to things to do on Dartmoor with kids.
Moorland Garden Hotel review
The Moorland Garden Hotel is in a fantastic base for a break in Dartmoor National Park. It has walking, cycling and family attractions right on its doorstep.
We would definitely recommend it to families with dogs who crave a delicious meal and comfy bed at the end of hard day exploring. However, we left feeling disappointed at the service, which was below par for a 4 star hotel.
Take a look at more Devon family holiday inspiration.
Disclosure: we were guests of Moorland Garden Hotel and received a free stay and meals in exchange for an honest review. All views are my own and those of my family.
Looking for a dog and family-friends hotel on Dartmoor? Why not Use Pinterest to save my Moorland Garden Hotel Review.