Planning a Jersey holiday
Exciting news! Mr Tin Box and I are jetting off to Jersey in the Channel Islands for a few days without the kids. It's going to be amazing and very strange all at the same time.
The Tin Box grandparents are stepping in to look after our little darlings and have lots of things planned while they house sit for us in Devon.
We on the other hand can do as much or as little as we please on our Jersey holiday. The temptation to just sleep is almost overwhelming!
We are staying for two nights at the Club Hotel & Spa in St Helier but really only have one day to explore because our flights get in late Friday and leave midday on Sunday. I want to make the most of that day but it's going to be impossible to see all of what Jersey has to offer. However, if we had all the time in the world here's what would be on my Jersey bucket list.
Things to do during a Jersey holiday
Jersey War Tunnels tell the story of the prisoners of war who built them under the German occupation in World War II. It is the Island's most visited tourist attraction with interactive exhibitions and dioramas transporting you through life on Jersey from pre-occupation to the Island's liberation..
Located in St Lawrence. Open daily 10am to 6pm, from 1 March to 27 November 2016.
Durrell Wildlife Park is the home of Jambo the gentle gorilla who guarded an injured boy who fell into his enclosure in the 1980s. Set in 32 acres of stunning wetland valleys, open greens and mature woodland, you will also see Sumatran orang-utans (pictured), reptiles, amphibians and birds. There's also free-ranging tamarin monkeys living in the park trees.
Located in Trinity. Open daily (except Christmas Day) from 9.30am to 6pm April to October and 9.30am to 5pm November to March.
The Botanic Gardens at Samares Manor are the result of an extensive programme of restoration and development of the original Samares gardens, which were created in the 1920s. The fourteen-acres contain many different design styles and plant species – a formal rose and lavender garden, the 'Gardens of Colour', 'The Discovery Gardens', exotic and Mediterranean planting, a conservation area and vibrant seasonal displays.
Located in St Clement. Open daily 9.30am to 5pm from 26 March to 16 October 2016.
Built on a rocky islet in St Aubin's Bay, Elizabeth Castle has watched over Jersey's main seaway for more than 300 years. At low tide, you can walk out along the causeway or, you can catch the amphibious Castle Ferry at low or high tide.
The battlements date back to the 1590's, before Sir Walter Raleigh was Governor of Jersey from 1600 until 1603. The grounds gave refuge to King Charles II during the English Civil War and the bunkers were used during the German Occupation in World War II.
Located in St Aubin's Bay. Open daily from 10am to 5.30pm (or dusk), 25 March to 1 November.
Jersey Museum tells the story of the Island's first inhabitants from 250,000 years ago through to today.
The art gallery displays the work of one of the world's leading surrealist artists, Claude Cahun, who challenged the boundaries of gender and sexual identity, campaigned against tyranny and resisted Nazi occupiers.
Located in St Helier. Open daily from March to December 2016.
La Mare Wine Estate was established in 1968 and is home to Jersey's vineyards, cider orchards and state-of-the-art distillery. As well as wines, spirits and ciders, La Mare produces a wide range of genuine Jersey products including fudge, biscuits, chocolate and the very unique Jersey Black Butter preserve.
Located in St Mary. Open daily 10am to 5pm, 21 March to 29 October 2016.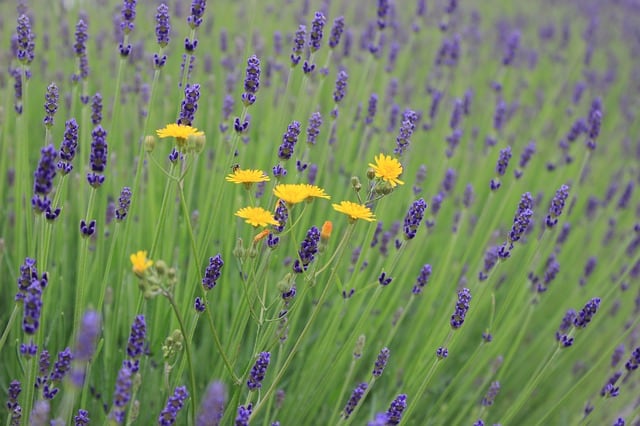 The Jersey Lavender Farm is home to eight acres of lavender; grown, harvested and steam distilled to produce lavender oil. During the summer months, there are talks in the distillery, which explain the process from field to fragrant product.
Located in St Bread. Shop & café open daily 10am to 5pm from 12 April to 25 September (except Mondays). Lavender in bloom early June to late July.
Creepy Valley Adventure Centre offers a fantastic range of adventure activities for families all year round.
There's aerial trekking, zip wires, climbing and abseiling, and archery.
Located in St Bread. Open all year round but bookings essential.
We're hoping to tick off two or three of these activities in 24 hours, leaving us with lots of excuses to visit again!
Have you had a Jersey holiday? What activities would you recommend?
Update: find out what we got up to during our 24 hours in Jersey.
Disclosure: we are guests of Visit Jersey after winning a competition – lucky us! Image credits: images of Elizabeth Castle and Durrell Wildlife Park courtesy of Visit Jersey; lavender image, Pixabay.
Pin for later
I love hearing what people think about my blog so feel free to leave a comment below or browse around. You can also find me on Bloglovin', Twitter, Facebook, Instagram, Pinterest, Youtube, Google+ and LinkedIn.