Fun days out in February half term around the UK
Looking for fun days out with the kids this February half term? With some regional attractions still closed for the winter this can be a challenge. But fear not. I've got some half term holiday activities for you from around the UK. Whether you are looking for fresh air or things to do on rainy days hopefully there's some thing here for you.
Happening all over England is the Zog activity trail. Find Zog at a Forestry Commission site near you.
All of these events and activities happen throughout half term (16 to 24 February 2019) unless otherwise stated in the listing. Half term holiday dates vary in some parts of the UK.
If you are looking for family getaways over half term check out my suggestions on where to go on holiday in February. And if you are looking for more half term holiday fun, take a look at what's happening in the UK in May and events during the Christmas school holidays.
Things to do in February half term in Birmingham

 
The Caravan, Camping and Motorhome Show, NEC
Get ready for outdoor family adventures in 2019 by visiting the Caravan, Camping and Motorhome Show. This huge exhibition bringing together dozens of holiday companies is also a fun day out with kids, who get in for free!
Parents and children can test their physical and mental strength in the Bear Grylls Adventure area as well as tackling climbing walls and a skating ring. There are also expert speakers sharing their adventures and advice, including me in on the Freedom to Go stage on Sunday 24 February!
The Caravan, Camping and Motorhome Show takes place from 19 to 24 February 2019. Find out more and buy tickets on the show website. Don't forget that under 16s go FREE!
Fun days out in February half term in Cardiff
Don't forget half term is from 25 February to 1 March in Cardiff.
St Fagans National Museum of History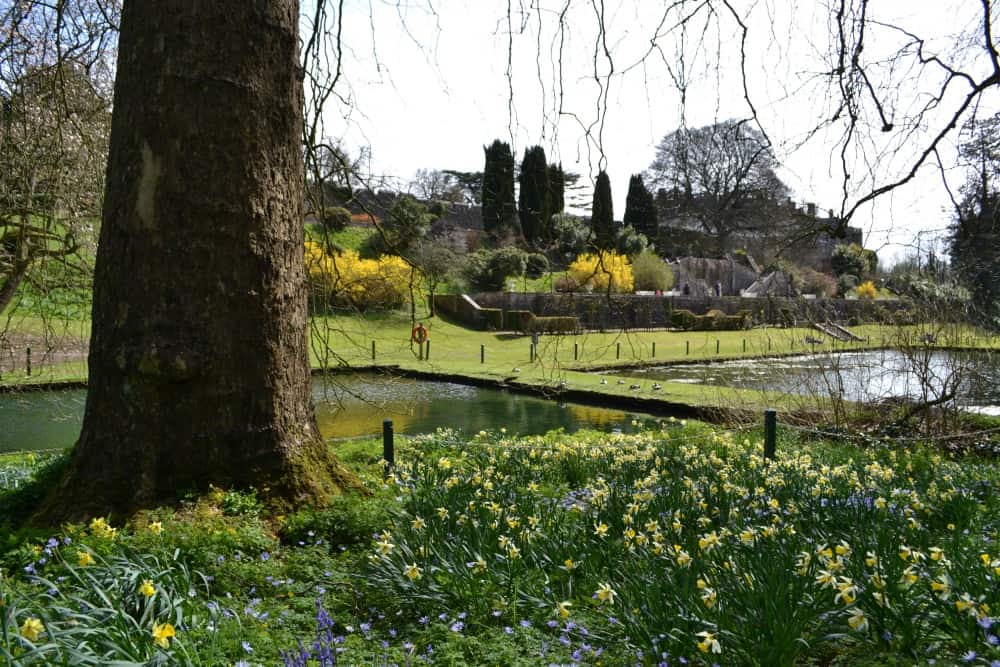 Find out what life was like for children in Victorian Wales with special activities and tours at St Fagans. Activities will be happening in and around the ancient buildings of this recreated town. Play with Victorian toys, make peg dolls and take a tour with costumed characters. Find out more about St Fagans by reading about my visit.
More information about half term activities at St Fagans National Museum of History. Entry to the living museum is free but there is a small charge for some activities.
Things to do in February half term in Cornwall
The Eden Project, St Austell
Visitors to the Eden Project can pick up a passport to travel through exotic destinations in and around the world famous biome. Stamps will be available for explorers who tick off challenges along the way, from flamingo dancing to crossing the wobbling rainforest bridge.
February half term is also the last chance to take a spin round Eden's ice rink this winter. Ice skating tickets must be bought in addition to entry to the Eden Project.
Find out more about half term at the Eden Project.
Join the crew at Pirates Quest, Newquay
Newquay's piratical walk-through attraction has a new storyline from February half term. Calico Jack's crew of live pirate performers will introduce you to four of history's most scandalous scallywags and it will then be down to each group of visitors to vote which Pirate Hero they will crown as leader of the Republic of Pirates.
We visited Pirates Quest last Spring and think it's a really fun adventure for pirate fans and perfect for rainy days.
Find out more about this interactive pirate experience.
Check out my guide to more things to do in Cornwall with kids.
Fun days out during February half term in Devon
National Marine Aquarium, Plymouth
Find out about the amazing marine life local to the South West and the organisations who strive to look after it. Join scientists, conservationists and animal experts to take part in family activities, games and adventures throughout half term.
On Saturday 23 February the National Marine Aquarium is inviting the public for a very special sleepover with sharks. This is one of six opportunities throughout the year. Visitors will be able to explore the Aquarium by twilight , enjoy fun and games around the building and a midnight movie in front of its giant Eddystone Reef. Booking is essential.
All day tickets come with a free return ticket to go back as much as you like for 12 months. For more details visit the website.
More things to do in Devon at half term
Take a look at my post dedicated to things to do in Devon in February half term including the best beaches, walks, places to ride trains and theme parks.
Check out my guide to more things to do in Devon with kids.
Things to do during half term in Glasgow
Don't forget half term is from 9 to 13 February in Glasgow.
Visit Dippy at Kelvingrove Art Gallery and Museum
As part of his big UK tour Dippy the Dinosaur from the Natural History Museum in London will be greeting visitors to Kelvingrove Art Gallery and Museum in Glasgow. Entry to the Dippy on Tour exhibition is free and you can enjoy arts and crafts, natural history trails and challenges in the shadow of the famous dino.
Dippy is in Glasgow from 22 January to 6 May 2019. Find out where the famous dino is headed next during Dippy on Tour.
Fun days out during February half term in Hampshire
Winchester Science Centre, Winchester
Discover the science behind magic during live science shows every day during half term at Winchester Science Centre & Planetarium. There will be exciting chemistry tricks and optical illusions, as well as plenty of hands-on experiments for vistors. Here's a taster of what else you can expect to see and do from our visit to Winchester Science Centre on a rainy day.
Find out more on the Winchester Science Centre & Planetarium website.
There will also be plenty of things to do in Portsmouth with kids.
Things to do during half term in the Isle of Wight
Explore Dinosaur Island
Become a fossil hunter on the Isle of Wight and join the likes of children as young as six who have made significant fossil discoveries on the island. 2019 is the 75th anniversary of the Council for British Archaeology and as part of the celebrations Red Funnel Ferries and GO Outdoors have published a Guide to Fossil Hunting on the Isle of Wight.
It features the best fossil beaches on the island along with preparation tips, information about legalities, a list of guided fossil walks, and an illustrated overview of the types of dinosaurs that used to walk the Island.
Take a look at what we got up to in the Isle of Wight in the Spring last year.
Things to do during half term in Kent
Leeds Castle, Maidstone
Become a first-class junior hunter this half term on the grounds of Leeds Castle in Kent. Pick up an activity book and hunt for the special clues and hints in order to complete the challenge. Those who complete the adventure will be rewarded with a chocolate prize at the end.
Don't forget to visit the Falconry Centre and let off some steam in the yew-tree maze and grotto. Plus there's plenty of reason to visit again later in the year as Leeds Castle is celebrating its 900th anniversary with lots of special events.
Admission tickets provide unlimited access for 12 months from the date of purchase. More information is available on the Leeds Castle website.
Children's Book Festival at Dreamland Margate
Escape the winter chill and warm-up your imagination as Dreamland hosts its first ever Children's Book Festival this half term. Dreamland has an action-packed line-up of indoor family festivities this season to keep visitors of all ages entertained, starting with their first book festival on Saturday 16t February 2019 – featuring a special appearance from The Gruffalo.
Julia Donaldson and Axel Scheffler's beloved character will be making appearances at Dreamland throughout the day, and there will also be screenings of the numerous animated film adaptations by Magic Light Pictures, including Room On The Broom, Stick Man, The Highway Rat, The Gruffalo and their highly-anticipated latest release Zog. Dreamland's indoor spaces including The Roller Room and diner, arcade, and Octopus's Garden soft play centre will also be open for families to enjoy.
To book tickets and find out more visit the Dreamland Margate website.
Things to do during half term in London
Imagine Children's Festival, South Bank Centre
Now in its 18th year, the Southbank Centre's Imagine Children's Festival takes place from 13 to 24 February 2019 and brings together the best in children's theatre, comedy, hands-on activities, music, and immersive experiences. There are more than 180 events packed into the 12 day event and 50 percent of the festival is completely free to attend.
The multi-arts line-up for 2019 includes: former Children's Laureates Jacqueline Wilson, Malorie Blackman and Chris Riddell coming together at the Royal Festival Hall; an interactive sensory SoundPit installation using music and motion-capture technology to explore the phenomenon of synaesthesia; Sue Perkins conducting the Orion Orchestra's Noisy Notes; David McKee, author and illustrator of Elmer the Elephant, in an exclusive event celebrating the 30th birthday of his popular patchwork friend; and Peppa Pig's first concert with a full-size orchestra conducted – for the first time ever – by Mummy Pig.
Find out more about the Imagine Children's Festival.
Horniman Museum, Forest Hill
A new exhibition using half a million LEGO® bricks opens at Horniman Museum in February half term. Brick Wonders uses 500,000 bricks to create amazing wonders from around the world, from an ancient Egyptian pyramid to Old London Bridge and even the International Space Station.
More than 50 models will be on show and visitors can build their own brick wonders in interactive play areas.
Brick Wonders is open from Saturday 16 February to Sunday 27 October 2019. For more information and to book tickets see the Horniman Museum website.
Bang Bang Oriental, Edgeware Road
Tuck into amazing cuisine and enjoy free family activities at London's largest Asian foodhall, Bang Bang Oriental over half term. There will be balloon modellers teaching kids the twists and turns of balloon sculpting between 2pm and 4pm on Thursday 21 February and face painting  between 1pm and 5pm on Friday 22 February.
The foodhall is open Monday to Thursday from midday until 9.30pm, Friday and Saturday from 11.30am until 10.00pm and Sunday from 11.30am until 9.30pm. Three hours of free parking is available.
Find out more on the Ban Bang Oriental website.
Tower Bridge
Did you know that Tower Bridge hasn't always been painted its iconic red, white and blue? It used to be painted brown! Find out when and why the colour was changed and create your own picture of Tower Bridge in the colours you would choose at a family activity event from 10.30am until 4pm on Saturday 16 February 2019. All participating families will receive a Family Activities Pass, entitling you to free entry to Tower Bridge on any Family Activities Day in the next six months.
The Winter's Tale at The National Theatre
The Winter's Tale by William Shakespeare returns to the National Theatre from 6 to 21 February 2019. Adapted by Justin Audibert for primary-age children and directed by Ruth Mary Johnson, this new version is the perfect introduction to Shakespeare for younger audiences.
There are also a family workshop which is a relaxed opportunity for families with additional needs to explore the play. This takes place on
Wednesday 20 February between 11am and 1pm. A relaxed performance for those with an autism spectrum condition or learning disability follows at 2pm the same day. Other family workshops happen on 18 and 19 February, 2019.
Things to do in Manchester during February half term
Manchester Science and Industry Museum
All the fun of the Victorian fair is coming to Manchester's Science and Industry Museum this February half term holiday. From the Ferris wheel to the helter skelter, it's guaranteed to be a great day out for all the family. And once you're tired of hook-a-duck, head to the museum's Textiles Gallery to find out all about the lives of the children who worked in the mills of the Industrial Revolution.
Or simply marvel at the incredible buildings that housed the earliest intercity passenger railway, dating way back to 1830, before learning all about Stephenson's Rocket which has returned to Manchester for the first time in over 180 years. In the exhibition Electricity: The spark of life, you can look at the incredible natural force that has inspired scientists and inventors for centuries, while across the museum there will be a host of shows, activities and workshops to keep everyone entertained.
Find out more on the Science and Industry Museum's website. Free admission, charges may apply to some activities.
Here's my guide to visiting London with babies or toddlers. 
Fun days out during February half term in Norfolk
BeWILDerwood, Norwich
Half term is all about wishes at the fantastical outdoor experience that is BeWILDerwood. Not only can you play in the tree houses, there will also be a Boggle Wish Bonfire where you can share your deepest desires with the Twiggles. Wondering what on earth I'm on about? Have a read about our visit to Be WILDerwood a few summers ago and all will become clear!
More information about days out at BeWILDerwood during half term.
Here's some more ideas for things to do in Norfolk with kids.
Things to do during February half term in Somerset
Snowdrop Weekend, Bishop's Palace, Wells
Enjoy the wonders of Spring by going on the Snowdrop Walk at Bishops Palace in Wells. A route map is available, guiding you to experience moat banks carpeted with snowdrops and cross the Willow Bridge to enjoy an Arboretum full of different varieties of spectacular snowdrops.
Snowdrop Weekend takes place between 10am and 4pm from 23 to 24 February 2019. For more information see the Visit Somerset website.
Fun day out during half term in Warwickshire
Warwick Castle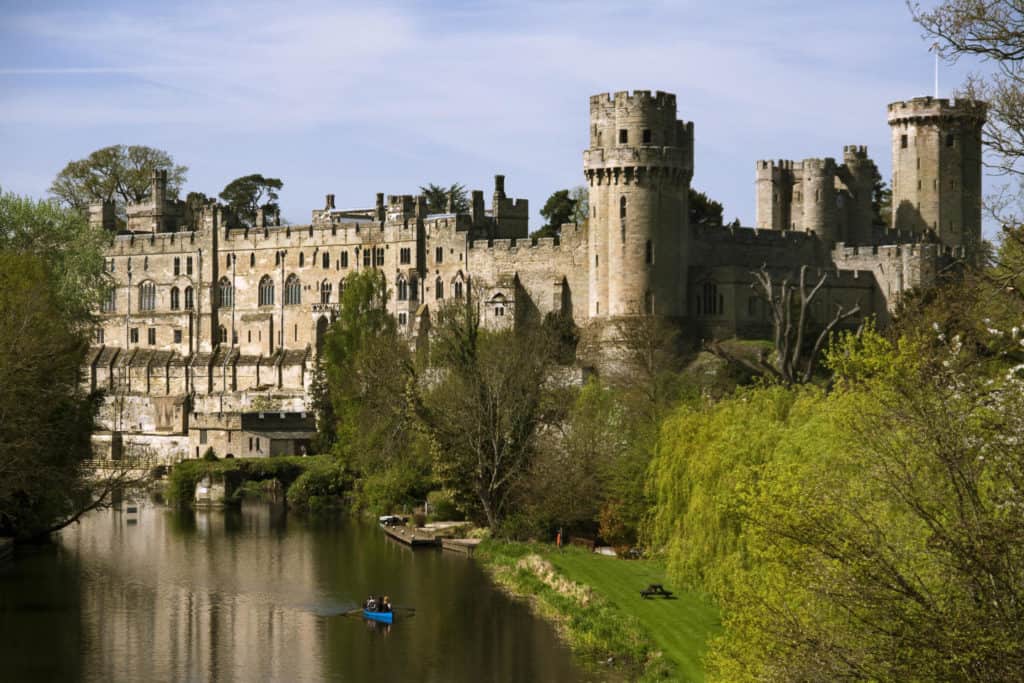 Warwick Castle is encouraging families to explore the great outdoors this half-term with the launch of a new nature trail. Adventurers of all ages can explore the Castle's 64 acres and learn about the wildlife and plants as they complete different challenges around the grounds.
Half-term also sees the return of daily shows including The Mighty Trebuchet – the UK's largest siege engine wowing guests with medieval war tactics; The Bowman Show where the Castle's skilled archers display their skills; and the Birds of Prey display showing the prowess and personalities of some of the Castle's feathered friends. 
Find out more about what's happening at Warwick Castle during February half term.
Fun days out during half term in Wiltshire
Dig at Stonehenge, Amesbury
Young visitors will have the chance to try their hand at archeology during half term by digging in an outdoor excavation trench at the Stonehenge visitors centre. See what artefacts you can uncover and take part in the activities with experts in the gallery.
Stonehenge was one of the fascinating places we visited during our October half term break in Wiltshire.
Find out more about what's happening at Stonehenge during February half term.
Here's some more ideas for things to do in Wiltshire with kids.
Things to do during half term in Yorkshire
Live science at Eureka!, Halifax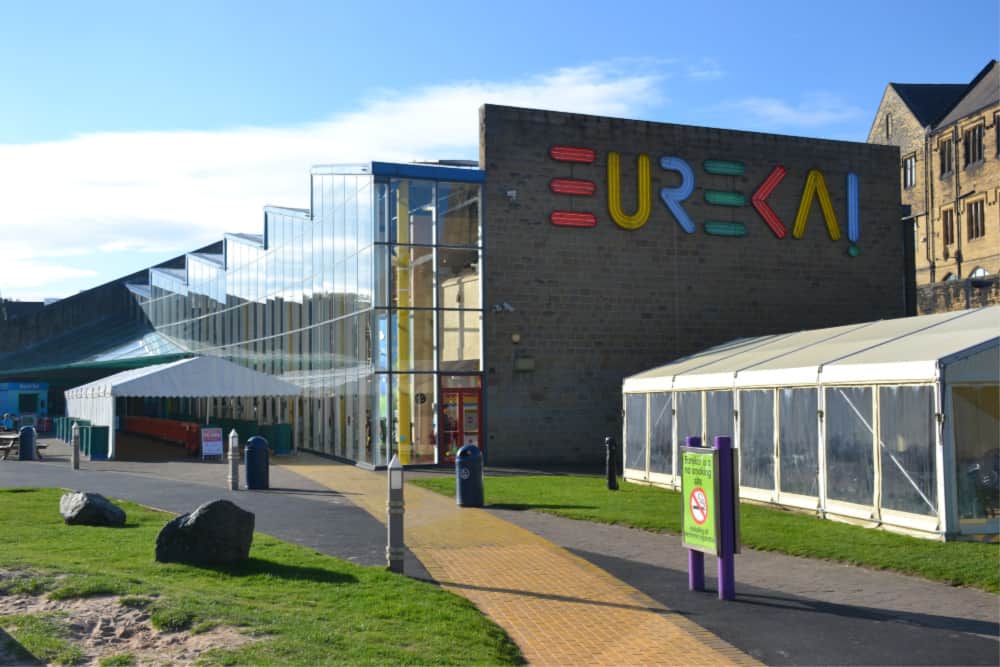 Visit Eureka! The National Children's Museum for live shows and interactive experiments during half term. We visited during October half term and loved the hands-on science demonstrations. The museum is incredible for children with role play areas, kid-friendly exhibits and plenty of educational play.
Make sure you put aside a whole day for your visit. But don't worry if you do run out of time to do everything as you can turn your ticket into an annual pass.
More details about what's on at Eureka! 
Check out more ideas for fun days out with kids in West Yorkshire.
What's on near you during February half term? I'd love to hear more recommenced fun days out with kids.
Fancy a half term holiday? Check out my suggestions on where to go on holiday in February.
If you're looking for fun days out during February half term then why not pin this for later?