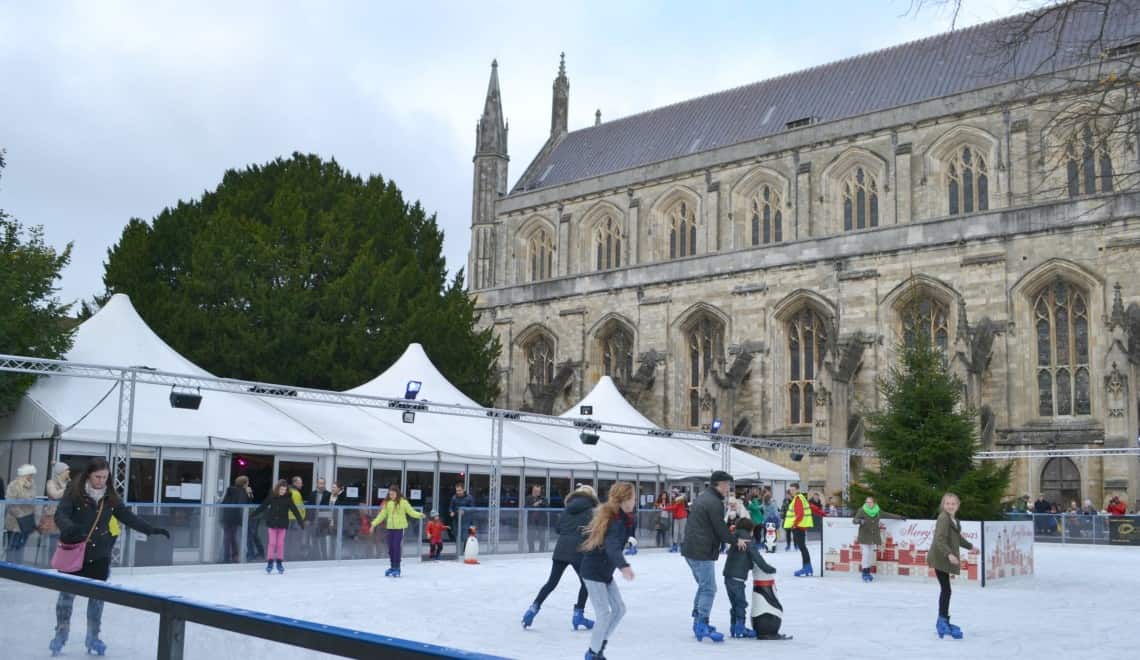 Christmas Market at Winchester Cathedral
Christmas has officially reached the Tin Box household. Last weekend we started ticking things off our pre-Christmas bucket list of
family days out in Hampshire
. First up was the
Christmas Market
at Winchester Cathedral.
We had told Tin Box Tot that we were going to see Christmas in Winchester, which she interpreted as 'we are going to see Father Christmas'. Cue lots of explaining that Father Christmas was very busy at this time of year as we were pretty certain there wasn't going to be a grotto at the Cathedral.
Luckily we saw some 'reindeer' outside a shop on our way from the train station to the market so that went some way towards keeping her happy.
Billed as one of the best Christmas markets in Europe and now in its 10th year, you really can't fault its location. The market is set in the grounds of Winchester Cathedral where a place of worship has stood since the seventh century. The Cathedral on the site today was built by the Normans with gothic features added in the centuries that followed.
More than 100 businesses take up residence in decorated wooden chalets between mid-November and Christmas week. You can buy cashmere scarves, festive decorations, leather bags and crafts by British artists. There's also food stalls selling mulled wine, roasted chestnuts and hot chocolate.
Unsurprisingly my eye was caught by a company called Globee selling all sorts of funky travel accessories including these quirky luggage straps. Their illustrated map products are great fun. TBT has a spin of one of the delicate looking globes and we moved on.
At the market's centre is an open air, real ice rink. TBT wanted to stop a few times to watch the skaters as they whizzed and stumbled around the ice. She's still too young to have a go herself (you have to be at least four) but I can see her edging out on to the rink in a couple of years.
We visited the Christmas Market at Winchester on a Sunday afternoon in November and it was already very busy. I can imagine it's going to be heaving with people in the next few weeks.
If you decide to visit with young children it's worth bearing in mind that there's not a lot for them to do unless they are able to ice skate. There are fun skating aids for children to hold on to and push around the ice if they are less confident.
Something I thought was missing from the market was a bit of festive atmosphere. It turns out we visited during the Sunday services so the usual music provided by Classic FM and Heart was switched off. Worth bearing in mind if you like your carols! I would also recommend visiting at night if you can as everything looks a lot more Christmassy when it is lit up.
The Christmas Market is on at Winchester Cathedral until 22 December 2015.
Are you planning on visiting a Christmas market this year?

I love hearing what people think about my blog so feel free to leave a comment below or browse around. You can also find me on Bloglovin', Twitter, Facebook, Instagram, Pinterest, Google+ and LinkedIn.