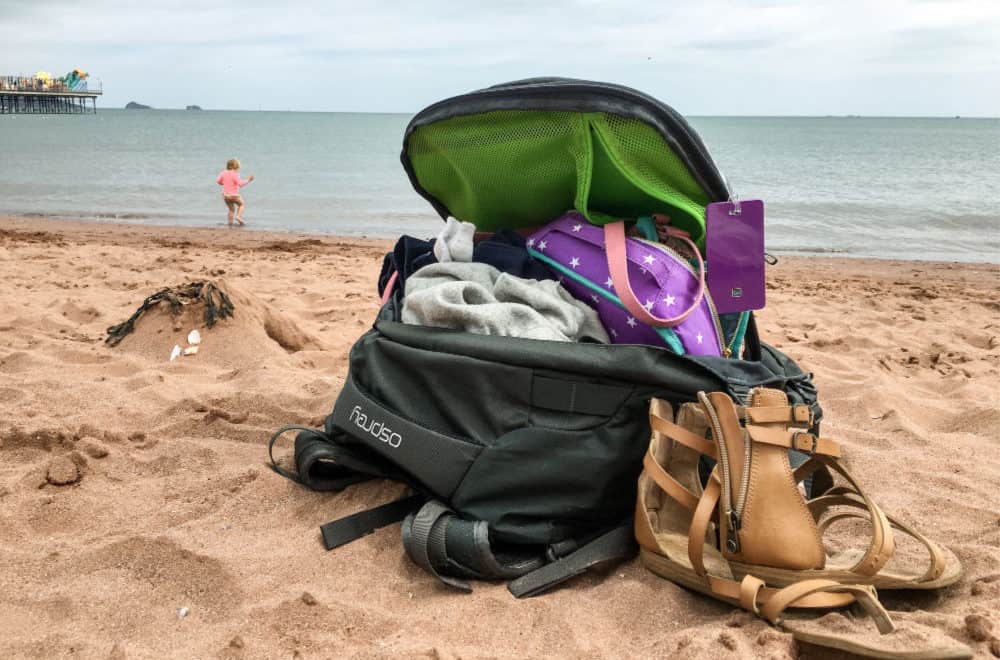 Best rucksack for travelling: Osprey Farpoint 40 backpack review
We've discovered a truly versatile piece of hand luggage that's already been with us to Rome, Barcelona, Tuscany, Lake Garda, multiple UK trips, and even on a European cruise! All credit goes to Mr Tin Box for researching and purchasing the Osprey Farpoint 40 backpack. I have to admit to thinking: 'no, not another bag'. After all we have dozens! What we really need is a new set of suitcases before our current ones give up the ghost. However, after using the Osprey Farpoint 40 I take it all back. Could it be the best rucksack for travelling?
*This post contains affiliate links*
Versatile hand luggage for short breaks and flights
Before I tell you how we've been using the Osprey Farpoint 40 here's it's vital stats:
Osprey Farpoint 40 features
Osprey's lightest travel backpack*: 1.44 kg
fits within EU carry-on dimensions
zip-away spacer mesh ventilated back panel
carries like a backpack or holdall but can be packed like a suitcase
cushioned carry handles on the top and the sides, plus removable shoulder strap
large zippered opening to the main compartment
lockable zips for increased security
top stash pocket for electronics and sunglasses
dual mesh front pockets for water bottles
padded internal laptop sleeve.
Osprey Farpoint 40 dimensions
Maximum Dimensions (cm): 54 (l) x 35 (w) x 23 (d)
Carry options and versatility
You can wear the Farpoint 40 like a rucksack or carry it like a holdall with the padded handle on the side or detachable strap. This is stowed in a pocket at the bottom of the bag. The main compartment can be completely unzipped making it easy to access your luggage when you reach your destination rather than having to unload everything to get to the items at the bottom.
If you're interested in luggage for kids then take a look at our review of the LittleLife wheelie bags.
Using the Osprey Farpoint 40 as hand luggage
Mr TB was the first to put the Osprey Farpoint 40 through its paces during a lads weekend in Rome. To keep costs down during his four day trip he wanted to take hand luggage only. He loaded the rucksack with all his kit: toiletries; a few changes of clothes – what more could a chap need on a city break?
And, as the specifications promised, it passed the British Airways cabin bag size test (cabin bag dimensions: 56 x 45 x 25cm and up to 23kg) with room to spare.
At this point I was still a bit sceptical. I can't travel as light as Mr TB, with or without the kids! But a month later I had a press trip to Italy and Mr TB suggested I use the Osprey Farpoint 40 to transport my essential tech. This includes a DSLR camera, lap top and sometimes a GoPro.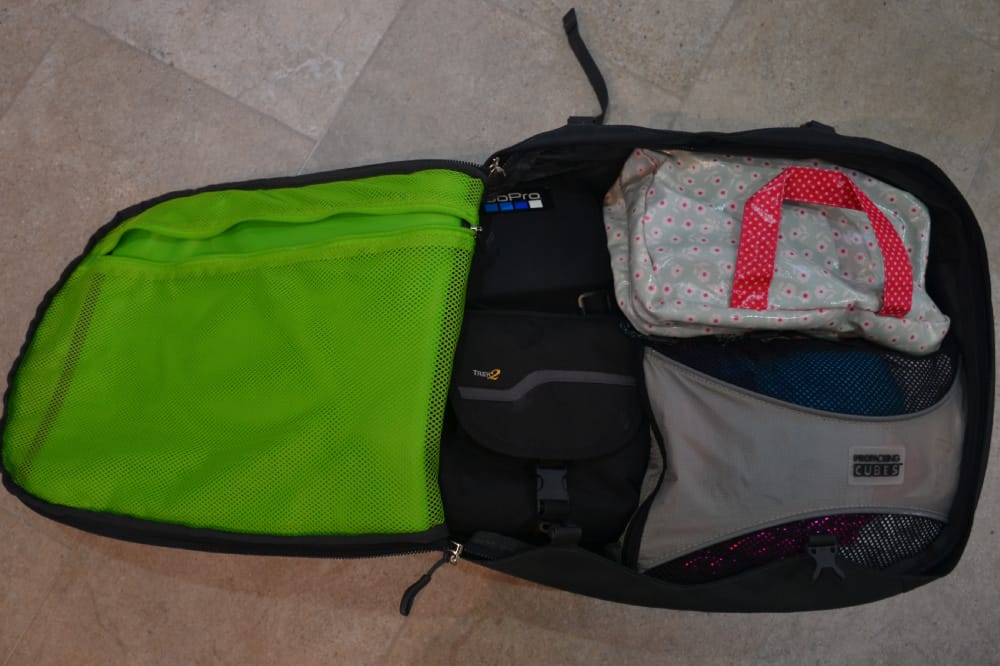 Designed with travel tech in mind
As soon as I started to pack the rucksack the advantage of built-in padded compartments was clear. Everything was protected and still easily accessible for that mildly panicky moment when you get to the front of the airport security queue.
I always hate this bit where you're under pressure to transfer all your valuables into hard grey trays fast so they can be scanned. I have visions of dropping expensive tech in my haste.
However, dipping into the laptop pocket and main compartment of the Osprey Farpoint 40 was a breeze compared to rummaging in my haphazardly packed shoulder bag.
I also had spare room inside for some airport shopping and to stow my smaller handbag when I wanted my hands free.
This time I was flying with Easy Jet (cabin bag dimensions: 56 x 45 x 25cm with no weight restriction), and was able to place it in the overhead locker with no problems.
I have to admit to checking in a small suitcase too as there wouldn't have been room for my winter woolies, shoes, toiletries and tech. Like I said, I don't travel light. But I'm sure someone more use to using hand luggage only would find acres of space in the Osprey Farpoint 40.
Transition to day bag
The next outing for the bag was as carry on luggage when the girls and I went on a cruise from Southampton. As well as my blogging kit I needed to make sure I had everything the kids might possibly need before our main luggage arrived in the cabin several hours later.
This included drinks, snacks, their tablet and swimming costumes.
When we reached our destination the rucksack could be used for days out with plenty of room for beach towels, picnics and drinks for the kids plus any souvenirs.
To be honest I didn't use it like this much when it was just myself and the girls as there was much more room in the Osprey Farpoint 40 than we needed.
Since then I've also flown with the rucksack on Flybe and Vueling (Easy Jet's Spanish partner). It was a bit of a squeeze to get into the narrow Flybe overhead lockers but it did meet their strict hand luggage restrictions (cabin bag dimensions:55 x 35 x 20cm and no more than 10kg).
Vueling's measurements are lightly more generous (cabin bag dimensions: 55 x 40 x 20cm and no more than 10kg). Clearly with some low cost airlines weight becomes a lot stricter, but I cannot remember the last time anyone weighed my hand luggage!
Osprey Farpoint 40 rucksack: the best rucksack for travelling? – Our verdict
So, is the best rucksack for travel*? It's certainly the best one we've come across. We'll be using it as a weekend bag when we're travelling without the kids and as family hand luggage when we're travelling together.
Disclosure: this post contains Amazon affiliate links marked with *. This means that if you click on the link and make a purchase I may receive some commission. This does not affect the price you pay.