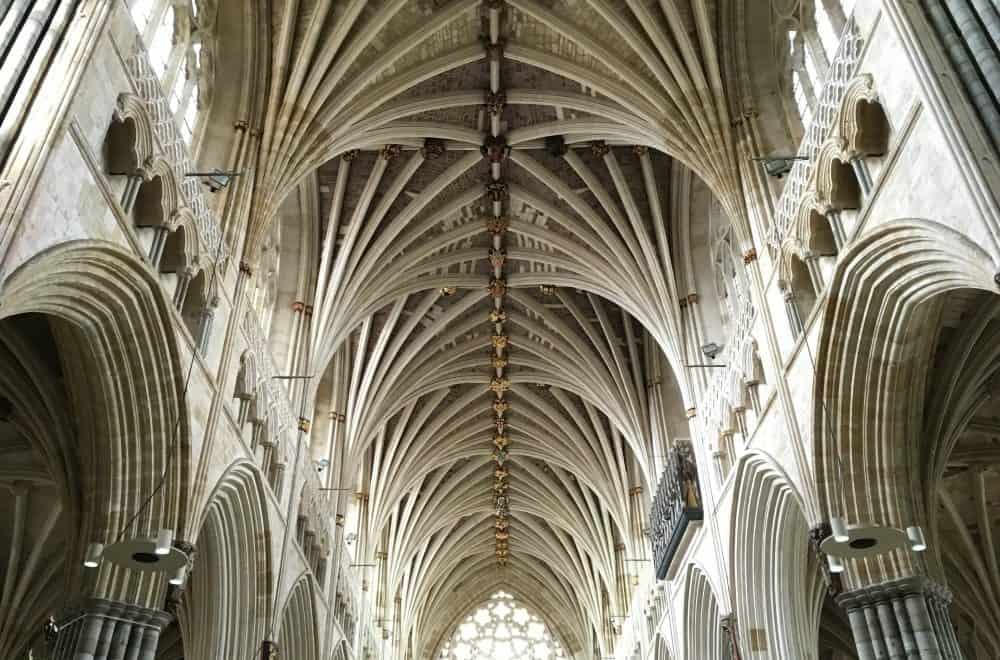 24 hours in Exeter – a child-free city break
Exeter is one of those cities I've driven passed many times but never really had the opportunity to stop in. So when Mr Tin Box and I arranged a one night stay in Exeter before we flew to Jersey for a weekend break without the kids I didn't really know what to expect.
If I had done my research I would have known that Exeter is a vibrant West Country city packed full of Roman and Medieval history. Add to that an extensive shopping district and some excellent places to grab a drink and bite to eat, and Exeter has all the ingredients for a great city break.
Our 24 hours in Exeter
Our 24 hours in Exeter came about while we were seeing just how far we could extend our first real break from being parents since Tin Box Tot was born three years earlier. We already had two nights booked in Jersey and my parents didn't need too much persuading to house and babysit the girls for an extra night.
We chose Exeter as the place to spend our bonus night as we were flying from Exeter Airport, which is about 20 minutes from the city centre by taxi.
Tin Box Grandpa dropped us off at our hotel and we quickly scurried off into the city centre before anyone had a chance to change their minds.
We had arrived in Exeter in time for lunch but had no idea where to go. Things had been so busy in the weeks leading up to this mini-escape that I'd done no planning what-so-ever. Enter Google Maps and Trip Advisor – these apps really did become our friends during the first stage of our short break.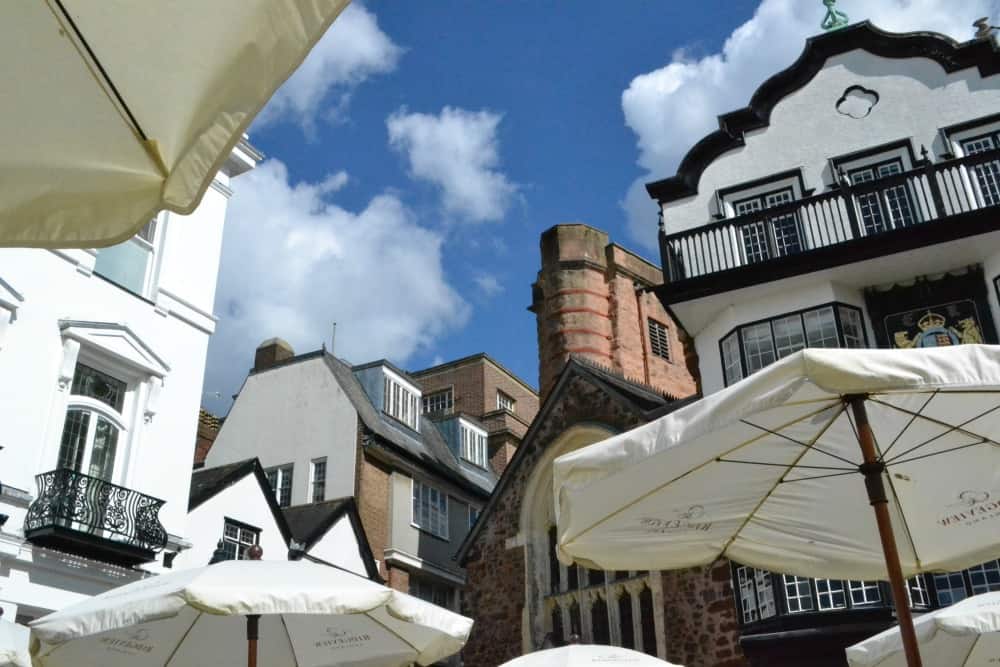 Google Maps told us we were just a short distance from Exeter Cathedral. The aerial view showed us a small collection of parasols next to the Cathedral so we decided to head there for an alfresco lunch. It turned out to be the Cafe Bar with views across the green. It was a perfect spot to watch the world go by while we acclimatised to our child-free situation.
After lunch Mr Tin Box took the opportunity get a much needed hair cut while I browsed around the shops. Exeter has a lot of the big department stores – House of Fraser, John Lewis and Debenhams – as well as all the regular high street shops. You'll also find independent traders in Gandy Street, Fore Street and at Exeter's historic Quayside.
Next it was time to return to our hotel and hit the pool. Refreshed and wondering how on earth we usually managed to fill the hours of our day we headed out for a night in Exeter.
Exeter Quay
Again, we had not checked ahead about the best places for evening drinks or made a dinner reservation. Google Maps told us we were very close to Exeter Quay – a picturesque place to stroll along cobbled streets, browse antique and craft shops, and dine in former warehouses. There's also boat and a busy hand ferry across the river, which make for compulsive waterside viewing.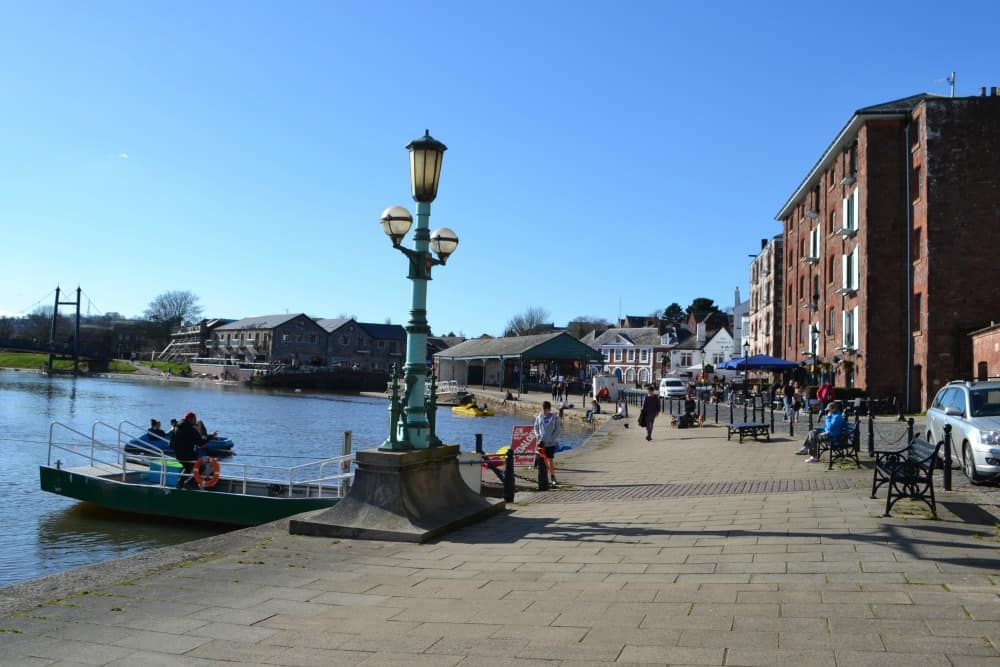 Ten minutes later we were sipping cider on the terrace of On the Waterfront with the warm sun on our faces and delicious smelling food being served at the tables all around. It was still a little too early for us to eat – we didn't have a ravenous baby and toddler accompanying us after all. So we moved on to the more traditional looking watering hole The Prospect for another pint before deciding on somewhere to dine.
Places to eat in Exeter
Trip Advisor's top 10 Exeter places to eat included Jasmine Thai Restaurant on Fore Street. I love Thai food but we usually go for more middle of the road cuisine when eating out with a three and one-year-old, so this seemed like the perfect opportunity to tickle our taste buds with something a bit spicy. I can highly recommend Set Menu B, just make sure you've had a light lunch!
By the time we had finished all four mouth-watering courses and coffee it was getting late, so we started walking back to our hotel. On the way we were tempted in to one more pub; The Well House Tavern. This is a pub that is said to have a dark history. In its basement is a set of bones rumoured to be those of a monk and a nun who fell in love and threw themselves down an ancient well.
On that sobering note it was time for bed.
Exeter Cathedral
The next morning we had set our alarm so we could make the most of our last few hours in the city. Our first stop was Exeter Cathedral, which we had walked passed several times during the past 18 hours. It seemed a shame not to look inside.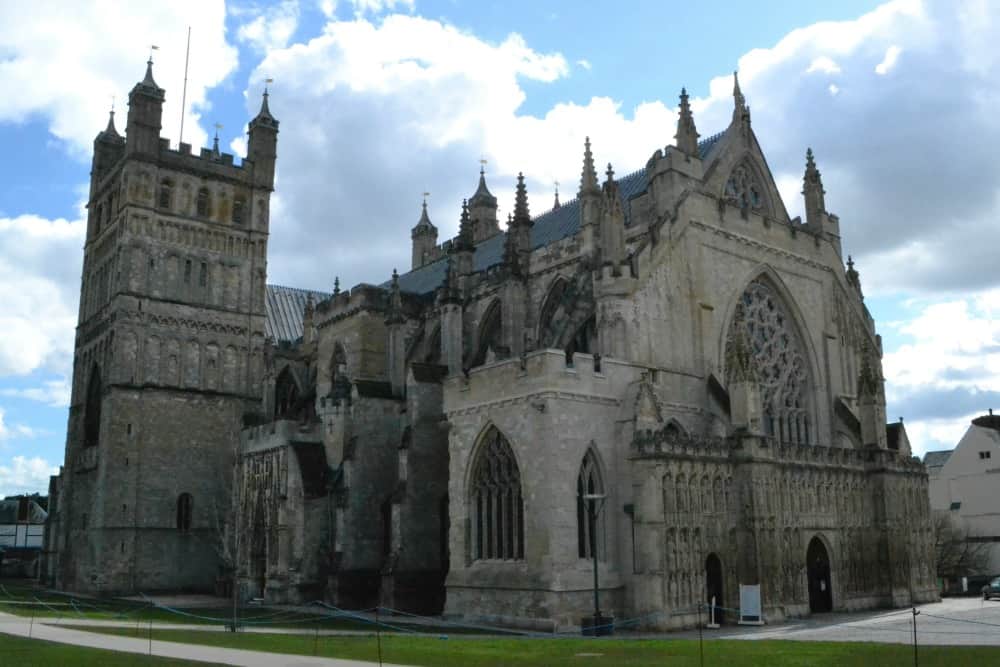 Mr TB and I visited a lot of cathedrals, churches and abbeys when it was 'just us'. I love the history, architecture and spirituality of these places, despite not being particularly religious myself. Exeter Cathedral did not disappoint – it is beautiful.
We felt the Cathedral also had a lot to offer families, with a kids trail, fancy dress and activity packs. It's volunteers were building a Lego replica of the 11th Century place of worship to help raise funds to preserve it. When we visited (April 2016), 4,000 pieces had been added to the model, which was expected to take three to four years to complete.
After an hour at the Cathedral we had a hunger for history and walked through the main shipping area towards Rougemont Castle and Northernhay Gardens.
The castle itself is a wedding venue so don't do what we did and think that you can take a tour. You can however walk around the gardens outside the castle walls. A plaque near the entrance is a reminder that witches were once put to trail here.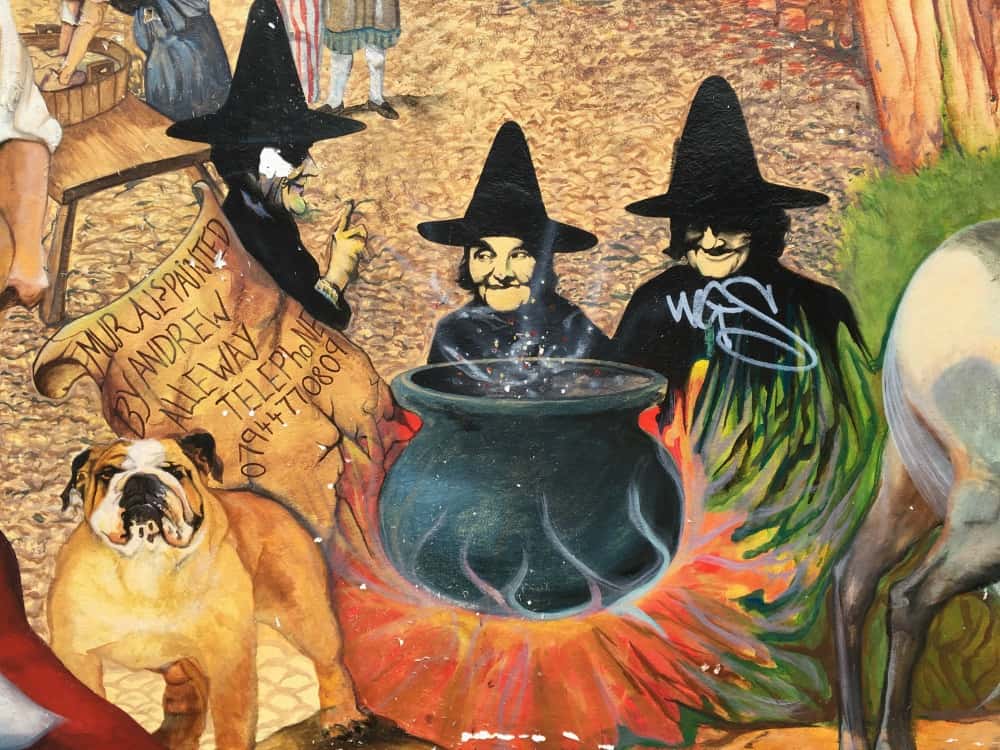 It was time for a pit stop and Devon Coffee on Queen Street drew us in with promise of 'nice coffee served by nice people'. Oh , and a pretty mean slice of cake!
RAMM Exeter
Just down the road was RAMM – the Royal Albert Memorial Museum. This is where I had my first little twinge of guilt that our girls weren't with us. This stunning Victorian building is packed full of natural history, artefacts from cultures around the world, Devon history and art.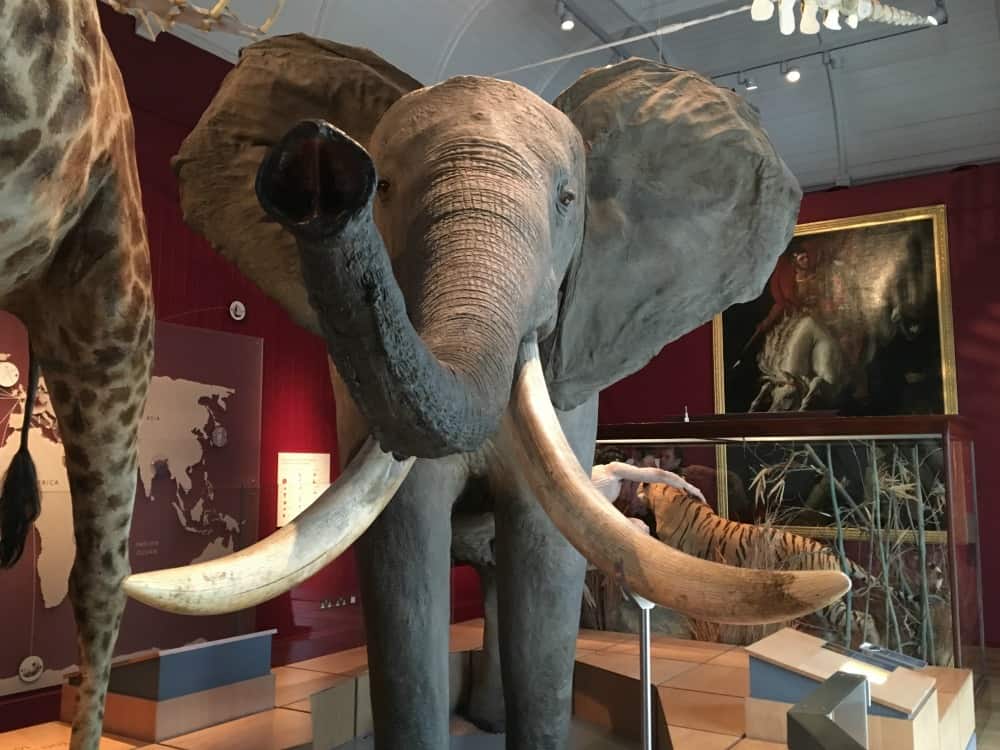 There are plenty of hands-on activities for children, plus a packed calendar of family events. You could easily spend half a day looking around and still return each week to see more. Best of all entry is free.
We spent an hour soaking up the detail behind the exhibits – something that we rarely get to do with two pre-schoolers in tow. At this point I felt a little bit less guilty and indulged myself. Note: I've recently returned for a short visit with the Tin Box girls so I am now completely guilt free.
For our last meal in Exeter we returned to The Prospect on Exeter Quay. It was hard to stay away from this picturesque spot on the canal. Then, just over 24 hours after arriving in Exeter it was time to grab a cab and head off for the next leg of our child-free adventure.
What had been an after thought added to our weekend plans turned into an extremely enjoyable 24 hours.
Where to stay in Exeter
We booked the four-star Southgate Mecure as it was within easy walking distance of the city centre.
The hotel is reasonably priced among its competitors, with contemporary decor themed around the 10th Century Exeter Book of riddles. It has a pool, jacuzzi and sauna. Guests also have access to free wifi, which I found was really fast. Breakfast was included in our room rate and we had the good choice of cooked and continental foods from the buffet.
I can definitely recommend the Mercure Southgate if you are looking for a city break hotel in the South West. I'd even go as far as saying we preferred it to the five-star hotel we stayed at during the rest of our weekend in Jersey.
Have you visited? Where would you recommend seeing if you had just 24 hours Exeter?
Pin it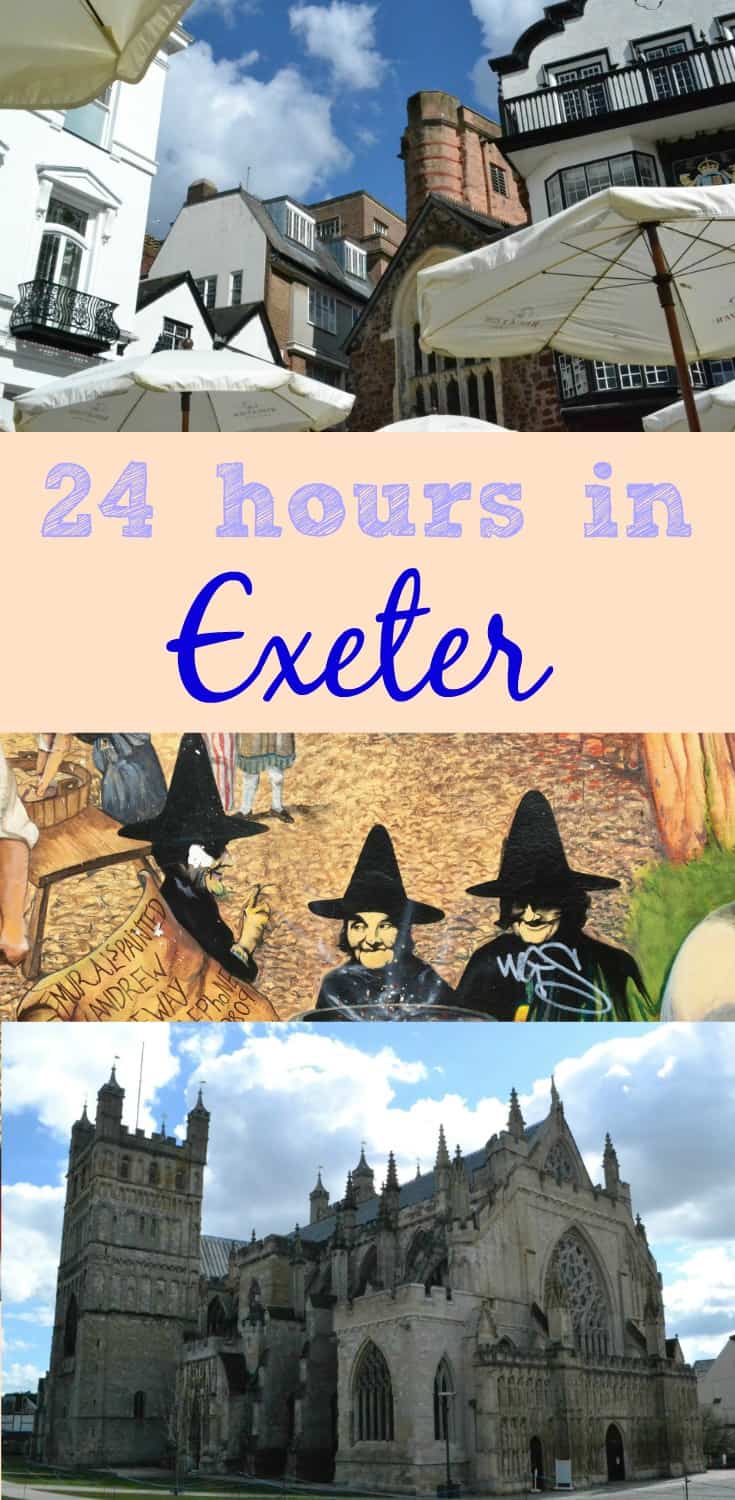 I love hearing what people think about my blog so feel free to leave a comment below or browse around. You can also find me on Bloglovin', Twitter, Facebook, Instagram, Pinterest, Youtube, Google+ and LinkedIn.