#TravelTimehop series edition #12 – The Weekend Tourist
Welcome to another Travel Timehop where I share moments from memorable trips. Throughout 2016 I'm inviting fellow bloggers to tell me about their favourite adventures. This week it's the turn of Jessica from The Weekend Tourist.
She's picked a story from a road trip that I'd love to do myself, along with an extra special moment that was maybe not such a surprise, but well worth the wait. Over to Jessica to spill the beans…
When are we time-hopping to?
2014.
Where in the world?
New Orleans, Louisiana – United States.
The Weekend Tourist's timehop moment
As we inch our way into April, the spring blossom reminds me of the Natchez trail, the favourite leisure drive that winds its way from Memphis towards New Orleans. During April, the tree blossom creates a pink corridor which winds 444 miles across the southern US states.
Last year, Tom and I were entering the second week of a 22-day epic road trip which started in Atlanta and would eventually take in Dollywood, Nashville, Memphis, New Orleans, Orlando and Miami. During our second 'leg' we stayed four days in New Orleans for the 'French Quarter Festival' weekend – the city's largest free music festival. Over 700,000 people flood into Jackson Square to hear a hot line up of NOLA Jazz!
I've picked this particular weekend as my #TravelTimehop because there are so many unforgettable moments from those four days. I'll own up now and say I had my suspicions that Tom had been carrying round a precious sparkly item, big enough to fit in a ring box for the best part of a fortnight and there had been plenty of opportunities when the thought, 'is he going do it now?' had crossed my mind.
Indeed on our first night in NOLA, as we floated down the Mississippi on a traditional steam engine at sunset and the jazz band played in the background, I thought that might be our moment…
But Tom had other plans and decided to do the honours in our hotel room at The Columns, a beautiful mansion in the Garden quarter, which looked like it was straight out of 'Gone with the Wind'.
It was memorable, because he candidly asked if I'd forgotten 'something' as we were about to leave for our day at the Festival. He got down on one knee, brandishing a sparkly rock, surrounded by all our wet washing, which I'd hand washed in the tiny bathroom sink and that had filled the room, hanging from every available clean service in a bid to dry off before repacking!
We really enjoyed our morning, newly engaged, at the French Quarter Festival, which celebrates the best of the city's street music. Every well known New Orleans restauranteur also opens a food stall selling their signature creations to punters; it's often the only way to actually get your hands on these delicacies without making a reservation or steadfastly queuing to get in to the actual establishment.
Our afternoon was capped off with a session with Lizzie, our Flytographer – a brilliant scheme that hooks up holidaymakers with local photographers for a photo shoot. Lizzie captured our NOLA engagement in a fantastic fashion right in the middle of the entire festival hubbub! And last, but not least, before my head hit the pillow, Tom and I crammed in to Preservation Hall. A legendary Jazz hall, which still plays in an energetic, yet to-cool-for-school style… so all in all, it was a pretty memorable day!
Thanks so much to Jessica for sharing this amazing moment from her travels and apologies that I had to chop your beautiful picture for WordPress. Check out the pinnable image below for the Flytographer snap in all its glory. If you'd like to read more about Jessica's adventures visit her blog, or follow The Weekend Tourist on Twitter and Facebook.
If this has inspired you to pull out your old holiday photo albums I'd love it if you'd share a snap with me. Here's how you can be a part of Travel Timehop.
Pin for later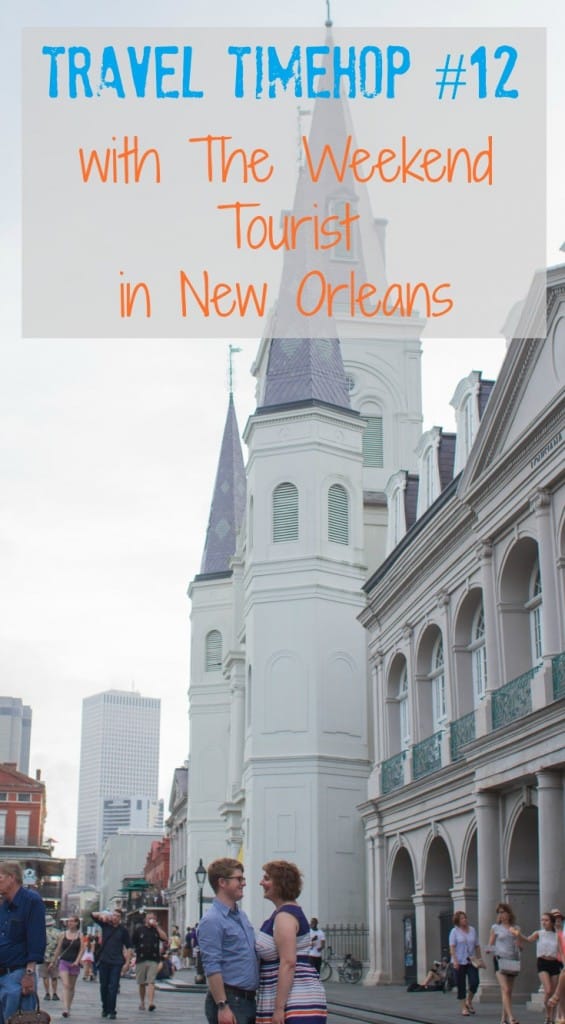 I love hearing what people think about my blog so feel free to leave a comment below or browse around. You can also find me on Bloglovin', Twitter, Facebook, Instagram, Pinterest, Youtube, Google+ and LinkedIn.