Where to find the Zog activity trail around England
If, like us, you're fans of the Julia Donaldson and Axel Scheffler books about unlikely heroes on epic quests you'll want to make sure you visit a Zog activity trail in 2019. Zog, the latest character to be brought to life on the big screen at Christmas, is going on an adventure at Forestry Commission sites all over England. So, where is the Zog activity trail near you? Read on to find out!
Find out what we thought of the Highway Rat activity trail at Haldon Forest Park in Exeter last year.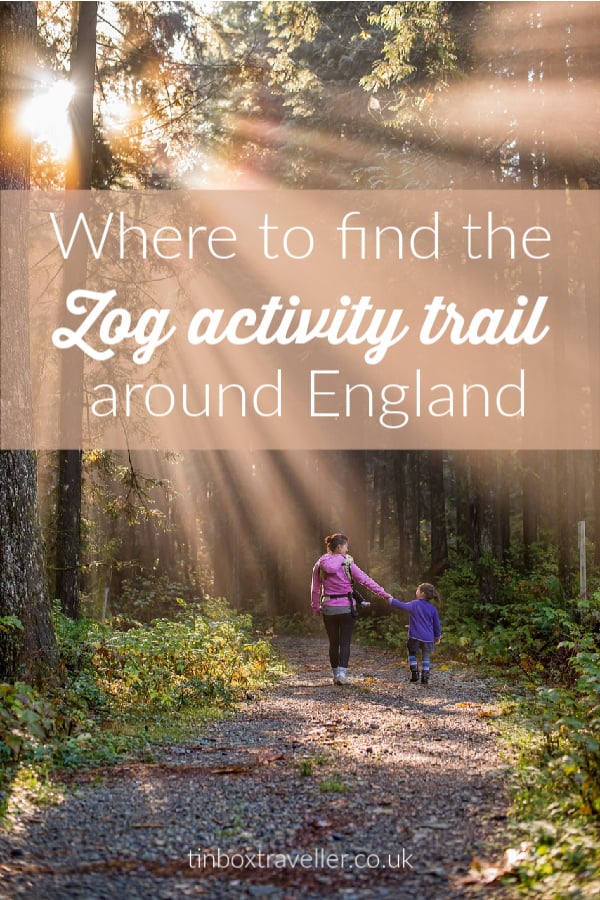 This post contains affiliate links.
The story of Zog
I'm going to be perfectly honest here and say that when Zog was announced as the 2018 animated Christmas special on BBC One, I was a bit disappointed. Somehow it was one of the Donaldson and Scheffler works that we hadn't read. Never fear, we've made up for it since then and have even bought Zog and the Flying Doctors*!
If you need catching up on the plot, Zog is a clumsy dragon who is learning his trade at Dragon School with the help of a young girl. She helps him muddle his way through learning how to fly, roar, breathe fire and fight knights. Then the time comes to capture a princess! It's  a hoot and we had a great time watching on Christmas Day.
Zog activity trail
The Zog Activity Trail is at 24 Forestry Commission sites in 2019 allowing children to step into the forest classroom to learn lessons just like Zog. They'll find out how animals fly, what sounds they make and how they catch their prey. And if they are partial to a gold star like their hero Zog there's plenty of those up for grabs too.
If you are up for the challenge there are free activity sheets you can download from the Forestry Commission website. You can also buy an activity pack including a Zog mask, activity sheets, a pencil and stickers for £3 from the Ranger's office.
Where to find the Zog activity trials
Here's where you can take up Zog's adventure at Forestry Commission sites around England from 11 January 2019:
Sherwood Pines, Nottinghamshire
Fineshade Woods, Northamptonshire
Salcey Forest, Northamptonshire
Cannock Chase Forest, Staffordshire
Hicks Lodge, Leicestershire
Hamsterley Forest, Durham
Gisburn Forest, Lancashire
Whinlatter Forest, Cumbria
Grizedale Forest, Cumbria
Kielder Forest, Northumberland
Haldon Forest Park, Devon
Cardinham Woods, Cornwall
Wyre Forest, Worcestershire
Beechenhurst, Forest of Dean
Haughmond Hill, Shropshire
Bedgebury Pinetum, Kent
Thames Chase, Essex
High Lodge, Thetford Forest, Norfolk
Wendover Woods, Buckinghamshire
Jeskyns Community Woodland, Kent
Guisborough Forest, Yorkshire
Dalby Forest, Yorkshire
Alice Holt, Surrey
Moors Valley, Dorset
Find out more about the Zog activity trails on the Forestry Commission website.
Or why not buy the book to get yourselves in the mood for some outdoor dragon fun?!
If you're planning a dragon adventure in the great outdoors why not pin this post about where to find the Zog activity trails around England?
Disclosure: this post contains affiliate links marked with a *. If you click on one and make a purchase then I may earn some commission. This does not affect the price you pay.