7 beautiful ways to capture travel memories at home
Last week in our non-travelling life we picked up the keys to a new house. We are thrilled and, after a couple of years of renting, have lots of plans to make it our own. Capturing our travel memories is high on my interior design wish list.
Advertisement feature
I've been scouring the web and looking for tips to do just this. Here are the more creative and inspiring ways I've found to capture travel memories at home.
You may even see some of them featured in Tin Box Towers soon!
On the hunt for presents for the travellers in your life? Check out my posts with gift ideas for the whole family and gifts for campers.
Mark your territory
I'm very excited about this one as Mr Tin Box has bought me a Louisa Elizabeth map to plot, plan and record our travels as a family.
Louisa is an avid traveller herself and hand-illustrates each map to order. Mine will be gracing my office wall and I can't wait to get pinning our destinations.
Price dependant on design.
Stamp collection
This is something the girls would love as it involves stamps. The Stamp Map* from prezzybox is a nifty way of ticking of destinations and quite literally making a mark on the world.
RRP £19.99.
Frame special places
These personalised framed maps from In-Spaces have caught my eye before. They are a lovely way to capture places and experiences that mean something special to you.
Prices from £56.
Shine a light on your travels
This would look wonderful in my new office. Sarah Walker Artshades stitched paper lamp shades use reclaimed Ordnance Survey maps and can be tailored to a destination close to your heart.
Prices start at £75.
Hang your moment in a mural
Why not immerse yourself in a holiday moment? These mural wallpapers from Wallsauce are amazing. You can choose from their range of images or use one of your own. They can even create a collage for you.
Price dependant on image and size.
Pin some polaroids
If, like me, you're terrible at actually printing off pictures for the wall then a printing app might be the answer. I love the idea of this polaroid printing app from the Polaroid Print Store. It can turn pictures from your phone, Facebook or Instagram accounts into genuine polaroids.
How great would a few polaroid style photos look on a pin board in your kitchen? You can also order vintage looking photo books from your smartphone or tablet.
Price dependant on quantity and product.
Have a memory block
Of course memories can be captured in more than pictures. Words play a large part in recording special moments from our travels.
A beautiful sign have created free standing blocks that you can have engraved with your own favourite thoughts on your holidays.
RRP £20.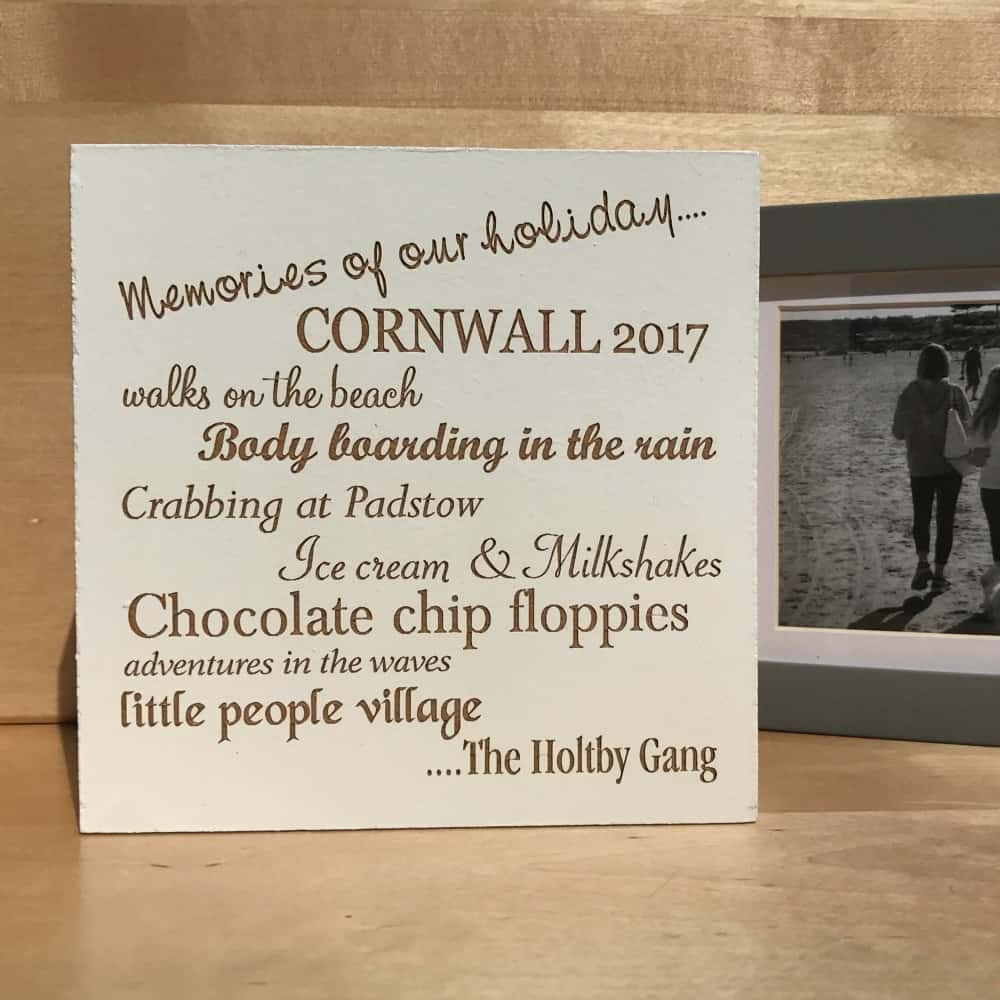 If you're curious to see how our new home is going to look once we've moved in then my creative friend Diana White produced some interior design renders for us.
Here's our dining room and lounge:
Diana has an interior design and lifestyle blog if you'd like some inspiration for your own home.
As well as helping us to turn our new house into a home, Diana has also recently redesigned the Wardroom at Britannia Royal Naval College in Dartmouth. We're in great company!
*Disclosure: we were sent some of the items in this post in exchange for a mention on the blog. All opinions are our own.
Want to capture your travel memories at home? Pin this post for later!