Christmas in Devon: Woodlands Santa's Grotto review
This weekend we had our first date with Father Christmas. And it was a very special one as we were invited to meet him in Woodlands Family Theme Park's Santa's Grotto – a brand new attraction for 2017.
Woodlands, which is just down the road from Dartmouth in Devon, regularly hosts a haunted house at Halloween and an Easter Bunny Grotto. However, this is the first year the team have turned their hands to more festive matters. And I think it's their best effort yet.
Visiting Woodlands Santa's Grotto
An important thing to note if you'd like to visit the Woodlands Santa's Grotto is that you have to book in advance. As it's the attraction's first year the Park wants to make sure the flow of visitors is right and everyone has a good time. There's more information at the bottom of this post.
The pathway to the grotto is lined with Christmas trees and just outside there's a snowy snowman scene, setting the mood for what's to come. At the entrance, Tot and Baby were handed a sachet of magic reindeer food to take home. We'll be sprinkling ours in the garden to guide Rudolph and his friends to our house on Christmas Eve.
Stepping into a magical world
Inside we had elf guides keeping us on the path to Santa. We passed through an enchanted forest with a spurt of falling snow (foam) and crunchy floors.
The we walked through a wonderland of rooms with winter animals, a child-sized 'ice' tunnel and a gallery of Rudolph's family and friends.
Further on we stepped into the elves' bedroom. The girls thought it was funny that the elves had a bunk bed, just like them, and liked finding out their elf names.
Mine is 'Bubbles Sugarplum' if you're interested. Next up was the post room where four-year-old Tot posted her first letter to Santa written by her own hand.
One of the Grotto's many wow factors is Santa's workshop. There's a secret entrance for smaller visitors who can crawl through a tunnel to reach the room where all the toys are being made. There's almost too much to look at here and plenty of inspiration for children still unsure of what they want to add to their Christmas list.
Beyond the piles of gifts we found a trio of singing reindeer – this was my highlight. Check out my video to see these charming animated characters.
Then it was time to meet the big man himself. We knocked on a large wooden door and were greeted by Mrs Claus. Children can sit and chat with Santa, have a picture with him, and receive a present.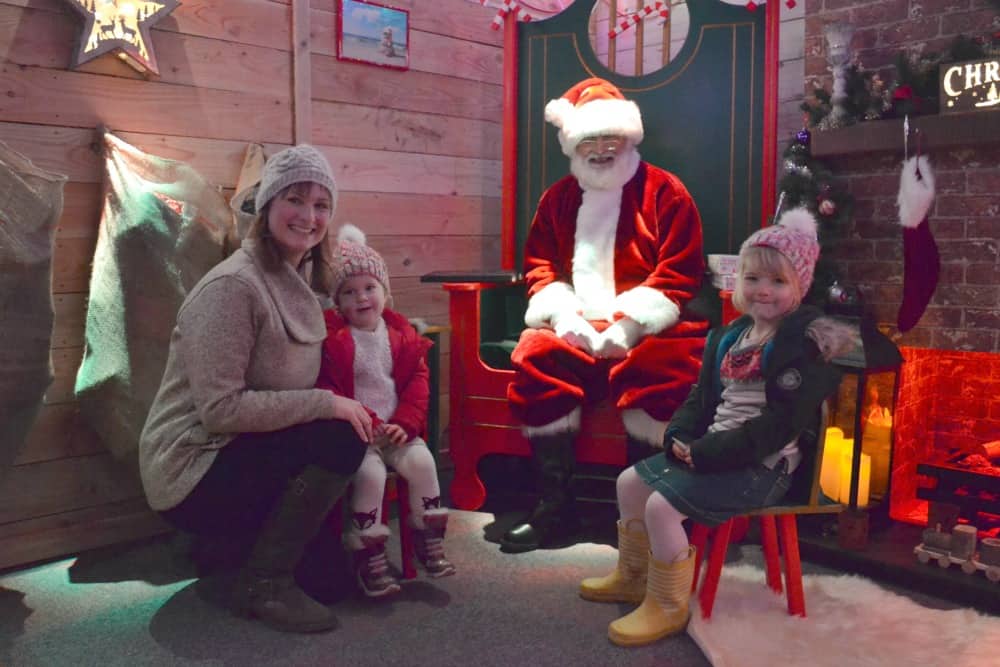 Every child receives a wrapped present from Santa appropriate to their age. Baby got a gift for a three to four-year- old which was a farm jigsaw puzzle.
Tot received a gift for a five to seven-year-old which was a jewellery making kit. They were both very pleased with the presents Santa had picked for them.
Also included in the experience are cookies for the children and a festive drink for the adults from Ray's Diner. This is in the large Empire of the Sea Dragon soft play building opposite the Grotto.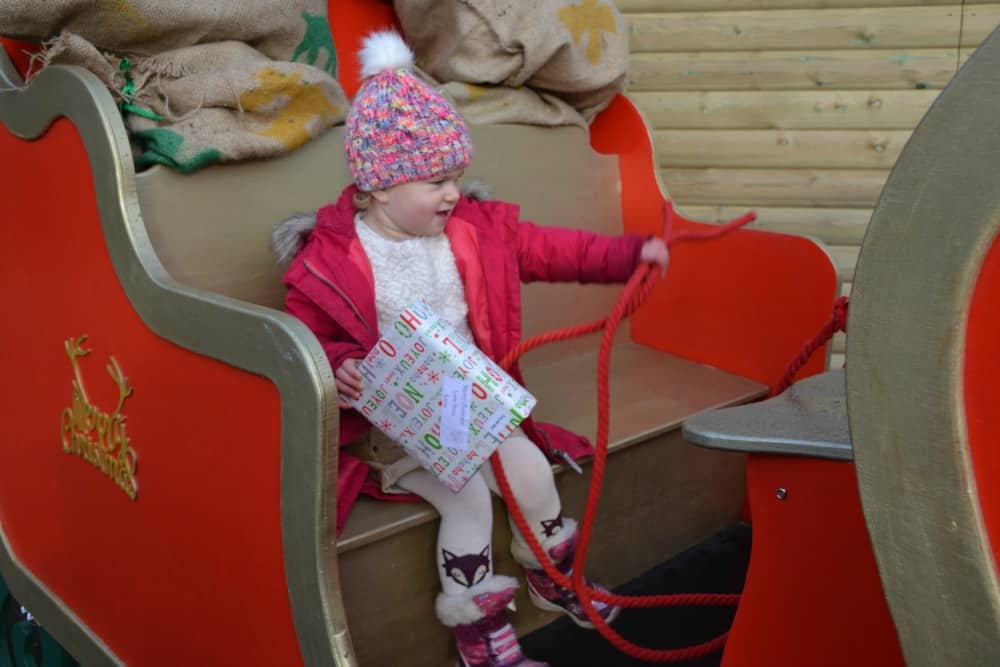 All-in-all there are nine rooms in the Grotto. We were really impressed with the decorations and attention to detail.
The gifts were also good quality and value for money alongside the other things that come with the Grotto ticket. The Woodlands Santa's Grotto is billed as a magical experience and our girls certainly thought it was.
Tickets for Santa's Grotto
Tickets for the grotto must be booked online in advance. You can not buy tickets for the grotto on the day you visit.
Entry to the park and Santa's Grotto costs £14.50 for children aged three to 11-years-old, £3 for children under 12 months, £5 for children aged 12 to 35 months and £7 for children aged 24 to 35 months. Up to two adults can accompany the children in their booking.
The Woodlands Santa's Grotto is open on selected dates up to Friday 22 December 2017. Some of the Park's attractions are closed for the winter but there's still plenty going on to fill your day.
If you're looking for more festive events check out my family Christmas days out in Devon post.
Disclosure: we were invited to see Woodlands' Santa's Grotto in exchange for a review on the blog. All opinions and images are my own and those of my family.
Pin for later