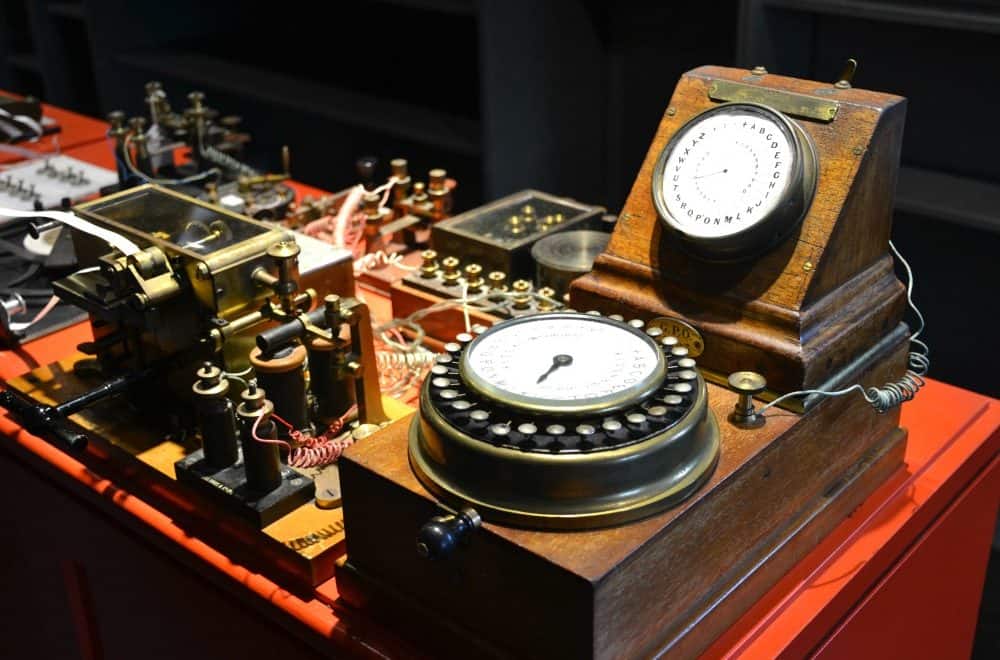 The Telegraph Museum in Porthcurno, Cornwall – things to do in Cornwall with kids 
I love discovering off the beaten track attractions that turn out to be tremendous all-round family pleasers. And the Telegraph Museum in Porthcurno, Cornwall, does this in spades. We were invited to visit the museum by Cornwall 365, which has published the Find & Seek illustrated atlas to champion the county's cultural and heritage activities.
It has to have been one of my favourite museums we've been to with the girls and is a must if you're visiting Cornwall with kids.
About the Telegraph Museum
The Telegraph Museum in Porthcurno is the birthplace of modern communications in Britain. From the 1870s the telegraph cables that landed in this otherwise quiet Cornish valley delivered messages from across the Atlantic and as far away as Alice Springs in Australia.
It was an important strategic asset even with the advent of Marconi's wireless transmitters in the early 20th Century. During World War II the telegraph operation was taken underground into secret bomb proof tunnels to protect the operators who handled important messages between the allies.
Cable was more secure than wireless communication so proved extra valuable in wartime.
At it's height Porthcurno was the largest telegraph station in the world and transmitted two million words a day. In 1932 the operation became Marconi's Cable & Wireless company, and its operators would travel from around the world to train here, making it a multicultural hub.
However, by the 1970s telegraph had become obsolete and in 1993 the college closed.
Today the museum and tunnels hold an archive of telegraph technology and tell the story of the station's role during World War II.
Looking for more inspiration for things to do in Cornwall? Read our guide to family holidays in Cornwall.
Our visit to Porthcurno
We visited the museum for three hours before heading to another of Porthcurno's gems – The Minack Theatre.
In the end we wished we'd allowed longer as the Telegraph Museum had so many features to entertain our girls aged two and five, as well as fascinating exhibitions for older kids. The Tin Box grandparents loved the museum too.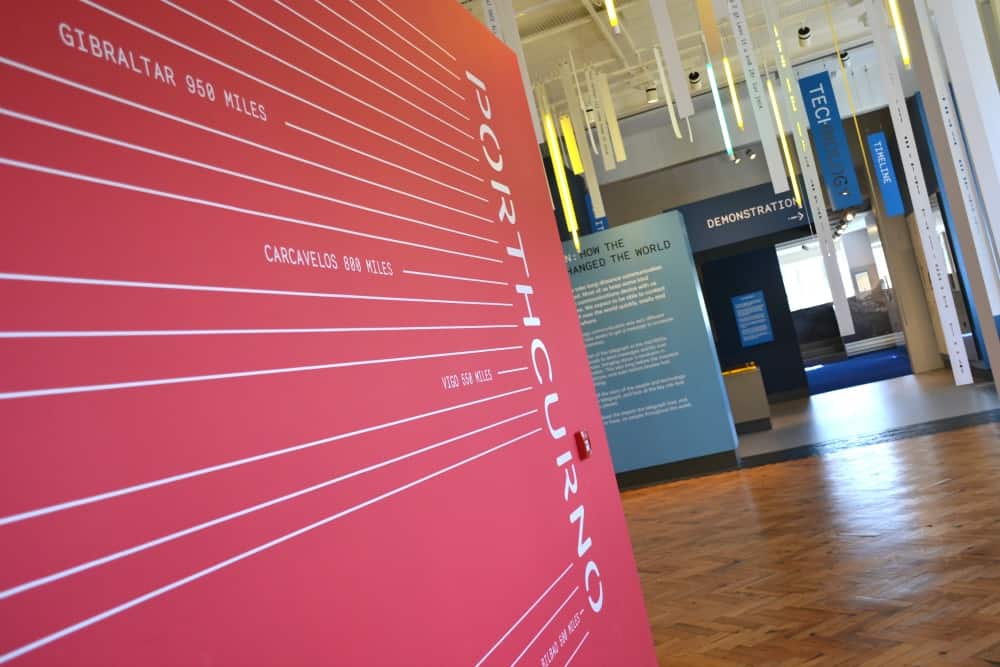 The best way to start your visit is to hear one of the talks about Porthcurno or at the very least sit down and watch the introductory video for six minutes. It will give you an overview of the place's history and the evolution of the different types of telegraph devices used here over the years.
If your kids love science then they'll be keen to get stuck into the hands on experiments that explain how the technology behind the telegraph works.
If life stories are more your thing the exhibition also talks about the people who worked on the telegraph and traveled to Porthcurno to be trained.
Our girls always love dressing up and there was a great selection of period costumes for them my try on.
They also got stuck into crafts, games, colouring and clambering into a submarine cubby hole where I can only guess they were busy laying imaginary cables under the Atlantic.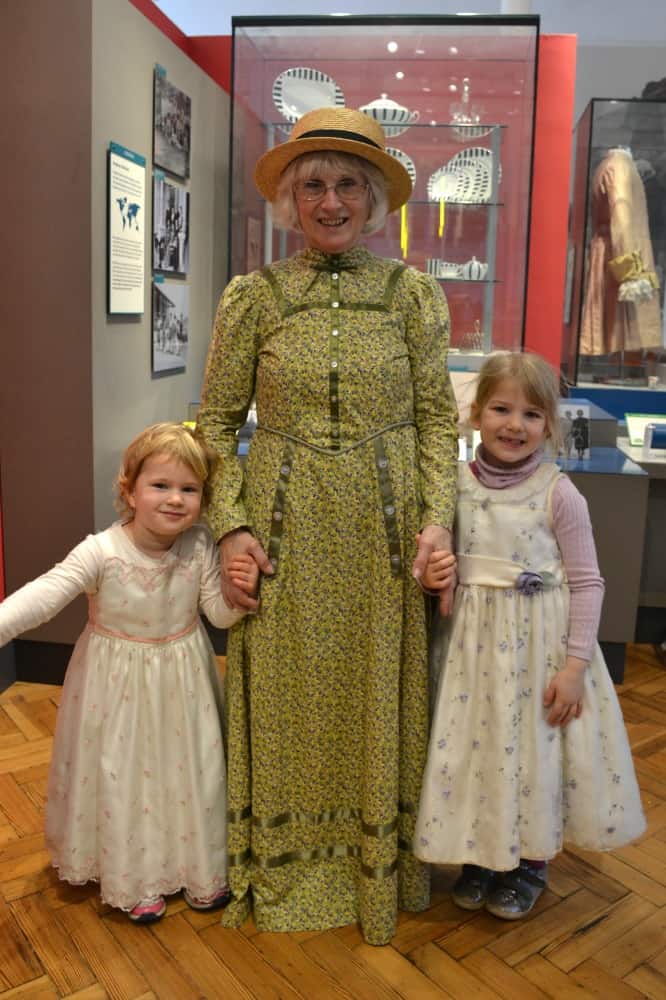 Next it was time to head into the World War Two tunnels which were built to protect the work of the telegraph operators.
The tunnels took up to 10 months to build during which time nosy neighbours were told a short cut was being built to the local pub! The tunnels are packed full of vintage communications technology and a good amount of interactive exhibits to teach kids about what used to happen here.
New exhibitions have opened since our visit. These demonstrate the real life war stories of the Cable & Wireless employees who kept global communications open during World War II.
If you have more time than us you can visit the Cable Hut just above Porthcurno Beach, which is like an 19th Century telephone junction box. It contains the largest collection of historic telegraph cables and termination boxes in the world.
There's also the Valley Trails walks around the surrounding cliffs and fields.
Top fact: Cornwall continues to play a role in global communications with 14 fibre optic cables still coming ashore here today.
Our verdict on the Telegraph Museum in Porthcurno, Cornwall
We loved this out of the way goldmine of vintage technology and historic innovation. Whether you're interested in the advent of communication tech or not this is a fascinating and well thought out family attraction with plenty to keep kids of all ages entertained for hours.
It would be a prefect rainy day out in Cornwall, or something educational to do after a morning on nearby Porthcurno Beach.
Here's an overview of our visit:
Handy information for visiting
There is a large public car park outside the museum. Parking is free from 1 November to 31 March. From 1 April to 31 October up to two hours costs £2, up to four hours costs £4.60 or park all day for £6.30 (correct at time of publication: April 2018)
The museum cafe serve pasties, soup, beans and cheese on toast, hot drinks and a variety of freshly baked cakes
Entry fees: Family: £27.00 (2 adults and up to 3 children aged 5-16); Adult: £9.50; Child: £5.50 (aged 5-16 – under 5's go free), Senior: £8.00; Student: £8.00 (correct at time of publication: April 2018).
Price correct in 2018 – see the attraction website for up to date information.
Disclosure: we were invited to review The Telegraph Museum and were given free entry for our family group. All opinions are my own and those of my family.
Planning a visit to Porthcurno and the Telegraph Museum or looking for things to do in Cornwall? Pin this post for later.