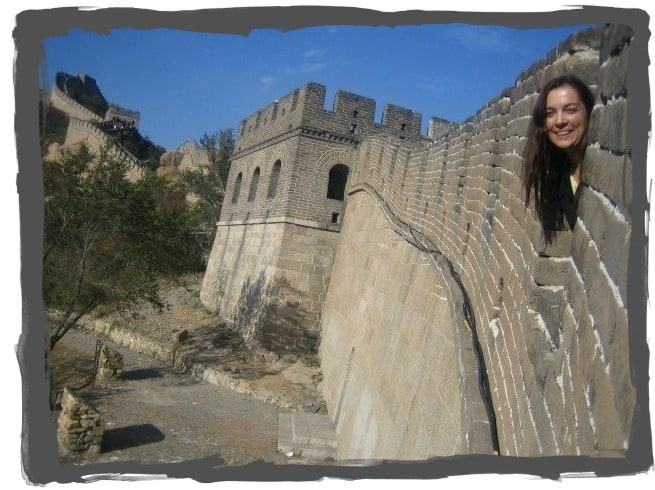 #TravelTimehop series edition #8 with MamaMim
Hooray for Thursday! It's just one day away from the weekend and, even better, it's Travel Timehop day! This weekly feature allows me to share my favourite adventures from years gone by as well as some from other fab bloggers.
This week's guest post comes from Mim at MamaMim. She's got a lot going on at the moment, so I am thrilled that she has found time to share this beautiful memory from her travels with me. Please pop on over to her blog and show her some love – she's amazing. As is this Timehop. Enjoy!
When are we time-hopping to?
In October 2007 – 2 days in to my sabbatical from work to travel around South East Asia, Australia and New Zealand.
Where in the world?
On the Great Wall of China in Beijing.  Never in my wildest dreams did I expect to be able to visit China, let alone walk on the Wall!
MamaMim's Travel Timehop moment
The trip was on the second day of a 6 month sabbatical I had taken from my busy job.  I was overworked and exhausted but waking up that morning in China, I felt instantly refreshed and ready to see what adventures my sabbatical brought.
I hadn't ever been interested in the whole 'travelling the world' thing before.  I saw some friends don backpacks and never felt any jealousy – I always wanted to see as much of the world as possible but I intended to do that in a semi-luxurious manner!
In 2007 I was 26, single and fancy free and decided it was then or never.  I bought my own backpack and booked a trip to see China, some of Indonesia, Singapore, Australia and New Zealand.
The first month would be spent in Xi'an in China where I would teach English at an orphanage where many of the children were disabled.  I was really looking forward to being able to do something so rewarding and to live and work in China rather than just travel through.  It was one of the best experiences of my life.
The day before that project started was the day I travelled to the Great Wall of China and it was just an amazing experience.  On the wall I could see for miles and it was just beautiful and such a freeing experience.  Any stresses faded away instantly and it was a phenomenal start to my travels.
The next evening I met up for a night out in Beijing with some of the volunteers I would be working with the following week.  One of the guys in the group invited along a friend he had met that day (also on the Wall!) and that man is now my husband!
I wrote a travel blog at the time and I distinctly remember writing that I wasn't interested in him but by the following night, I was smitten and as they say, the rest is history.
Mr M was Australian but on holiday in China and we met up a few times throughout my travels in the Philippines and Thailand too.  After a few weeks he asked me to move to Australia to give our relationship a real go and it just felt like it was the right decision, so I did!
In January 2008 I went back to the UK earlier than planned to pack up my belongings and emigrate to Australia.  Now we have two children who are lucky enough to have dual UK and Australian citizenship and I hope they share our love of travel.
I never did make it to so many of the travel destinations I planned to see – I hope they will feature in our travel timehops of the future!
This is so romantic! I've already mentioned to Mim that Mr Tin Box and I met over a deep fat chip frier in a pub kitchen. I'm not sure it's a story I want to recount to our grandchildren in quite the same way that I know Mim will with hers. If you'd like to read more from Mim please check out her blog and follow her on Twitter, Facebook, Instagram, Pinterest and Google+.
If you have a Travel Timehop you'd like to share with me I'd love to feature it. Here's how to get involved.
Pin for later
I love hearing what people think about my blog so feel free to leave a comment below or browse around. You can also find me on Bloglovin', Twitter, Facebook, Instagram, Pinterest, Google+ and LinkedIn.