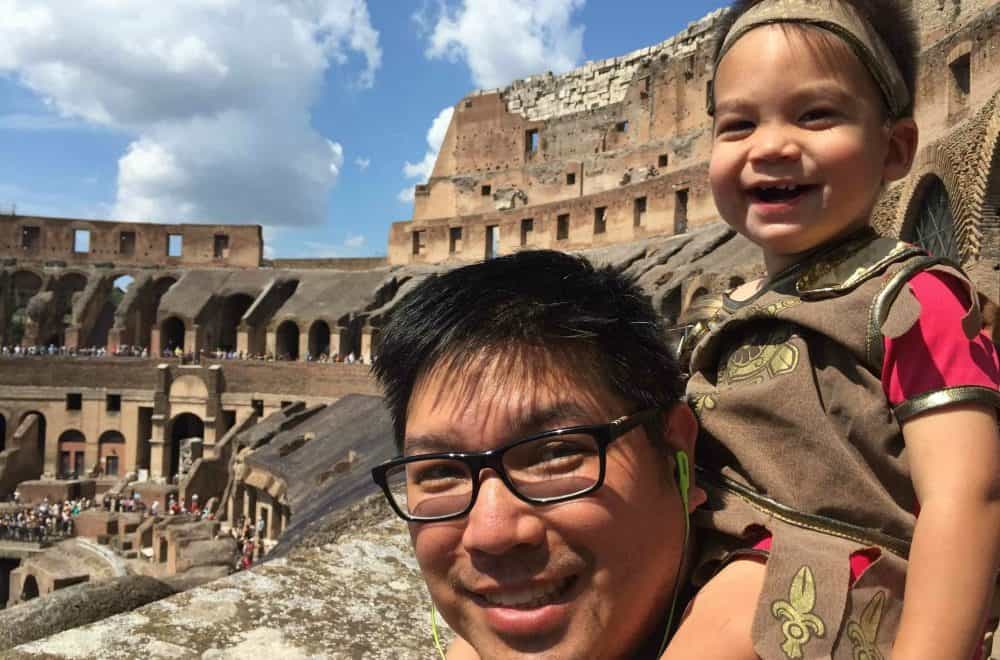 #TravelTimehop series edition #21 – Marcie in Mommyland
Welcome to another Travel Timehop where I share moments from memorable trips. Throughout 2016 I'm inviting fellow bloggers to tell me about their favourite adventures. This week it's the turn of Marcie at Marcie in Mommyland – a Seattle-based blogger sharing her baby and toddler travel adventures.
Marcie's post is making me itch to return to Italy. We had three stops in this wonderful country of myths, legendary food and iconic sights during our recent cruise. But we didn't visit Rome and yes, I am sad about that. Marcie and her family clearly had a great time. Read on to find out how her son became an attraction himself at the Colosseum!
When are we time-hopping to?
August 2015 after our family had just finished a Mediterranean cruise and were on our way to Tuscany for a family wedding.
Where in the world?
This was on our last day of our Mediterranean cruise and we opted to do the cruise excursion tour of Rome before meeting up with family. We had done a super cool golf cart tour of the city a few days before our cruise started. We had gotten to see the Colosseum from the golf cart, but hadn't had the opportunity to get out and explore. This was our opportunity to see the major sights of Rome.
Marcie in Mommyland's timehop moment
I'm really big into costumes at tourist attractions. When I realized we'd be at the Colosseum (months before the trip,) I went online and got our toddler a gladiator costume! He loved all the attention he got from other tourists!
At this moment, my husband is carrying our son on his shoulders so he can see above the Summer crowds. It's been a long day for our son, but he just took out his pacifier and started grinning at me! It had been a funny juxtaposition to see a toddler with a pacifier against the mighty backdrop of the place where gladiators fought bloody battles.
What a cute gladiator! Thanks to Marcie for taking part in Travel Timehop. If you'd like to read more about Marcie's family travels and advice hop over to her blog, or follow Marcie in Mommyland on Twitter and Facebook. 
If this has inspired you to pull out your old holiday photo albums I'd love it if you'd share a snap with me. Here's how you can be a part of Travel Timehop.
Pin for later
I love hearing what people think about my blog so feel free to leave a comment below or browse around. You can also find me on Bloglovin', Twitter, Facebook, Instagram, Pinterest, Youtube, Google+ and LinkedIn.