#TravelTimehop series edition #27 – Gamin Traveler
Well, this is a throwback Thursday for all sorts of reasons. Firstly I've got a fab travel memory for you from the team at Gamin Traveler. And secondly, it's been quite a while since my last Travel Timehop. The series never really stopped but other projects, like Monday Escapes, have taken over a bit. But it's always great to hear from fellow travellers keen to share some of their special moments from around the globe.
Ruben and Rachel of Gamin Travelers are seasoned digital nomads with plenty of advice for other wanderers hoping to make a living from sharing their adventures. I'm quite tempted to try out one of their free email courses! Anyway back to their Travel Timehop. Over to Ruben and Rachel:
When are we time-hopping to?
This picture was taken in 2016.
Where in the world?
The beaches of Koh Phangan, Thailand.
Gamin Traveler's moment
This picture is so special to us as it was clicked on our 3rd wedding anniversary. We also love Thailand a lot so it commemorates our love for travel and each other. Thailand is one of our favorite destinations because of the amazing food, people, stunning beaches and lovely resorts. As bloggers, we are always busy clicking pictures of beautiful destinations to share with our readers but as you can see from the picture – we do find time to spend together and relax once in a while. That is why we cherish our moments on the road and feel lucky to have an opportunity to travel together and be true digital nomads.
Thanks for sharing an insight into your adventures Gamin Traveler team! If you'd like to read more from Ruben and Rachel hop over to their blog, or follow them on Twitter, Instagram, Facebook, and Pinterest.
If you've been inspired to pull out your old holiday photo albums I'd love it if you'd share a snap with me. Here's how you can be a part of Travel Timehop.
Pin for later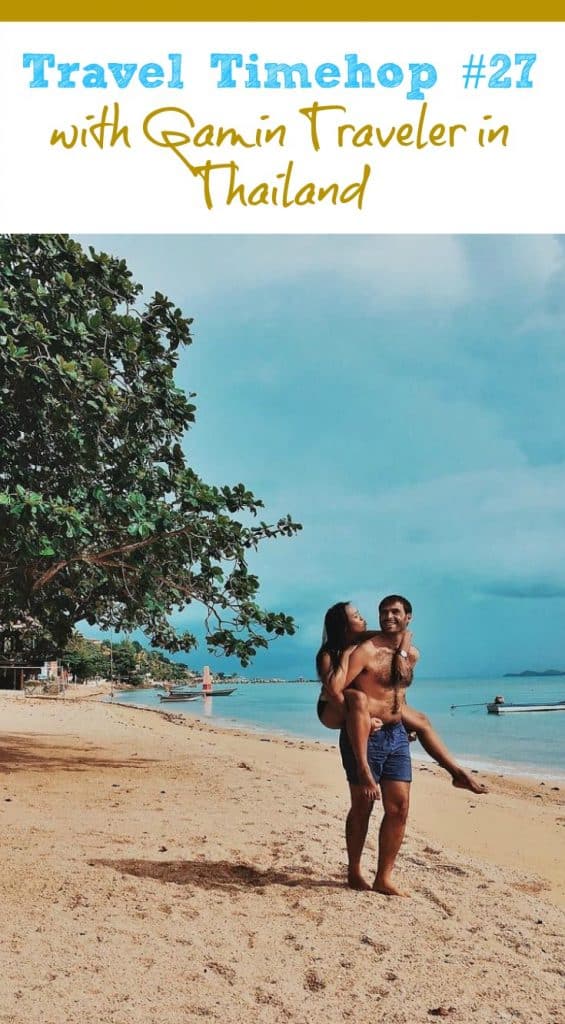 I love hearing what people think about my blog so feel free to leave a comment below or browse around. You can also find me on Bloglovin', Twitter, Facebook, Instagram, Pinterest, Youtube, Google+ and LinkedIn.
SaveSave
SaveSave
SaveSave
SaveSaveSaveSaveSaveSave