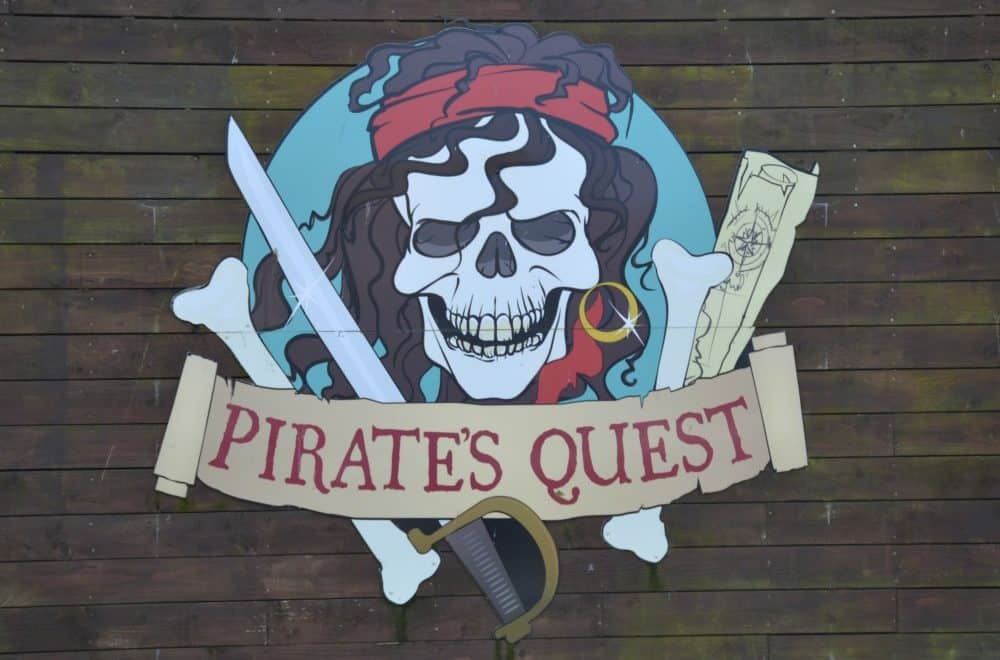 Reviewed: Pirates Quest in Newquay – things to do on a rainy day in Cornwall
Looking for things to do in Newquay when it's raining? If your kids love pirates then there's an attraction in town that will have them reaching for their plastic swords and practicing their most fearsome 'arggghhhs'. Pirates Quest in Newquay, Cornwall, is an immersive, mini-adventure for families. We were invited to review it during our recent family holiday at Hendra Holiday Park just down the road.
2021 update: you can now play indoor adventure golf at Pirates Quest!
Pirate fun on a rainy day in Cornwall
To be fair, the weather had improved when we visited Pirates Quest in Newquay but a lot of our week in Cornwall was wet. Had it been damp this Newquay attraction is all indoors, so is a good solution to keeping kids entertained when you can't hit the beach.
Pirates Quest is billed as "an immersive walk-through experience which combines talented theatrical actors, amazing special effects, and detailed 360⁰ sets in an authentic, atmospheric adventure".
Our girls love playing pirates – we can thank Swashbuckle on CBeebies for that – but I did have some reservations about whether Pirates Quest would be a suitable attraction for a five and nearly three-year-old. I need not have worried.
Looking for more inspiration for things to do in Cornwall? Read our guide to family holidays in Cornwall.
A Newquay attraction for all ages
The actors who rescued us from a ship sinking and ushered us into the darkest alleys of 18th Century Newquay pitched our experience perfectly for the ages of the kids in our group.
There were three families in our small tour, all with children aged between two and about seven. I expect for older audience groups the actors ramp up the gruesome details.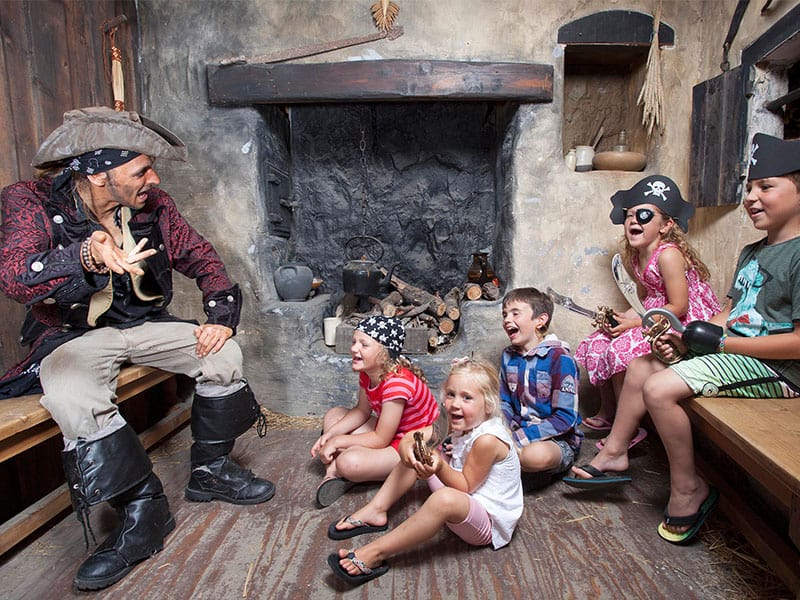 There is one part that is billed as scarier. Mr Tin Box and five-year-old Tot went through while I took the less scary route with Baby. However, Mr Tin Box reported that it was OK, with a few more theatrics thrown in to make you jump. Again, I expect this is tailored to the ages of the group.
It is worth bearing in mind that the Pirates Quest experience is quite dark and might not be appropriate for anyone who does not enjoy enclosed spaces. 
There is also only one opportunity to go to the toilet, which is at the beginning of the experience. Make sure your kids have emptied their bladders before you begin.
Baby decided she needed to go again after 20 minutes. What followed was a very uncomfortable 40 minutes for her and me as she crossed her legs through the rest of the experience.
More than just theatrics
As well as plenty of swash-buckling antics, new pirate inductees are entertained with tales of Cornwall's maritime heritage, scenes from its legends and traditions of the seafaring brethren.
Something I learnt was that Newquay was once called Towan Blystra which translates to Windy Hill – a literal description of the place. The name changed when a new harbour, or new quay, was built as the port increased in popularity with traders and seafarers.
The Cornish were imaginative folks back in the mists of time!
Children are given activity sheets with tasks for different ages: younger kids can spot parrots and letters in the various scenes, while there's a word search for older children.
At the end of the experience they can present their activity sheets in exchange for a piece of chocolate treasure and a Pirates Quest badge.
Top tip: check in on Facebook and you get a free eye patch.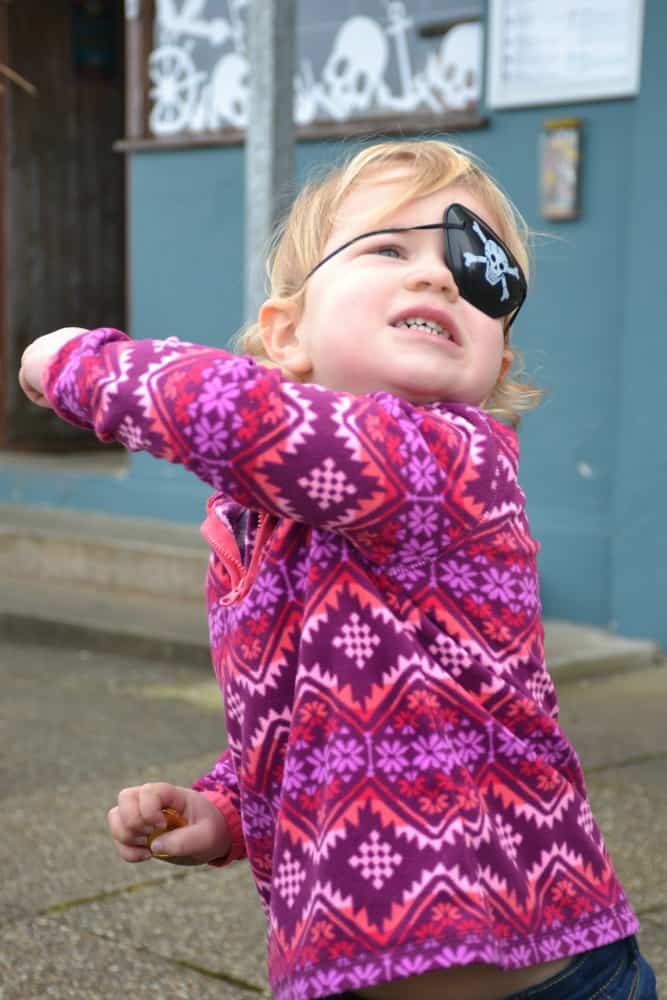 Pirates Quest Newquay: where to park?
There's a car park opposite Pirates Quest on St Michael's Road where you can pay with cash or by downloading the JustPark mobile app.
Admission prices for Pirates Quest
If you know there's a rainy day coming up during your holiday in Newquay then it's essential to book places Pirates Quest in advance.
Times for tours vary dependant on the season and you go round in small groups. Prices for the adventure golf tour cost: £10.95 for adults; £7.95 for children under 16 and under three-year-olds are free.
Our verdict on Pirates Quest in Newquay, Cornwall
If you decide to visit Newquay with kids who love pirates then Pirates Quest is the perfect entertainment on a wet day. It is at the pricier end of family attractions when you consider that it lasts an hour and costs nearly £40 for a family of four (with kids over the age of three), but it is value for money.
I enjoyed the theatrics and historical facts, and the girls liked completing their activity sheets.
Most of the storyline may have been lost on them but they found the scenery interesting and certainly didn't feel uncomfortable. Unless you have a toddler who is obsessed with pirates then kids aged five and up will probably get more out of a visit.
Looking for more things to do in Cornwall on a rainy day? Take a look at our wet day guide or read our guide to family holidays in Cornwall.
Disclosure: we were invited to Pirates Quest for free in exchange for writing about our visit on the blog. All opinions are my own. Thanks to Pirates Quest for supplying images of their pirates and children in there attraction.
Fancy becoming a pirate for the day at Pirate's Quest, Newquay? Pin this for later: