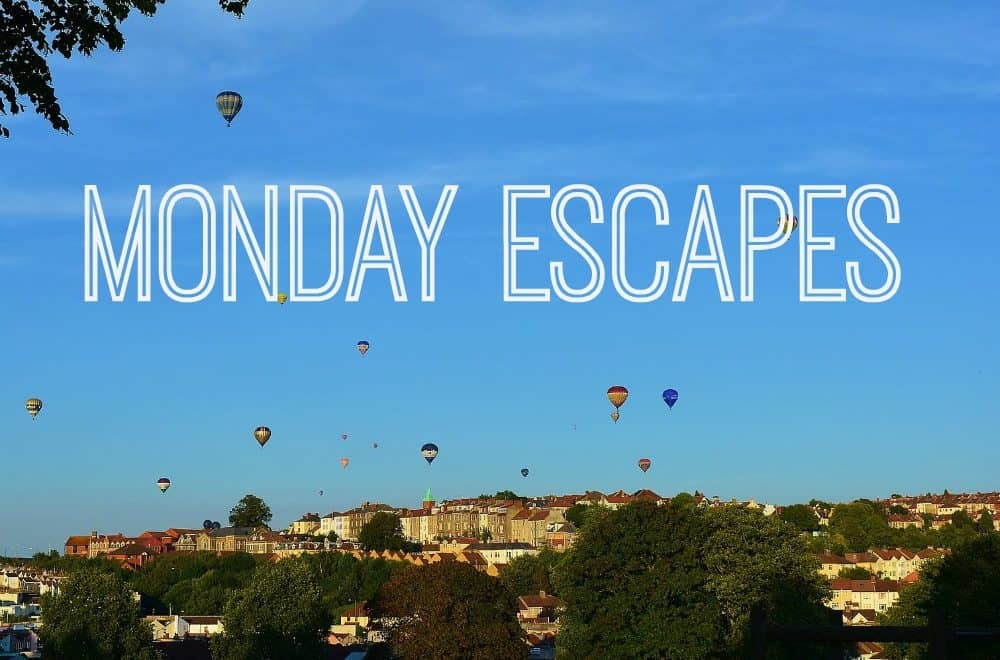 Monday Escapes 48
Hello happy travel fans and welcome to Monday Escapes with Sarah at Extraordinary Chaos, Karen at Mini Travellers, Lisa at Travel Loving Family and myself, Claire. This week you can link up over on Sarah's blog. If you joined in last time, that's also the place to check whether you were one of out favourite posts and have been chosen as the winner of our fortnightly prize from our linky sponsors Lonely Planet.
Since the last Monday Escapes linky I've been suffering with a winter bug that's meant a few more hours in bed and less time to spend on the blog. However, there's still been lots going on behind the scenes including some local days out in Devon and a trip to a posh do in Bristol for me. It's all on my Instagram account if fancy taking a look.
Now, on to the linky. Two weeks ago it was the turn of Lisa and myself to host Monday Escapes and we had whopping 51 inspirational travel posts linked up. Thank you to everyone who took part. This week the linky is being hosted by Sarah and Karen who will be checking out each and every one of your posts between them. Sarah is linking up Luxury Lodge Life at Cameron Lodges, Loch Lomond Part 1, Karen is linking Four Seasons Limassol, Cyprus for a 5* family holiday, and I am linking Weekend in Wales: a Swansea Bay family adventure.
This fortnight's featured Monday Escapes posts
One of the best and worst jobs of hosting is picking a few favourites to share. There were so many fantastic posts and Instagram pictures. Here are mine and Lisa's top picks from last time:
The delectable town of Bacharach by California Globetrotter – I enjoyed Lorelei's tour of this delightful German town which has given me a taste for returning to the Rhine Valley. Her photos are chocolate box perfect.
A return to the Castelo de Almourol by The adventures of Daisy the bus – Jonny's recollection of a visit to this remote Portuguese castle and his return a decade later with his wife and family of four was a great read. I'm intrigued to find out what happened to 'the pirate'
Food On My Camera Roll by With Love – Lisa said: "I loved Mandy's article featuring droolworthy food photos from her homecity Atlanta travelling through to my old hometown, Savannah! I thought I was imagining it when I saw some of my old favourite restaurants pop up on my computer screen!"
Things to do in Chiang Mai with kids by Five Adventurers – Lisa said: "Nisbah has inspired me to add Chiang Mai to my ever growing travel wish list." @bumble_bee_mum
Now, on to this time's Monday Escapes. If you haven't joined in before, welcome! We can't wait to get to know you and be inspired by your travels. Here's how to get involved:
What is Monday Escapes?
Monday Escapes is all about looking back at wonderful, happy travel memories and sharing them with others. It doesn't have to be about a trip abroad or even be a written post. If you want to share your favourite snapshots – whether it's a famous sight, scene, dramatic view or even a favourite family photo, then please feel free to link those up, too. Likewise, posts don't have to be about holidays or weekends away, they can also include day trips, walks, attractions – any travel experience that you want to share.
So how do you join in?
• Link up to one post/photo – old or new.
• Please make sure to include the Monday Escapes badge at the bottom of the post on your site or a link back to the hosts. You can grab the badge or code below.
• Posts are anything travel-related, and can include photos, reviews, days out, attractions and walks – at home or abroad wherever you are in the world.
• Comment on posts by the two co-hosts and at least two others. Blog hops only work if you share the comment love. That's why they're so great! In return, your fortnightly hosts promise to comment on each blog post between them as well as sharing your post on Twitter and Pinterest.
• If you tweet any of us your links to @tinboxtraveller, @travellovinfam, @sarahjchristie or @minitravellers please use #MondayEscapes and we will be sure to retweet.
• Similarly, if you want to show off your photos on Instagram using #MondayEscapes, we will show those photos some love and pick our favourites to include in the Monday Escapes post on each of our blogs next fortnight.
What's in it for you?
The number one thing is you'll be sharing your fantastic posts with a like-minded community and grabbing some travel inspiration for yourself. As a bonus you have a chance to have your blog post and/or hashtagged Instagram posts featured on all four of the hosts' blogs each fortnight, introducing your blog to even more people. How great is that?! As if that's not enough you are also in with a chance of winning our fortnightly competition with our sponsor Lonely Planet. Remember to check out Sarah's post for full details.
Let's get linking
Monday Escapes will go live every two weeks, alternating between the pairs of hosts, and will be open Monday to Wednesday of the first week. Every fortnight we will be giving a shout out to some of our favourite posts and photos, and choosing our photos of the fortnight via Instagram. There is also a Monday Escapes Pinterest Board – so if you'd like to start pinning some of your favourite photos, do get in touch. Link up with Sarah at Extraordinary Chaos today.