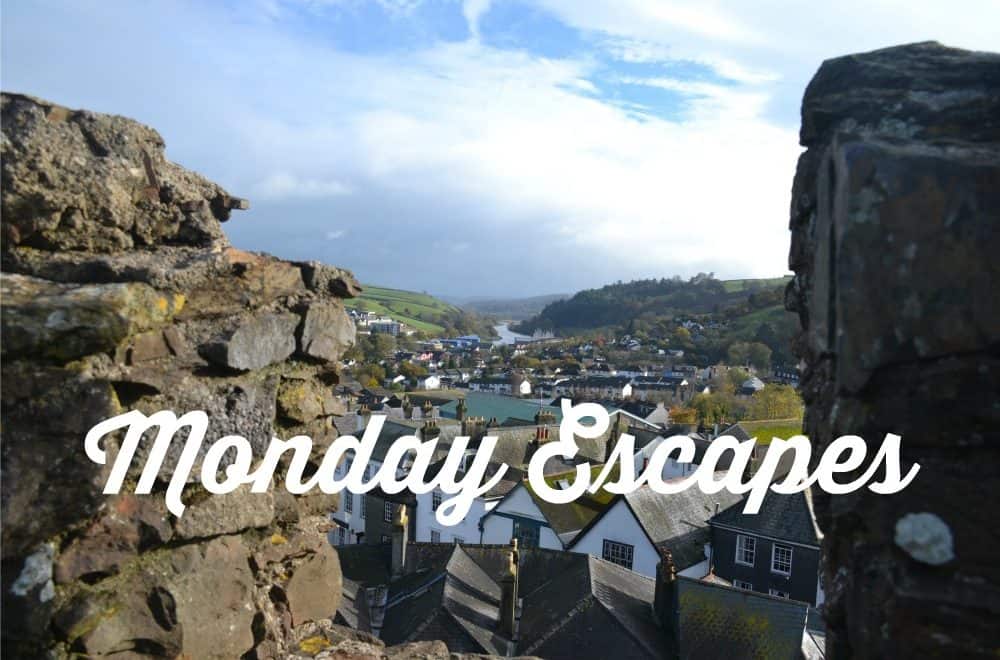 Monday Escapes 20/11/17
I don't know about you but our calendar is beginning to fill up with Christmas commitments – visits to Santa, festive events and…a winter glamping trip in a Mongolian yurt! I can't wait for that and, yes, I shall be packing my thermals!
This week Monday Escapes is being hosted by Karen at Mini Travellers and Sarah from Extraordinary Chaos. You'll find the linky tool on Karen's post.
What have we been up to?
The weekend before last we took Tin Box out for its last caravan weekend away of the year. We'd be quite happy to keep caravanning all year round but we have a lot going on in the next month so now's the time to put her into hibernation. We did have a great weekend though and stayed at a five star site overlooking Dartmoor in Devon. I'll be sharing more about it another time.
During our caravan weekend we visited Totnes Castle. It's one of the best preserved motte and bailey castles of its time in England. The views from the top looking over South Devon and Dartmoor were fabulous.
Over on Cruising with Kids your four Monday Escapes hosts have been sharing our thoughts on cruising with babies (yes, it most certainly can be done!), our latest fab giveaway, and our thoughts on whether shore excursions are worth the money.
On to Monday Escapes…
Monday Escapes is all about looking back at wonderful, happy travel memories and sharing them with others. It doesn't have to be about a trip abroad or even be a written post. If you want to share your favourite snapshots – whether it's a famous sight, scene, dramatic view or even a favourite family photo, then please feel free to link those up, too. Likewise, posts don't have to be about holidays or weekends away, they can also include day trips, walks, attractions – any travel experience that you want to share.
The linky is run by Sarah from Extraordinary Chaos, Karen from Mini Travellers, Claire from Tin Box Traveller  and Lisa from Travel Loving Family.
We are also absolutely delighted to link up with Lonely Planet to offer our number one favourite blog post of the fortnight either a destination guide, or a title from the Lonely Planet Kids range. (See T&C's below). Just another great reason to link up with Monday Escapes!
What's in it for you?
The number one thing is you'll be sharing your fantastic posts with a like-minded community and grabbing some travel inspiration for yourself. As a bonus you have a chance to have your blog post featured on all four, yes FOUR of the hosts' blogs each fortnight, introducing your blog to even more people.
Our favourite posts from last time
This post by Larger Family Life is about something extraordinary. I had no idea that papier-mâché could be used to make such intricate art – The Papier-Mâché Artists Of Puglia.
Exploring Our World talks about an incredibly moving place with so many questions left unanswered – much like the events of the war. I chose this post because it made me want to add it to my list of places I want to see when I visit Berlin – Visiting the Berlin Holocaust memorial.
Lisa couldn't resist choosing this post by Helen at Actually Mummy – 10 weird but wonderful things you will see in Cambodia. Helen's descriptions and photos of a local guy showering in the street during a heavy rain shower, a car full of fish on the way to market and a whole family riding on a moped had her grinning from ear to ear!
Lisa also loved this post by KellyAnn Schiavo which captures her family city break to Paris perfectly, including the family shot of them all wearing rain ponchos during a particularly heavy rain shower. Our holiday to Paris – A city tour.
The winner of the Lonely Planet guide is Sharon from Exploring Our World! Congratulations Sharon please do get in touch to claim your prize.
So how do you join in this time?
* Link up one post/photo – old or new using the InLinkz tool. **Karen is our host this week over at Mini Travellers**
* Please make sure to include the Monday Escapes badge at the bottom of the post, on your site, or a link back to the hosts.
* Posts are anything travel-related, and can include photos, reviews, days out, attractions and walks – at home or abroad.
* Comment on posts by the co-hosts and at least two others. Blog hops only work if you share the comment love. That's why they're so great!
* If you tweet any of us your links @minitravellers @sarahjchristie @tinboxtraveller or @travellovinfam, please use #MondayEscapes and we
will be sure to retweet.
Monday Escapes will go live every two weeks, alternating between the hosts and will be open Monday to Wednesday. Every fortnight we will be giving a shout out to some of our favourite posts and photos.
There is also a Monday Escapes Pinterest Board – so if you'd like to start pinning some of your favourite photos, do get in touch.
SaveSave
SaveSave
SaveSave
SaveSave
SaveSave
SaveSave
SaveSave
SaveSave
SaveSave