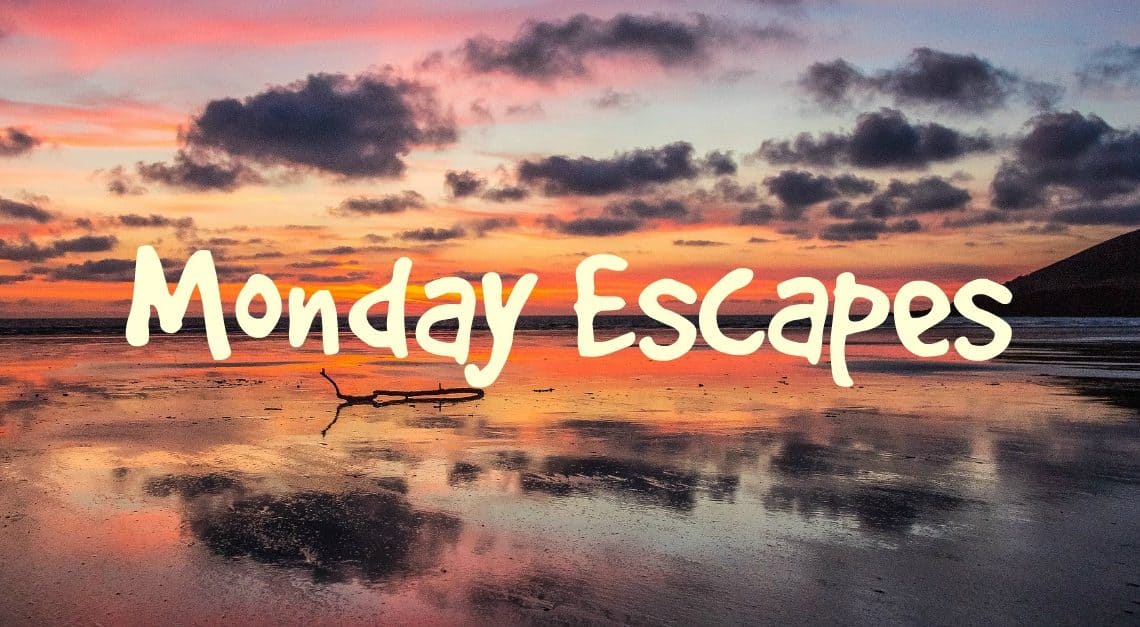 Monday Escapes 13/02/17
Hello happy travel fans and welcome to Monday Escapes with Sarah at Extraordinary Chaos, Karen at Mini Travellers, Lisa at Travel Loving Family and myself, Claire. This week it's the turn of Lisa and myself to host the linky. Below you'll find the InLinkz tool to add your travel-related posts, old and new.
Before we go any further can I remind you to check the notes below about how to join in with Monday Escapes. In particular, please make sure you're adding the badge or a link back to one of the hosts and comment on this weeks' host posts and at least two others. Linkys work best when we all share the love.
Right, back to the fun stuff! We've had a busy few weeks of Tin Box birthdays, plus friends and family visiting us in Devon. While it's all been lovely, it's actually a relief to have a few quiet weeks ahead of us before we set off on our next set of adventures in March. We're hoping for some bright, sunny days to accompany us on short breaks in Bath in Somerset and Sidmouth in East Devon. A touch of spring will definitely be welcome in Sidmouth as we are going to be camping for the first time this year. Wish us luck!
Now, on to the linky. Today I am linking our visit to see the tropical butterflies at RHS Wisley in Surrey. Also linked up by your hosts are a great competition from Travel Loving Family, a relaxing stay at Brompton Lakes by Extraordinary Chaos and a woodland retreat reviewed by Mini Travellers.
We are absolutely delighted to link up with Lonely Planet to offer our number one favourite blog post of the fortnight either a destination guide, or a title from the Lonely Planet Kids range (See T&C's below*).
This fortnight's featured Monday Escapes posts
Two weeks ago it was the turn of Sarah and Karen to host Monday Escapes. Here's their top picks from last time:
Why you have to walk the Brooklyn Bridge by Ruth at Tanama Tales. Sarah said: "Ruth's post about walking the Brooklyn Bridge has made me want to revisit the Big Apple. I have never wandered the streets of Brooklyn and this has inspired me to."
Colours of Kimberley by Lyn from A Hole in my Shoe. Sarah said: "Lyn from A Hole in My Shoe shares her friend Landi Bradshaws photography. The amazing colours of Kimberley are just breathtaking and made me want to head straight there with my camera."
Ardanaiseig Hotel – visiting Scotland's most romantic hotel with…toddlers by Janice at Tots2Travel. Karen said: "This proves that you can travel to a romantic hotel with toddlers."
Chinese New Year and the Terracotta Army by Tas at Not my year off. Karen said: "I really wish I had booked tickets to see this exhibition when I read Tas's post."
Our Lonely Planet book winner
Drum roll! The winner of our Lonely Planet book this fortnight is Ruth from Tanama Tales. Congratulations Ruth! Drop me an email and I can arrange your prize. Now, on to this time's Monday Escapes.
If you haven't joined in before, welcome! We can't wait to get to know you and be inspired by your travels. Here's how to get involved:
What is Monday Escapes?
Monday Escapes is all about looking back at wonderful, happy travel memories and sharing them with others. It doesn't have to be about a trip abroad or even be a written post. If you want to share your favourite snapshots – whether it's a famous sight, scene, dramatic view or even a favourite family photo, then please feel free to link those up, too. Likewise, posts don't have to be about holidays or weekends away, they can also include day trips, walks, attractions – any travel experience that you want to share.
So how do you join in?
• Link up below with one post/photo – old or new.
• Please make sure to include the Monday Escapes badge at the bottom of the post on your site or a link back to the hosts. You can grab the badge or code below.
• Posts are anything travel-related, and can include photos, reviews, days out, attractions and walks – at home or abroad wherever you are in the world.
• Comment on posts by the two co-hosts and at least two others. Blog hops only work if you share the comment love. That's why they're so great! In return, your fortnightly hosts promise to comment on each blog post between them as well as sharing your post on Twitter and Pinterest.
• If you tweet any of us your links to @tinboxtraveller, @travellovinfam, @sarahjchristie or @minitravellers please use #MondayEscapes and we will be sure to retweet.
What's in it for you?
The number one thing is you'll be sharing your fantastic posts with a like-minded community and grabbing some travel inspiration for yourself. As a bonus you have a chance to have your blog post and/or hashtagged Instagram posts featured on all four of the hosts' blogs each fortnight, introducing your blog to even more people.
As if that's not enough our number one favourite post of the fortnight will win a Lonely Planet destination guide, or a title from the Lonely Planet Kids range. How great is that?! (*T&C's – The chosen Lonely Planet book must be in English and can only be sent to bloggers living within Europe). 
Let's get linking
Monday Escapes will go live every two weeks, alternating between the pairs of hosts, and will be open Monday to Wednesday of the first week. Every fortnight we give a shout out to some of our favourite posts and photos. There is also a Monday Escapes Pinterest Board – so if you'd like to start pinning some of your favourite photos, do get in touch.
Link up your posts here: [inlinkz_linkup id=697055 mode=1]