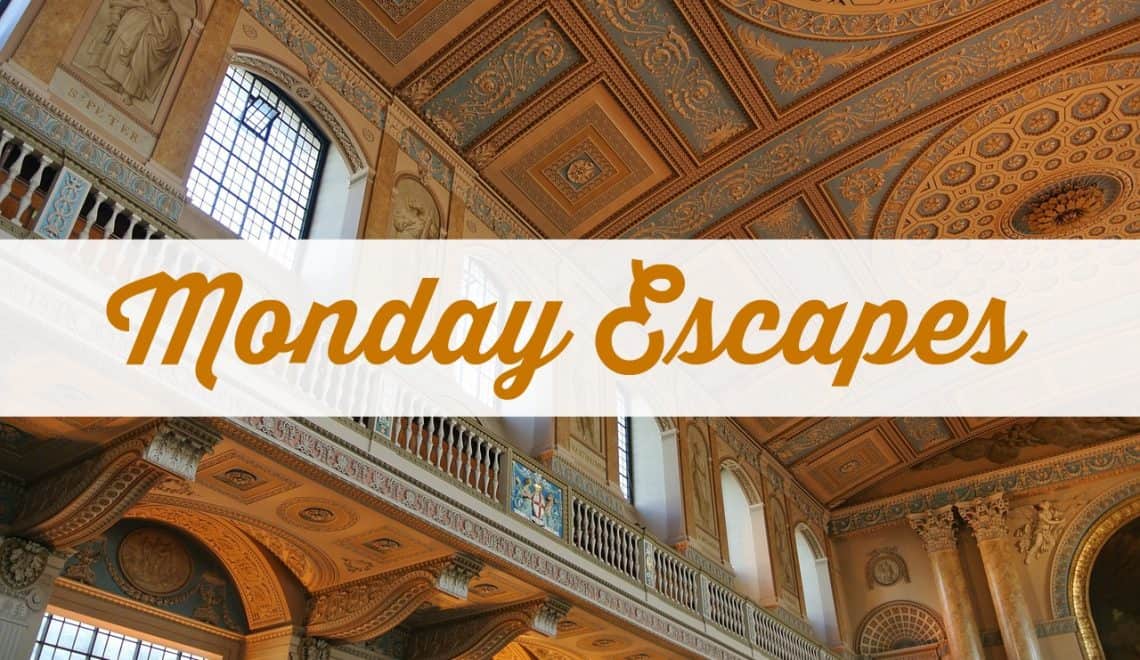 Monday Escapes 08/05/17
Hello travel fans and welcome to another Monday Escapes. Firstly I'd like to give a massive shout out to all our regular linkers who we met up with at the Traverse travel blogging conference in Greenwich, London, last week. What a great event and how brilliant to put faces to blog names. If you weren't able to make it this year then maybe we'll see you at #Traverse18 in Rotterdam? Here's a bit of what you missed:
As well as enjoying the delights of a child-free weekend in England's capital, I've been busy catching up with blog posts about our recent trips to Cornwall and Hampshire. This month is going to be a little quieter on the travel front while we move house in Devon. However, our next big adventure isn't far off as I'll be flying to France with my two girls before the end of May. Mr Tin Box is staying at home to decorate the new house – I think I got the best deal!
Today you'll find the link to add your Monday Escapes posts on Travel Loving Family.
I'm linking up my perfect weekend wardrobe for London, Lisa is linking a review of Tattersall Lakes, Karen is linking tips for exploring Cyprus with kids and Sarah is linking up her tips for road trips with teens.
What is Monday Escapes?
Monday Escapes is a place to link up your travel memories and is hosted by myself, Karen at Mini Travellers, Sarah at Extraordinary Chaos and Lisa at Travel Loving Family.
Monday Escapes is all about looking back at wonderful, happy travel memories and sharing them with others. It doesn't have to be about a trip abroad or even be a written post. If you want to share your favourite snapshots – whether it's a famous sight, scene, dramatic view or even a favourite family photo, then please feel free to link those up, too. Likewise, posts don't have to be about holidays or weekends away, they can also include day trips, walks, attractions – any travel experience that you want to share.
We are also absolutely delighted to link up with Lonely Planet to offer our number one favourite blog post of the fortnight either a destination guide, or a title from the Lonely Planet Kids range. (See T&C's below). Just another great reason to link up with Monday Escapes!
Our favourite posts from last time
Karen and Sarah's favourite posts from the last Monday Escapes were:
A Year in a French Forest by Lou Messugo. Karen says: "I could just imagine stumbling upon all these designs and how exciting that would be. A natural treasure hunt."
Karen also loved Charly's post about the Picos de Europe on PODTravels. She says: "I keep looking at booking flights to Bilbao and explore and this may just have given me the kick I need to book it!"
"Brigitte's post took my breath away," says Sarah about Groove is in the Heart's post. "This incredible tree in Namibia has seen 800 years of history and protected and saved many lives a truly incredible story and something I would love to visit."
And Swapna's post about the Humbolt Penguin Reserve on Practical Mom also caught Sarah's eye. She says: "This post is incredible. Such stunning animals how they should be in their own habitat. I just love it. Such stunning pictures."
Hop over to Lisa's post to see which one of these great blogs was our top link up from last time.
What's in it for you?
The number one thing is you'll be sharing your fantastic posts with a like-minded community and grabbing some travel inspiration for yourself. As a bonus you have a chance to have your blog post featured on all four, yes four of the hosts' blogs each fortnight, introducing your blog to even more people. How great is that?! Our number one favourite post of the fortnight will also win a Lonely Planet destination guide, or a title from the Lonely Planet Kids range. How great is that?! (*T&C's – The chosen Lonely Planet book must be in English and can only be sent to bloggers living within Europe).
So how do you join in?
Link up to one post/photo – old or new.
Please make sure to include the Monday Escapes badge at the bottom of the post, on your site, or a link back to the hosts.
Posts are anything travel-related, and can include photos, reviews, days out, attractions and walks – at home or abroad.
Comment on posts by the co-hosts and at least two others. Blog hops only work if you share the comment love. That's why they're so great!
If you tweet any of us your links @minitravellers @sarahjchristie @tinboxtraveller or @travellovinfam, please use #MondayEscapes and we will be sure to retweet.
Monday Escapes will go live every two weeks, alternating between the hosts and will be open Monday to Wednesday. Every fortnight we will be giving a shout out to some of our favourite posts and photos.
Hop over to Lisa's blog where you'll find this week's InLinkz tool.
There is also a Monday Escapes Pinterest Board – so if you'd like to start pinning some of your favourite photos, do get in touch.